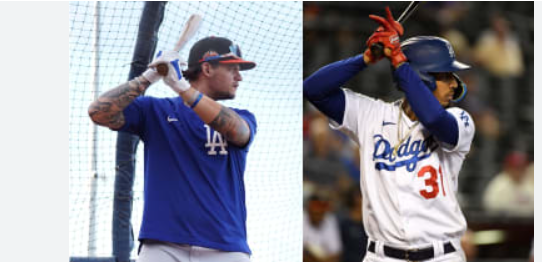 Today by 1:00PM (PST), the Dodgers will learn if Tyler Anderson has accepted the LAD QO.
Today, no later than 3:00, the 40 man rosters need to be submitted.  Right now, the Dodgers have 33 on the 40 man.  Clayton Kershaw has supposedly agreed to a one year deal, and he will need a spot on the roster.  I do not understand the delay in announcing the deal.
If Tyler Anderson accepts the QO, then he will need to be added.  With Kershaw and TA, the 40 man goes to 35.  I do not expect the Trevor Bauer arbitration to be resolved by the 40 man roster set deadline.  As of right now, he is not on the 40 man.  He is suspended, and will remain so until the arbitration panel makes their ruling known.
So I am assuming that Tyler Anderson will accept the QO and Kershaw will get a 40 man spot.  That will bring the total to 35.  I am also assuming that there will not be any additions to the 40 man via trade or FA signing before the submittal.
Here is my projection for the 5 remaining spots on the 40 man. The first four are pretty much consensus choices:
Diego Cartaya – C – Age today – 21.2
Michael Busch – 2B/LF – Age today – 25.0
Andy Pages – OF – Age today – 21.9 – Big AFL Season
José Ramos – OF – Age today – 21.9 – Big AFL Season
https://www.mlb.com/news/andy-pages-jose-ramos-continue-to-shine-and-grow-in-afl
My final prediction is RHP, Carlos Duran, over OF Jonny DeLuca.  I do not see the Dodgers protecting 3 OF.  I like DeLuca, but I think there is more of a risk that Duran would be drafted more than DeLuca.  I also think age is an issue.
Carlos Duran – RHP – Age today – 21.3
Players who are more likely to be possibly drafted.  Players listed by age:
Jonny DeLuca – OF – Age today – 24.3
Ryan Ward – OF – Age today – 24.7
Hunter Feduccia – C – Age today – 25.4
Drew Avans – OF – Age today – 26.4
Ryan Noda – 1B – Age today – 26.6
Each of the five above will be protected on the AAA roster, but will remain eligible for the MLB portion of the Rule 5 draft.
I think Hunter Feduccia is an outside candidate to be protected.  Hunter is one of the very best fastball hitters in MiLB.    Per Prospects Live:
"There is nobody in the entirety of professional baseball who saw as many fastballs, and matched Feduccia in both contact rate and wOBAcon. He also showed no cracks based on location, speed, or movement." 
He also plays a position that is devoid of much quality at the highest levels.  My thinking here is that perhaps the Dodgers can protect Hunter, and can then include Feduccia in a trade package to a team than needs catching.  He could be a good backup catcher and could conceivably get starts against a good fastball pitcher.
While Carlos Duran is still considered a SP, he is still a 2-pitch pitcher.  He has a plus fastball and a double plus slider.  But that is it. His 3rd pitch is a well below average changeup. If not protected, he is a huge possibility to land and stick as a back end reliever.  While the Dodgers are not apt to push their prospects, most other teams have no qualms.  Atlanta just produced a 21 year old ROY (CF Michael Harris II), and a 23 year old #2 ROY (RHSP Spencer Strider).  I do not think they would be opposed to reach for a 21 year old with a 60 fastball and a 70 slider for a high leverage late inning reliever.  He is a clear cut potential to be a MLB closer.  That is why I would want to protect him.  I believe he will be drafted and stick at the MLB level.
I cannot see Ryan Noda being protected, but IMO he is an excellent candidate to be drafted.  He could be a good LH bat coming off the bench and a spot starter at 1B.  He can also play some corner OF.  It would be hard to ignore a AAA player batting .259/.395/.474/.869.  He had 25 HRs and 90 RBIs.  He may not be a GG 1B, but he is a solid defensive 1B.  He made 5 errors in 802 chances (891.1 innings).  Could he become another Christian Walker, who was a poor defensive 1B when he first replaced Paul Goldschmidt, as a 28 year old?  He is now a slugging GG 1B.
Jonny DeLuca had a fantastic season, but he got injured in early August and was out for the season after August 6.  For the season, DeLuca batted:
AA – .298/.359/.606/.965 – 104 AB – 7 HR
A+ – .245/.343/.516/.859 – 277 AB – 18 HR
Overall – .260/.347/.541/.888 – 381 AB – 25 HR – 73 K, 45 BB – 17% K rate
Did he have a good enough season to get drafted and remain on a MLB roster?
I do not believe there is much risk in Drew Avans or Ryan Ward being drafted in the MLB phase.    But they would be picked up in the MiLB phase if not protected at AAA, which I suspect they will be.
The Rule 5 draft will be held on the final day of the 2022 Winter Meetings, Wednesday December 7.
What say you on those I have tabbed for protection?  Anyone else see any sleepers to be protected?