By 2:00 PM on Monday all 2022 draft picks either needed to be signed or they would return to school.  As I am writing this, it is being reported (although not confirmed by the Dodgers), that 18 of the 19 players drafted by the Dodgers have signed.  Only their 20th selection, Pensacola Catholic HS SS Carter McCulley, went unsigned.  As I predicted the Dodgers went waaaaay underslot for rounds 8-10 so they could lure the HS SS with larger bonuses.
See chart below.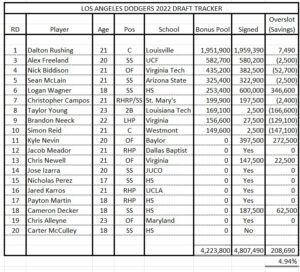 The Dodgers have not announced the signing of Jared Karros (16), Payton Martin (17) or Chris Alleyne (19).  However, there are Instagram photos memorializing the signing for all three. SO I feel confident that those are "confirmed".  While I do not see any Instagram reports, there are multiple reports that both Jacob Meador and Jose Izarra both have signed.  We will know for sure once the Dodgers officially announce.
With the signings noted above, the LAD bonuses are under the 5% overslot cap without penalty.
There have been a lot of complaints about the timing of the draft.  Zach Buchanan at The Athletic wonders why MLB lodges the draft into an already crowded All-Star week, making very few in and around the game happy. Says Buchanan:
The majority feel the new draft calendar creates more problems than it solves. The timing, one director-level staffer says, is "a very careless thing" that affects everyone in the game "down to the intern level." Marketing baseball, some feel, has taken priority over the baseball itself.
Very interesting take on the marketing of the game becoming more important than the game itself.