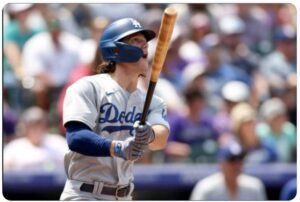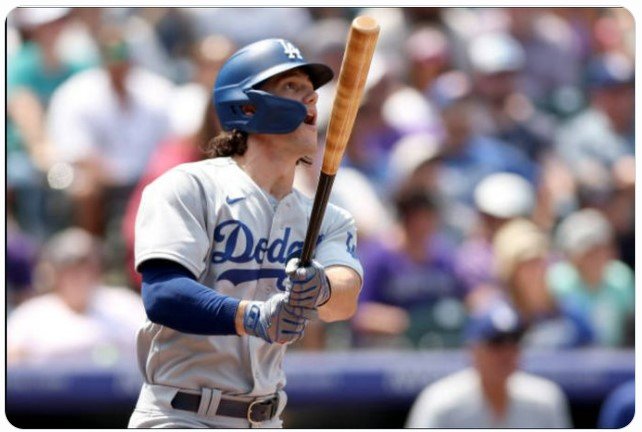 Who needs Juan Soto?  The Dodgers have their own LH Power bat with 25 year old James Outman.
Outman was a prolific athlete at Junipero Serra High School in Redwood City.  He was a good baseball player.  He was a two-time all-West Coast Athletic League (WCAL) second team selection.  He hit .305 in his high school career with a .508 slugging percentage and .962 fielding percentage.
But he was a better football player.  He was a middle linebacker/tight end.  He was named the WCAL Player of the Year, and led football team to WCAL and Central Coast Section championship with an 11-3 record in 2014.  He led WCAL in tackles as a junior and had 60 solo tackles as a senior.  He is 6' 3" 215 lbs linebacker with speed…an athlete.
Outman's high school baseball coach at Serra was family friend, Craig Giannino.  Giannino is a coach that specializes in mental training, is big on player development both mentally and physically.
"I knew Craig even before I got to Serra and we had a great relationship, and we just continued that great relationship while I was there.  He's a great guy and I have a lot of respect for him. I also learned about sports in general and having a tough kind of mindset from playing football and from our football Coach Patrick Walsh."
After his high school career, Outman chose Sacramento State to play for the Hornets and Head Coach Reggie Christiansen.  And no, I did not ever see him play at Sac State.  Christiansen has been inducted into the Menlo College Hall of Fame which is where he played and coached.  Christiansen led the Hornets to 9 straights 30+ win seasons, 9 post season appearances, 3 WAC titles, and has been both the WAC Coach of the Year, and the MLB Northern California Scouts' Div. I Coach of the Year twice.  Outman chose Sac State because of Coach Christiansen as he believed Coach could improve his game.
"I committed before my Senior year started in High School and I met the whole coaching staff at Sac State and really liked them and I liked it there.  I really liked Reggie's drive, and when I found out he had just signed an extension I loved that security of him being there for my whole career.  Reggie is a super stand up guy and I liked him a lot so going to Sac State was an easy decision."
At Sac State he hit .249/.359/.482/.841.  Good numbers, but not something that spells hot prospect.  Nevertheless, Outman, 25, was a seventh round draft pick in 2018.
After his Sophomore campaign, Outman played in the Cal Ripken League and did so at an elite level.  The Cal Ripken league features players from all of the biggest Conferences.  All Outman did was hit .341, 9 homeruns and stole 18 bases in 37 games.  How elite?  He was awarded the Summer Collegiate Player of the Year by Perfect Game and Rawlings. James realized that just maybe I can play this game.
"I went to Bethesda Maryland in the Cal Ripken League and played for the Bethesda Big Train under Sal Colangelo.  I don't think it was anything specific, but the reps I got every day and seeing some really good arms was great.  That was the first time where I really felt like I was ready to take off as a baseball player."
The Dodgers recognized the athlete over the baseball player when they drafted him in the 7th round of the 2018 draft.
"Draft day was a great day.  It was at like 11:00 in the morning on a work day so everyone else was at work.  I was anxious, but then I got the call that the Dodgers were going to take me in the 7th round and it was a huge relief.  It was great, it was one of the greatest moments of my life."
Outman was assigned to the Ogden Raptors in the Pioneer League, an Advanced Rookie League, primarily for college player.
He started out slowly,
"Going 0 for my first 23. Our hitting coaches in Ogden, Dustin Kelly and Cordell Hipolito helped me a lot with my direction and making myself more in line to hit the baseball."
 For the year, at Ogden he hit .264/.350/.490/.841. He was named Player of The Week in the Pioneer League for August 13-19, in 2018. 
Dodgers farm director Will Rhymes did not want to call Outman a "project" but then again, that is what he was.
"We saw a tremendous amount of ability on both sides of the ball," Rhymes said. "His swing was a little bit—something we knew we had to dive in on as a group from Day One. We took that to James and he went to work right away on the offensive side.

"I think we saw the upside offensively as massive with more kind of plug-and-play defensive skills."
Outman is considered by many to be MLB ready on defense. Rhymes said there were a lot of good components to his lefthanded swing.
"I think if you looked under the hood, his decision-making is high end. I mean top of the charts, as is the quality of contact," Rhymes said. "So the components were there."
Outman believed his swing was too stiff (a caveman swing – his words).  He and the Dodger coaches worked to completely revamp his swing.
Outman and the Dodgers' hitting coaches went to work on his swing, refining his mechanics to handle professional pitching and, in particular, syncing his lower body with his upper half.
"It's been impressive to watch someone just continue to dive in and truly understand his swing and what he's trying to do and continually refine it," Rhymes said. "Usually development isn't so linear, but he's been steadily getting better and better." 

"He came to us with those components, and he's been incredibly serious and curious about his swing," Rhymes said, "and he's been the main driver for the adjustments. 

"The way he's wired has been very impressive to watch. It's the reason he's made so much progress."
 When asked about his revamp, Outman stated:
"I came into pro ball kind of swinging like a caveman," Outman said. "Just, like, really stiff and not much there. … It's been a total rebuild."
Outman was ready to continue his revamp of his swing for 2020, but the pandemic hit, and Outman was not one of the prospects being assigned to USC as part of The 60.  They had a family friend that had a batting cage (that needed work) in their back yard.  There were other batting cages around town without locks and James and his father "snuck out" and worked on the swing changes.
In 2021, Outman was assigned to Great Lakes (now High A).  After starting slowly, he got hot in July and was promoted to AA at Tulsa.
Great Lakes – .250/.385/.472/.857 – 304 PA
Tulsa – .289/.369/.518/.887 – 187 PA
2021 in Total – .266/.379/.490/.869 – 18 HRs
That led to being invited to the Arizona Fall League, where he was chosen to participate in the Fall League Fall Stars Game.
.284/.422/.552/.974 – 83 PA
Outman was impressive enough to be protected from the Rule 5 draft and be added to the 40 man roster last November.  He went to Spring Training for the first time as a member of the Dodgers roster and proceeded to have a productive ST, even in a short sample size.  In 9 PA, he had 5 hits, 1 HR, and 5 RBIs.  He struck out 1 time.
Outman was assigned to Tulsa to start 2022, where in 307 PA, he batted:
.295/.394/.552/.946 – 16 HR
On June 29, Outman was promoted to AAA (Oklahoma City).  In 97 PA, he batted:
In 90 games this year in the minors, Outman had 21 home runs, 69 RBI, and a .915 OPS.
And as we all now know, on July 30, 2022, Outman was recalled to the ML team where he made his memorable ML debut on Sunday, July 31, 2022.
In the top of the 3rd with Cody Bellinger on 1st, Outman faced off against German Márquez.  On the 3rd pitch he saw on his first MLB PA, Outman slugged a HR over the RF fence and a 2 run lead. The HR was 405 feet and had a 97.1 exit velo.
POV: You're @james_outman's fiancée recording his first MLB homer in the stands. pic.twitter.com/FFNL9YVH2v

— Los Angeles Dodgers (@Dodgers) July 31, 2022
Of course you have to get the HR ball.  Alex Vesia finally acquired it and he was just as ecstatic as was James:
For me it was Alex Vesia's excitement when he got James Outman's home run ball 😂 #Dodgers

— Doug McKain (@DMAC_LA) July 31, 2022
Thank you to the @Dodgers @Alex_Vesia You made this kids day!! pic.twitter.com/yxvqBIRjdt

— The Paradox Of Sports (@paradox_sports) July 31, 2022
James was the 8th Dodger to hit a HR on his first MLB PA.  The list:
After striking out on a wicked slider in his next AB, Outman went on a terror.  In the 7th he blistered a single into RF to lead off.  He eventually came around to score on a Freddie Freeman double.  This turned out to be his hardest hit ball at 109.5 MPH.  As it turned out, the single was the hardest hit of the game.
In the 8th, with Gavin Lux at 2B and 2 outs, James stroked a run scoring double.  It was his 3rd official hard hit ball at 104.3 MPH.
James did hit for the cycle one game as a junior in high school, and he was a triple shy of hitting for the cycle in his ML debut.  He was 3-4, 3 RBIs, 2 runs scored.  The Dodgers were 3-13 WRISP, and he was one of the three.  Where James Outman stands in the history books for Dodger players debut.
First Dodger rookie to have 3 hits in his MLB debut game since Mike Piazza (09/01/1992).
Second LA Dodger rookie to drive in at least three runs in his debut. First was Rob Segedin (08/17/2016).  Segedin drove in 4.
Second Dodger rookie to have 3 hits and 3 RBIs in his debut. First was Packy Rogers (07/12/1938).
Second Dodger rookie to have 3 hits, including a HR in his debut. First was Jose Offerman (08/19/1990).
First Dodger rookie to have 3 hits, including a HR, and 3 RBIs in his debut.
After the game, Outman was asked what he was thinking as he rounded the bases with his HR.  He responded with a little laugh…" Nothing…absolutely nothing." 
Other notes – Tony Gonsolin still had trouble with his command, but grinded out 5.0 IP on 92 pitches/61 strikes.  He retired the final 7 batters he faced, and turned the game over to the bullpen.  The bullpen was solid in their 4.0 IP.
Yency Almonte was first up, and he retired all four batters he faced.  Even in Colorado, his slider was nasty.
Alex Vesia came in to face the LH batters and allowed 1 single in his 0.2 IP.  Phil Bickford to the mound in the 8th and allowed 1 single before getting out of the inning.
Craig Kimbrel came in a non-save situation.  He gave up a double to Connor Joe but struck out Sam Hilliard and Brian Serven to end the game.  A much better outing than his Friday.
Every Dodger reached base.  Besides Outman, Freddie Freeman had 3 hits.
The Dodgers beat Colorado to win the series and come out of Colorado with a 5-5 record in 2022.  They still have 6 games against the Rockies in LA…the last 6 games of the year.  The Dodgers were 21-5 for the month of July.  They still have the best record in MLB, and are on pace for a 109 win season.
Kimbrel's strike 3 slider to Serven was vintage Craig Kimbrel.
James Outman spoke pregame about his excitement about being called up today and his swing. pic.twitter.com/R2Cq20z5Mj

— SportsNet LA (@SportsNetLA) July 30, 2022
Welcome to the show, @james_outman! #Dodgers pic.twitter.com/C8gOHdtNK7

— Dodgers Nation (@DodgersNation) July 31, 2022