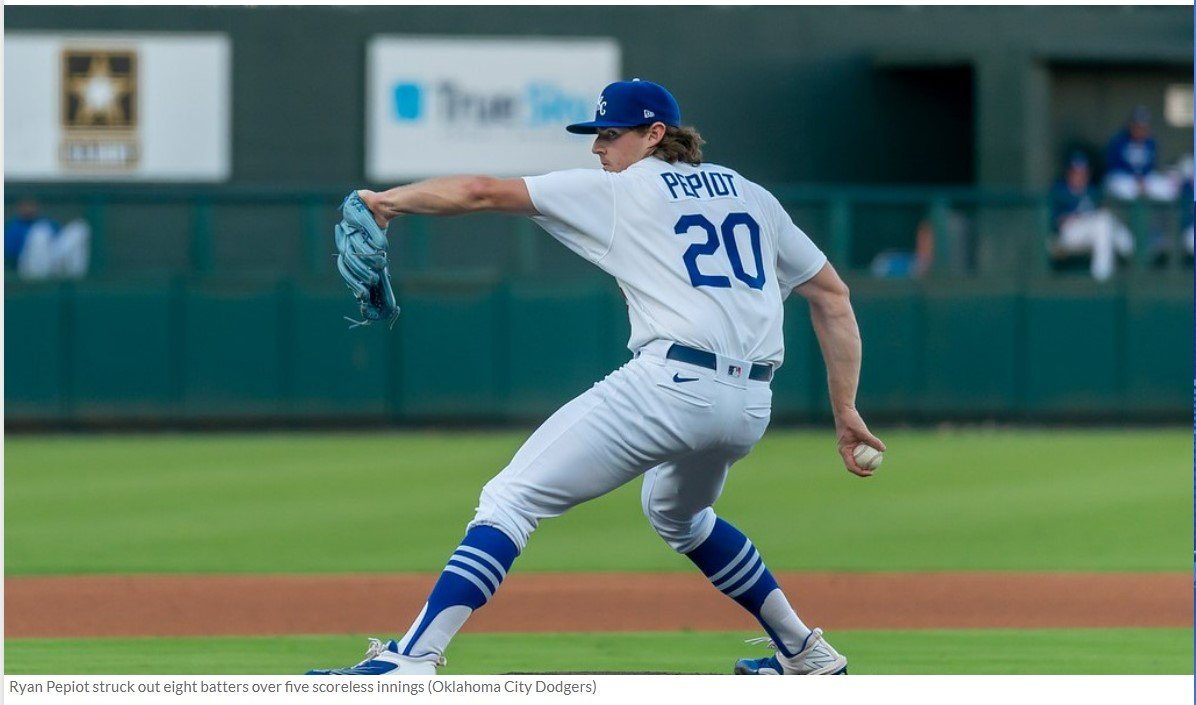 Sugar Land Space Cowboys (Houston) 4 vs Oklahoma City Dodgers 5
On the Mound
Dellin Betances started for the Dodgers and surrendered two runs on two hits in his one inning pitched.
Ryan Pepiot pitched the next seven innings and limited the Space Cowboys to two runs on five hits while striking out four. He walked two.
Carson Fulmer, currently sporting a 1.52 ERA and a 1.04 WHIP, came on in the top of the ninth inning with the Dodgers leading by a single run. With one out he made things interesting by walking Enmanuel Valdez and Taylor Jones. After a second out, Fulmer walked Yainer Diaz but earned the save with  a third out groundout.
At the Plate
In the first half of the game the Dodgers scored in the odd innings consistently.
In the bottom of the first inning a Michael Busch RBI double followed an Edwin Rios double while in the third inning a Jason Martin two-run home run (22) followed a Miguel Vargas walk. In the bottom of the fifth inning a Ryan Noda 447 foot two-run home run (16) followed a Jason Martin walk.
Player of the Game
The call has to go to Ryan Pepiot for his second consecutive seven inning appearance in which he retired the last 10 hitters that he faced.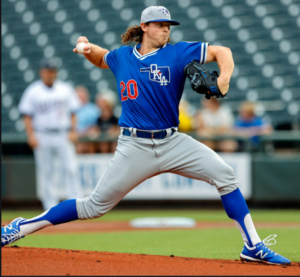 Arkansas Travelers (Seattle) 3 vs Tulsa Drillers 16
On the Mound
Jose Hernandez started for the Drillers and tossed a clean 1.1 innings with one strikeout.
Hernandez was followed by Gavin Stone who pitched 5.1 innings on 94 pitches. He was able to pitch out of trouble early in his appearance but allowed two runs – both unearned – in the fifth inning following a Jeren Kendall error on a fly ball to the first hitter in the inning. Stone's line included four hits – all singles – and an uncharacteristic four walks. He did strike out five. He was still registering 96 mph to the last batter he faced in the seventh inning.
Nick Robertson replaced Gavin Stone with two out in the seventh inning. Robertson got the final out in the inning. He has been on a roll also as over his last seven appearances in 10.1 innings he has allowed only one earned run along with one walk and 12 strikeouts. He finished the eighth inning and in his 1.1 innings pitched gave up one hit along with two walks and two strikeouts.
Guillermo Zuniga finished the ninth inning giving up a run on two hits.
At the Plate
It was one of those games that the Travelers might like to forget.
The Drillers scored their first run in the bottom of the third inning on two walks, a sacrifice bunt by Jonny DeLuca and a sacrifice fly by Ryan Ward.
They struck for five runs in the fourth inning with only two base hits. The damage included three walks, a sacrifice fly and  a passed ball. The two singles were by Leonel Valera who drove in one and Ryan Ward who drove in two.
Four more runs came across for the Drillers in a more traditional fashion in the fifth inning. A Brandon Lewis walk was followed by a Devin Mann home run (1) to left field. Two more were plated with a Ryan January double following a Carson Taylor single and Leonel Valera walk. At this point in the game the Drillers had drawn eight walks and had six hits.
Not content with a 10-2 lead the Drillers scored two more in the bottom of the seventh inning with a Ryan January home run (2) following a Jeren Kendall single. Not to be outdone, Andy Pages homered (17) to left field driving in Jonny DeLuca who had been hit by a pitch.
The barrage kept going for the Drillers in the eighth inning. Carson Taylor doubled and came around to score on a Jeren Kendall sacrifice fly. Ryan January put a an exclamation mark on the evening with another home run in the eighth, a solo shot to right center field.
Player of the Game
Gavin Stone showed his mettle working 5.1 innings when he was not at his beat. However, the nod goes to catcher Ryan January for his three extra base hits, two of which were home runs,  and four runs batted in.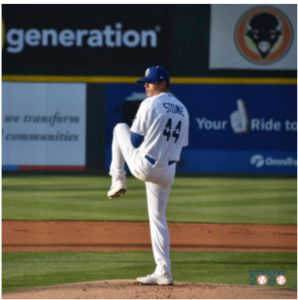 Lansing Lugnuts (Oakland) 1 vs Great Lakes Loons 4
On the Mound
Personal favorite Ben Harris started for the Loons and in his one inning pitched, he struck out the side on 11 pitches.
Another Ben, Ben Casparius, followed Harris and pitched a strong five innings allowing four hits and one run. That run came on a home run in the third inning by Lugnuts second baseman Alexander Campos. Casparius issued no walks and struck out seven. It was a welcome outing for Casparius as he had four rough outings prior to this one.
Right-hander Braydon Fisher pitched the seventh inning in which he allowed one hit and issued a walk but held the Lugnuts scoreless.
Cole Percival came on in the eighth inning and retired the side by allowing only a walk.
Ryan Sublette was called upon to close out the game in the ninth inning. Sublette has been on a hot streak in which he has allowed only two earned runs – both in the same game – in his last 13 innings pitched over 10 appearances. He shut down Lansing by allowing only a walk in the inning and earned his seventh save.
At the Plate
The Loons struck for a pair of runs in the third and fourth innings. In the third inning Eddys Leonard singled and scored on a Jorbit Vivas triple. Alex De Jesus then walked and was thrown out attempting to steal second base. Vivas scored from third base on that play.
The Loons picked up those two fourth inning runs in Dodger style on back-to-back home runs by left fielder Aldrich De Jongh (6) and shortstop Luis Yanel Diaz with his first home run at the AA level.
Player of the Game
Twenty-three-year old right-hander Ben Casparius claimed the honors with his five innings pitched earning the win.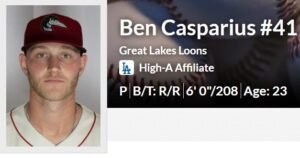 Rancho Cucamonga Quakes 3 vs San Jose Giants 7
On the Mound
It seems the Quakes have had some difficulty finding pitching consistency during the current season The trend continued early in their Sunday game against the San Jose Giants.
Joel Ibarra surrendered four earned runs in his inning pitched while Gabe Emmett gave up three in two innings. In between Ibarra and Emmett, Kelvin Bautista did pitch a clean inning.
Jerming Rosario restored order to the mound with four strong shutout innings in which he allowed only two hits, walked none, and struck out nine. He struck out five of them consecutively on one stretch and four consecutively in another sequence.
At the Plate
The Quakes did not score until the fifth inning when Kyle Froemke doubled, Javier Armas walked and aided by a balk, Austin Gauthier delivered a two-run single.
They added one more run in the top of the ninth inning following a hit by pitch, a single and a throwing error by Giants' pitcher Esmerlin Vinicio.
Player of the Game
The offense didn't really offer any candidates nor did the pitching except for Jerming Rosario and his four strong innings on 50 pitches, 40 of them strikes.