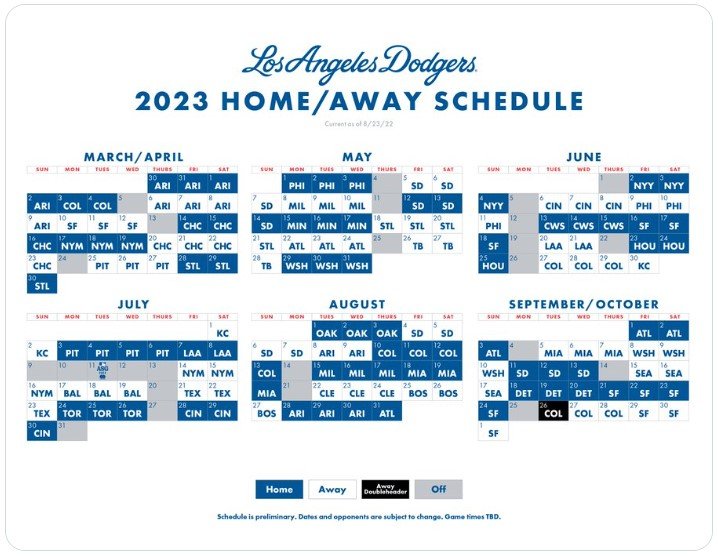 Okay, Spring Training is over, and we have a day before the season officially starts.  So why not provide some superficial fluff as the bridge.
Before I deep dive into the schedule, how many out there remember that it used to be the Cincinnati Reds that always played the first game of the new season?  Just like everything else, things change.
Now on to the 2023 "balanced schedule".
As I am sure everyone is aware, the 2023 schedule has been adjusted to make it "more balanced".  Every team will play every other team in MLB.  There are three components of the new balanced schedule.
Division Opponents:
Each team will play 52 games against division opponents, decreased from 76 under the previous schedule structure.
This will include 13 games (across four total series) against each division opponent, decreased from 19 (across six series). That's seven home games and six away games (or vice versa) against each opponent for a total of 26 home games and 26 away games.
Non-division league opponents:
Each team will play 64 intraleague games (32 home games and 32 away games), decreased from 66.
Teams will play six games against six league opponents and seven games against four other league opponents. This is the reverse of the previous format, in which teams played six games against four league opponents and seven against six league opponents.
Interleague games:
This is the biggest change, with 46 total Interleague games for each team (AL vs. NL and vice versa), an increase from 20.
Teams will play a home-and-home series (four games total) against their natural Interleague rivals, and another 42 games against other Interleague opponents, including seven series (21 games) at home and seven series (21 games) on the road.
Specifically for the Dodgers:
Division Opponents (52 games):
Arizona – 7 home, 6 away
Colorado – 6 home, 7 away
San Francisco – 7 home, 6 away
San Diego – 6 home, 7 away
Non Division League Opponents:
7 games (28 games):
Chicago Cubs – 3 home, 4 away
Pittsburgh – 4 home, 3 away
Louis – 3 home, 4 away
Atlanta – 4 home, 3 away
3 home and away against (36 games):
Philadelphia
Milwaukee
Washington
Cincinnati
New York Mets
Miami
Interleague games:
Natural Interleague Rival (4 games) – LAA (2 home and 2 away)
3 home games (21 games):
Minnesota
NYY
ChiSox
Houston
Toronto
Oakland
Detroit
3 away games (21 games):
Tampa Bay
Kansas City
Baltimore
Texas
Cleveland
Boston
Seattle
The Dodgers open the season (March 29) at home against Arizona.  The Dodgers and DBacks face off against each other 8 of their first 10 games. The Dodgers finish the season on the road against San Francisco (October 1).
They play all 7 of their games against the Cubs in April.
Outside of the All Star Break, the Dodgers have 21 open dates.  The first one, April 5, is on a Wednesday.  After that there will be 10 Monday open dates and 10 Thursday open dates.
The Dodgers have 19 games when they have to travel to another city without a day off.  They do have a couple of coast to coast trips with no day off.
April 27 day game in Pittsburgh to home.
August 27 probable night TV game in Boston to Arizona.
There are multiple travel plans from home to the Midwest and vice versa.
The team has four different 13 consecutive games on the schedule, one 12 consecutive games, and two 10 consecutive games.
The longest consecutive away games is 10 (May 18 to May 28).  They play 4 in St. Louis, followed by 3 in Atlanta, and 3 in Tampa Bay.
The longest consecutive home games is also 10 (August 10 to August 20).  They play Colorado for 4, Milwaukee for 3, and Miami for 3.
There is also a 9 consecutive away and home game run.
Okay that is more information on the schedule than most of you wanted to hear.
Another superfluous topic is the ESPN Top 100 players in MLB.  Atlanta and Houston have 8 top 100 MLB players each.  NY Mets and Toronto have 7, while San Diego, Philadelphia, and Cleveland have 6.  The Dodgers have 5 – Freddie (5), Mookie (9), Julio (46), Will Smith (47), Clayton (87).
What is interesting is that most of the teams with top MLB players do not have corresponding good farm systems (as rated by MLB Pipeline).  The two exceptions are Cleveland with 6 top MLB players have the 4th best farm system, and the Dodgers have 5 top MLB players with the 2nd best farm system.
The Angels have two top 100 players.  They just happen to be #1 and #2…Shohei Ohtani and Mike Trout.
Here is the makeup of the ESPN Top 100 and their respective farm rankings.
ESPN TOP 100 MLB PLAYERS
Team
1-25
26-50
51-75
76-100
Top 100
Farm
Ranks
Atlanta
2
3
3
0
8
30
Houston
1
3
3
1
8
27
NY Mets
2
2
2
1
7
11
Toronto
1
1
2
3
7
20
San Diego
3
1
0
2
6
23
Philadelphia
2
2
1
1
6
21
Cleveland
1
2
1
2
6
4
LA Dodgers
2
2
0
1
5
2
Seattle
1
1
0
3
5
24
ChiSox
0
1
1
3
5
26
NY Yankees
2
1
1
0
4
13
Tampa Bay
0
2
0
2
4
6
St. Louis
2
0
0
1
3
9
Miami
1
0
1
1
3
18
Milwaukee
1
0
1
1
3
15
Minnesota
1
0
1
1
3
19
Baltimore
0
1
2
0
3
1
Texas
0
2
1
0
3
7
Arizona
0
1
1
1
3
3
LA Angels
2
0
0
0
2
28
Pittsburgh
0
0
1
1
2
8
Boston
1
0
0
0
1
16
Chicago Cubs
0
0
1
0
1
12
Kansas City
0
0
1
0
1
29
San Francisco
0
0
1
0
1
17
Colorado
0
0
0
0
0
14
Cincinnati
0
0
0
0
0
5
Oakland
0
0
0
0
0
22
Washington
0
0
0
0
0
10
Detroit
0
0
0
0
0
25
25
25
25
25
100
Farm Ranks per MLB Pipeline
David Peralta, Jason Heyward, Noah Syndergaard, Shelby Miller, J. P. Feyereisen.  Throw in Trayce Thompson.
How long do you hold on to Trayce if he is still hitting <.150 and striking out >35% of the time.  Yes he made an outstanding play in CF against LAA, but the Dodgers released a better defensive and arguably better offensive player in Cody Bellinger.
Trayce was a great feel good story in 2022, but this is 2023.  Trayce has never been able to put together any kind of a multi-month run much less a multi-year run.  What if RHH Jonny DeLuca or Andy Pages go off in MiLB?  How long before Trayce is moved for another option?
I had no problem with acquiring low risk – high reward veteran players like David Peralta and Jason Heyward.  I am not sure that either were necessary, and certainly not both.  But I understand the reasoning.  It seems evident (at least to me) that Peralta was signed because AF/BG did not consider James Outman ready for MLB. They were wrong.   But how long does that low risk have to hold out before there is even a modicum of a reward.  They will both get long leashes, but if they are not producing at the Deadline, do you forget they are LH and bring up Pages?  Or do you try to acquire the Cards' excess CF Dylan Carlson or one of the Brewers excess OF?  NYY Harrison Bader?  Or some other big bopper?
What do the Dodgers do with Michael Busch?  He is ready for MLB, but he has no place with the Dodgers.  Do you stick him in LF at OKC or give him a crash course at 3B?  Busch is certainly not going to unseat Freddie Freeman at 1B, and the Dodgers have decided that Miguel Vargas is the superior option at 2B.  Perhaps Busch's best value to LAD is in a trade.  But if Busch hits like I think he will at OKC, it is going to need to be a huge improvement over an existing LAD ML player.  I would consider holding onto Busch for the 2024 DH.  Heck, if JDM hits as Badger projects him to, then maybe this year.
Of course with Steven Duggar and Bradley Zimmer at OKC, that presents another roadblock for LAD's homegrown players.  Drew Avans will be returning for his 3rd year at OKC.  Andy Pages has to be an everyday OF at OKC, right?.  With Yusniel Diaz in the OKC OF picture, what happens to Jonny DeLuca and Ryan Ward?  Are they both stuck at AA?  For how long?
The acquisitions of David Peralta and Jason Heyward, and the retention of Trayce Thompson have lasting effects down the organizational ladder.
Drew Avans – Baseball age 27 (at AAA)
Yusniel Diaz – Baseball age 26 (at AAA?)
Bradley Zimmer – Baseball age 30 (at AAA)
Steven Duggar – Baseball age 29 (at AAA)
Andy Pages – Baseball age 22 (at AAA)
Ryan Ward – Baseball age 25 (at AA)
Jonny DeLuca – Baseball age 24 (at AA)
Jose Ramos – Baseball age 22 (at AA)
Michael Busch, wherever and whoever he plays for – Baseball Age 25.
Regarding leashes, how long of a leash will Noah Syndergaard have.  The pitching depth creates different problems for the decision makers.  They may have to hold onto the position players longer than many of us may want because of the lack of discernable position player talent in the upper levels of MiLB, especially in the positions of need; OF, SS, 3B, 2B.  But that is not the case with pitching.
I have been an avid advocate for the Syndergaard signing.  I am not as worried about his last two outings as many are.  While I do expect Syndergaard to be a quality member of the LAD rotation, I am not overwhelmingly convinced that Thor will not falter.  Ryan Pepiot is expected to have 5 starts before Tony Gonsolin is due back (at end of April).  What if Pepiot finds his confidence to match his pitches and he has an excellent start to the season.  He is capable of doing so in the #5 role.  Does he go back to AAA?
What if Michael Grove and Gavin Stone are unhittable at AAA?  What if Landon Knack has turned the corner?  With Pepiot and Andre Jackson on the MLB team, and Bobby Miller nursing a sore shoulder, I figure Knack gets one of the rotation spots in OKC.  But there are a surplus of possible starters for the ML rotation if Syndergaard does in fact falter.  The question is, how  long of a leash will he get?  I do think he will get a long leash. He should be fine as the #4 starter. If nothing else, he will end up in the bullpen.
How long do you hold back Nick Frasso, Nick Nastrini, or Emmet Sheehan at AA?
Two players I am anxiously waiting to see in AA are Eddys Leonard and Jorbit Vivas.  They were both added to the 40 man roster in December 2021.  This raised a few eyebrows as neither player had played above A Ball at the time.  They did not have as good of 2022 seasons as were expected, but both had fantastic springs, both offensively and defensively.  They are both 22, and are very much on the radar.  The problem with adding them to the 40 man so early is that after this year, they will only have one option remaining.  With that in mind, will the Dodgers push them this year to possibly be assigned to AAA sometime this summer, getting them closer to The Show?  The path is clear for both, especially for Eddys Leonard, as OKC does not have a clear SS.  It figures to go to Yonny Hernandez or Bryson Brigman or Luke Williams. None of whom are considered potential MLB SS.
It looks like the Dodgers came in second in the Luke Raley for Tanner Dodson trade last March.  While Dodson continues to struggle with control, Raley had a great Spring: 326/.396/.721/1.117 in 45 PA.  He had 5 HRs and 14 RBIs, which surpassed every Dodger.
The OKC season starts on Friday, March 31.  They still have not posted the roster updates. They currently show 41 players on the roster (not counting Jason Heyward or Jordan Yamamoto).
AA (Tulsa) – starts Thursday April 6
A+ (Great Lakes) – Starts Friday, April 7
A (Rancho Cucamonga) – Starts Thursday, April 6