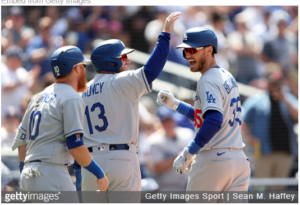 Leave it to us arm chair managers/GMs to recognize that we just are not as smart as we think we are.  Well at least for one game, and one game against Cincinnati.  But the three guys that have been criticized the longest and loudest this year had great days: Max Muncy, Justin Turner, and Cody Bellinger.
Today the Dodgers scored 10 runs on 16 hits.  FIVE HRs. For the series, 26 runs, and 42 hits. That is unquestionably a series to remember. The one negative on the day was Phil Bickford and his lack of command of his fastball that just got hit hard, and absolutely crushed by Tommy Pham.  Otherwise the bullpen was outstanding all series.  One blemish on the bullpen for the series, is not that hard to take.
To be somewhat fair to me (I am allowed, it is my blog😍), I have never been an advocate for keeping Belli on the bench.  He has always been too valuable defensively and with his baserunning.  And it is not like Belli has not had some solid days (although all too infrequently) with the bat this year.    I did say that Belli should move down the lineup.  Sure enough he drops to #8, and he has the best day at the plate all year.  Yes, he has had a couple of three hit days, but not like today.  Today was special.  3-3, HR, 3 RBI's, 3 runs scored, a sac fly, and a stolen base.  I especially liked his last single to the left side that he beat out.
Next…JT.  I also did not ever believe he should be benched.  More time off?  Sure.  Did I think he was hitting the Chase Utley wall?  Yes, and still do.   Today, JT drank from the Fountain of Youth, both offensively and defensively.  Three hits including two doubles.  One of these days, one of those balls that bang of the top of the wall will find its way over it. His defense was huge today.  3-4 spectacular defensive web gems.
Doc said he was going to leave Muncy in the #4 spot because he knew at some point Muncy would figure it out, and Doc wanted Max in the #4 spot when he did.  I don't know about that.  He did not feel the same with JT or Belli when he moved them down.  Why Max?  Doc and the entire LAD brain trust collaborate on the lineup based on a gazillion algorithms.  Who am I to disagree?
It matters not, because Max had his best game of year.  He was not only productive offensively, but he was also stellar defensively.  Max had three hits including a MONSTER HR.  The defensive play he made on Jonathan India was spectacular.
Admittedly, I have been hardest on Max.  I am not about to claim that this game is the turning point in the season for Max, any of the three.  It was against Cincinnati, on a sunny day with the wind blowing out in RF.  The Reds are 30th in team ERA in MLB, 30th in reliever ERA, and 29th in starter ERA.  They are 27th in team WHIP, and they have given up the 3rd most HRs on the year.  So it is certainly something to celebrate, but not something that is predictive of the next series, much less the rest of the season.  Let's enjoy the day, and worry about tomorrow…well, tomorrow.
By the way, the Dodgers and Reds could be big trade partners if they so desire.  The Dodgers have a lot of pitching talent, and they cannot use it all.  Of course the Dodgers will be interested in Tyler Mahle and Luis Castillo (as will a dozen other teams).  Two other players that I think would interest the Dodgers are Brandon Drury and Donovan Solano.  They can both play anywhere, and they hit LHP well.  They will both be moved at the deadline, as they will produce a decent return for a rental.
LAD 5 HRs on the day
He deserves his own.
The good day continued with both the Giants and the Padres losing.  The Dodgers now lead San Diego by a game and the Giants by 5.5.
Next up, the Atlanta Braves about as hot as a team can be.  16-3 in July, including 3 out of 4 against SF Giants.