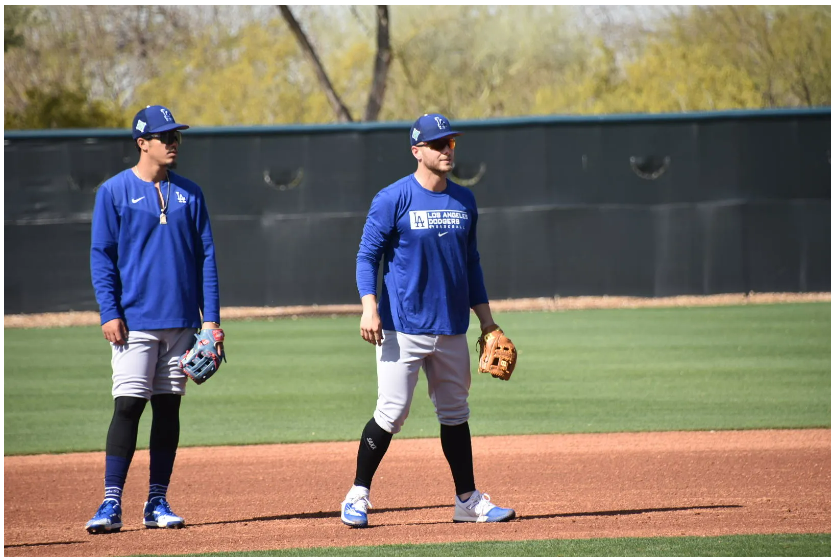 While the present LAD team appears that it could be something special this year, the future is not that far away for us to ignore.  We know that AF and BG are thinking about it.  Add Billy Gasparino to that list this week in anticipation of the 2022 MLB Rule 4 Amateur Draft, beginning Sunday.  We will have a preview of the draft (authored by Rob) published for Saturday.
Before I get to my thesis for this post, I just want to editorialize a bit.  Why aren't Freddie Freeman and Will Smith on the NL All Star roster.  I had no problem with Carlos Rodón being added, but Garrett Cooper over Freddie Freeman?  Freeman was better in every offensive category than Cooper, before Cooper was selected.  And now?
Willson Contreras has caught one game since coming back from his hammy injury.  He has been DH'ing most of the games.  Maybe he will want to rest the hammy and let Smith take his spot.
Okay, enough All Star snub editorials.
I catch a lot of flak because I do not bow to the greatness of the LAD prospects.  I like them, and I think some of them will be solid regulars.  But I do not see a consensus All Star in any of the position players, although Diego Cartaya could get there.  OTOH, I do think that the Dodgers do have a potential Nolan Gorman type level prospect in Michael Busch.  Lower batting average, high power potential, high K rate.  The difference is, Nolan Gorman (22) is already in MLB and is 2.5 years younger than Busch (24).
That seems to be a consistent theme throughout the LAD organization.  Looking up and down the top 100 prospects, most of the Dodger prospects are older than their counterparts.
Some age comparisons:
Francisco Alvarez 20 in AAA (projected to be in MLB this year) vs Diego Cartaya 20 in A+.
Riley Greene 21 in MLB, Corbin Carroll 21 in AAA, and  Gunnar Henderson 21 in AAA vs Miguel Vargas 22 in AAA.
Eury Perez RHP 19, Kyle Harrison RHP 20, Daniel Espino RHP 21, and Gordon Graceffo RHP 22, all in AA vs Bobby Miller RHP 23, Gavin Stone RHP 24, and Landon Knack 25 all in AA.  Graceffo bested Stone on Wednesday.  All four of the non- Dodger pitchers are all ranked and rated as a better prospect than either Miller (LAD top rated pitcher).
Jordan Walker 20 in AA and Ezequial Tovar 20 in AA, vs Andy Pages 21 in AA.
Dodgers top 20 year old pitcher is Maddux Bruns who has thrown 24.2 innings at Low A.
Dodgers youngest top prospect is Andy Pages (21) in AA.
The Dodgers have 7 of their top 30 in AAA:
Miguel Vargas – 22
Michael Busch – 24
Ryan Pepiot – 24
Andre Jackson – 26
James Outman – 25
Jacob Amaya – 23
Michael Grove – 25
Others in AAA :
Drew Avans – 26
Omar Estévez – 24
Hunter Feduccia – 25
Justin Hagenman – 25
Marshall Kasowski – 27
Ryan Noda – 26
Mark Washington – 26
Of that group, there are exactly three prospects that figure to have prominent roles with the Dodgers:
Pepiot has already given notice.  The next two up will be Miguel Vargas and Michael Busch.  I do not expect either one of the two to get the call before September.  Neither Max Muncy or Cody Bellinger are coming out of the lineup, and for right now, Jake Lamb and Trayce Thompson are adequate reserves, as is Hanser Alberto.  Zach McKinstry figures to be optioned once CT3 returns.  I am not sure what happens to Edwin Rios.
Miguel Vargas has hit wherever he has played, and that continued into AAA.  His batting line is .296/.387/.497/.884, with 13 HR, 61 RBI, 57 K vs 48 BB, in 334 AB.  Numbers that appear to be good enough to garner consideration for a promotion, IF NEEDED.  With JT firmly entrenched at 3B and Freddie not moving from 1B, there is no real need for Miguel.  Brandon Gomes has also said that he would like to see Vargas spend the entire year in AAA.
There is no dispute that Miguel Vargas is an offensive stalwart.  But he is a corner infielder trying to learn LF as an option.  The evaluating scouts do not think he can play an average ML 3B.  He has 13 errors and a .919 fielding average at 3B in 160 total chances.  Most scouts figure he will eventually find his way to 1B.  The concern is that he is not a proficient enough of a power hitter to be a corner infielder.  That does not concern me as much as the scouts, because I am more partial to his bat to ball skills more than his light tower power.  Scouts evaluate differently.
I fully expect to see Vargas as the Dodgers starting 3B next year, with JT as the DH.
OTOH, Michael Busch shows legit power especially for a 2B.  But his bat to ball skills leave many wanting.  His batting line for AAA is .266/.318/.492/.810, with 10 HRs, 35 RBIs, 69 K vs 15 BB in 195 AB. That is a near 33% K rate at AAA.   Respectable overall numbers, but they do not scream perennial All Star.  And while his defense has improved, it has risen to the level of adequate.  He has 7 errors in 233 total chances for a .970 fielding percentage.
The updated Baseball America scouting report:
Dodgers3B
Tools: Hit: 65 | Power: 55 | Run: 45 | Field: 45 | Arm: 50
Skinny: Vargas continues to assert himself as one of the top pure hitters in the minors and is progressively growing into more power. His ultimate position is anyone's guess, but his bat will play anywhere.
Dodgers2B
Tools: Hit: 55 | Power: 55 | Run: 45 | Fielding: 45 | Arm: 40
Skinny: After an up and down 2021, Busch has rebounded, slugging 19 home runs by July 1. Lauded for his on-base ability and power, Busch is a three true outcomes hitter with the ability to handle multiple spots defensively. An upper-level slugger with some versatility, Busch should reach the major leagues sometime in the next year.
MLB Pipeline Scouting Grades:
Miguel Vargas
Hit: 60 | Power: 55 | Run: 40 | Arm: 55 | Field: 45 | Overall: 55
Michael Busch
Hit: 55 | Power: 55 | Run: 45 | Arm: 45 | Field: 45 | Overall: 55
One of the reasons I like Baseball Prospectus as an analytical publication is because they are not afraid to provide information that is not sugar coated.
Miguel Vargas, 3B, Los Angeles Dodgers
"Why he'll succeed: Vargas has yet to find a level where he can't mash baseballs. You could drop him blindfolded and barefoot in the Oklahoma oil fields overnight, and he'd walk back to the stadium and go 2-4 with a double. He continues to get it done at third base and has added second and corner outfield this year because yeah, it's the Dodgers.

Why he might fail: Vargas isn't an ideal third baseman and may not have ideal power for a corner spot. He's a very good bet to be a good major leaguer, but maybe doesn't have star upside. "
Michael Busch, 2B/LF, Los Angeles Dodgers
"Why he'll succeed: Strictly speaking we don't consider organizational environment here—after all, Busch might be headed to Cincinnati in two weeks for Luis Castillo—but he just feels like a player the Dodgers get seven good years out of where he hits .250 with walks, doubles, and 20 bombs while playing all over the diamond and sitting against the toughest lefties.   

Why he might fail: He's listed as 2B/LF, which tells you most of what you need to know about the defensive projection. For an advanced—and older—college bat, there's always been a bit more swing-and-miss and lower batting averages than you'd expect. How many prospects that hit .250 in Triple-A best that in the majors?  
I have heard comps to Nolan Gorman.  At 2.5 years younger, Gorman hit .308/.367/.677/1.044, which prompted the mid-season promotion.
In summary, I agree that both will play as MLB regulars. But the chances of being elite at the All Star level are fading.  More so for Busch than Vargas because of his age.  Will the Dodgers go with an infield of Freeman/Busch/Lux/Vargas?
While the Dodgers still have a WS to win this year, you just know that AF/BG are thinking about 2023.  And they have their own ideas as to what will happen with Vargas and Busch.  For me, I am thinking they are both on the LAD 26 man next year.