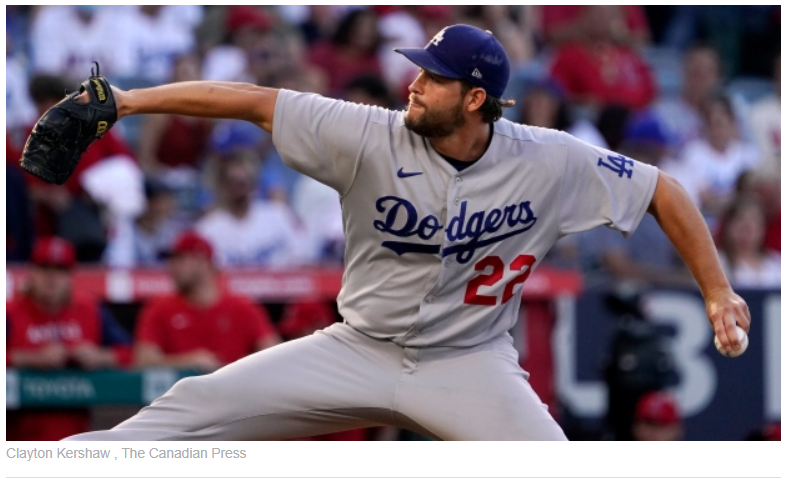 Well, I had every intention to publish Rob's post on the upcoming draft, but something very rare and exciting happened on Friday night.  Clayton Kershaw was perfect thru 7.0 IP.  This was the second time this season that Clayton was perfect thru 7.0.  The first game was a cold afternoon in Minnesota.  This was the first game of the year for Kershaw, and he threw 80 pitches. He struck out 13 Twins. He was coming off a season ending injury the season before, and it was the right decision to take him out.
On June 18, 2014, Clayton was in Colorado to take on the Rockies.  On that night, Kersh got thru the first 6.0 innings without allowing a baserunner.  Corey Dickerson led off the 7th and hit a ground ball to SS Hanley Ramirez who made an errant throw to 1B and Dickerson ended up at 2B, where he remained. He completed the no-hitter, and struck out 15 Rockies batters.
Last night, Kershaw was perfect thru 7.0.  Instead of a defensive miscue, the Dodgers made some spectacular defensive web gems.  JT (and Freddie), Hanser Alberto, and Trea Turner (and Freddie) each made a tremendous defensive effort to keep the no-hitter alive.  Kershaw acknowledged the defense after the game.  He said that he thought that he might have got the perfecto because his defense was so incredible.
However, on a 2-1 pitch, Luis Rengifo doubled off a slider that was down, but missed over the plate.  Kershaw got the final three outs in the 8th, and his night was done.  The Dodgers were up 9-0 and there was no reason for Kershaw to go back out in the 9th.  He threw 89 pitches, 63 for strikes, nearly 71%.  He was pounding the strike zone.
Reyes Moronta relieved Kershaw, and the 2nd batter he faced, Brandon Marsh, crushed a center/center changeup for a HR.  Shutout over.  That was the end of 20 consecutive shutout innings.
Kershaw struck out Shohei Ohtani twice, and the 2nd one (7th inning) was a classic. The next batter, Taylor Ward followed Ohtani, and struck out on a slider that dived off the table.  If Kershaw puts the slider he threw to Rengifo at the same location as he did Ward, Rengifo doesn't get the hit.  But he did, and the magical night simply turned to magnificent.
But it was not just the starting pitching.  The offense was tremendous on this night as well.  8-9-1 was 0-fer but with 4 walks. Will Smith led the night with 4 hits, and was a HR shy of the cycle.  He got an RBI for the 7th consecutive game.  Justin Turner had a 4 hit night that was turned into a 3 hit night by the score keeper.  He had 4 RBIs. Trayce Thompson had a 2-hit night, and made a fine running catch in the 8th to keep the shutout intact.   That made his father, Mychal Thompson, very happy, and not too grumpy (Mychal's word) to be interviewed by Kirsten Watson.
The team was 6-15 WRISP.
Will Smith is arguably the best offensive catcher in the game right now.
BA – MLB (2nd), NL (1st) – .276
OBP – MLB (3rd), NL (2nd) – .368
SLG – MLB (1st), NL (1st) – .485
OPS – MLB (2nd), NL (1st) – .853
HR – MLB (1st), NL (1st) – 14
RBI – MLB (1st), NL (1st) – 47
Freddie Freeman leads ML in hits with 112.
Neither are currently on the All Star roster.  There is still time.  I still have a rough time figuring out why the Commissioner's office selected Garrett Cooper over either Smith or Freeman.  The Marlins already had two on the roster, and the game is in LA.  Why not give the nod to a Dodger in the replacement of the injured Bryce Harper?  I guess Manfred still has a problem with LAD.  Does Manfred really believe that Garrett Cooper was more deserving than Freddie or Smith?
Going into the All Star game. Kershaw is now 7-2 with an ERA of 2.13, a WHIP of 0.91, and a remarkable SO/W ratio of 75/12.  That is 6.25 to 1.  I think he has earned the starting assignment for the All Star game.  Thankfully, Brian Snitker gets to choose the starter and not Rob Manfred.  Certainly an argument could be made that Sandy Alcantara could get the start, but the game is in LA.
In 2013, Kershaw should have had the starting assignment, but the game was in NYM Citi Field and Matt Harvey, the Mets pitcher, got the assignment in his home park.  Now it's Kershaw's turn.
I am giving a formal apology to Rob Schelling who spent a lot of time and wrote a great article on the upcoming Rule 4 Amateur Draft being held on Sunday – Tuesday in LA.  I promise it will run on Sunday AM before the draft.