OKC Dodgers 3 vs Tacoma Rainiers (Seattle) 7
For the month of July (13 games), the OKC offense has been averaging 6.15 runs per game, and yet are 4-9 in those games. That is because they are averaging 8 runs against.  In those 13 games, OKC pitching has allowed 7 or more runs in 9 of them.
Last night it was Sam Gaviglio who drew the starting assignment.  He breezed through the first two innings, allowing only a single.  However, he gave up 6 runs (5 earned) on 5 hits, 2 walks, with 5 Ks in the next two innings.  The big blow was a 3-run HR in the 3rd by rehabbing Kyle Lewis.  Jose Adames and Daniel Zamora followed with 2.1 perfect innings.  Justin Bruihl surrendered a run in the 9th.
Offensively, the Dodgers got on the board in the top of the 1st with a Drew Avans single and a 2-run HR by Jason Martin (19).  They scored an unearned run in the 7th.  Jacob Amaya and Omar Estévez each had a pair of singles.
Tulsa Drillers 6 vs Springfield Cardinals 4
The Drillers scored all 6 runs in the first three innings.  In the first inning, Jonny DeLuca continued to hit AA pitching, and opened with a triple.  Ryan Ward singled DeLuca home.  Andy Pages and Justin Yurchak drew walks to load the bases.  Carson Taylor singled home 2 runs.
In the second, DeLuca singled and came home on Ryan Ward's 21st HR.  In the 3rd, Devin Mann stroked a 1-out single.  Brandon Lewis followed with a double and Abiatal Avelino hit a sac fly to score Mann.
DeLuca and Ward had 2 hits, with Ward supplying 3 RBIs.  Both DeLuca and Ward scored twice.
Clayton Beeter started and completed 3.0 IP allowing 2 runs on 3 hits and 2 walks.  Alec Gamboa followed and completed 3.1 IP also allowing 2 runs, but on 5 hits and 2 walks.  Both registered 4 K's.  Jose Hernandez and Guillermo Zuniga finished the final 2.1 IP with Zuniga getting his 9th save.
Editorial:
Clayton Beeter has started 15 games for the Drillers and has completed 4.0 innings three times, and pitched into the 4th on two other starts.  Last night he was pulled after 56 pitches, and the team up 6-2. He is not being developed as a reliever and he is not being stretched out as a starter.  I am guessing that they are working on his pitch mechanics:
Per MLB Pipeline:  "With the exception of the shortened 2020 college season, he has exhibited fringy control, and his delivery may not be conducive to throwing more strikes. The Dodgers will try to stretch him out as a starter in 2022, with the fallback of making him a high-leverage reliever if that doesn't work." 
Beeter is 23 in AA.  He was the 66th overall pick in 2020.  Shane Baz is 23 and in MLB.  Eury Perez is 19 in AA.  Kyle Harrison is 20 in AA.  Daniel Espino and Taj Bradley are 21 in AA.
I am asking the question, not making a statement.  But at what point do you recognize that Beeter does not appear to be a front line starter, and maybe it is time to convert him to short relief to further develop and take advantage of his two big pitches…fastball and curve?  Again asking the question and not making a statement, but wouldn't it make more sense to develop a pitcher with the tools of Beeter as a potential high leverage reliever rather than as a starter, not having pitched past 4.0 IP in any of his 15 starts?  Maybe then LAD could have in house developed relievers rather than Jake Reed or Hansel Robles to count on.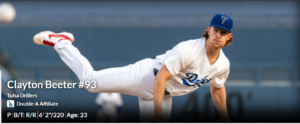 Off my bandbox.
Great Lakes Loons and Quad Cities River Bandits (KC) – Game rained out.  Teams play a DH on Saturday.
Fresno Grizzlies (Colorado) 2 vs Rancho Cucamonga Quakes 8
Joel Ibarra, a 20 year old converted SS, made his full season team debut with Rancho.  He started and pitched 2.0 scoreless innings allowing a single and HBP.  I t could be interesting to follow Joel as maybe another converted find like KJ and Pedro Baez.  Jerming Rosario entered in the 3rd in relief, and results were different than most of his recent starts.  Last night he pitched 4.1 innings on 67 pitches.  He allowed 1 run on 3 hits and 2 walks.  He recorded 3 Ks.
Joan Valdez, Gabe Emmett, and Madison Jeffrey finished the final 2.2 innings.
The Quakes used the power of a 3-run HR by Jake Vogel (1), and a pair of 2-run HRs by Damon Keith (11) and Luis Yanel Diaz (11) for the first seven runs.  The 8th run was scored on a double by Kenneth Betancourt and a 2-out double by Damon Keith.
8 of the 9 starters had at least 1 hit.  Keith had 3 hits and 3 RBIs and Luis Rodriguez had a pair of hits.