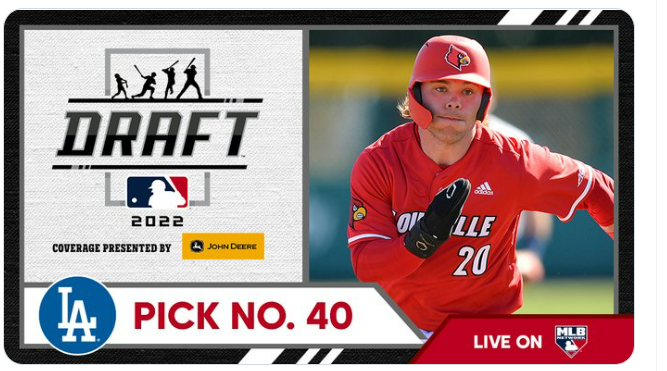 The first two rounds of the 2022 MLB Draft have concluded, and the Dodgers did not get a selection until #40 (officially a 2nd round pick).  Because the Dodgers reached the highest tier of competitive balance tax threshold last year, they were penalized by moving their 1st round pick down 10 spots from 30 to 40.  This also reduced their bonus allotment significantly (approximately $500K). They do not have a 2nd round pick because of signing All Star 1B Freddie Freeman to a Free Agent contract.
The Dodgers total bonus pool is $4,223,800.  14 teams have more dollars allotted to their first round pick than the entire LAD bonus pool.  I thought there would be a lot of underslot valued picks selected by the Dodgers. There will certainly be some 4th and 5th year college seniors selected in at least one of the 8th to 10th round.   I certainly did not see a top HS prospect being
The Dodgers had not selected as late as #40 since 2005, when they selected RHP Luke Hochevar.  Hochevar did not sign, and went 1st overall the following year to KC Royals.
So who did the Dodgers select with their 2nd round pick? For the fourth time in the AF era, the Dodgers have selected a player from the University of Louisville with their 1st or 2nd pick.  Kyle Funkhouser (2015 – Did not sign), catcher Will Smith (2016), pitcher Bobby Miller (2020), and now Catcher Dalton Rushing.  Ahh, the power of uber scout Marty Lamb.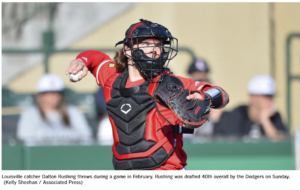 Baseball America's Carlos Collazo picked Rushing in his final Mock Draft for this pick.  They do have a young All Star caliber catcher in Will Smith.  They have his backup for two more years.  Their #1 prospect is catcher Diego Cartaya.  They also have two other top 30 prospects in Jesus Galiz and Carson Taylor.  Thus, they are pretty deep in catcher prospects.
Georgia Tech has a reputation as to being Catcher U, but Louisville can hold its own with Will Smith and Henry Davis (Pittsburgh – 2021 1st draft pick overall).
Rushing was ranked as the 41st best prospect by Keith Law (The Athletic), 44th best prospect by Baseball America, 46th by Kiley McDaniel (ESPN), and 50th by MLB Pipeline.  Thus he was selected right about where he should have been.
There were several other top prospects who might have been selected:
Cayden Wallace – 3B Arkansas
Carson Whisenhunt – LHP East Carolina
Peyton Pallette – RHP – Arkansas
Jake Bennett – LHP – Oklahoma
Ivan Melendez – 1B – Texas
Connor Prielipp – RHP – Alabama
Peyton Graham – SS – Oklahoma
But in the end it was Dalton Rushing who got tabbed by Billy Gasparino.
Did the limited bonus pool have a part of the decision making process?  We are never going to know.  But Dodgers vice president of amateur scouting Billy Gasparino had some positive feedback on the selection.
"We think he's an extremely talented player.  We love his strength; we love his athleticism. We thought he could hit with power and not chase outside the zone, and maybe a little underappreciated because he sat behind [2021 No. 1 overall pick out of Louisville] Henry Davis last year. We're excited to get a left-handed-hitting catcher with power."
"I do think his athleticism is underappreciated, so whether there's multiple positions down the road, sure," Gasparino said. "But we believe strongly in the catching outcome. Most of the industry had doubts because he only caught like two days a week. Some of that sporadic playing time back there clouded what we think is a talented catcher."
Louisville coach Dan McDonnell, speaking by phone Sunday night, agreed.
"He did enough behind the plate to show his skill set," McDonnell said. "He hasn't caught a ton at Louisville and has gotten better, so [think about] how much better [he'll get] when you stick him back there for 100-something games."
Another benefit the school's 16th-year coach pointed out:
"It's a fresh body. This is not a kid who's been crushed the last three years."
When Rushing arrived at Louisville he was a highly regarded recruit with several offers from Southeastern Conference powerhouses but also a teenage prospect who knew he needed to physically change.
McDonnell said in his freshman year, Rushing was already strong with a rare left-handed power at the plate. But he was also "a thick, baby fat, pudgy kid."  He got into the weight room and met with a nutritionist and transformed his body by increasing his flexibility and all-around athleticism.
The hard work paid off.  For the 2022 season, Rushing was named a Second-Team All-American by Collegiate Baseball Newspaper, and a Third-Team All-American by the American Baseball Coaches Association and Perfect Game. He was All-ACC second team and All-ACC Baseball Academic Team.  He was the 33rd Cardinal to be named All American.
Rushing watched Sunday's draft from the "Omaha room" at Louisville's facility, the same place another recent Louisville product, pitcher Bobby Miller, celebrated his selection by the Dodgers in the first round of the 2020 draft.
"It's a great fit. Louisville players do great in the Dodgers' organization," Rushing said via Zoom. "I believe the organization does a great job with catchers. Will Smith has obviously shown the ability he has behind the plate. I can't even explain how excited I am to get going."
From The University of Louisville:
Prospect: Dalton Rushing
Position: Catcher
School: Louisville
Year: True Junior
Bat/Throws: L/R
Height, Weight: 6-1, 220
Background
Born Feb. 21, 2001 (age 21) to parents Melissa and Joe Rushing. A native of Brighton, Tenn., he, lettered four years in baseball at Brighton High School, as well two years in football. In his senior season, Rushing hit .491 with 11 home runs and 46 RBIs, and ranked as high as the No. 103 high school prospect in the nation according to Prep Baseball Report.
COVID-19 limited the amount of time he saw on the diamond during his freshman season at Louisville, but he still was able to make an impact. Playing in 11 of the Cardinals' 17 games before the pandemic halted the 2020 season, including six starts at first base, Rushing hit .308 with a home run, six RBIs and four doubles.
As a sophomore, even with Louisville going back to playing a normal schedule, Rushing saw his role take a bit of a hit. But that's more so due to future No. 1 overall pick Henry Davis playing behind the dish, future third-round pick Alex Binelas switching to first base, and a myriad of players switching in and out of the designated hitter spot. He only played in 28 of Louisville's 50 games with 19 starts (mainly at DH), hitting .254 with four home runs and 14 RBIs.
Rushing won out the battle for starting catcher against Jack Payton when Davis departed for the big leagues, and he turned in one of the better power-hitting seasons in Louisville history. Playing all 64 games and starting all but one, he hit .310/.470/.686 along with 23 home runs, 62 RBIs and 16 doubles on top of 50 walks. Not only did he come within striking distance of the Louisville single-season home run record (Chris Dominguez – 25 in 2009), but he ranked in the top 10 in the Atlantic Coast Conference in walks, HBPs, home runs, on base percentage and runs (68).
Strengths
Offensive numbers jump out, but his defensive efforts skyrocketed in the final weeks of the 2022 season. He is an above-average blocker with an underrated arm, throwing out 31 percent of potential base stealers this past season.
Can hit for high power and consistently produces high exit velocities. Typically doesn't chase pitches that he knows he can't hit. Produced 39 extra base hits in 64 games.
Displays above average patience for a power hitter. He drew 50 free passes for a walk percentage of 16.9 percent.
Rushing has a load that crowds the plate, which leads to a lot of hit-by-pitches (20 in 2022). Has a compact swing that travels quickly through the strike zone, with a relatively even spread across the field.
Weaknesses
While he typically doesn't chase pitches he can't hit, he does sometimes produce pure swings and misses at pitches inside the zone. He struck out 58 times for a strikeout percentage of 19.6 percent.
Biggest offensive red flag is perhaps his occasional struggles against plus-velocity, typically at 93 mph or higher.
Doesn't have extensive collegiate experience at catcher prior to 2022, and hasn't been a full-time catcher in either college or high school (split reps at first base). However, this shouldn't present a huge problem given how he finished the 2022 season defensively.
If catcher doesn't work out long term, his only other option is likely at first base due to below average agility and quickness. Only stole four bases in 2022. 
MLB Pipeline Scouting Report
Hit: 50 | Power: 55 | Run: 20 | Arm: 55 | Field: 45 | Overall: 50
Henry Davis went No. 1 overall to the Pirates in the 2021 Draft, and his successor as Louisville's catcher is climbing up Draft boards. Rushing accumulated just 93 at-bats and started only two games at catcher in his first two years with the Cardinals, but he emerged as one of the best offensive performers in the Cape Cod League last summer. After proving up to the task behind the plate while sharing the catching job at Louisville and drilling 23 homers this spring, he could go in the first two rounds.
Rushing translates his impressive strength and well above-average bat speed into solid power. He repeats his compact left-handed swing well and has displayed a more patient approach in his first season as a full-time starter. He's drawing more walks and showing an improved ability to drive the ball in the air and to all fields.
Rushing needs more experience and agility as a catcher, though area scouts believe he can become at least an adequate receiver and possibly better than Davis in that regard. He has solid arm strength and makes accurate throws, even from his knees. With his lack of quickness, first base is his only other feasible defensive option, though at 5-foot-11 he'd be short for that position.  
Baseball America Scouting Report 
44 – Dalton Rushing
Louisville C
HT: 6-1 | Wt: 220 | B-T: L-R
Age At Draft: 21.4
BA Grade: 50/High
Tools: Hit: 55. Power: 55. Run: 30. Field: 45. Arm: 60.
A compact and strong catcher with a 6-foot-1, 220-pound frame, Rushing has been an impressive hitter throughout his collegiate career but didn't get a chance to show his catching chops regularly until the 2022 season. Rushing split time at first base and catcher during his first two years—when 2021 No. 1 overall pick Henry Davis was on the same team—and played mostly first base in the Cape Cod League with Bourne in 2021, where he acquitted himself nicely, hitting .314/.401/.542 with six home runs and nine doubles. This spring, Rushing has been one of the more impressive college hitters in the country. Through 61 games, Rushing hit .311/.477/.693 with 22 home runs, 15 doubles and 49 walks (17.3 BB%) to 55 strikeouts (19.4%). Rushing has some holes in his swing, and he has struggled against 93-plus mph velocity throughout his career, but he swings at pitches he can do damage with and makes plenty of impact when he makes contact, with strong exit velocity numbers and good barrel rates. While Rushing's offensive performance certainly improved his stock, what really pushed him into top-two round territory was his defensive play later in the season behind the plate. Scouts came away impressed with his defensive ability and wondered why he wasn't catching every day for the Cardinals, with fine receiving skills and plus arm strength. He threw out 31% of base stealers and should only improve his defensive foundation while getting more reps and development time at the position in pro ball.
ESPN Scouting Report
Dalton Rushing (21.3), C, Louisville
Hit: 30/45, Game Power: 35/55, Raw Power: 55/55, Speed: 30/30, Field: 40/50, Throw: 55/55
With robo umps likely on the way to MLB, Rushing is good enough defensively to leave him back there. He's power over hit at the plate with a decent approach, giving you shades of Yankees prospect Austin Wells in a more compact package.
The Athletic Scouting Report
Dalton Rushing, C, Louisville
Rushing barely played in 2021, as he was backing up the guy who'd become the No. 1 pick in that year's draft, Henry Davis. But now that he's no longer in Davis's shadow, he's broken out across the board, hitting 23 homers and drawing 50 walks for a .310/.470/.686 line. Rushing has only caught about half of Louisville's games this year, although scouts feel like he's an adequate receiver who has enough of a chance to stay there that he should go out as a catcher – and, obviously, the teams that believe that are far more likely to want to draft him higher. He has a strong idea of the strike zone and doesn't chase out of the zone much, but his bat speed is just fair and he had real trouble with velocity this year. If he can stay behind the plate, he has a chance to be a low-average power guy who adds some value with on-base skills. But if he has to move to first base, he doesn't have a clear path to be a regular.
When a dream becomes reality. #GoCards | #MLBDraft pic.twitter.com/Jhad0W2So0

— Louisville Baseball (@LouisvilleBSB) July 18, 2022
𝙏𝙝𝙚 𝙑𝙞𝙡𝙡𝙚 ➡️ @Dodgers @daltonrushing7 is headed to L.A.#GoCards | #MLBDraft pic.twitter.com/RvY3nBrOqb

— Louisville Baseball (@LouisvilleBSB) July 18, 2022
Watch This Video of one of his HRs
WELCOME TO THE LOS ANGELES DODGERS DALTON RUSHING