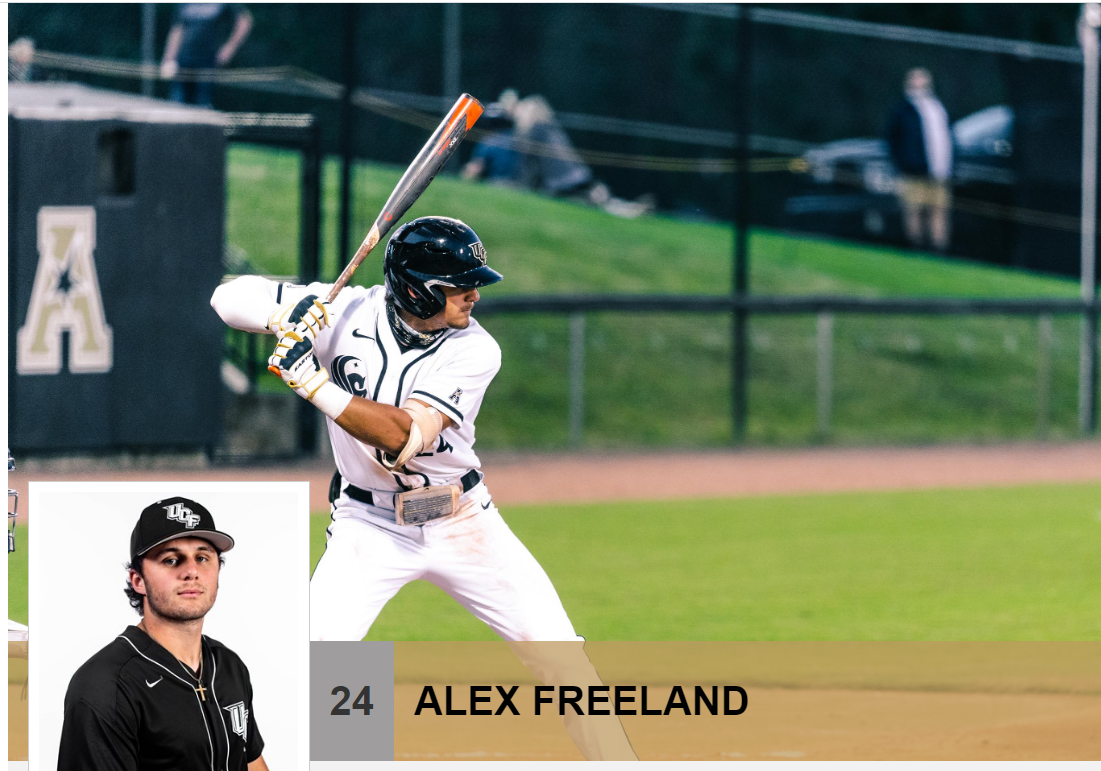 MLB completed day 2 of its draft on Monday afternoon and we learned a couple of things:   First, I have no special talent for mock drafts.  I struck out on all of my choices.  Not to worry though, I still enjoyed myself some delicious sweet potato cheesecake, from Sharon's Creole Kitchen, one of my absolute favorite restaurants located in Murrieta.  I enjoyed some fried alligator there on Sunday evening.   Delicious!!!  But I digress.  Second, there was no discernable strategy employed by teams that was different from prior years.   As in the past, several high school talents, that figured to be tough signs, were not drafted.  No surprise there.   The Dodgers deviated from their normal script in that instead of selecting pitchers, this year they selected 8 position players out of their 9 selections.  Last year they selected 19 pitchers out of their 20 picks, with Damon Keith being the only position player selected.
I know that virtually every Dodger blog has already profiled the players selected by the Dodgers and this may seem a bit repetitious t some of you readers.  However, not to be outdone, I provide my short recap of the selections:
Pick No. 105:   Alex Freeland, SS, Central Florida.  Freeland is a draft eligible sophomore who played all over the infield, but was drafted as a shortstop.  He's a solidly built 6'2″ 200 lbs.  He's a switch hitter, that put up a 282/.570/.419, 38 RBI, 11 HR, 40 H, 30 BB, 6 SB line for the year.  He only struck out 32 times.   Freeland was ranked the 249th best draft prospect by Baseball America, the 163rd by ESPN, the 170th by MLB Pipeline, the 102nd by Perfect Game, the 209th by Prospects Live and FanGraphs didn't even bother to rate him.  However, as we have long known, the folks at Perfect Game are the only ones who know what they're talking about when it comes to ranking players.
Brian Sakowski, a National Crosschecker for Perfect Game loved the pick, as he shared on Twitter:
Dodgers take Alex Freeland, and I love this pick. Switch hitter with good hit tool and power projection from both sides, was excellent on the Cape this summer, can potentially handle multiple spots..
Wyatt Kleinberg, who is a Volunteer Manager at USC Baseball and who interned as a Video Associate/Development Coach for the Dodgers was excited about the pick and tweeted:
Freeland is a fun pick. Mashes FB and despite lower overall EV vs SL, his OPS vs SL was 1.045. Not elite EVs vs offspeed but the potential is absolutely there, switchy w good upside (he's young for draft year). Love this pick
 Future Dodgers also liked the pick:
Freeland was a pretty highly ranked prep bat in 2020 who went to school, is a draft eligible sophomore. Switch hitter, solid hit tool, nearly as many walks as strikeouts in 2022.
When coming out of Mariner High School, Cape Coral, Florida Baseball America had this to say about Freeland:
Freeland is ready to step right into the Knights' lineup on the left side of the infield. The switch-hitter has solid power, especially from the left side, and a solid overall feel for hitting. He has good hands and arm strength and may ultimately fit best at second or third base but has a chance to play shortstop for UCF.
Just prior to the draft, Freeland was named an all-star for the prestigious Cape Cod Baseball League.  At the time selected he was leading the Brewster Whitecaps, hitting .253 with five homers, 12 RBI, four doubles, and 14 runs scored. He doesn't turn 21 until later this summer.  He appears to me to have second baseman written all over him.  He is majoring in psychology, which may come in handy in providing some much needed therapy for Muncy and Bellinger.  He might also be part of the trade package that lands us Juan Soto or Luis Castillo.
Pick No. 135: Nick Biddison, Utility, Virginia Tech.  Biddison is an undersized 5'10" 190 lb senior from Virginia Tech.  Biddison has experience all of the field defensively, and had a very strong season in 2022, hitting 351/.434/.598, with 14 home runs and 21 stolen bases. He had an OPS above 1.000.  His 88 hits were the most by a Hokie leadoff hitter in the program's ACC era.  He was ranked 298th by Perfect Game, the 165th by Prospects Live.  As we all know, the folks at Prospects Live are the only ones who know what they're talking about when it comes to ranking players.  Jonathan Mayo compared him to Nick Madrigal, an infielder whom the Cubs acquired for Craig Kimbrel.  One can only hope that Mayo is correct.  Biddison is a very athletic player, coming from athletic bloodlines.  His mother played volleyball at Clemson, where she was an All-ACC performer. He is a fourth year junior who turns 22 later this month, so the Dodgers may be able to sign him under slot.  Rest assured, he's going to sign.  On his twitter account he tweeted the following:  Excited to be a Dodger!  Most optimistic outlook, he fills a Chris Taylor type role with the Dodgers.
Pick No. 165:   Sean McLain, Inf, Arizona State University.  Sean is part of the McClain baseball family from Tustin, California.  He is the younger brother to Matt McLain, the UCLA star who was selected with the 17th pick by the Cincinnati in the 1st round of the 2021draft.  Sean attended Beckman High School.  Sean is 5'11", 170 lb second baseman, who found himself playing shortstop when the projected starting shortstop was injured.  In two full seasons as a starter on ASU's middle infield, McLain was one of the lineup's most consistent hitters, finishing with 48 multi-hit games across his 108 career starts and at one point recording a 23-game hit streak during the 2021 campaign, tying former ASU outfielder Andre Either for the third-longest such streak since 1998.  For the year, McClain hit .333with 3 homeruns and 34 RBI.  Apparently Justin Turner is his favorite player, as he was hit by pitches 21 times.  He was ranked 161st by MLB Pipeline; 183rd by Baseball America and 195th by Perfect Game.  Need I say who is best at ranking draft prospects?  The aforementioned Jonathan Mayo had this to say about him:
"He comes from a baseball family. … He had a much more inconsistent season this year. He has a chance to hit, and runs pretty well. I think he probably ends up as a second baseman."
The feeling is that he's ready to turn pro.
Pick No. 195:  Logan Wagner, SS, 2B, P27 Baseball Performance Center, South Carolina.  Wagner has the distinction of being the first player drafted this year that was rated higher than where he was selected.  He is also, the only high school student chosen in the first 10 rounds by the Dodgers.  ,  He's listed as a SS/2B/3B.  He's 6-1 and weighs 198 pounds.  He's from Aurora, IL where he was home schooled. He attended the P27 Performance Center in Lexington, South Carolina.  P27 was created to enable student athletes the opportunity to reach their highest potential through professional training, mentor ship, and immersing in a Christian leadership environment that harnesses success.  "P27″ is the abbreviation for Proverbs 27:17, "As iron sharpens iron, so one person sharpens another."  Even though he is a big boy, he runs a 6.85 60-yard dash.
Perfect Game had this to say about him:
Logan Wagner is a 2022 SS/2B, 3B with a 6-1 198 lb. frame from Aurora, IL who is home schooled. Large, athletic frame with broad shoulders and present physical strength proportioned throughout frame. Ran a 6.85 60-yard dash. Primary shortstop, fields the ball out front with two hands, picks the ball cleanly, balance to actions and repeats them well, quick transfer, some effort at release but can work from multiple slots with comfort and accuracy across the diamond, arm strength plays. Switch hitter, graded out best from the right side in this look; balanced stroked, short and direct to the ball with present whip to the barrel, bat speed plays and stands out, works to the middle of the field on a line with comfort, shifts well through lower half moving into contact. High hand set and back elbow at the plate from the left side, longer path, has bat speed to stroke, keeps hands inside the ball, worked contact around to all fields. Very good student. Verbal commitment to Louisville.
The Dodgers love them some Louisville players!!  Wagner, a switch hitter with a high motor, is likely to move from MIF to second or third at the next level. His stock has recently started to surge as he attended the MLB Combine like many of the other Louisville commits. Some had Wagner going around the 3rd round in the MLB Draft. The Dodgers may need to pay a little over slot to get him to sign.  I like this pick.
Here's a day in the life of young Logan.
Pick No. 225: Christopher Campos, RHP, SS Saint Mary's, CA.  Campos was a 2 way player at Saint Mary's.  The last player from Saint Mary's drafted by the Dodgers was Tony Gonsolin.  Corbin Burnes was also drafted out of Saint Mary's.  Let's hope that Campos can replicate their success in the majors.  As a batter, Campos hit two home runs in three years, hitting .290/.347/.373. As a pitcher, mostly in relief, Campos had a 1.34 ERA with 41 strikeouts and 15 walks in 34⅔ innings in his three years at St. Mary's. The Dodgers listed him as a shortstop.  He's 5′ 10″, 170lbs and hails from Damien H. S., La Verne, California.
The Hacienda Heights, Calif. native played middle infield and pitched in late-inning, high-leverage situations for the Gaels. Collegiate Baseball named Campos to their Preseason All-American Second Team as a utility player.  He was the only WCC player so recognized.  Campos hit .299 on the season with two home runs, four doubles, four stolen bases before an ankle injury sideline him in mid-April after 35 games and 134 at bats. He returned to the mound on the last day of the season and pitched an inning against Cal State Northridge allowing no earned runs.  Apparently he displayed the same velocity he had before the injury, sitting around 94 MPH on his fastball and able to dial it up to 97 MPH.
Campos' head coach, Greg Moore had this to say about him:
"Christopher's will to win separates him. His awareness on the field is what you see from the best point guards in basketball. CC got better each semester on campus. He has an explosive arm and knows how to play the game. He's as competitive and gritty as anyone on the West Coast."
He is currently playing for the Bellingham Bells in Washington, where he's pitched 6 innings, allowing an earned run with nine strikeouts, five saves, and only one walk issued. He was also 18 for 72 (.250) with three doubles and a .333 on-base percentage with as many walks as strikeouts (6).  He is only a sophomore, but, I believe this young man will sign. The Dodgers are his favorite team.  The Dodgers drafted a similar player in 2019, when they picked Alec Gamboa in the 9th round.
Pick No. 255: Taylor Young, 2b, Louisiana Tech.  The 5-foot-9, 170-pound shortstop led Conference USA in runs scored this season (80) and stolen bases (28 of 30 attempts).
In 2022, Young put up his best numbers as a Bulldog, hitting .364 with 12 home runs, four triples, 23 doubles, 58 walks, 51 RBI, 28 stolen bases and he led the nation with 89 runs scored for a second straight year.  The West Monroe native has etched his name in the Louisiana Tech baseball record books. Young holds the program record for hits (297), runs scored (272) and games played (249). He ended his Bulldog career with 229 consecutive games played (school record) – even playing through a broken hand. Young played in 226 consecutive games dating back to April 6, 2018.  He might just be, what's known as a gamer.
His LA Tech bio has this to say about him:
Earned ABCA/Rawlings First Team All-American honors, ABCA/Rawlings First Team South Region honors, C-USA Tournament MVP, First Team All-Conference USA honors and Brooks Wallace Award finalist… Set the new games played record with 249… Broke the all-time hits record at Tech with 297… Broke his own single-season runs record with 89… Ranked first in the nation in runs scored for second consecutive year… Started in all 64 games as Tech's leadoff batter at shortstop… Started in 229 consecutive games dating back to April 6, 2018 against UTSA… Ranked inside the top 10 in C-USA in batting average (.364 – T-6th), slugging (.644 – seventh), on-base percentage (.506 – second), hits (87 – first), doubles (23 – third), walks (58 – first) and stolen bases (28 – first)… Earned C-USA Hitter of the Week honors after going 11-for-17 with a home run, three doubles, a triple, eight RBI and 10 runs scored (3/9-3/13)… Went 5-for-8 with a home run, a triple, two doubles five RBI and three runs in two games versus LSU (2/23 & 3/23)… Was a single shy of the cycle in the first meeting with LSU… Recorded 28 multi-hit games with 12 being three-hit and one being a four-hit game… Went 4-for-5 in a midweek contest against Southeastern (3/9)… Hit a go-ahead two-run double in the eighth inning of game two at Old Dominion (4/30) in a 3-for-4 performance… Belted a three-run homer in a 14-5 series clinching win to finish off the regular season at Charlotte (5/21)… Had two three-hit games during the C-USA Tournament… Hit his 12th home run of the season in his final game as a Bulldog in the Austin Regional versus Air Force (6/5)… Put together a 22-game on-base streak falling second for the longest by a Bulldog this season…
I like this pick and if he signs, I'm going to be rooting for his success.
Pick No. 285: Brandon Neeck, LHP, Virginia.  Primarily a reliever for the Cavaliers over his four years in Charlottesville, Neeck was one of UV's top back-end bullpen arms. His most notable performance as a Cavalier came in the 2021 NCAA Columbia Regional in which he struck out 16 batters over 5.2 innings pitched (a UVA record) against top-seeded Old Dominion.
Neeck was UVA's opening day starter in 2022 and won two of his first three games before transitioning to the team's closer role. Out of the bullpen, he posted a 2.45 ERA with 32 strikeouts in 18.1 innings pitched. He recorded three saves, all in ACC play and all required five or more outs.
Shortly after the switch, Cavaliers pitching coach Drew Dickinson said Neeck's fastball velocity range jumped from between 87 and 90 mph as a starter to 92 to 96 mph as a reliever. That's a different person," Dickinson said then. "That's letting it go and it's electric. It's shutdown and it's strikeouts. It's all of those things against both lefties and righties."  Neeck had 101 strikeouts in 67.2 career innings pitched in three seasons for the Cavaliers.
Jared Perkins had this to say about him:
I was pretty impressed with Neeck in the first four innings of this game. According to the stadium gun, his fastball was sitting in the upper-80s to low-90s, topping out at 91 mph. He showed a couple of secondaries, relying heavily on a slider that sweeps across the zone, which he used to his advantage against lefties. He also threw what seemed to be a change-up but didn't use it very frequently. He shows a good command of all of his pitches and stays consistently in the strike zone. He cruised through the first four innings, but Boston College got to him for four earned runs in the fifth. He ended the day with 4.2 innings pitched while striking out three. To take that next step in his development, he will either need to develop his third pitch or find a way to get to a point he is throwing consistently in the mid-90s as he has touched 95 mph in the past. Teams will most likely be interested in Neeck come draft day due to the potential he might be able to bring to the table.
You can't draft enough relievers, or catchers for that matter.
Pick No. 315: Simon Reid, Catcher, Westmont, CA.  Reid is a 6′ 1″, 200 lb catcher that hails from McKinney, Texas.  For those who don't know, McKinney is where all disgruntled Californians move to.  Reid attended Westmont College in Santa Barbara.   Westmont is an NAIA school that I'm familiar with as my sons played against them when they were in College.  Back then their baseball program wasn't that hot.  Lately, they have gotten much better, having made their first trip to the NAIA World Series this year.
In his senior season, Reid hit .400, 24 runs, 66 hits, 18 doubles, 2 triples, 9 homeruns, and 45 RBI In his 3 year career, Reid hit .378, 56 runs, 155 hits, 40 doubles, 4 triples, 18 homeruns, and 93 RBI.  He also appears to be a good fielding catcher.  Reid holds the distinction of being the only NAIA player drafted.
His coach, Robert Ruiz had this to say about him:
Could not be more proud of what @simo_reid accomplished to get to this point in his career. Selfless, servant leader who always took care of others first. Left it better than he found it.
Although the odds are stacked against him, there is always room for a player who leaves the world better than he found it.