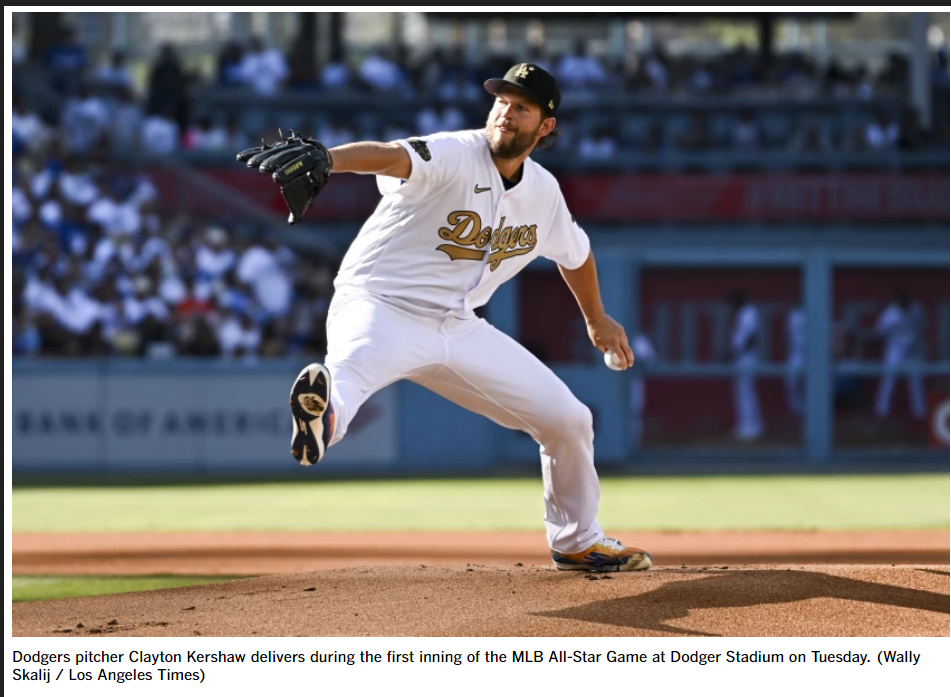 It is an exhibition game like no other.  I am sure NBA fans might disagree, but the MLB All Star game is the best in sports; at least for this fan. And the game in LA absolutely had a Hollywood flair.
The first inning belonged to the Dodgers.  Clayton Kershaw, with a big smile on his face got his first start in an All Star game, and I am sure that after the first pitch, everything was just great.  Shohei Ohtani reached out and hit a soft line drive into CF on a fast ball that was tailing away.  Kersh proceeded to pick off Ohtani for the first out.  He then struck out Aaron Judge on a nasty slider.
Kersh had Rafael Devers 1-2 put could not get him to chase, and Devers drew a walk.  Vlad Jr. grounded to Trea Turner on a 6-4 fielder's choice.  Kershaw's All Star night was done.
In the bottom of the 1st, after a Ronald Acuña Jr. double, LAD's Mookie got a run scoring single up the middle.  Manny Machado hit a ball up the middle, that Andrés Giménez made a super play on that turned into a DP.  Paul Goldschmidt followed with a HR and the NL was out to a 2-0 lead after the first.  Trea Turner followed with a single, and the LAD stars were shining.
Toronto Blue Jays RHP, Alek Manoah, was mic'd up when he took the mound in the 2nd.  He was fun to listen to.  Being mic'd up did not seem to bother him as he struck out the side.  His one mistake was a Jeff McNeil HBP that he let John Smoltz talk him into throwing a back foot slider. Instead, the pitch hit McNeil in the front foot.
When Tony Gonsolin entered in the 4th, Clayton Kershaw was the pitcher of record.  When Tony left, Tony was the pitcher of record, but as the losing pitcher.  A two-run HR by Giancarlo Stanton that was followed with a solo shot by Byron Buxton, and a 3-2 AL lead.  Four straight AL All Stars got hits, with the 2 HRs sandwiched by singles.
Four of the first five NL batters got hits, but they did not get another hit until Austin Riley singled in the 8th.  The Guardians' Emmanuel Clase struck out the side in the 9th on 10 pitches to close out another AL win…their 9th straight.  Well the NL clubs cannot beat Tony Gonsolin, but AL All Stars sure did.  I am sorry to say, he just did not look very good out there on this night.
Well as long as a Dodger could not get All Star MVP, I am glad that a San Fernando Valley native and Notre Dame high school graduate, Giancarlo Stanton did.
All in all, it was a fairly boring game, except for the players that were mic'd up.  They were actually fun.
Watching that play by Andrés Giménez reminded me of the trade that Cleveland and NYM worked out with Cleveland sending Francisco Lindor to NYM for Andrés Giménez and Amed Rosario (and two other MiLB players).  The Mets got their franchise SS, while the Guardians got their middle infield for the next several years.
Then watching Emmanuel Clase, I was reminded that he was traded to Cleveland from Texas for Corey Kluber.  Cleveland GM Mike Chernoff has done a great job with a very limited budget acquiring players.
For those who have not seen this, here is why Clayton Kershaw is the GOAT.
That's a wrap on the 2022 #AllStarGame! pic.twitter.com/OFj9wwPOpk

— Los Angeles Dodgers (@Dodgers) July 20, 2022