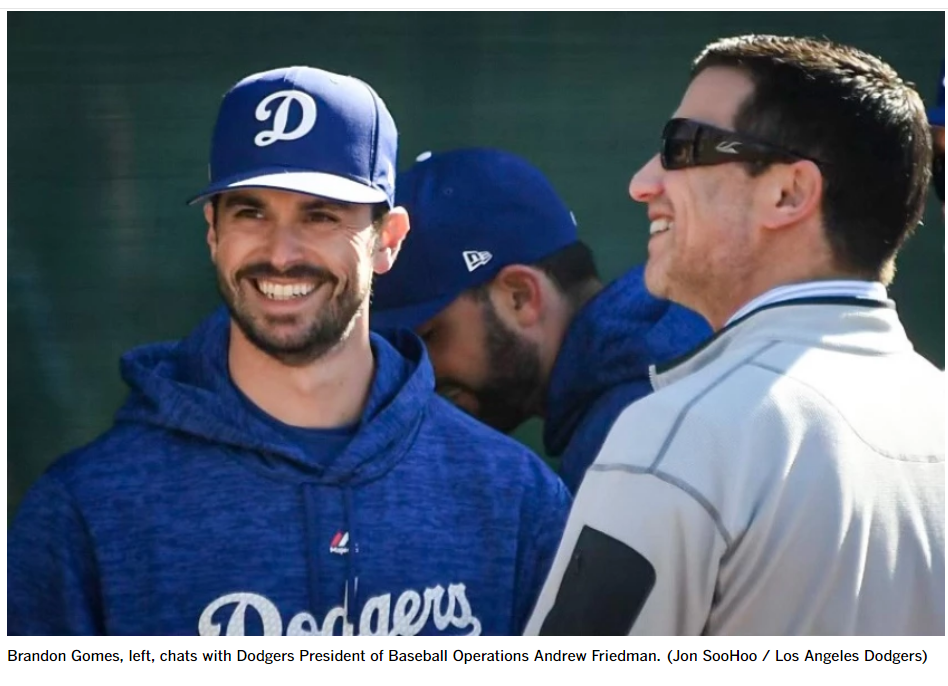 I did not do a final analysis of the 3rd day of the draft.  It is the most speculative in terms of talent and signability.  There are a couple with MLB bloodlines:
Kyle Nevin – Baylor OF (11) – Son of LAA Manager and former MLB player Phil Nevin.
Jared Karros – UCLA RHP (16) – Son of former LAD/MLB 1B Eric Karros.  Karros has not pitched since 2021 due to a back injury.
There is a 5th year senior All American:
Chris Alleyne – Maryland CF (19)
There is a former HS top 100 prospect who never did play at his expected level.  He was at one time expected to be a top 3 round pick.
Chris Newell – Virginia CF (13)
A potential steal of the 3rd day.
Jacob Meador – Dallas Baptist RHP (12)
3 HS Shortstops and 1 HS Pitcher
Nicolas Perez (15) – SS
Payton Martin (17) – RHP
Cameron Decker (18) – SS
Carter McCulley (20) – SS
1 Junior College SS, who originally attended the University of Miami:
Most of the "experts" have labeled the Dodgers draft in the "losers" column.  It is hard to be elite when you get 1 pick in the top 100 and that pick is 40.  It is also difficult to sign top HS prospects with a bonus budget so low as the Dodgers was.  Ahhhh.  Trevor Bauer, the gift that just keeps giving.  What a colossal mistake by AF by signing Bauer.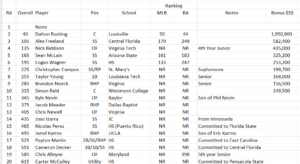 Back to the draft.  The draft is a crapshoot.  AF has been at the helm of 8 LAD drafts after this past week.  There have been solid drafts that have produced multiple MLB players, players who have been traded to acquire MLB talent, players used as organizational depth, and some who just did not provide results and were released (vast majority).  AF's first LAD draft pick was huge and was the first Andrew Friedman All Star draftee; Walker Buehler.
2016 was a historically special draft.  Others not so much.  I know that many publications consider the LAD farm system elite, but during the AF era, only 2 draft picks have gone on to become All Stars…Walker Buehler and Tony Gonsolin.  Two others that will probably get there at some point…Will Smith and Gavin Lux.  Why are they elite?  Because they do generate multiple MLB roster players, even if not stars.
Let's revisit the prior AF drafts.
I have been reading on the MLB draft for a long time.  Having been disappointed in 1993 and 1996 when our son was not drafted when a number of teams said they were very interested.  In 1997, Andy was selected in the 26th round by Philadelphia.  The disappointment did not diminish my love of the draft.
Every year I do a thorough research on the players I think may be available when the Dodgers pick.  Every year (except for 2015) I was wrong.  I did think Walker Buehler could/would drop into the LAD lap and he did.
I did not like the Kyle Funkhouser pick because he was a Scott Boras client. Funkhouser did not sign.  But I was very happy with the Mitchell Hansen pick (2nd round), and he turned out to be a bust.  Josh Sborz (competitive balance round B), Edwin Rios (6th round), and Matt Beaty (12th round) and Kyle Garlick
(28th round) found their way to the Dodgers.  Willie Calhoun (4th round) and Brendon Davis (5th round) were included in the Yu Darvish trade.  Outside of Buehler and maybe Rios, the 2015 draft did not produce many significant MLB players.  Beaty produced some memorable clutch moments for the Dodgers in 2019.  And who knows, Josh Sborz could find himself back with the Dodgers.
In 2016, I advocated for Bo Bichette for the LAD 1st round pick.  The Dodgers selected Gavin Lux, while Bichette who was selected in the 2nd round (right after the Dodgers selected Mitch White), was selected an All Star in 2021.  But the 2016 draft for the Dodgers was gold, one of the very best drafts of all time.  Thirteen draftees who signed with LAD have made it to MLB.
Gavin Lux (1)
Will Smith (1A)
Jordan Sheffield (1B) – With Colorado
Mitch White (2)
Dustin May (3)
Tony Gonsolin (9)
Zach McKinstry (33)
Others of Note:
DJ Peters – OF (4) – Not currently affiliated
Devin Smelzer – LHSP (5) (Brian Dozier Trade) – With Minnesota
Luke Raley – OF (7) (Brian Dozier Trade) – Now with Tampa Bay
Andre Scrubb – RHRP (8) (with Houston)
AJ Alexy – RHP (11) (Yu Darvish Trade)
Dean Kremer – RHSP (14) (Manny Machado Trade)
Others still working their way to MLB
Cody Thomas – OF (13) (Sheldon Neuse and Gus Varland Trade) – Oakland AAA
Kevin Malisheski – RHRP (38) – LAD AA
Cannot fault any selection of the draft.  Historically good draft.
Two others that did not sign with LAD were re-drafted and have made their new MLB teams (Graham Ashcraft – Reds, Bailey Ober – Twins).
2017 is where I departed with LAD.  Jeren Kendall was not supposed to be around when the Dodgers selected, but he was, and the Dodgers did not do what all those teams before them did…pass on him.  Going into his junior season he was a potential 1/1 pick.  But his junior year did not go as planned.  His swing and miss increased because of his desire for power.  A CF with GG capabilities who could flat out fly, and he wants to be a power hitter?  I did not write about him, because I did not think he would be available.
I was an advocate for Jake Burger and Tanner Houck.  Burger was gone by the time the LAD selected, but not Tanner Houck.  Big mistake by the Dodgers in not taking Houck, who was mocked drafted by multiple sources. He was selected exactly one pick after the Dodgers selected Kendall.
Others of Note:
Morgan Cooper – RHP (2) – Has never pitched at the professional level
Connor Wong – C (3) – Mookie Betts Trade
James Marinan – RHP (4) – Dylan Floro Trade – Still struggling in High A for Cincinnati
Zach Pop – RHRP (7) – Manny Machado Trade – Now with Miami
Rylan Bannon – 3B (8) – Manny Machado Trade (Baltimore 40 man)
Zach Reks – OF (10) – Signed for $1,500 – DFA by Texas, signed w/ KBO Lotte Giants
Jacob Amaya – SS (11) – AAA with LAD (on 40 man)
Andre Jackson – RHP (12) – AAA with LAD (on 40 man)
Marshall Kasowski – RHRP (13) – AAA with LAD
Mark Washington – RHRP (25) – AAA with LAD
Brett de Geus – RHRP (33) – Released by LAD and released by Arizona – Now in Independent
As an aside, I was routinely writing that I thought the best thing the Dodgers could do for Kendall would be to hire Brett Butler as his personal hitting coach.  But then again slap hitters are not what MLB players want to be, or what MLB executives want their players to do.
2018, the Dodgers selected Mississippi HS RHP JT Ginn.  I was a huge advocate for LHP Shane McClanahan out of South Florida.  Although I truly did not think he would be there when the Dodgers drafted.  However, he was selected by Tampa Bay one pick later.  He signed for what the Dodgers offered Ginn.  There were those who believed the Dodgers did not want to sign a 1st round pick for financial reasons, and get the supplemental pick the following year.  I remember writing about this mistake for days/months/years after the pick.
Ginn would later have TJ surgery and was selected in the 2nd round of the 2020 draft by NYM.  He was later traded to Oakland with Adam Oller in the Chris Bassitt trade.
Others of Note:
Michael Grove – RHP (2) – AAA with LAD (on 40 man)
John Rooney – LHP (3) – AA with LAD
Braydon Fisher – RHP (4) – A+ with LAD
Devin Mann – 2B (5) – AA with LAD
James Outman – OF (7) – AAA with LAD (on 40 man)
Hunter Feduccia – C (12) – AAA with LAD
Julian Smith – LHRP (15) – A+ with LAD
Aldrich de Jongh – OF (17) – A+ with LAD
Justin Hagenman – RHRP (23) – AAA with LAD
Drew Avans – OF (33) – AAA with LAD
Austin Drury – LHRP (34) – AA with LAD
In 2019, many draft pundits mock drafted Gunnar Henderson (High School SS) for the Dodgers.  After all the reading, that is who I was pulling for.  Instead the Dodgers selected Kody Hoese which was a reach in almost everyone's opinion.  I remember getting into some testy discussions with an individual on this pick.  I thought then and I still do believe that Gunnar Henderson should have been the Dodgers selection.  He is now a consensus top 10 prospect (#7 Baseball America and #5 MLB Pipeline). Kody Hoese?  He is #24 for the Dodgers and falling.  Right now his value is as a lottery pick in a trade.
Michael Busch was 1A, and was a solid pick for the Dodgers.  I also had discussions with that same individual who did not think Busch was nearly the prospect that Hoese was.  Busch was the perfect 1A pick.  Someone you hope to catch lightning in a bottle with in your second pick in the first round.  If the Dodgers had selected Henderson, Kody Hoese would have been a fine 1A selection.
The best pick for LAD should be their #3 selection of Ryan Pepiot.  He was the first 2019 draft pick for LAD to make it to MLB.  Michael Busch should be #2.
I was more than okay with the Dodgers 4th round pick, Brandon Lewis, who went to Alemany High School (where my 2 sons played), and Pierce College, where my son Kris played.  I did not understand the pick as Brandon was a 3B, the same position as is Hoese.  Did they really need two 3B in their first 4 picks?  Brandon has taken a step back with the step up to AA.  Hopefully he will return there in 2023 and thrive and become a prospect.  That is what I hope for.  Realistic???
Others of Note:
Aaron Ochsenbein – RHRP (6) – AAA with LAD
Nick Robertson – RHRP (7) – AA with LAD
Ryan Ward – OF (8) – AA with LAD
Alec Gamboa – LHRP (9) – AA with LAD
Jacob Cantleberry – LHRP (13) – A+ with LAD
Jeff Belge – LHRP (18) – A+ with LAD
Jonny DeLuca – OF (25) – AA with LAD
Julio Carrion – Utility (33) – A with LAD
2020, the pandemic hit, and the guessing was all over the course.  Everyone finally agreed on an abbreviated draft (5 rounds), but who the Dodgers would tab was anyone's guess.
The popular picks for the Dodgers were HS SS Ed Howard (signed by Cubs 16th overall) and Mississippi State 2B, Justin Foscue, who was signed by Texas 14th overall).
Another popular choice was RHB from Miami, Slade Cecconi who was still available, and selected by Arizona with 33rd overall pick.
Tanner Burns – Auburn RHP, was selected 36th overall (Cleveland).
Nick Loftin – Baylor SS, was selected 32 overall (KC).
Dillon Dingler – Ohio State C, selected 38th overall (Detroit)
CJ Van Eyk – Florida State RHP, selected 42nd overall (Toronto)
Dax Fulton – HS LHP, was selected 40th overall (Miami)
Jared Jones – HS RHP, was selected 44th overall (Pittsburgh)
Tanner Witt HS pitcher did not sign with anyone.  Is at University of Texas and had TJ surgery this past spring.
ESPN had Carson Tucker going to LAD, but he was gone when LAD picked.
In other words, nobody had a clue.  Except Jonathan Mayo (MLOB Pipeline) did say that the Dodgers could take Bobby Miller or Clayton Beeter with their first pick.  As it turns out, Mayo was right, and the Dodgers got both.
2020 could be a special draft for the Dodgers…or not.  Their first pick, Bobby Miller just flashed brilliance at the Futures Game by striking out the side in the 1st.
Landon Knack – RHP – (2) – AA with LAD
Clayton Beeter – RHP – (2 CB-B) – AA with LAD
Jake Vogel – OF (3) – A with LAD
Carson Taylor – C (4) – AA with LAD
Gavin Stone – RHP (5) – AA with LAD
Other than Jake Vogel, all are progressing nicely, and Vogel is showing signs of improvement at Rancho.
In 2021, the Dodgers selected Maddux Bruns.  Again the mock drafts were all over the board, but I was a strong advocate for Texas RHP Ty Madden.  Madden was selected by Detroit 3 picks after LAD selected Bruns. Time will tell whether Bruns is a legit MLB pitcher.  While I am not convinced that there is a starter in the draft, there are a number of intriguing arms that we will need much more time to determine if they are potential MLB caliber pitchers.
Peter Heubeck
Nick Nastrini
Ronan Kopp
Emmet Sheehan
Lael Lockhart
We will see who makes the cut next year.  LAD pitchers are indeed desired by other teams, so there at least multiple lottery tickets in this group.
I know there are those who do not believe that the Dodgers should trade any prospects for proven talent.  Other than Yordan Alvarez, what prospects have turned into elite MLB players.  Then there are those who believe that prospects are suspects and if they are not ready to promote, should be used as capital for trades.
Where does everyone fall in this dilemma?