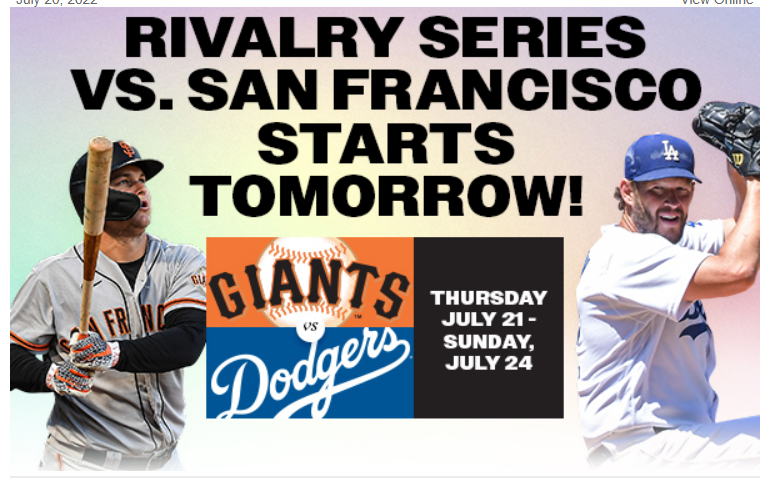 Carlos Rodón opted out of the All Star game due to a blister and split nail (cough, cough) was the starting pitcher coming out of the break against the Dodgers.  He was an All Star in 2021, so bowing out was not that big of a deal.  Methinks if the Giants did not start against the Dodgers, Carlos would have found a way to stick on the roster.
The Giants will be going with their #1 (Rodón) and #2 (RHP Logan Webb) in the first two games followed by the two Alex's, Wood (LHP) and Cobb (RHP).
Rodón was hit very hard in the first three innings.  A Freddie Freeman HR (14) and three run scoring doubles (Trayce Thompson, Justin Turner, and Hanser Alberto), with JT's double scoring 2.  All runs scored were with 2 outs.
Mitch White pitched 5.0 hitless innings, but gave up a single to Austin Wynns to open the top of the 6th.  That was 82 pitches (51 strikes) for White, and the end of his outing.  Caleb Ferguson enters and strikes out Darin Ruf and Brandon Belt, and gets Wilmer Flores to routinely fly out to Mookie Betts in RF.
A quick glance at Baseball Savant and we can see that Mitch needed to pitch to contact.  He had one strikeout and a total of 3 swings and misses in his 82 pitches.  For comparison, Rodón had 7 strikeouts and 17 swings and misses in his 94 pitches.  The difference is that Rodón could not get three outs before allowing 4 two out XBH and 5 runs.
Fergie was allowed to stay in and pitch to Joc Pederson, but once Fergie got Joc to fly out, he was pulled for Phil Bickford.  Bickford was not the answer.  HR, BB, hard single, and Bickford gets lifted for Alex Vesia.  Vesia hits the first batter he faces on the first pitch and gets Yermin Mercedes to chase on a very high fastball.  Vesia puts a 94 MPH fastball right down the chute, and Ruf did not miss it.
John Brebbia did not fool anyone, but the Dodgers could not get the big hit from Will Smith, and the game is turned over to the bullpen in a tie game.
The usually reliable Evan Phillips gave up 3 walks and a Joc Pederson double for a run to put the Giants up.  A crazy stat I heard from an unreliable ESPN crew said for the last five years, the Dodgers were 195-1 when leading by 5 or more.  Thanks to a Gavin Lux one out double, a Trayce Thompson a two out triple to tie the score, a Cody Bellinger walks on 4 pitches, and a Mookie 3-run blast (21), the Dodgers are now 196-1 when leading by 5 or more.
Overall the Dodgers had 4 doubles, 1 triple, and 2 HRs in their 10 hits.  All 9 runs were scored with 2 outs.  The Dodgers were 4-10 WRISP. This one took a little more work, but it turned out just fine.
With a RH Dominic Leone on the hill for SFG, Doc could have PH Zach McKinstry for Trayce Thompson, but the books show that Thompson is good at hitting RHP, and Doc left him in.  Trayce rewarded the confidence with a booming triple of the CF wall to tie the game.  Since becoming a Dodger, Trayce is batting .276/.333/.500/.833 in 58 AB.
I know there are those who believe that Max Muncy is just about ready to break out, while others think he is still hurt.  Regardless, while Trayce is hitting clutch, he should be the LF with Lux at 2B for most of the rest of the season.  If Trayce slumps, hopefully Max will be able to step in and carry it forward into the playoffs.  Belli is not hitting, but his defense and speed make him more playable.  The team can work with one poor offensive player in the lineup, but two makes it more difficult.  Although the team continues to win with both Muncy and Belli in the lineup, so why should we complain.
Joc and Gavin hit doubles down the left field line with the shift on and 2 strikes.  Brandon Belt bunts a single against the shift to get on base in the 9th.  It sure would be great to see Belli and Muncy stay back and put the ball in play on the left side.  Although Belli did scald a fly ball to left but it hung up for the out.
Not only was Mookie the offensive star, but he made a diving catch off of a Joc Pederson drive to end the game.  All in all it was a great start to the second half of the season.
Phil Bickford and Alex Vesia are having problems staying effective.  The Dodgers could use a couple of lock down relievers rather than experiments at the trade deadline.  They could also look for a starter, and move White to the pen.
I am not concerned with the game pitched by Phillips.  He has been locked down for quite some time.   This was the first run he has allowed since June 17 (11 games) and first earned run since May 26 (19 games).  Caleb Ferguson and Yency Almonte are also good holdovers.  Reyes Moronta and David Price??? four questionable relievers. That is I think there are other relievers that could be more consistently effective.
Mitch White deserved the win, but the team got the win, and Mitch will take that every time.
It would be a shame if this team gets hijacked because of a poor bullpen.  The team is on another long consecutive game run.  They play 18 consecutive games.  They have 12 games before the trade deadline.  What are they going to do?
Another nice defensive play.  This one from Trea Turner.