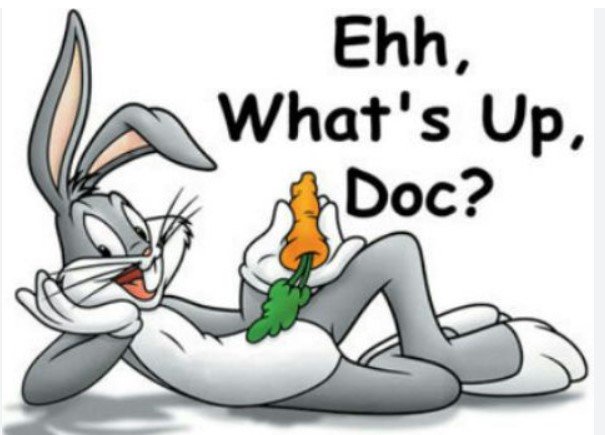 I know we are not supposed to question Dave Roberts' in-game managerial decisions, but here goes anyway.  Down only 2-0 in the top of the 6th, JD Martinez and Trayce Thompson singled, and Miguel Vargas reached on catcher's interference to load the bases with nobody out.  Doc had a decision…send up the pressing CT3 to hit against Jakob Junis or send super-confident giant killer Max Muncy to face Scott Alexander.  Roberts chose the former option, and that led to second guessing even from him.
"That guy right there, I just felt Chris in the sixth inning had a good chance. I thought about it. He's a curveball guy and obviously I had Muncy on the bench, but I just felt Chris could move the ball forward. I thought about it, but didn't pull the trigger."
As it turns out, wrong decision.  Taylor swung at a pitch that was never a strike for strike 3.   He is now 3-31, with 14 K in 34 PA.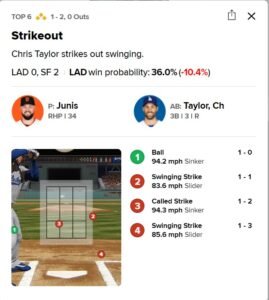 Taylor was 1-2 with a double vs Jakob Junis in the past.  Not this time. 
"It was just the frustration getting to me," Taylor said of the at-bat. "Swinging at bad pitches."
Max fresh off a 3 for 3, 2 HR, 7 RBI game against his favorite punching bag, in his favorite visitor field, was left on the bench when CT3 chased a slider that was never a strike.  You want to get CT3 out, right now start a slider a foot off the plate and he will swing.  Will it change?  It might, but with all of the other inconsistent offensive weapons, how long can they wait?  He at least deserves the same rope that Muncy was given by many…to Mid-May.  There really was not a lot of difference in the results between the two until Max went off on Monday.  With Rojas back, CT3 will go back to the utility role.  He certainly did not hurt the team defensively.
Max was 1-2 (single) against Scott Alexander with a K. He certainly could have struck out, but more likely he might have hit a ground ball that would have scored one even with a DP.  Maybe he launches another.  We will never know as it never came to be.
Doc did send Max up to lead off the 8th to bat for Taylor.  Nobody on base against the submariner Tyler Rogers. Against Rogers, Max was 1-8 (single) with 2 K.  After the AB, Max is now 1-9 against Rogers with 3 K.  Okay, not knowing the future, wouldn't you rather have Muncy up in a position where he could do damage, rather than leading off an inning against a pitcher he does not hit well at all?  Max worked the count to full, but on the 8th pitch of the AB, Rogers threw him a 72.3 MPH slider that Max never had a chance.  It was a great pitch.  Not criticizing Max on this one.  Pitchers are allowed to throw good pitches at the Dodgers.
Dustin May got the loss, but what he received in return could pay huge dividends down the line.  He threw 31 pitches in the 1st inning, allowing a 2-run double to Joc Pederson, but was allowed to stay in got through 5.1 IP.  After the Joc double, Dustin retired the next 8 batters in order before walking Mike Yastrzemski to pen the 4th.  He retired the next three batters to get out of the 5th.
May came out for the 6th and got JD Davis to ground out to start the inning.  After 77 pitches, Doc made another decision…bring in LHRP, Caleb Ferguson to face LH batters Joc and Yaz.  He struck out Joc but allowed an opposite field single through the hole between 3rd and SS to Yaz.  He got David Villar on a 5-3 ground out to end the 6th.  This decision worked just as it was designed.  Well except for the Yaz single.
Doc had another decision.  In the 7th with Shelby Miller on the mound, Doc could have left Miller in or bring in Brusdar Graterol.  The problem with Bazooka is he does not have any whiff pitches.  Every pitch that is swung at is almost always put in play.  He is in the 6 percentile in strikeouts, 7 percentile whiff%, and 28 percentile in chase rate.  Even with a Graterol BB, he got out of the inning on a JD Davis hard hit (105.4 MPH) ground ball to Miguel Vargas (4-3).  This decision worked.
Dustin pitched well enough to win, but without any kind of offense against a SP the Dodgers have hit very well in the past, Dustin left on the losing end of a 2-0 game.
The game was still close, and Doc believed that the best pitcher to come in for relief to keep it that way was Evan Phillips.  The decision was not wrong…just the results.  Sometimes good things happen, sometimes they do not.  It is not always because of a bad decision. Plus the other players are allowed to play well against the Dodgers.
But now Doc and the brain trust have another decision to make.
What's next for CT3:
Taylor's next opportunities will be against a pair of lefties the Dodgers will see over the weekend against the Cubs. "And then we'll kind of see where we're at from there," Roberts said.
 CT3 appears to be in more of a funk than was Max.  Hopefully putting CT3 on the bench and to play in a reserve role, he can forget his early season troubles.  He is considered a Doc favorite, but even Doc seems to be losing patience.  It is too late to question the contract.  There were plenty of us who did that at the time, but right now, the team needs to find the best way to utilize CT3.  He has no trade value, and he is not going to be released.  Everyone is just going to have to accept CT3 on the roster.
Maybe Monday will be the night Max needed because he apparently made a decision as well. He has decided to go back to the back step approach.  Will the success continue?  Well it did for Wednesday.  Two more HRs and 4 more RBIs.  Muncy became the first visiting player in SF era to get 11 RBIs in a three game series.
For the record, most of the in game decisions Doc made on Tuesday worked out. Just not the score we all wanted.  That is not going to change how some of you feel about Doc.  But he was not the cause for Tuesday's loss.
MiLB Summary Report
Sugar Land Space Cowboys (Houston) 7 – OKC Dodgers 3 
Matt Andriese made his third start of the season.  He allowed four runs (2 earned) on 7 hits, 1 BB, but with 6 Ks.  This is about what we should expect from Andriese.  Victor González relieved Andriese in the 6th with 2 runners on.  Two walks and a groundout and both inherited runners scored.
The usually reliable Bryan Hudson entered the 8th.  A double, a two out walk, and a 3 run HR, and the Space Cowboys were up 8-1.
Four consecutive walks and a DP scored two OKC runs for the final score.
OKC had 3 singles and a Michael Busch double.  Drew Avans and Michael Busch also had 2 BB apiece.  Busch also had a SB.
Busch started and played his first professional game at 3B.  He had three chances and had one fielding error.
Tulsa Drillers 8 – Midland RockHounds (Oakland) 4
The Drillers jumped to the lead with 3 in the 2nd.  A BB, fielding error, and infield single by Eddys Leonard loaded the bases.  A fielder's choice, Josh Stowers double, and another fielder's choice scored three in the 2nd.
A pair of doubles by Imanol Vargas and José Ramos scored a run in the 3rd.
Landon Knack was the Drillers SP, and he allowed a triple and ground out for a run in the 3rd.  It was the first run he allowed this year.
Josh Stowers and Jonny DeLuca singled, Jorbit Vivas walked to load the bases, and Stowers scored with Andy Pages being HBP.
Knack got the side out in the 4th and his night was done.
Knack – 4.0 IP, 4 H, 1 R, 1 BB, and 3 K.  After 54 pitches (37 strikes) in his 1st game, he came back with 56 pitches (39 strikes) in his second game.  Why he was not allowed to go into the 5th I do not know.
In the 6th, Carson Taylor doubled and scored on a Jonny DeLuca single.
After a scoreless inning thrown by Jacob Cantleberry in the 5th, Cole Percival did the same in the 6th.  When Percival came back out in the 7th, he walked the first two batters, and Ben Harris was summoned in relief.  Harris got the first batter on a F-8, but unleashed a WP to move the runners to 2nd and 3rd.  After a strikeout, Harris looked to get out of the jam, before giving up a 2 run single.  Both inherited runners scored.
Tulsa got the two runs back in the 8th.  With two outs, Josh Stowers singled and Jonny DeLuca walked.  Both runners scored on a Jorbit Vivas triple.
Jack Little relieved Harris in the 8th and retired the side in order.
With Little still on the mound in the 9th, a walk, double, sac fly and fielding error got 2 runs for the RockHounds.
Every Driller had at least one hit.
Josh Stowers – 3-4, 2 runs, 1 RBI
Jonny DeLuca – 2-4, 1 run, 1 RBI, 1 BB
Jorbit Vivas – 1-3, triple, 2 RBI
Dayton Dragons (Reds) 7 – Great Lakes Loons 3
It could be a long season for the Great Lakes Loons.  They gave up 7 runs on 4 hits,  including a double and 2 home runs.  In the 1st with 1 out, SP Adolfo gave up a double, 2 walks, and a grand slam HR.  Ramirez also gave up a solo HR in the 3rd for a 5-0 lead.
The Loons got one back in the 5th with a Yunior Garcia HR (1).  A Dalton Rushing single and Yeiner Fernandez double scored another run in the 7th.
The Loons got a third run in the 8th after an Austin Gauthier double who scored on a Alex Freeland single.
The Dragons got 2 runs in the bottom of the 8th without a hit.  A HBP, walk, ground out to move the runners to 2nd and 3rd, a sac fly scores one, a balk and WP gets the second run.
The Loons outhit the Dragons 8-4.
Austin Gauthier – 2-4 with a double
Yunior Garcia – 2-4 with a HR
Visalia Rawhide (Arizona) 5 – Rancho Cucamonga Quakes 4
Rayne Doncon led off the game with a single.  Doncon moved to 2nd on a groundout and scored on Jesus Galiz single.
In the 3rd, Doncon hit his 1st HR of the season and a 2-0 lead.
2022 17th round draft RHP Payton Martin started for the Quakes.  He pitched three scoreless innings, did not allow a hit, 2 BB, and 3 K in his professional debut.
Juan Morillo came in to relieve in the 4th and did not fare too well.  A pair of leadoff walks, a WP and double and the Rawhide were up 2-0.  Jared Karros relieved Morillo, also making his professional debut, had a WP and with the throwing error by catcher Jesus Galiz the third run (unearned) scored.  That put Visalia up 3-2.
With Karros still on the hill, he allowed a single, SB, and single for a run in the 6th.
Rancho got back on the board in the 7th.  With 2 out, Kyle Nevin singled, and Galiz drew a walk.  Juan Alonso doubled both runners home to tie the score.
Lucas Wepf relieved Karros and pitched a scoreless 8th.  In his debut, Karros:  3.2 IP, 1 R, 2 H, 1 BB, 7 K
In the 9th, Wepf allowed a single, a sac bunt, and a double for the walk off run.
Rayne Doncon – 2-5, 2 runs, 1 RBI, HR
Kyle Nevin – 2-5, 1 run
Juan Alonso – 1-4, double, 2 RBI