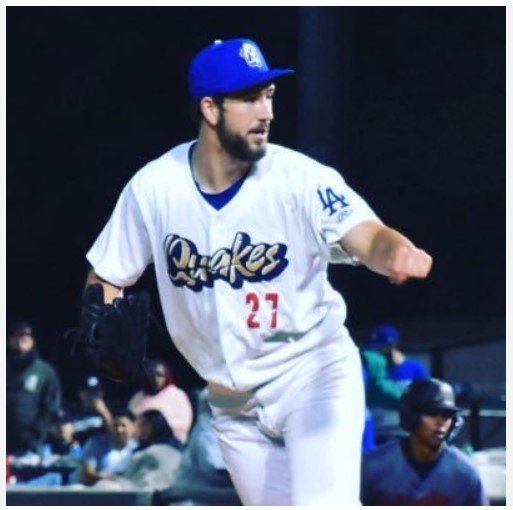 The four LAD affiliates won all four of their MiLB games.   All four wins would be considered blow out wins.  Two grand slams (Diego Cartaya – Tulsa) and Alex Freeland (Great Lakes).  Some excellent pitching, including a combined three hit shutout (RC).
It sure would be nice to see Nick Frasso move to AAA and Ronan Kopp to AA.  Midland had a 21 year old RHP, Joey Estes, face off against 24 year old Frasso.  Estes is Oakland 22nd top prospect, while the 24 year old Frasso is LAD's #10 prospect.
OKC Dodgers 12 – Sugar Land Space Cowboys (Houston) 5 
In the 1st, Michael Busch started his game with a 1 double (4).  Luke Williams singles to score Busch.
After Robbie Erlin gave up a solo HR to JJ Matijevic in the 2nd, OKC came back with a Hunter Feduccia walk and a Bradley Zimmer HR (2).  Drew Avans hit a solo HR (1), and a 4-1 lead.
Erlin gave up a Justin Dirden triple and a ground out for the Space Cowboys 2nd run in the third.  OKC had a triple of their own, Ben DeLuzio (1), who also scored on a ground out.
OKC scored three more in the 4th.  Drew Avans tripled and scored on a balk.  Walks to Busch and Williams preceded a run scoring single by Ryan Ward.  Williams came around to on a ground out.  OKC had an 8-2 lead after 4.
With Justin Hagenman pitching in the 6th, he surrendered a solo HR by Matijevic (4) and a 2-run HR by Ross Adolph.  That was Matijevic's 2nd HR of the day.
In the bottom of the 6th Bradley Zimmer singled for an unearned run.
In the 7th, Avans singled and Busch hit his 1st HR of the season.  After a pair of doubles, Hunter Feduccia singled home the 12th run.
Robbie Erlin finished 5.0 innings allowing only the two runs on 5 hits.  He issued 1 BB and complied 8 K.
After Hagenman, Adam Kolarek and Wander Suero each pitched a perfect inning, with Suero getting a K.
Drew Avans – 3-6, 3 R, 1 RBI, 1 HR (2)
Michael Busch – 3-4, 3 R, 2 RBI, 2 BB, 1 HR (1), 1 double (4)
Luke Williams – 2-4, 1 R, 1 RBI, 2 BB
Bradley Zimmer – 3-4, 1 R, 3 RBI, 1 HR (2)
Hunter Feduccia – 1-2, 1 R, 2 RBI, 3 BB
The OKC pitchers issued 1 BB while registering 13 K.
Tulsa Drillers 9 – Midland RockHounds (Oakland) 3
For 4.5 innings the Tulsa – Midland RockHounds game was a true pitcher's duel between Tulsa's Nick Frasso and Midland's 21 year old RHP, Joey Estes.  Estes pitched five scoreless innings allowing 2 hits with 0 BB and 6 K.  For four innings, Frasso allowed 1 hit with 1 BB and 5 K.
In the 5th, Frasso gave up a double to Chase Calabuig just over the reach of Jonny DeLuca.  After two harmless outs, LHH Sha tne McGuire slapped a roller down the third base line that Jorbit Vivas could not handle and Calabuig scored.  After another bloop double, McGuire  was thrown out at the plate trying to score on a throw from Kody Hoese to Diego Cartaya.
The RockHounds scored two on a 2-run HR off Trevor Bettencourt with one out in the 6th.  Tanner Dodson came in with a runner on 1st and got out of the inning.  He pitched a perfect 7th and 8th with 4 Ks in his 2.2 IP.  This was a fantastic outing from Dodson.  Actually encouraging.
Down 3-0, the Drillers went on a run rampage in the final 3 innings.  The Drillers had 3 consecutive doubles to lead off the 7th (Diego Cartaya, Imanol Vargas, and Josh Stowers).  The doubles were followed by a pair of singles (Kody Hoese, and Bryson Brigman). After the five consecutive hits, the score was tied.
In the 8th, Imanol Vargas drew a one out BB and was balked to 2nd.  Josh Stowers singled to score Vargas and break the tie.  Stowers moved to 2nd on a Hoese flyout and scored on a Brigman single.
The Drillers broke it wide open, largely due to a grand slam HR (1).
John Rooney pitched a perfect 9th for the come back win.
Diego Cartaya – 3-5, 2 R, 4 RBI, 1 HR (GS), 1 DBL
Imanol Vargas – 2-4, 2 R, 1 RBI, 1 BB, 1 DBL
Josh Stowers – 3-5, 2 R, 2 RBI, 1 DBL
Bryson Brigman – 3-5, 1 RBI
Andy Pages – 0-1, 3 BB, 1 HBP, 1 R,
Andy Pages has 27 PA.  With 6 hits (14 AB), 6 BB, 3 HBP for an OBP of .556.  What is also impressive is he only has 5 K (18.5% K rate).  He also has 7 RBI.  He deserves to be in AAA.
Great Lakes Loons 15 – Dayton Dragons (Reds) 3
The Loons broke out the bats in this one.  They scored 8 unanswered runs in the first 4 innings.
Ronan Kopp was outstanding and efficient for 4.0 scoreless innings.  He allowed 2 hits with 1 BB and 5 K.
In the 1st, after a HBP and BB, Dalton Rushing had a run scoring single.
In the 2nd, Taylor Young drew a BB and scored on a Chris Alleyne double (2).
In the 3rd, Rushing had his 2nd RBI with a double scoring Damon Keith who was HBP.  Rushing moved to 3rd on a Yeiner Fernandez single, but was thrown out on a break on contact fielder's choice.  After Young drew a BB to load the bases,  Alleyne hit a sac fly for the 2nd run.  Jake Vogel singled to score Young, and Alleyne scored on an error.
In the 4th Alex Freeland singled and scored ahead of Yeiner Fernandez's HR (2).
Robbie Peto followed Kopp and pitched 4.0 innings.  He allowed 3 runs (2 earned) on 3 hits, no BB, and 5 K.  One of the hits was a 2-run HR.
With five walks, the Loons scored 2 more in the 8th.
In the 9th, a pair of HBP and Jake Vogel single loaded the bases.  An error brought home one run, but kept the bases loaded for Alex Freeman.  Freeman hit a grand slam  HR (1).
Mitchell Tyranski pitched a perfect 9th with one K.
Yeiner Fernandez – 3-5, 2 R, 3 RBI, 1 BB, HR
Alex Freeland – 2-5, 1 R, 4 RBI, 1 BB, HR
Dalton Rushing – 2-5. 2 R, 3 RBI, 1 BB, DBL
Jake Vogel – 2-5, 1 R, 1 RBI
Rancho Cucamonga Quakes 6 – Visalia Rawhide (Arizona) 0
4 pitchers combined on a three hit shutout.
Maddux Bruns – 3.1 IP, 2 hits, 2 BB, 6 K
Chris Campos – 1.2 IP, 3 BB, 1 K
Joel Ibarra – 2.0 IP, 3 BB, 2 K
Jose Bautista – 2.0 IP, 1 BB, 2 K
Chris Newell hit a solo HR (2) in the 3rd to give the Quakes the only run they needed.
2 BB, a single, and a balk scored a run in the 6th.
Jose Izarra led off the 7th with a double (3), followed by a Rayne Doncon HR (2).  Chris Newell then drew a walk, moved to 2nd on an errant pickoff throw and scored on a Kyle Nevin single.
In the 9th, RC scored on a 2 BB, a single, and a force out.
Kyle Nevin – 3-5, 1 RBI
Rayne Doncon – 1-3, 2R, 2 RBI, HR (2)
Joel Izarra – 2-4, 1 R, double (3)