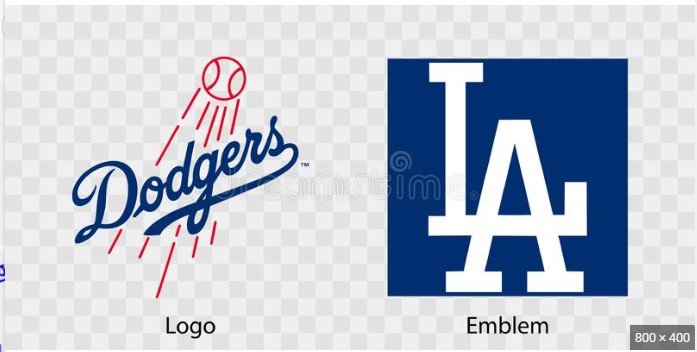 I was just wondering what made some of you out there Dodger fans? Myself, born in LA it was an easy choice when they moved here in 1958. I was ten, just getting into the sport. Baseball cards were a nickel a pack. We all had some sort of small radio and Vin Scully's voice and story's were mesmerizing.
I already had a few of the earlier cards and I loved the look of the Dodger uni. Although I had never seen him play, Campy was my favorite. So that was a blow when we found out he would not be coming west with the team.
So #4, Duke Snider became my favorite player. We both hit from the left side and the first Louisville slugger bat I had was signed by the Duke. I even patterned my stance after his. Left elbow high and level. Knees slightly bent.
I went to my first Dodger game at the coliseum sometime in June of 1958. We sat way down the RF line in the really cheap seats. John Russell was there….for you youngsters, Russell was the star of the Lawman TV series. Players looked very small that far away and you could not really see the action well. But it was fun. Got my first of many player picture packs. They were 50 cents and had 20 photos of the players in them.
I was totally hooked. Never missed a game on the radio. I really had no clue what a pennant race was, I just knew they were nowhere close to being in it.
A lot of the players who were in that game were gone the next season. New Dodger heroes would emerge in 59, Moon, Wills, Essegian, Demeter. A couple of the old guys had better years than 58, Hodges, Snider, and one, Carl Furillo, got his last hurrah in the playoffs.
Beating the White Sox in the series kind of sealed the deal for me. I knew I would never change allegiance to the team even if I were to move from Los Angeles. Over the years that has proven to be the case. I have remained a loyal fan even though they are 1100 miles away.
Tell me your Dodger journey and what brought you into this circle with me.
MiLB Game Report and Summary
by Jeff Dominique
The pitcher of the night was University of Connecticut RHP alum, Ben Casparius, Great Lakes.  24 year old Casparius was the 5th round selection in 2021 draft.  He threw 6.0 hitless/scoreless innings for the best MiLB start of the year.
Offensive Player of the night was Tulsa's CF, Andy Pages.  He was 3-4 with a BB, 2 HR, 1 double, 4 RBI.  He is now batting .429/.594/.857/1.451 (32 PA).  Could he get the Michael Harris II call directly from AA?
OKC Dodgers 4 – Sugar Land Space Cowboys (Houston ) 2 
OKC won this one with Michael Busch and Luke Williams going 0-7 with a BB.  They had 7 hits and 4 runs and 4 RBIs from three unlikely heroes.
Ryan Ward had a solo and 2 run HR  and Steven Duggar had a solo HR to account for the 4 runs.
Ben DeLuzio – 2-4
Steven Duggar – 3-4, 2 R, 1 RBI, 1 double (3), 1 HR (3)
Ryan Ward – 2-3, 1 BB, 2 R, 2 HR (3), 3 RBI
That was the total offense for OKC.
William Cuevas and 4 relievers shut down the Space Cowboys.  Cuevas gave up a pair of solo HRs for the Space Cowboys offense.  He allowed 4 hits in his 5.0 IP plus 4 K. The four relievers were outstanding.  Combined 4.0 IP, 1 hit, 1 BB, 6 K.
Justin Bruihl – 1.0 IP, 3 K
Mark Washington – 1.0 IP, 1 H, 2 K
Nick Robertson – 1.0 IP, 1 K
Scott Tayler – 1.0 IP, 1 BB
OKC is 10-3 on the season and in 1st place in the Pacific Coast League.
Tulsa Drillers 6 – Midland RockHounds 1 
Andy Pages continues to put on a show.  In this game, Pages had a 3-4 night, including a pair of 2-run HRs, and a double.  He also had a BB with 3 runs and 4 RBIs.
Pages was not the only hitter that shined on the night.
Jorbit Vivas – 3-5, 2 doubles, 2 runs – .345/.424/.552/.976
José Ramos – 3-3, 1 RBI, 1 BB – .364/.440/.409/.849
USC alum, Kyle Hurt, pitched a scoreless three innings.  2 hits and 3 Ks.
Alec Gamboa gave up a walk, double, and fielder's choice for a run in the 4th.  Otherwise in his 4.0 IP, he allowed 3 hits and 3 BB, to go with 2 Ks.
Ben Harris pitched the final two scoreless innings.  He allowed 1 hit and 4 Ks to get the save.
Tulsa is now 5-2 on the season.
Great Lakes 1 – Dayton Dragons 0
There were a total of three hits in this game: 2 for Great Lakes and 1 for Dayton.
Dalton Rushing had one of the hits as he drove home the only run in the game in the first inning.  Alex Freeland drew a walk, stole second, and scored on Rushing double in RF.  After 10 Loons were out in order, Chris Alleyne singled, stole 2nd and 3rd, but was left there.
The Loons had a couple of walks through the remainder of the game, but nothing looking like a potential score.
OTOH, four Loons pictures were masterful, especially starting pitcher Ben Casparius, the pride of UConn Baseball.  Casparius got through 6.0 hitless and scoreless innings.  He threw a total of 67 pitches / 47 strikes.  He gave up a pair of walks.
Braydon Fisher continued his excellent start to the season.  1.0 hitless and scoreless 7th inning.
With Antonio Knowles on the bump, and two outs in the 8th, he gave up a clean line drive single to Hayden Jones.  He got the final out of the inning.  He struck out the side in the 8th.
Jake Pilarski retired the side in order in the 9th.  Overall, the Loons pitchers allowed 1 hit, 2 walks, 1 HBP, and 10 strikeouts.
Visalia Rawhide (Arizona) 8 – Rancho Cucamonga Quakes 2 
Peter Heubeck could not follow his outstanding April 7 Game with a quality effort in his 2nd outing.  In his 3.0 IP, he surrendered 4 runs on 3 hits, including a 2-run HR.  He issued 2 walks to go with his 5 Ks.  A walk, WP and single gave the Rawhide another run against Heubeck in the 2nd.
Christian Romero relieved Heubeck and was sailing in the 4th and 5th with 6 up and 6 down.  But in the 6th, Romero gave up a pair of singles and a walk, but also 2 Ks.  He was in a position to get out of the inning without any runs.  But Christian walked the next batter for another run, and was relieved by Livan Reinoso.  An HBP and double, and all three inherited runs scored.
Gabe Emmett pitched a scoreless/hitless 9th.
The Quakes outhit the Rawhide 8-6, but could only generate 2 runs.
Thayron Liranzo had a solo HR (2), and Jesus Galiz singled home Kyle Nevin who doubled earlier in the 8th inning.
Thayron Liranzo – 3-4, 1 R, 1 RBI, 1 double (1), 1 HR (2)
Kyle Nevin – 2-3, 2 BB, 1 R, 2 doubles (3)