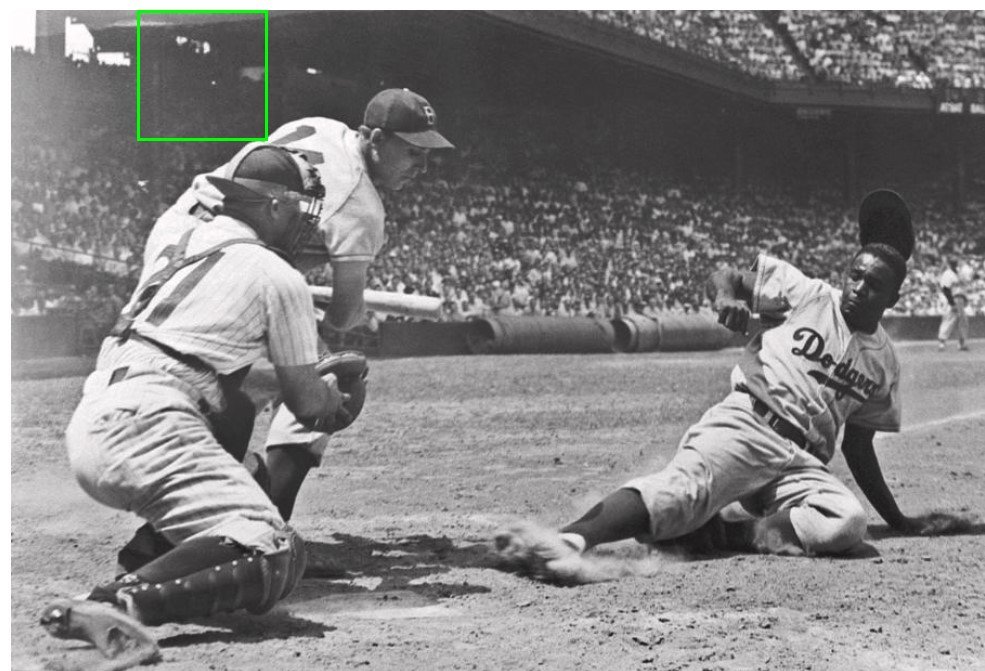 In honor of the great Jackie Robinson on the 75th anniversary of his momentous Opening Day, here's a story about what Jackie faced, his teammates' support, and the tradition of commemorating April 15th. pic.twitter.com/GFYaOTHCzv

— Vin Scully (@TheVinScully) April 15, 2022
On April 15, 1947, it was Game 1 of the season for the visiting Boston Braves vs the Brooklyn Dodgers, and Jackie Robinson was the opening day 1B for Brooklyn, and the color barrier for MLB was officially broken.  Jackie did not get a hit that day, but he did reach on an error and scored on a double by Pete Reiser.  The Dodgers would beat Johnny Sain and earn a 5-3 victory.
Jackie would go on to have a 10 year HOF career all with the Brooklyn.
In March 2004, Commissioner Selig along with Sharon Robinson (Jackie's daughter) would announce that in honor of Jackie Robinson, April 15, 2004, would become Jackie Robinson Day.  Festivities were scheduled for each of the 13 ballparks that had games that day.
In 2005, Selig announced that every April 15 will be known as Jackie Robinson Day, beginning April 15, 2005.  Unlike in 2004 when only 13 ballparks celebrated, each ballpark showed a video tribute to Jackie, and many brought out Jackie Robinson Foundation scholars onto the field before the games.
On April 15, 1997, 50 years after breaking the color barrier in MLB, Commissioner Bud Selig, President Bill Clinton, and Rachel Robinson (Jackie Robinson's wife), formally retired #42 in a ceremony at Shea Stadium.  That would mean that no future ML player can wear #42.  Those that were then wearing the number could continue to wear that number while on that team.  Mariano Rivera was the last ML player to have 42 as his number until he retired after 2013.
April 15, 2007 would be the 60th anniversary, and MLB ceremonies were to be held at Dodger Stadium.  Despite #42 officially being retired, Ken Griffey Jr. requested that he be allowed permission to wear #42 in the game, and Rachel Robinson granted Junior her permission.  Commissioner Selig thought it was a wonderful idea and thought other teams could find a player to wear #42.
Several players thought having over 150 players wearing number 42 on Jackie Robinson Day was far too many.
"This is supposed to be an honor", Minnesota Twins outfielder Torii Hunter told USA Today, "and just a handful of guys wearing the number. Now you've got entire teams doing it. I think we're killing the meaning. It should be special wearing Jackie's number, not just because it looks cool."
Cleveland Indians pitcher CC Sabathia, who decried the lack of African-American players in the game in March 2007, told USA Today that
"It kind of waters it down. I could see the Dodgers since that was his team, but not everyone else."
More than 240 players wore number 42 in honor of Jackie Robinson's retired number, including the entire team rosters of the Los Angeles Dodgers, New York Mets, Houston Astros, Philadelphia Phillies, St. Louis Cardinals, Milwaukee Brewers, and Pittsburgh Pirates.
For the Dodgers, Andre Ethier, Russell Martin, and Wilson Valdez would get 3 hits each.  Ethier hit a home run and the Dodgers had 6 doubles.  The Dodgers stole five bases — their most since August 23, 1999, when they stole seven in a game at Milwaukee. Randy Wolf was the Dodgers' starting pitcher, allowed six hits and three runs in six innings and struck out seven.
"The whole team wearing No. 42, it kind of goes sour if we don't win," Wolf said. "It was great. There were a lot of special people here. It's a special day and I think they did it right."
The Dodgers beat the Padres 9-3 in 2007.
In 2014, Peter O'Malley would make the day a little more special, by celebrating at Dodgertown, Vero Beach.  O'Malley arranged for a MiLB exhibition game to be played at Dodgertown.
While the Los Angeles Dodgers and MLB annually celebrate Robinson each April 15, the club honored the Hall of Famer on the 70th anniversary of his breaking the color barrier by unveiling a statue in 2017.
Because of the COVID-19 pandemic, no games were played on April 15, 2020.  However Jackie Robinson Day was celebrated on August 28.  That day was not pulled out of a hat.  It actually was the 75th anniversary of the date Branch Rickey and Jackie Robinson met to discuss Jackie joining the Dodgers.
On Jackie Robinson Day 2023, the Dodgers continued their 2023 seasonal offensive lethargy…until the 9th.  They did not have a hit since Miguel Vargas' single in the 2nd inning until James Outman singled and Miguel Vargas doubled with one out in the 9th to put runners on 2nd and 3rd .   Jason Heyward after delivering a very heartfelt pre-game speech on the meaning of Jackie Robinson, came to the plate and was robbed by the umpire who called a ball a strike, that forced J-Hey to swing at the next pitch.  It may have been a ball, but with 2 strikes it looked like a strike long enough to offer.
But then David Peralta came up to PH for Miguel Rojas and grounded the first pitch through the hole between 1st and 2nd, to plate both of the Rookies.  On Jackie Robinson Day, it was the legs of Outman and Vargas that scored two in the 9th for the walkoff.
DAVID PERALTA!!!! A HIT!! A RUN!!

A WIN!!! pic.twitter.com/iUrqsqTOUv

— Blake Harris (@BlakeHHarris) April 16, 2023
But it wasn't just the Rookie bats that were the difference. It was a Rookie pitcher, Michael Grove, who had a bounceback game after his last horrid outing against Arizona, to pitch the best game of his MLB career.  He allowed a bloop single to Cody Bellinger before he made a mistake to Patrick Wisdom who hit a HR over the CF fence in the 5th.  After Michael retired the first two batters in the 6th, Doc made the decision that he wanted Ian Happ to bat RH against Alex Vesia rather than bat LH against Grove.  It worked as Happ fouled out on a pop up to Freddie.
Michael Grove, Nasty 86mph Slider. 😨 pic.twitter.com/kRm02HAQ6L

— Rob Friedman (@PitchingNinja) April 16, 2023
After Seiya Suzuki singled in the 7th, the Dodgers did something they have done one other time this season…throw out a runner attempting to steal.  Austin Barnes does not have the best arm, but he has such a quick release.  The other SB's were stolen on the pitchers.  Outside of Urias and Kershaw, no Dodger pitcher has much success holding down the running game.
Caleb Ferguson was nails after entering the 8th with one out and the bases loaded.  He got Happ and Suzuki chasing strike three to end the threat.  Shelby Miller once again was fantastic coming out of the pen in a high leverage situation.  He struck out Belli, and got Trey Mancini to pop out.  He walked Edwin Rios on a 3-2 pitch but got Patrick Wisdom to hit into a fielder's choice.
Then the fireworks in the 9th.  Outman gets a bloop single, and Vargas lined a double down the 3rd base line.  How many times have we Dodger fans seen David Peralta beat the Dodgers?  Now he does it as a Dodger getting the first walk off hit for the Dodgers in 2023.
Michael Grove, James Outman, Miguel Vargas.  Those three should be instrumental in many LAD wins in the future.  It is good for the kids to have such great success.  I am just as certain that there will be more rookies getting experience at the MLB level this year.
#Dodgers Michael Grove on his start tonight and the atmosphere in the clubhouse after the walk-off win. pic.twitter.com/SO87TTIxTG

— Michael J. Duarte (@michaeljduarte) April 16, 2023
After the great tribute Belli got on Friday, he found the boo birds after he stole a HR from Jason Heyward.  Belli is formally now an ex-Dodger.
Former Dodger Cody Bellinger robs former Cub Jason Heyward of a home run

… and enjoys the boos 😂😂😂 pic.twitter.com/9Bv26cP44g

— Blake Harris (@BlakeHHarris) April 16, 2023
For the record, the Dodgers are 16-3 on Jackie Robinson Day, and have won 9 in a row.  The Dodgers are back in 1st (tie with Arizona).
The Dodgers look to win the series against the Cubs on Sunday.   Julio Urías faces Drew Smyly.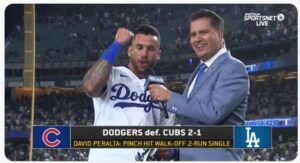 https://twitter.com/DieterRuehle/status/1647450517793288193?s=20