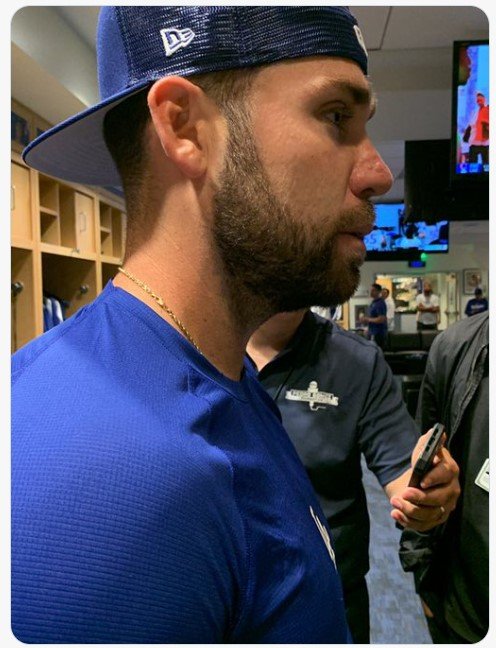 Is this a .500 team or is it early season struggles?  Thus far, the Los Angeles Dodgers epitomize the three outcome approach.  They are #2 in HR, #2, in BB, and #2 in K.  What does that mean?  I am not sure.  I would not care a lick if the team was overwhelmingly the #1 team in strikeouts, as long as they were winning.  But they are not.
I know many of you do not believe in batting average as a key metric, but I do.  I think it is critical in close games getting hits in key late in game situations.  Or in two strike situations.  At some point contact is more important than slugging.  It would have been ideal on Sunday with the bases loaded bottom of the 7th and Max Muncy at bat with 2 outs.  If the Dodgers epitomize the three outcome approach, Max Muncy is the poster character.  Since he did not walk, and did not hit a HR, what did you think he did?
They just scored 6 runs and 16 hits in total, against the #2 – #4 pitchers for the Chicago Cubs, and three of those were on solo HRs.  Justin Steele has all the looks of a future ace, but Jameson Taillon and Drew Smyly are good back of the rotation pitchers and they looked like CY Award candidates against the Dodger hitters.
Jameson Taillon – 1st two games 2023 – 9.0 IP, 7.00 ERA, 13 H, 2BB; against LAD – 5.0 IP, 0 runs, 2 hits, 2 BB.
Drew Smyly (career ERA 4.11) – 1st two games 2023 – 9.2 IP, 6.52 ERA, 11 H, 3 BB; against LAD – 5.2 IP, 1 run, 4 hits, 3 BB.
The offense is inconsistent.  The top hitters, not named Will Smith, are not hitting yet…Mookie and Freddie.  If anyone expected more out of the others might have been expecting too much.  All of them will occasionally get hot (yes even CT3).  But what they do not do well yet is manufacture runs.  They cannot run and they cannot stop the running game.  In most positions they are negative defensively.
But what they should have is a very good starting rotation.
Julio Urías – 3-1, 23.2 IP, 1.90 ERA, 1.014 WHIP, 26 K, 3 BB, 3 Quality Starts
Dustin May – 1-1, 24.0 IP, 3.00 ERA, 0.92 WHIP, 13 K, 7 BB, 2 Quality Starts
Clayton Kershaw – 2-1, 18.0 IP, 3.50 ERA, 1.111 WHIP, 17 K, 4 BB, 2 Quality Starts
Noah Syndergaard – 0-2, 16.0 IP, 5.63 ERA, 1.234 WHIP, 17 K. 2 BB, 2 Quality Starts
Michael Grove – 0-1, 13.0 IP, 9.00 ERA, 1.615 WHIP, 14 K, 5 BB, 0 Quality Starts
Grove was outstanding in his 3rd start.  He was battling with strep throat for his 1st two starts.  Maybe the 1st two starts are representative of Michael Grove, or maybe it was his 3rd start. I am going with the latter. I know shocking for some of you.
Some out there were upset that AF signed Noah Syndergaard instead of Tyler Anderson and Andrew Heaney.  Let's do a comparison of the three thus far in the season.
Tyler Anderson – 3 GS, 1-0, 14.2 IP, 6.75 ERA, 1.841 WHIP, 10 K, 8 BB
Andrew Heaney – 3 GS, 1-1, 12.2 IP, 4.97 ERA, 1.421 WHIP, 16 K, 7 BB
Noah Syndergaard – 3 GS, 0-2, 16.0 IP, 5.63 ERA, 1.250 WHIP, 17 K, 2 BB
None of the three have been particularly sharp, although Thor for games 1 and 3 he was pretty effective.
Dustin May's 4th start was not good.   He did not have his strikeout pitch working, although he did have Bret Baty struck out on his 0-2 pitch before his single.  Just not called.  Surprising. If Badger can take a hit away from JDM, I am going to take a hit and run away from Dustin's totals, and give another K.
Dustin was pitching to a new catcher.  How much that had to do with his outing, we will never know.  That should NEVER be an excuse, but it could be a factor.
Dodgers scored 5 through 5 on a pair of Freddie HRs (3 runs), and a 2 run double by the 24 hour Dodger, Austin Wynns.  In all fairness to Austin, he has not really had the RVS exposure yet.  Give him some RVS time and he will try and pull that outside pitch instead of hitting it for an opposite field double.
Welcome to LA, @AustinWynns! pic.twitter.com/RKN2ZesI2I

— Los Angeles Dodgers (@Dodgers) April 18, 2023
The Dodgers took the lead in the 6th, on a Maxwell HR (monster HR).  I can hear Badger yell out…take that Jeff and all you doubters.  I cannot speak for anyone else, but I have not been a doubter of what Max can do.  I have stated the opposite, keep playing him until he finds it, but not in the #4 (until the SF series).  My frustration is the incessant negative commentary on JDM.  I will say it again.  I believe Max, JDM, CT3, Trayce Thompson, will all have big games for the Dodgers.  I just do not know how often or if they can string a few of those hot games together.  I guess that will ultimately be the story of this 2023 team.
Then again, I would much rather have had Max single in the 8th with runners on 2nd and 3rd than hit a solo HR in the 6th.  But that's me.
I feel for Phil Bickford.  He has never before been called for a balk in his professional career.  If anyone has ever paid attention to Bickford's motion and delivery, you would know that he has always taken a second step before delivering the pitch.  Technically I guess it could be called a balk, but it has never before been called one, and after that he could not take that 2nd step and was not the same pitcher.  That second step was never one to deceive the runner.  It is part of his delivery.
Per MLB:
A balk occurs when a pitcher makes an illegal motion on the mound that the umpire deems to be deceitful to the runner(s). As a result, any men on base are awarded the next base, and the pitch (if it was thrown in the first place) is waved off for a dead ball.

 

Exactly what constitutes a balk is summed up in section 8 of the MLB rules, which describes a legal pitching delivery.
Section 8.01
The Set Position. Set Position shall be indicated by the pitcher when he stands facing the batter with his pivot foot in contact with, and his other foot in front of, the pitcher's plate, holding the ball in both hands in front of his body and coming to a complete stop. From such Set Position he may deliver the ball to the batter, throw to a base or step backward off the pitcher's plate with his pivot foot. Before assuming Set Position, the pitcher may elect to make any natural preliminary motion such as Rule 8.01 75 that known as "the stretch." But if he so elects, he shall come to Set Position before delivering the ball to the batter. After assuming Set Position, any natural motion associated with his delivery of the ball to the batter commits him to the pitch without alteration or interruption.

 

Rule 8.05 Comment:  Umpires should bear in mind that the purpose of the balk rule is to prevent the pitcher from deliberately deceiving the base runner. If there is doubt in the umpire's mind, the "intent" of the pitcher should govern. However, certain specifics should be borne in mind: (a) Straddling the pitcher's rubber without the ball is to be interpreted as intent to deceive and ruled a balk. (b) With a runner on first base the pitcher may make a complete turn, without hesitating toward first, and throw to second. This is not to be interpreted as throwing to an unoccupied base.
Bickford did not attempt to deceive the runner, and he came to a complete stop after his second step.  I am writing this before I have read any commentary from Bickford or Roberts.  But it sure looked like both Bickford and Doc were arguing that it was his normal setup and delivery.  Nothing changed.  Nobody was deceived.
Here is an example of what I am talking about.
On the left: Phil Bickford is called for a balk.
On the right (next pitch): he isn't called for a balk. pic.twitter.com/uiXs43J818

— Codify (@CodifyBaseball) April 18, 2023
NYM 8 – LAD 6
We might have to get used to this picture.  An offense that can score with HRs but has difficulty in scoring runs WRISP.  They score 6 runs, 4 directly from an HR.  9 strikeouts, 1-5 WRISP (thank you Austin Wynns).  A problem in the bullpen.  In other words, if they do not get dominant pitching from the SP, it could be a long game. Dustin May was not dominant, and the bullpen could not hold the lead, and neither Max or Vargas could get the single in the 8th. It is still only 17 games, and the Dodgers have been in this position before early in the season.  I do not quit on players and I do not quit on the team.
Exactly how long before Alex Vesia is optioned to AAA?  I am not quitting on Vesia, but there is something wrong with him, and it would be best for him to work it out at OKC as long as he has options.
Clayton Kershaw vs Tyler Megill in Game 2.