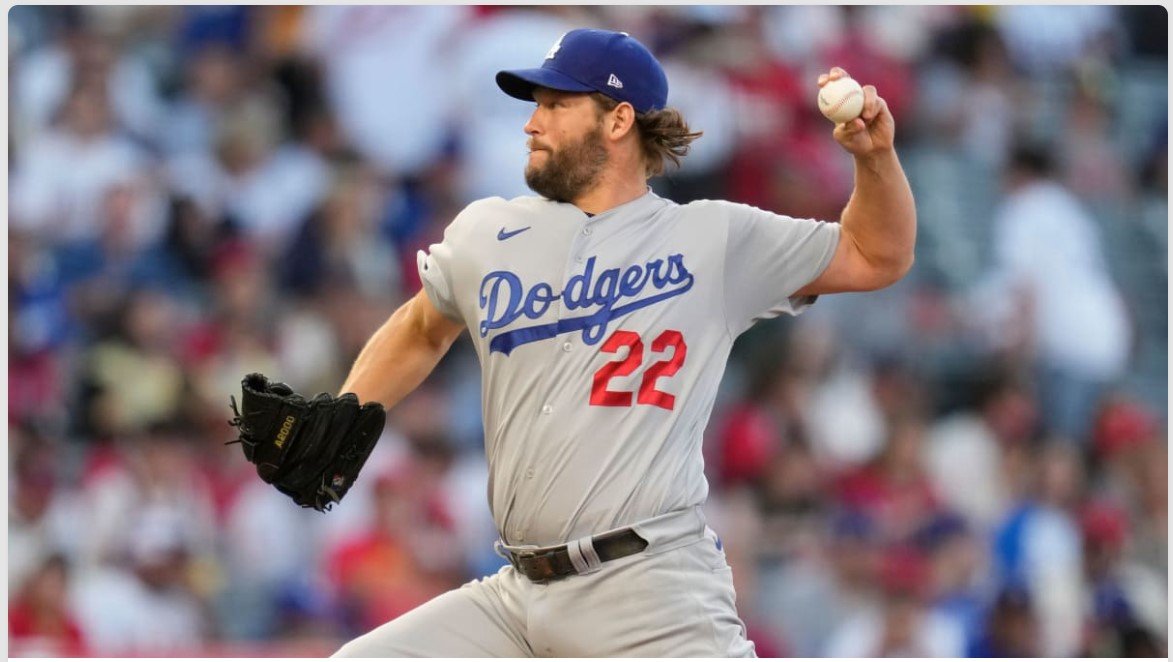 I am not sure if the intent for Wednesday's games was to become a full on bullpen game, or if Michael Grove was supposed to be a long man.  Whatever happened, Dave Roberts pushed the correct buttons on this one.  I know it is easy to bang on the manager when he makes mistakes (and Doc does).  But he also deserves credit for when he gets it right (and he did).
Clayton Kershaw went a fantastic 7.0 IP the night before and Caleb Ferguson and Evan Phillips each pitched a perfect inning with 2 Ks each.  It took a fortuitous bounce for Michael Busch to be the hero on Tuesday night, but the ball bounced the LAD way.  Good for Busch and good for the Dodgers.  Of course those hits even out with great defensive plays, but not on this night.  Just remember this one, Michael, when someone steals a HR, double, or single in a future AB.
The Dodgers drew Reid Detmers, who was a college teammate of Bobby Miller's at Louisville.  Reid was the more revered pitcher and was the 10th overall pick the same year that Miller was the 29th overall pick.  Somewhat reminiscent of the 2015 draft when Vanderbilt had two pitchers go in the 1st round with the Dodgers getting the less heralded pitcher of the duo.  With the 8th overall pick, the CWS drafted RHP Carson Fulmer.  Fulmer is now a fulltime reliever in the LAA MiLB organization.  He was with the Dodgers at OKC in 2022.  I was hoping that he would have found his way to the Dodgers as a reliever last year, done well, and stuck.
With the 24th pick in that same 2015 draft, in his first LAD draft, AF selected RHSP, Walker Buehler.  While Buehler and Fulmer have seemingly gone in different directions since the draft, both Detmers and Miller are looking to have very good MLB careers.  Detmers is starting to pitch the way scouts envisioned.  He is still just 23 (about 2 months younger than Miller).  Miller's birthday is 04/05/1999 while Detmers' is 07/08/1999.  Miller is 24 (baseball age) and Detmers is 23.
It might have been fun to see Miller go mano a mano against Detmers.  Instead we got to see a vintage Clayton Kershaw.
What we have not seen a lot of lately was the outstanding bullpen work in back to back nights.  Caleb Ferguson worked out whatever it was that was ailing him in those 4 early June games, and has been brilliant in his last five appearances.  In those five games: 5.0 IP, no runs, no hits, 1 BB, 1 HBP, 5 Ks.
Evan Phillips followed Ferguson in the 9th in both games to record back to back saves.  Phillips has been a tad better than Ferguson in his last five games.  Phillips has thrown 6.0 IP allowed no runs, no hits, 1 BB, and 9 Ks.
He and Evan Phillips have gone back to back games in the LAA series, and with a day off on Thursday, they should be ready to face the Cheaters from Houston.
On Wednesday, the Dodgers countered Shohei Ohtani with Brusdar Graterol (2.0 IP), Victor González (1.1 IP), Yency Almonte (1.1 IP), Alex Vesia (1.0 IP), Ryan Brasier (1.1 IP), Caleb Ferguson (1.0 IP), and Evan Phillips (1.0 IP).  González allowed a double and Almonte allowed a single and BB.  Both hits were made by Luis Rengifo.  Those were the only two hits for LAA on the night.  Graterol, Vesia, and Ferguson issued the other three walks.  Mr. No Strikeout, Brusdar Graterol, had three in his 2.0 IP.  He struck out Mickey Moniak on a chase of a cutter up and out of the zone, Jared Walsh, same chase, and Taylor Ward on a slider chase that caught too much of the plate, but worked.
The Dodgers got a pair of solo HRs for the win on Wednesday.  Freddie Freeman hit his solo HR in the 4th off Ohtani, and Miguel Vargas had a one-out HR in the 9th off Aaron Loup.  Ohtani was otherwise brilliant.  In 7.0 IP, he allowed the one HR, with a non-scoring double (JDM) and 3 singles.  He struck out 12 Dodgers in 7.0 IP.  Ohtani is a RHP, so the Dodgers cannot say they could not hit LHP.
Both the Dodgers and Angels got outstanding pitching. It was just that the Dodgers was a bit better.  Not a lot of room for error in a pair of 2-0 victories.
Now the Dodgers get Houston.  Emmet Sheehan will get Game 1 against 28 year old rookie JP France.  Can Sheehan replicate his last Friday start against SF?  On Saturday, Bobby Miller looks to get back to the level of his first 4 games against 29 year old rookie RHP, Ronel Blanco.  On Sunday, Tony Gonsolin is looking at 6 days to recover against a third Houston rookie, 24 year old RHSP Hunter Brown.
After a day off on Monday, the Dodgers will go to Colorado for 3, to KC for 3, then home for 6: Pittsburgh (4) and LAA (2).  If the Angels stick with a five man rotation, it is conceivable that the Dodgers will draw Detmers and Ohtani at Dodger Stadium.
Trout and Betts
トラウトとベッツ pic.twitter.com/zPMt8Hdius

— 🦄 (@zh_sho_o_sy0Z2z) June 22, 2023
Rivalry?  I don't think so.  Can you have envisioned Don Drysdale and Juan Marichal making the same exchange?  How about Mookie or Freddie and Tatis or Machado?