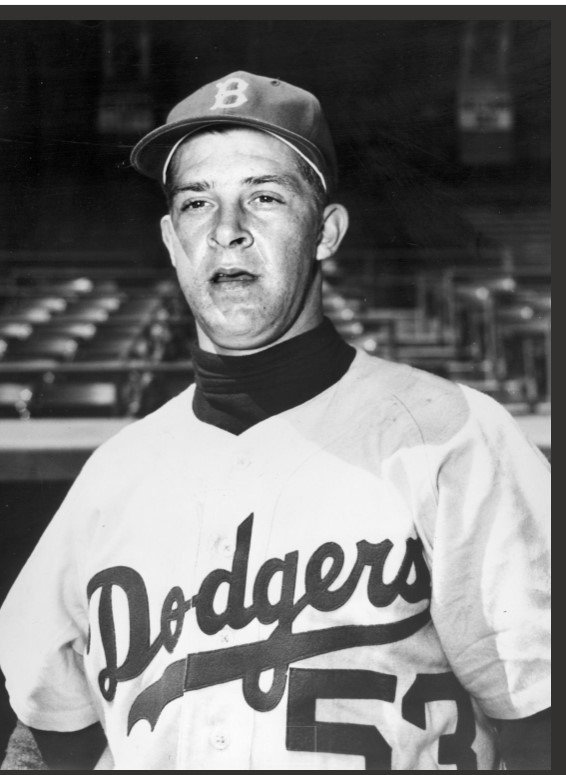 Around the same time that a young Sandy Koufax was being brought along slowly with the Dodgers, they had another flame-throwing lefty in the system. His name was Karl Spooner.
Spooner was born on the 23rd of June, 1931 in Oriskany New York. His dad, Maurice, was a farmer and 61 years old when Karl was born. When Karl was 5, his six year old sister, Geraldine, died from the complications of measles. He would later name his second born daughter after her.
Karl was just learning the game of baseball when he was 11 and his father passed away. At 17, his mother, Nellie, was found dead in her bedroom of a massive stroke.
He was taken in by his cousins, Stanley and Bernice Spooner. He stayed with various family and friends until his baseball career took him away from home.
He learned to play the game with childhood friends on the field behind the school. He played every chance he got, and first put on a uniform in junior high under his coach, Ben Livermore.
He played not only in school, but was a member of the Oriskany Falls town team. He played catcher until his pitching talent was discovered. He threw a fastball, curve and sinker, all of them fast.
Umpires did not like umpiring when he was on the mound, partially because it became boring calling strike after strike, and partially because their credibility would be called into question for doing so. He was also a pretty good hitter.
He was strong and tough, especially on the basketball court where he played a physically tough style of basketball. No story about Spooner would be complete without mentioning the clock tower on the Oriskany Falls United Methodist Church, located in the center of town.
The tower was the target of many a snowball in the winter, and Karl was the undisputed king at hitting the tower. Be it the bells, throwing over the tower, or trying to break the hands or hit the numbers, he found out at an early age just how good his arm was.
It took accuracy and power to just hit the tower. He had both. He once put a cow in the tower as a joke. In August of 1950, Karl was signed by Dodger scout Greg Mulleavy for the sum of 600 dollars.
Mulleavy had scouted him while he was playing for Clinton. He did not return to high-school for his senior year, and he did farm work until he started his pro career.
1951 was his first pro season. He was sent to Hornell, New York in the Class-D PONY League, Pennsylvania, Ontario, New York. He had 200 K's in 170 innings. His record though was 10-12, mostly due to the fact that he walked 163 batters.
His life changed in Hornell because he became part of a new family. Raymond and Lilyan Pratt were season ticket holders, and they would regularly take their daughters, Carol and Norma, to see the Hornell Dodgers. According to Carol, Karl became the son they never had.
Carol and Karl dated for a while, broke up and then got back together. In the spring of 1954 they would marry.
He spent part of 1952 in the Class-C Cotton States League and he struck out 19 batters in a game pitching for Greenwood Mississippi. He also pitched for two Class-B teams that year, but control was still his biggest problem.
IN 1953 he was sent to Pueblo in the Western League. Pueblo was good for him, and a turning point of sorts, he went 11-6, led the league in K's with 193. And his ERA was 2.53 in 153 innings. He still walked too many, 115. But he was showing signs of being a find.
1954 was a great year for Spooner, not only did he get married, but he had his career year in baseball. He went 21-9 for Ft. Worth of the Texas league. He struck out 262 in 238 innings, he did walk a lot, 162. The 262 K's were the most in the league since Dizzy Dean struck out 303 in 1931.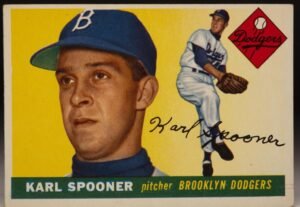 He did all that despite missing about a month due to a knee injury he suffered fielding a bunt during practice. He would later have cartilage removed from the knee that December.
Brooklyn decided to give the kid a look. He was wearing a knee brace at the time, and indeed the brace may have caused him to shorten his stride, which led to better control.
On September 22, the day after the Giants clinched the pennant, he not only shut the champs out, he struck out 15, breaking the old record of 13 in a first start set by Cliff Melton of the Giants back in 1937. He also broke another record by striking out 6 in a row, the only batters he faced in the 7th and 8th innings.
As he and his wife approached their hotel they noticed a bunch of people, mostly reporters looking to interview him, so he and Carol sneaked away and spent the afternoon visiting her uncle at his apartment.
This little action cost him an appearance on the Ed Sullivan Show, since a representative of the show was waiting for him outside his hotel room.
Four days later, he shut out the Pirates and struck out 12. That gave him 27 K's in his first two starts. It set a NL record for the most K's in two consecutive games, topped only by Bob Feller's 28.
Spooner was on top of the world. He was given a day by his hometown and had a parade in his honor. He was named King of the Winter Carnival in Old Forge New York, where he allegedly asked the owner of a beaver skinned coat he was loaned if he could keep it to keep him warm in the open air convertible he was riding in.
Some in his small town thought that the arm trouble that would eventually end his career began that day when he threw too many snowballs really hard.
In Brooklyn they would chant, " we shoulda had spoona soona." But Shirley Povich said, baseball men like to reserve judgement even after a performance like Spooner had.
Calamity struck early in spring training in 55. As Spooner told it, Podres was supposed to pitch the first three innings, and I the second three, but Podres got in trouble and only went two.". Spooner attempted to warm up fast, but he probably was not as loose as he would have liked.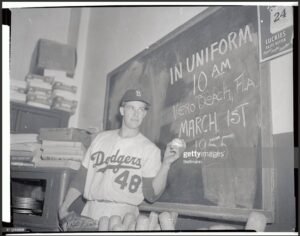 He threw too hard too fast. He threw a real good curve to Jim Rivera and stuck him out, but he felt a pull in his shoulder. It did not hurt too bad, so he finished that inning and another. When he took a shower it started to hurt real bad. He could hardly pull his shirt on, so he went and told the trainer.
There are other versions of what happened, but Spooner's story was confirmed by two teammates, Podres and Carl Erskine. Erskine's comment was "In those few moments, one of the great arms in Dodger history lost it's magic."
The media mentioned the injury, but it took the New York Times ten days to report it. The Dodgers in the meantime managed to keep a lid on lest they be accused of mishandling their prize rookie pitcher.
As it was, Spooner did not appear in a game until May 15. He started against the Reds, but was gone after being knocked out of the game in the third inning.
His next game came on the 5th of June, one day after he was able to see his newborn daughter. He lasted four innings and gave up one earned run and three unearned. Manager Walter Alston decided after that game to use him only in relief.
He pitched well out of the pen and was put back in the rotation in July. He made six starts and lost three. He had a no decision in his other games. Back to the pen in August, he got 3 wins and a loss in 6 appearances. He was 1-1 as a starter.
In September, his last major league win was special. He pitched 5 2/3 innings beating Milwaukee, 10-5 in the game that clinched the pennant for the eventual World Championship team.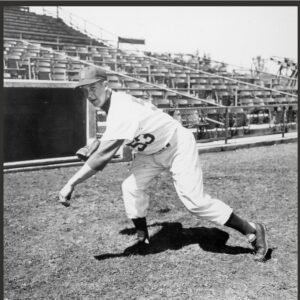 He finished the season 8-6 with a 3.65 ERA. In the World Series, he came in in relief of Billy Loes in the fifth inning and pitched three shutout innings in relief. It would be his last quality outing in the majors.
With the Dodgers up in the series, 3-2, he got the start in game 6. Had it not been for a Jim Gilliam error, he might have been the one carried off the field in jubilation rather than Johnny Podres. But Gilliam was late covering second on a steal by Phil Rizzuto. Gil McDougald walked, then Gilliam let a ball hit by Yogi Berra get by him, scoring Rizzuto, Bill Skowron homered and Spooner was gone.
Spooner tried to hang on for three more seasons, but he just could not pitch anymore. He had shoulder surgery which left a 9 inch scar. He tried it one more time with the Cardinals, who had purchased his contract, but at age 28 he was done.
Upstate New York had always been home for the Spooner family, but it was hard to find work. Karl moved the family to Vero Beach where a friend of his, Dave Albrecht, helped him find work. Dave was a golfing and fishing buddy.
Karl worked in construction, and also tended bar, but then he landed a job with the Hatfield Citrus Company, first as a supervisor, then in management. The owner, Jerry Hatfield, and Spooner became good friends.
The citrus industry remains in the family as his son, Kevin, runs his own company. His wife, Carol played a major role emotionally and financially as she worked for Piper Aircraft for 47 years. She became the first female manager of any company located in Vero Beach.
Karl loved being a dad, and they had five children.
Kevin was a very good hitting catcher at Valdosta University. But a wrist fracture his senior year ended his career.
Karl did not talk much about his pro career to his kids, and he did not push them into it. But he was thankful for the opportunities it brought.
In 1981, Spooner was hospitalized with jaundice and went into a coma for 11 days. It turned out he had Hepatitis-C. After a partial recovery, Hatfield told him he could return to work anytime he felt like it.
Hepatitis progressed to become liver cancer.  He and his wife celebrated their 30th wedding anniversary in February of 1984. On April 10th, Spooner died at the age of 52.
In 2002, Spooner was memorialized by his hometown of Oriskany Falls. They named the local Little League field after him. Almost 50 years earlier, Spooner had taken  8 year old Dick Brady, under his wing. He had given him an autographed glove. Now a retired judge, Brady led the effort to honor Spooner.
Present at the dedication were his wife, Carol, three their children and their families. Kevin wore his dad's 1955 Championship ring. It was one of the few times he would wear it. He told the assembled crowd " In the last days of his life, my father talked about the hills and about the people, he always considered this his home.
Spooner, even though his career was short, got many requests for autographs. He answered them all.
Today's medicine probably would have helped Spooner have a longer career. For one thing, he would not have been put into a game without proper warm up time. For another, it sounds like the kind of shoulder injury that many of today's pitchers get.
Dodger fans can only look back and see he was there such a short time and then he was gone. But he contributed to a World Championship team, and that can never be taken away.