Right now this Los Angeles Dodgers 26-man roster does not conjure up any semblance of a championship caliber TEAM.  They do have quality players, but the conglomeration of those players does not necessarily make a team.
It is not just the loss of Walker Buehler and Gavin Lux.  It is not that the additions of two rookies (James Outman and Miguel Vargas), a 30 year old former hard throwing RHSP looking to be resurrected, a 32 year old former All Star SP looking to resurrect his career as a RP (Shelby Miller),  a 35 year old LF (David Peralta), a 33 year old RF (Jason Heyward), a second utility infielder (Miguel Rojas), and a 35 year old DH (JDM).
The non-rookie additions, outside of Noah Syndergaard have actually been fairly productive.  After a slow start (when he said he was pressing trying to impress his new team), David Peralta has been good both offensively and defensively.  He has never walked much, nor has he ever been a big strikeout threat.  He no longer has the power he once did with Arizona, but he is hitting the baseball, and at 35 is near his career metrics:
Career – .281/.338/.455/.793
2023 – .276/.314/.405/.719
He has only had a .800+ OPS season three times, with a high of .893 in 2015.  But his .276 BA vs career .281 indicates that he is still making good contact.  He is very good as a platoon LF, which is what he was acquired to be.
Jason Heyward is having a productive season.  A 103 OPS+ and a good (not elite) defensive season.
Miggy Rojas?  He is what he is, a defensive first utility infielder (SS).
I believe most here acknowledge that I am a JDM fan.  He is having a good season with a 129 OPS+.  He is also considered a good clubhouse guy.  In fact all three of Peralta, Heyward, and JDM are considered good veteran clubhouse guys.  As productive as JDM has been, I wonder if the loss of JT in the clubhouse has been an issue.  He predated AF and was the longest standing non pitcher in the organization.  He was revered in the LAD clubhouse.
While not on the same HOF level as Derek Jeter, he was just as important for the LAD organization as Jeter was to NYY.  Jeter had better surrounding players in the late 90's and early 00's.  NYY has not been to the WS since Jeter retired in 2014.  Their last appearance was 2009.  They have won no pennants, 2 AL East Division titles, and 5 WC appearances.  NYY did not make the playoffs in 2016.  As much of a fan as I am of JDM, I am not convinced that he is better for this LAD team than JT might have been.
When Doc seemed to be losing the clubhouse, it was JT that brought them back together. That is not Clayton Kershaw, not Mookie, not Freddie.  JT was not only a productive player, but he was more importantly the glue of that LAD team.  Who is the solidifying voice in the current LAD clubhouse?
The offense is not all that big of a problem.  Even with the lack of consistent production from the rookies, with the additions noted above, the Dodgers are still #2 in the NL (#4 MLB) in OPS and runs scored.  The Dodgers are scoring more runs per game than they did last year.  5.4 in 2023 and 5.2 in 2022.  They have the exact same OPS (.775) as they did in 2022.  When the team is scoring more runs per game than the team that won 111 games, it is not the offense.
So it has to be the pitching.  Right?  During the AF era, no Dodger pitching staff as a whole, as starters, or as relievers, ever had an ERA over 4.00.  The highest was 3.95 starter ERA in 2016.  Here is the ERAs for each year during the AF era: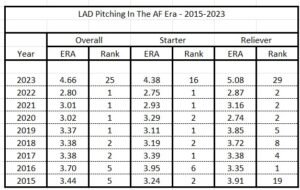 After 72 games, the Dodger pitching cannot be considered anything except atrocious.  Is there any help in the system?  Julio Urías and Daniel Hudson are due back at the end of the month or the beginning of July.  Will that make the difference?  Maybe some, but difference making?.  With the Dodgers currently at 4 starting pitchers, help is not on the way after Urías.  Gavin Stone is a hot mess right now.  Will Bobby Miller bounce back?  Because of the state of the LAD bullpen, Miller had to pitch when he should have been pulled.  Same with Gonsolin.  Emmet Sheehan had a fantastic debut.  Will that continue?  Urías, Miller, and Sheehan, are definite questions.
There are other concerns with the starting pitching. Tony Gonsolin is a concern.  His velo is down.
Of course the explanation by some is that Gonsolin is doing this by design.  Or that losing 1.5 to 2.0 MPH is not significant.  For a pitcher who has had a shoulder injury and a forearm strain the last two years?  And a pitcher than needs more time to recover between starts with a rotation consisting only of 4?  Of course that same person said that Walker Buehler's velo drop was also due to design, and those of us who believed he may be hurt were scoffed at.  Watch and learn we were told.
Then there was the comment about some fans' posts reminding him of a few parents on a high school baseball team that wanted to quit when the team was not in a championship hunt.  I cannot speak for that person's team's parents, but for me, I do not connote commenting on obvious holes in the team as a point of quitting. IMO, hiding your head in the sand, crossing your fingers, and hoping that things will turn around for the current 40-man roster is more akin to quitting.
As it CURRENTLY is, I do not believe this LAD team can win a championship.  I am sorry, but being 6th in a League of 15 is not winning, even if the playoffs is a crapshoot.  So if that is the standard that is being espoused as being a winner, I am not in that camp.  That does not mean that the team cannot stay close and then make changes at the deadline to improve the team.  But the team needs better starting and relief pitching to contend.  If Kershaw can continue to stay on pace for his largest number of innings pitched since 2015, if Gonsolin can stay healthy, if Miller and Sheehan can stay competitive as starters, and if Urías can return to his 2021-2022 form, the starters will be fine.  BIG IF.  Who is the fallback?  If not Gavin Stone, then it has to come from outside the organization.
The bullpen?  Evan Phillips, Shelby Miller, and Caleb Ferguson are the only three that I have confidence in and only Phillips in a high leverage situation.  Maybe Brusdar Graterol in non-high leverage situations because of his age.  But maybe he should go back to OKC to work on his command.  Outside of Phillips, who is a go-to reliever in high leverage situations?  Alex Vesia and Phil Bickford do not belong on a MLB roster right now.  Yency Almonte?  He falters way too often for me to have confidence in a high leverage situation.  We have learned that the OKC relievers have not done well at the MLB level…Andre Jackson, Nick Robertson, Bryan Hudson, Tyler Scott, Justin Bruihl.  Can Michael Grove fulfill one of the reliever roles?
So is Daniel Hudson the missing link for a winning bullpen?  With him in a closer role/high leverage situations, everyone else (other than Phillips) drops down.  Maybe the other relievers find their 2022 selves.  Who is confident that will happen?
I will continue to question the current makeup of the roster as it is now.  I have not quit on the team.  So I am not going to let someone rub my snotty little nose in it because he always thinks he is smarter than every other LAD fan on the planet and picks the Dodgers to win every year.  Gee, so do I, and I bet most LAD fans do as well.  I bet he picked the Dodgers to win in the 90's as well.
If in fact, Dave Roberts has lost the clubhouse maybe a change will be due.  I do believe managers can make a difference.
I said last year, watch out for Texas because of Bruce Bochy.  If (when) they make the playoffs, he will kick it into another gear.
Houston has suffered as many injuries as have the Dodgers (probably more) and they have the same record as do the Dodgers, and are the last AL WC team (tied with NYY) as are the Dodgers in the NL.  Fans are questioning Dusty's resolve, and they are the reigning WS champs.
If you choose to blindly follow the team without question, then what is the point of blogging about the team?  Just say the Dodgers will win the WS this year and every year and let it go.
For me, I choose to believe they can turn it around with help; internal and external.  But my biggest concern is whether this a collection of players or an actual team.  If it is a team, they need to start playing as one.  Quit swinging for the fences with a runner on 3rd and less than two outs and popping up or striking out (especially looking).  Move the runner from 2nd with no outs to third, even if it is a productive out.  Relievers need to come in and challenge the hitters.  If they cannot succeed, then it is up to the baseball execs to find relievers who will.
Baseball has always been a team game.   It is time the 2023 LA Dodgers did.