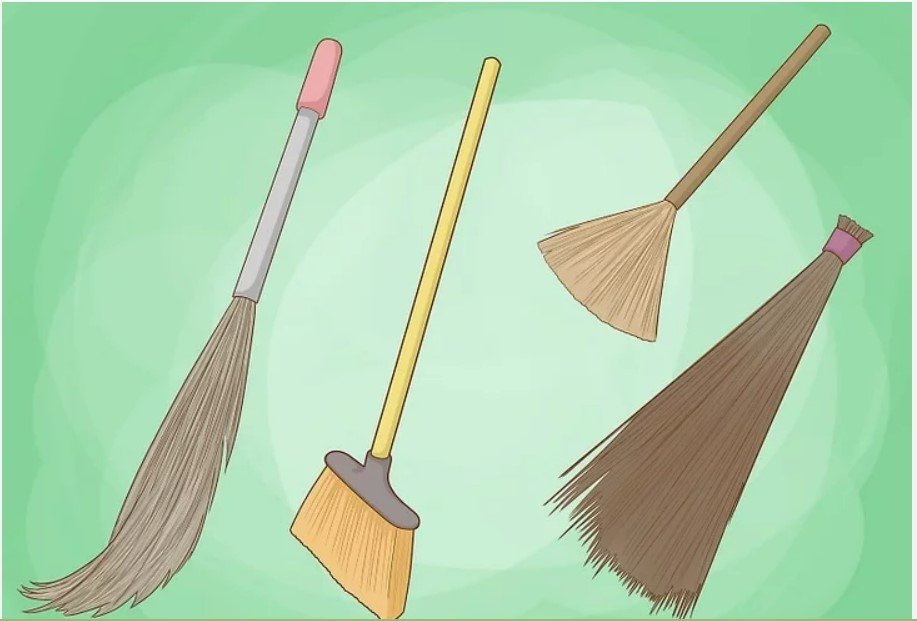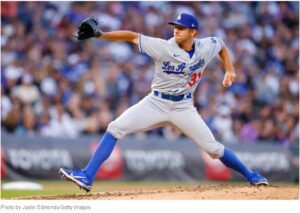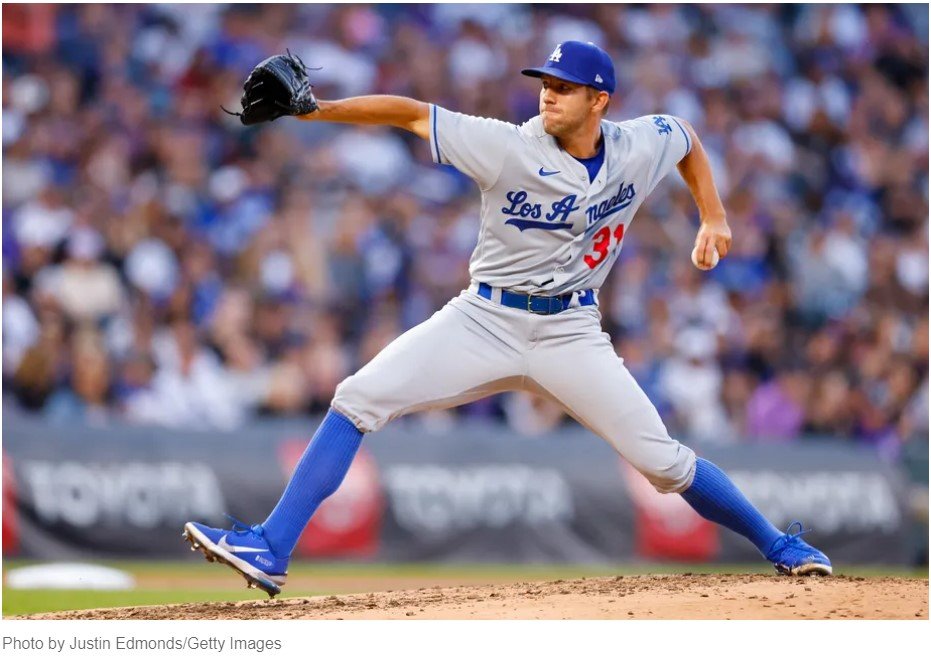 For the second time in 2 weeks, the Dodgers were looking at a 4-game sweep of a divisional rival, the Arizona DBacks.  In the first series, there was one blow out (12-3) and three competitive games.  The four game runs scored was 29 and the runs against was 16.  In the just concluded series, there was also a blow out (14-1) and three very competitive games.  The runs scored was 26 and the runs against was 8.
They took the field against a pitcher who has traditionally been very tough against the Dodgers, Zach Davies.  That is true regardless of the team Zach has pitched for:  Milwaukee, San Diego, Cubs, or Arizona.
The Dodgers did not punish Davies, but they did strategically dispose of him.  In the 2nd, on a 12 pitch AB the DH, Will Smith, drove one over the right center field fence for a 1-0 lead.  That may have been the most critical AB of the game.  Davies easily dispatched the Dodgers in the first on 11 pitches, and the first batter in the 2nd works Davies to a 12 pitch AB with a HR.  Davies got through the rest of the inning in order on 11 pitches.
It was the third that Davies wants back.  He gave up an opposite field single to Gavin Lux and followed that with a BB to Austin Barnes.  While I am sure it was not planned, but Mookie Betts then had a very nice situational hitting AB by hitting a long fly to CF that moved Lux to 3rd and Barnes to 2nd.  On an 0-2 pitch, Freddie Freeman had an opposite field single of his own to score Lux and move Barnes to 3rd.  With the infield and Austin Barnes running on contact, Trea Turner hit a very soft ground ball to Josh Rojas at 3B whose only play was to 1st.  Barnes scores the 3rd run of the game.
He retired the Dodgers in order in the 4th and 5th, but his pitch count was climbing.  In the 6th with one out, Trea Turner reached out and hit a soft liner off the end of the bat into RF for a single.  Smith walked and Zach Davies was done for the day.  His final line was 5.1 IP, 3 runs, 4 hits, 2 walks, 5 strikeouts, 1 HR, on 92 pitches (58 for strikes).  Except for the HR, he was not hit hard at all.
Three Snake relievers retired the last 10 Dodger batters in order.
Davies and the three Arizona relievers were very efficient. The Dodgers were retired in order 6 of the 9 innings.
On the other hand, Dodger pitchers pitched in traffic the entire game, save the 4th inning.  Unlike his last outing where Tyler Anderson had a perfecto thru 5.1 innings and pitched 8 scoreless innings with no walks, Anderson had runners on base in 5 of his 6 innings and battled through without allowing a run.  He also walked a batter. This was the first batter Anderson walked since the 3rd inning on May 7, a string of 27.1 innings.   Anderson extended his scoreless innings streak to 20 innings.  He has not been scored on since the first inning against Arizona on May 17.
Anderson's ERA has now dropped to 2.90 with a WHIP of 1.03.  His K/BB rate is otherworldly.  For the month of May, Anderson struck out 33 batters and walked only 2.  For the year his K/BB ratio is 48/6.
Three relievers followed Anderson, and all three pitched out of trouble.  But only Craig Kimbrel allowed a run.  In the 9th, with one out, Kimbrel hit Alek Thomas in the foot.  After a 2nd out, David Peralta came off the bench to triple to break the shutout.  With the tying run at the plate, Kimbrel struck out Cooper Hummel looking to end the game, and give Kimbrel his 10th save out of 10.  In his last 6 games pitched, Kimbrel has allowed runs in 4 of them.  In those 6 games, he has allowed 6 runs and 7 hits in 5.1 IP.
The Dodgers won with Mookie going 0-4.  They were out hit 8 to 4.  Cody Bellinger and Justin Turner sat for the day, while David Peralta started the day on the bench before his RBI triple in the 9th.
Kevin Pillar started the day in LF.  While he did not get a hit, he made a spectacular diving grab to steal a hit from Geraldo Perdomo.
Even Tyler Anderson made an outstanding defensive play.
But there was some questionable defense behind the Dodger pitchers.  Trea Turner had an error fielding a ground ball.  Mookie failed to catch a line drive hit by Perdomo that was in his glove, but lost the ball in the lights.  Mookie makes that catch 99 times out of 100.
IMHO, I think Mookie will also tell us that he should have caught Peralta's triple.  It would have been a tough catch, but he has made far tougher catches.
The Dodgers also had another runner picked off.  This time it was Trea Turner at 2B.  Perdomo snuck in behind Turner, and blocked the base so Trea could not get there.  This was the fourth base runner tagged out in the last two games; sixth in three.
I know that Arizona is 23-26.  But they are 2-9 against the Dodgers and 21-17 against their other opponents.  They are not a bad team.  They are headed in the right direction, and have the youth at the ML level, with additional help in MiLB not far away.   The Dodgers were fortunate that they did not have to face Zac Gallen in the last two series.  In his first encounter with LAD on April 27, he pitched 6.0 scoreless innings for the win, the last time Arizona has beaten LAD.
The Dodgers swept Arizona on this day without their best offense, without their best defense, without their best base running, and with the pitchers pitching in traffic all game.  How great does it get.