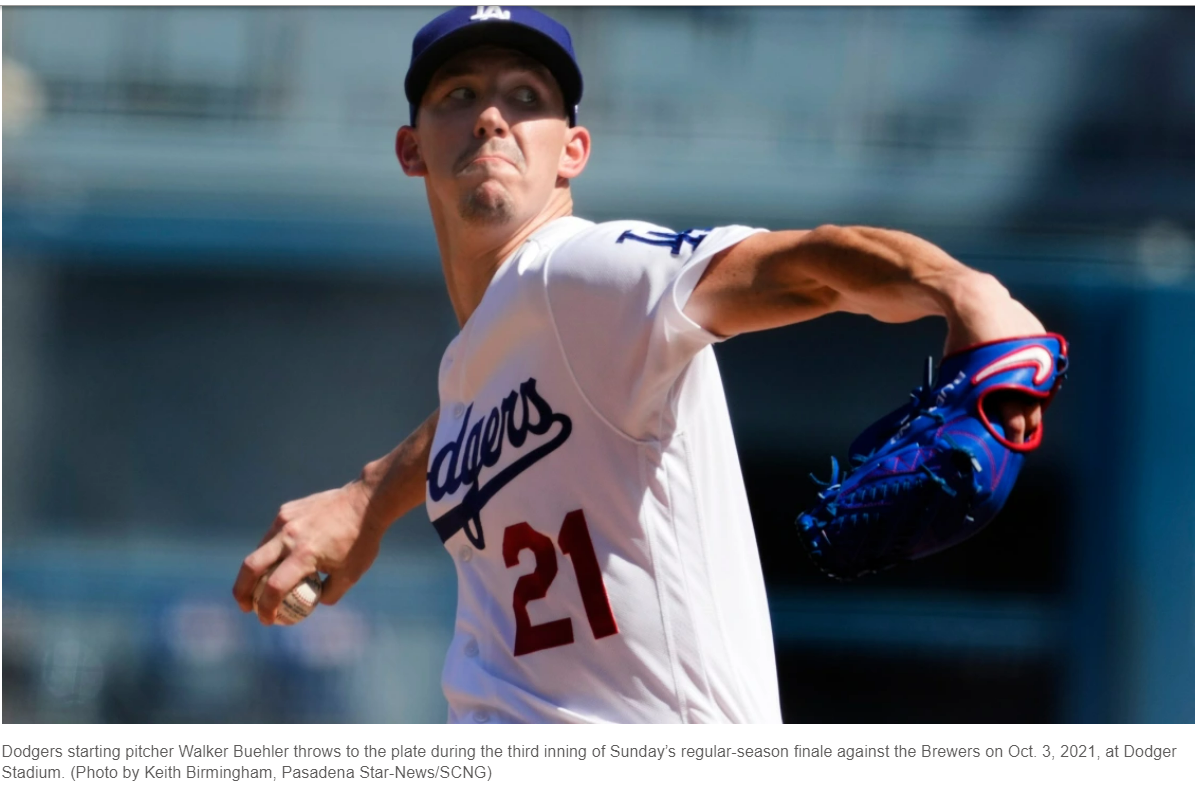 Can we just forget this nonsense that Walker Buehler's velo is down so that he can be more effective?  If that is the strategy, it ain't working.  His 4-seam fastball has lost its magic this year.  Not only has it lost its magic, but it is also now pretty much of a liability pitch.
With the help of MLB At Bat, I counted that he threw 29 four-seam fastballs in Monday's game.  He did not miss any bat with that pitch.  Every swing against the four-seam fastball produced contact.
1st Inning – 4
Groundouts – 2
Foul – 1
Ball – 1
2nd Inning – 13
HR – 1
Ball – 6
Called Strike – 5
Foul – 1
3rd Inning – 5
HR – 1
Single – 1
Ball – 1
Called Strike – 1
Foul – 1
4th Inning – 3
5th Inning – 2
6th Inning – 2
7 four-seam pitches were put in play: HR (2), Single (1), ground outs (4).
Walker has now given up 5 HRs, and all 5 have come off four-seam fastballs.
Statcast (From Baseball Savant) provides a comparison of his 2022 four-seam fastball vs his 2021 four-seamer:
Walker Buehler's Complete Baseball Savant Statcast Page 
His spin rate is down and the significant reduction of vertical rise is evident.  Eric Karros commented that there was no late life to the four-seam fastball.
Four-Seam Fastball Vertical Rise:
2022 – 0.9
2021 – 2.3
2020 – 3.5
2019 – 2.4
2018 – 2.6
2017 – 3.5
Four-Seam Fastball Run Value (Negative is good)
2022: +6    (1,472 best pitch out of 1,497 MLB Pitches)
2021: -19
2020: -11
2019: -19
2018: -9
For comparison, the best pitches in MLB ha a run value of -12:  Chad Kuhl slider and Corbin Burnes cutter.
The best LAD pitches: Tyler Anderson change: run value of -8 (#12 best pitch) and Tony Gonsolin cutter: run value of -8 (#14 best pitch).
Walker throws 5 pitches other than the four-seam fastball:
I am not qualified to make any conclusions.  But I am quite certain that Buehler's velo and spin rate are not down because he looks to be more effective.  Buehler said that the problem with his four-seamer is due to mechanics.  I will take him at his word.  This was his 10th start.  He is nearly 1/3 into the season.  If it is mechanical in nature, why can't the pitching gurus in the LAD organization figure it out?
Even Eric Karros was emphatic that Buehler's four-seamer is not working.  He seemed to implore Buehler to throw his other five pitches, and to only show the four seamer.  He stopped throwing it in the 4th, 5th, and 6th inning, and they were all scoreless.
But it isn't just 2022 that seems to have gone awry for Buehler.  Let's review September 2021 and the post-season in 2021.
September – 6 GS, 31.2 IP, 4.83 ERA, batting against .262/.313/.467/.780
Post-Season – 4 GS, 18.1 IP, 4.91 ERA, batting against .297/.374/.460/.833
Let's look at Buehler's splits by month to see where the "problem" may have emanated from.
Again, I am not qualified to draw any conclusions, but it does not stop anyone from asking questions.  The Dodgers need Walker Buehler to pitch like an Ace if they intend on getting to and winning the World Series.  I hope that someone figures it out, and his next 23 starts emulate his 2021 season.
There also seems to be some concern with Craig Kimbrel.  Kimbrel has 2 pitches, a four-seam fastball and a curve:
(Again negative run values are good)
Four-Seam Fastball
2022 run value: 0
2021 run value: -6
Curve
2022 run value: 0
2021 run value: -13
Is there reason for concern with Kimbrel?  It will not be answered.  However, just like with Walker Buehler, it is a question that you just know is being asked by the LAD brain trust.