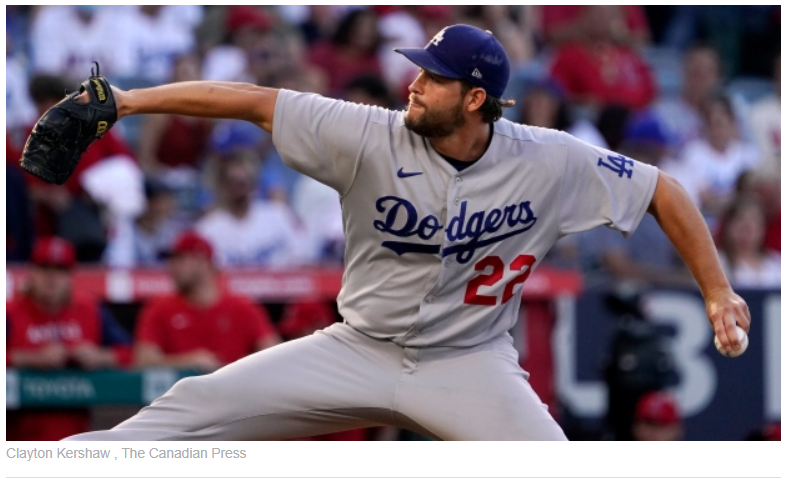 We have come to the final day for option decisions, and FA Qualifying Offers (QO).  The Dodger roster turnover has been fairly significant.  They had 10 players become free agents (9 from 26 man roster):
Trea Turner
Tyler Anderson
Clayton Kershaw
Chris Martin
Andrew Heaney
Craig Kimbrel
Joey Gallo
David Price
Kevin Pillar (60 Day IL)
Tommy Kahnle
They also had 4 players with club options that were denied (two from 26 man roster):
Justin Turner
Hanser Alberto
Jimmy Nelson (60 Day IL)
Danny Duffy (60 Day IL)
That is a total 11 players gone from the 26 man roster and 40 man.  After the additions of the players from the 60 Day IL and the addition of Luke Williams, the LAD 40 man roster now sits at 33.  Trevor Bauer is not included in this total.
There are 17 pitchers, 2 catchers, 8 infielders, and 6 outfielders.  By the time I publish this article, Clayton Kershaw could have signed another 1-year contract for the near $17MM he signed for last year. It has been reported by Ken Rosenthal and multiple other sources that the deal is just about done.  So let's count Kershaw in that tabulation, making it 34.
The current roster configuration calculates to an estimated $218MM AAV.  Here is how that is calculated.  The contracts including Trevor Bauer are per Spotrac; the arbitration numbers are per MLBTR; the other components are per Spotrac and Cots.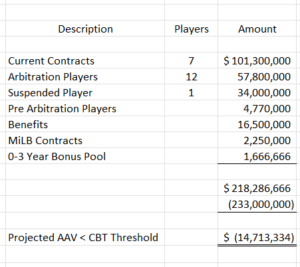 That is nearly $15MM of available contracts below the CBT threshold.  Of course, if the reports prove to be correct and Clayton Kershaw does imminently sign, I feel very comfortable in stating that his contract will take the Dodgers over the threshold.
So the Dodgers' story cannot be completed until we all learn the fate of Trevor Bauer and Cody Bellinger.  If Bauer loses his appeal, that will open up $34MM, and if Cody Bellinger is non-tendered that will free up another $18MM.
If Bauer's appeal is successful, as much as it pains me, the Dodgers will have a starting pitcher for $34MM.  And with Kershaw reportedly signing, the Dodgers 5 man rotation could be set, and the depth of Pepiot, Grove, Miller, Stone, and Jackson will be in reserve.  Some will be in AAA while some will be in the bullpen.  And if Tyler Anderson accepts the QO, that will produce a good starting 6.  As we have learned, you can never have enough pitching.  Especially quality starting pitching.
The next wave of Emmet Sheehan, Nick Nastrini, Nick Frasso, Carlos Duran, and Landon Knack will not be far behind.
I do think Belli could be a viable CF option for LAD, but not at $18MM+. But then again, it is not my money. There are unconfirmed reports that Gomes and Boras have been in discussions on contract options for Belli.  Will they get something done?  If money were not a factor, then I hope that AF/BG and Belli/Boras can come to an amicable agreement for one year.  A former MVP deserves one more shot, even if on a short leash.
The knowledge of the plight for Bauer and Belli, will also provide direction as to how determined AF/BG will be to signing a top tiered SS.
There is still a lot of uncertainties (as it should be) on the first day of true FA.  Please let the uninformed speculation begin.  The 40 man rosters will be set next Tuesday. They do not need to keep a spot open for any possible FA (Anderson) until they are actually signed and a spot needs to be opened. The knowledge about Belli being tendered a contract or not, will be three days after that (next Friday).  Plus, we are less than a month away from the Winter Meetings.
MLBTR has published their 50 top FA, and the speculation as to their future home and potential contract.  I normally create an excel spreadsheet and monitor the FA movement.  I will set that up, and this year, I will also include Keith Law's and Kiley McDaniel's lists for comparisons.  Baseball prospectus is in the process of compiling their top 50.  They have published their top 25 and will follow that up with 26-50.  This is a fun process for me.
I still need to publish my thoughts on CF and pitching.  I usually try to do my research in the AM, but yesterday AM, I was at the Ice Skating Rink watching my 6 year old grandson skate on TV for a local show called Good Day Sacramento.  It was celebrating the 25th anniversary of the facility located in Roseville, a larger suburb in Sacramento, County.  He is a budding hockey player.  Below is a link of the TV spot.  My grandson is the one in the white hockey jersey and helmet.
https://www.cbsnews.com/gooddaysacramento/video/skatetown-in-rosevilles-25th-anniversary