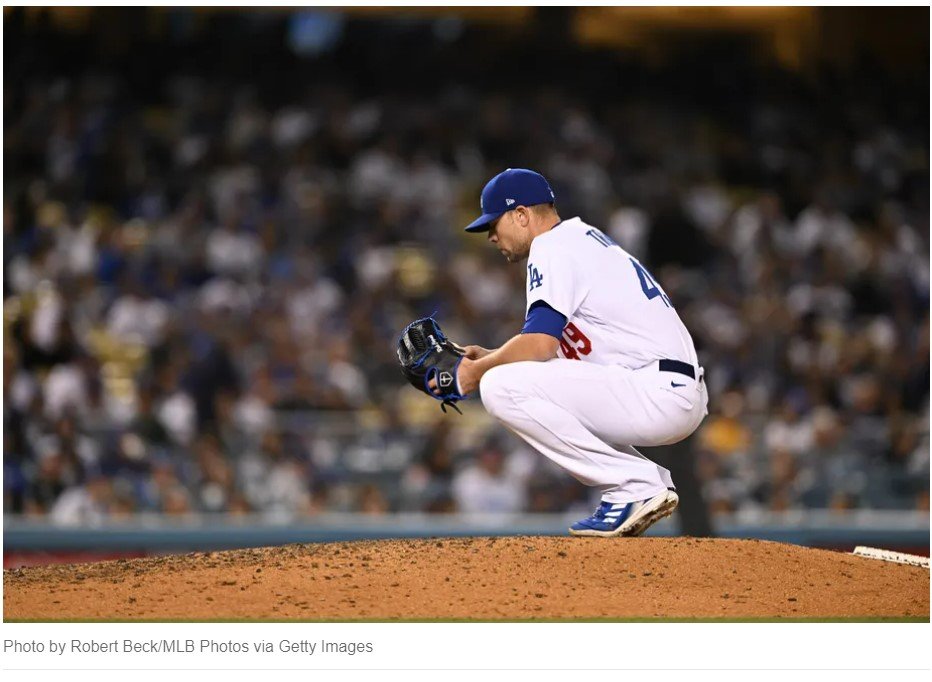 I am more than a little dismayed at the Blake Treinen situation.  He just underwent "right shoulder labrum and rotator cuff repair surgery."  The surgery was performed by team physician Dr. Neal ElAttrache.  Blake is estimated to be out at least 10 months, which would push his return to about mid-September.
#Dodgers announced Blake Treinen had right shoulder labrum and rotator cuff repair surgery. Treinen told me he's confident that he will pitch at some point in 2023 season. #DrElAtrache

— David Vassegh (@THEREAL_DV) November 11, 2022
Why am I dismayed?  This was the surgery that was recommended by Dr. ElAttrache back in April.  Blake chose a different procedure and was hoping to make it back before the end of the season.  He did return to appear in two games in September before returning to the IL, and then one game in the NLDS, where he gave up a monster HR to Jake Cronenworth.
Now we have learned that the initial procedure was ineffective and the surgery was necessary after all.  I am not upset with Treinen.  It is his body, and if he wants to take a less invasive approach to correct the injury, that is between him and his doctor.
I have more angst towards AF/BG.  Why did they not get a true diagnosis of the injury before agreeing to the 2023 extension and 2024 option?  Teams do not usually go thru extensions (or contracts in general) without checking the medicals.  Did they not know that Dr. ElAttrache had recommended surgery?  That fact may not have been reported to the public before the extension, but it had to be known to the LAD executives…right?
Andrew Friedman said if he was Blake Treinen's advisor, he would've recommended surgery.

Friedman explained a big reason #Dodgers signed Treinen to a contract extension was "to provide him the peace of mind to run out this course, which helps us this October" & have a fallback

— Matthew Moreno (@Matthew__Moreno) August 23, 2022
The 2023 contract is $8MM lost.  I know that is chump change to the Dodgers, but it still carries a high AAV while the CBT threshold  is quickly approaching.
Now the glass half full guy in me says that AF/BG did in fact know that the surgery was recommended and that it would be completed shortly after the WS was due to end.  They would have known that 2023 was lost, but the 2024 option was structured based on games missed due to injury in 2023.  I have obviously not seen the contract, but reports estimate that the option will pay Treinen between $1MM and $7MM based on time missed.  The optimist in me says that the option will be $1MM, and that the overall contract will be for $9MM and 2 years.  If that is how it was analyzed, I am okay with that.  The Dodgers could in fact just decide to forego trying to reset in 2023 knowing full well that 2024 could be a better opportunity.
The Blake Treinen situation is a conundrum, but one which the Dodgers can easily navigate through, both financially and with regards to relievers on the roster.  He will go on the 60 day in ST, and the Dodgers will end up with another on the 40 man.
Andrew Heaney – It is reported that the Mets have interest in Andrew Heaney, probably due to the potential loss of 3 starters from last year: Jacob deGrom, Chris Bassitt, and Taijuan Walker.  Right now the Mets rotation is Max Scherzer, Carlos Carrasco, and David Peterson.  Thus on paper Andrew Heaney makes sense.  MLBTR estimates he will get a 3 year $42MM deal.  Kiley McDaniel is not nearly as generous as he estimates 2 years $20MM.  Ben Clemens at FanGraphs is even less generous at 1 year and $10MM.  I figure it will be somewhere between FanGraphs and MLBTR.
He is a big strikeout pitcher, 35.5% compared to a MLB average of 21.9%.  Where the downside is, he had a 4.5% HR rate compared to MLB average of 3%.  What Andrew Heaney will he be?
What also perplexes me is that Heaney was a train wreck with NYY and the NY crowd was brutal with him.  Is moving from the Bronx to Flushing Meadows going to make it less of an issue for Heaney?  If I were Heaney I would look to pitch in a less volatile arena.  I know he wants to pitch for a contender. Maybe Texas?  Especially if they are successful in getting deGrom.  White Sox?  Baltimore? Toronto?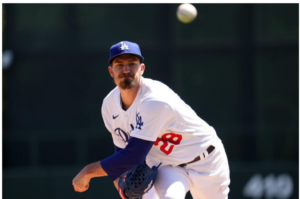 Finally, I have been out front with how much of a fan I am of Ross Stripling.  He has gone from a 6th man with LAD, and one who many if not most Dodger fans wanted to move out of town, to a pitcher looking to get a 2 to 3 year deal in FA for $20MM to $33MM depending on what publication you want to believe.  Regardless, he is going to cash in, and I could not be happier for him.