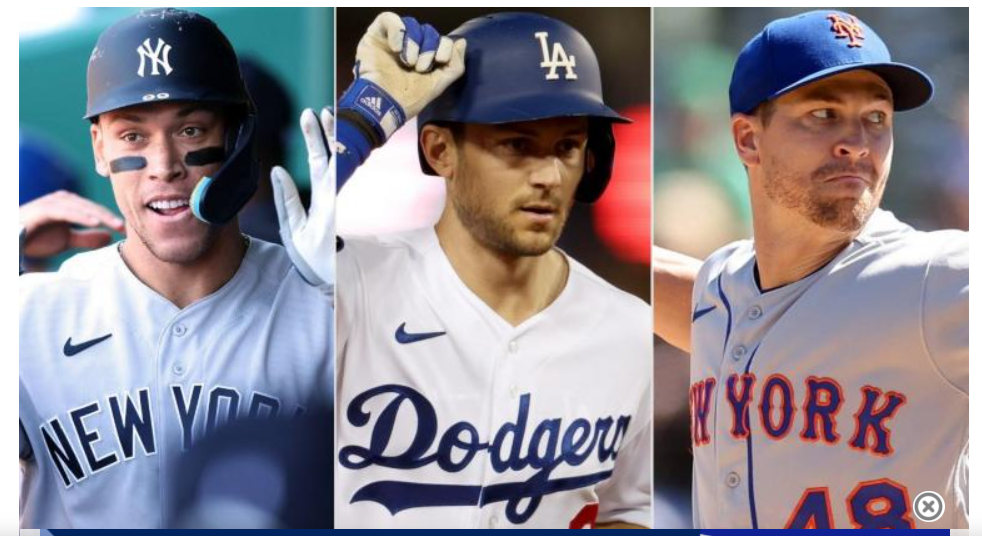 Tis the season for MLB FA landing speculation.  Many publications have offered their insight, and not wanting to be outdone, MLB.com had 50 "experts" predict where 11 of the top free agents will land this winter.  Bums referred to the MLB.com article, and I was three quarters away from completing this post, so I chose not to comment at that time.  But these are fun prognostication time for many of us.
The Dodgers were prominently mentioned as landing spots for 7 of the 11.  But the one FA where the MLB.com experts predicted would sign with LAD is SS Carlos Correa.  It is clear from the predictions that many of the "experts" believe the Dodgers are in on one of the 4 elite SS.  Besides getting the most predictions for Carlos Correa, they were second for Xander Bogaerts and Trea Turner, and third for Dansby Swanson.
The other prominent FA where the Dodgers were considered was Aaron Judge, where they received the third most predictions. Of course there were only three teams that were selected by the group of 50.  Most predicted NYY and not surprising, the second place team was San Francisco.   
The Dodgers received the 4th most predictions for Jacob deGrom, but none for Justin Verlander.  I guess these 50 experts do not take stock into what Ken Rosenthal and Jon Morosi have heard.
 There were a lot less predictions for Carlos Rodón landing in LAD.  I am with those who do not think there is a chance that the Dodgers will sign Rodón.  He is injury prone, he wants 5 years, he is 30, he received a QO, and his agent is Scott Boras.  What do you think the chances are for Rodón signing with LAD.  If they wanted Rodón, they should have gone after Castillo at the deadline.
Other than JV, the three other players that the Dodgers were not considered by any of the 50: Catcher Willson Contreras, CF Brandon Nimmo, and 1B/DH José Abreu.  Absolutely no surprise there.
The predictions for LAD were logical.  The team needs SP and a SS, and that is where the 50 concentrated; 4 SS and 3 SP.
Aaron Judge: Yankees
Other teams receiving votes: Giants, Dodgers
 My pick – NYY
Jacob deGrom: Rangers
Other teams receiving votes: Mets, Braves, Dodgers, Giants, Astros, Guardians, Padres
My pick – NYM, 2nd pick Texas
Trea Turner: Phillies
Other teams receiving votes: Dodgers, Cubs, Mets, Cardinals, Giants, Red Sox, Mariners, Marlins, Yankees
My pick – Philadelphia
Carlos Correa: Dodgers
Other teams receiving votes: Twins, Cubs, Yankees, Braves, Orioles, Phillies, Angels, Giants, Mariners, Red Sox, Tigers
My pick – San Francisco, 2nd would be Cubs
 Xander Bogaerts: Red Sox
Other teams receiving votes: Dodgers, Cubs, Giants, Phillies, Twins, Braves, Mariners, Orioles, Yankees, Mets
My pick – Boston
Justin Verlander: Astros
Other teams receiving votes: Yankees, Mets, Rangers, Braves, Giants, Angels, Blue Jays, Cardinals, Padres
 My pick – Houston
Dansby Swanson: Braves
Other teams receiving votes: Cubs, Dodgers, Giants, Mariners, Phillies, Twins, Cardinals, Orioles, Red Sox, Royals, Yankees
 My pick – Atlanta, 2nd would be Seattle, 3rd would be Cubs
Carlos Rodón: Mets
Other teams receiving votes: Rangers, Cubs, Giants, Angels, Cardinals, Yankees, Red Sox, Dodgers, Mariners, Marlins, Orioles
 My pick – Texas, 2nd would be NYM
Willson Contreras: Cardinals
Other teams receiving votes: Astros, Tigers, Cubs, Red Sox, Guardians, Mets, Yankees, D-backs, Giants, Padres, Rays, Rockies
 My pick – St. Louis
Brandon Nimmo: Mets
Other teams receiving votes: Rockies, Giants, Mariners, Yankees, Astros, Padres, Angels, Blue Jays, Cubs, White Sox
My pick – NYM
José Abreu: White Sox
Other teams receiving votes: Cubs, Padres, Marlins, Giants, Guardians, Mariners, Rays, Twins, Astros, Brewers, Cardinals, Mets, Orioles, Phillies, Rangers, Red Sox, Rockies 
My pick – ChiSox, 2nd pick San Diego
I thought I would go out on a limb and make my own predictions.  I do not think the Dodgers will get any of the 11 FA selected for this exercise by MLB.com.  I do not think they will sign any large FA contract.  If they were not willing to go 3 years for Tyler Anderson, I cannot see them going 3 + years for deGrom, JV, or Carlos Rodón.  I could very well be wrong, but that is how I read what they have done. 
NYM said from the very beginning that Edwin Díaz and Brandon Nimmo would be their top priority to re-sign.  Not Jacob deGrom.  They have already signed Díaz to a record breaking reliever contract.  The Mets will need to sign deGrom or Rodón, so I would not be surprised at all to see Steve Cohen dig deep and sign both deGrom and Nimmo.
Boston has said all along that signing Xander Bogaerts was their #1 priority.  Seeing the expected cost for Bogaerts, Boston has to believe they can afford Bogaerts and maybe Devers.  MLBTR projects Bogaerts at 7 years and $189MM, while Kiley McDaniel projects his contract to be 6 years $168MM.  Boston can certainly afford that level of a contract, and they do not want a repeat of the loss of Mookie Betts that did not go well with the Boston faithful.
The projected salary and term for Dansby Swanson is in line with what Atlanta put out for Matt Olson.  MLBTR predicts 7 years and $154MM, while McDaniel goes 6 years $150MM.  If the Braves pass on that, I would be surprised.  He is an Atlanta kid, and the Braves are his hometown team.  AA has basically stolen Acuña, Albies, Riley, Harris II, and Strider.  They still have 2 arbitration years for LHSP Max Fried before he comes home to the Dodgers where he belongs (with Jack Flaherty and Lucas Giolito).  The Braves can afford Dansby Swanson.  Vaughn Grissom is not the answer at SS.  Why tie up all of the other youngsters when not willing to sign your SS to market rate?
Contreras to St. Louis makes too much sense.  There are two premium catchers that could be available via trade: Oakland's Sean Murphy and Toronto's Danny Jansen.  St. Louis does have the prospect capital to make a trade, but Contreras' projected salary of 4 years $84MM is not out of line.  St. Louis' projected payroll is just about where it was last year, and they may not want to go over that amount (approximately $175MM).  However, $195MM is not out of line where they have been before (2021 and 2019).
If Nimmo is not re-signed by NYM, I think his next best landing spots would be Colorado or SF.  The massive CF territory of both stadiums calls for a good CF, which Nimmo is.  Can he be for 5 years?  He will be 34 at the end of his projected contract, so he should make it to the end.
The ChiSox cannot let Abreu leave can they?  His contract would still not take them above last year, and they cannot afford to lose his bat.  They still expect to contend.  I keep hearing that they need to keep 1B free for Andrew Vaughn.  Vaughn does not have the bat that Abreu has and he can play LF.  AJ Pollock is gone, and the ChiSox have to be happy about that.  Maybe they will actually get Eloy Jiménez and Luis Robert together for a full season this year.  Their window is closing and they have one of the weakest farm systems in MLB.  This is not the year to let Abreu go.
Well I have given it the old college try.  Why not play along?  Give us where you think these FA's will land.
Before I ponder about what the Dodgers might plan via FA, I need to see where their approach may be leaning.  Cost conscious or go all out to win in 2023?