Four Dodger affiliates have just completed their first two months, and now there are three Rookie League teams that will be starting their seasons on Monday June 6. The Arizona Complex League (ACL), operated by Minor League Baseball, is a Rookie-level circuit that has operated in Arizona since 1988.
The Dodgers will have a team in the ACL.  There are 15 organizations with teams in the ACL with three teams having two teams: Giants, Brewers, and DBacks.  For the second straight year, the Dodgers have chosen to field one ACL team.
There is no magic to which teams are in the ACL vs. Florida Complex League (FCL).  It is where each teams' Spring Training Complexes are located.  The Dodgers will be based in their Camelback Complex in Glendale Arizona.
A state-of-the-art baseball facility, Camelback Ranch-Glendale is home to the Dodgers' kickoff each year. Located on Camelback Road in Phoenix, just west of State Farm Stadium and Gila River Arena, the 141 acre Sonoran Desert-inspired facility, shared with the Chicago White Sox, features more than just top-quality playing fields; the grounds also feature picturesque walking trails, one-of-a-kind fan photo opportunities and a five acre lake that separates the Dodgers and White Sox practice areas. 

The first-rate baseball facility includes more than 118,000 square feet of Major and Minor League clubhouse space, 13 full baseball fields and three half-fields. The main stadium includes seating for 13,000 fans, 12 luxury suites, the unique elevated Budweiser Legends Deck and the fan favorite Four Peaks Patio. Fans are invited to enjoy the ballpark's modern amenities, modern design and dramatic mountain views that create the most inviting atmosphere in Spring Training and ACL baseball.
There are 15 teams located in each geographic region.  In the ACL, the teams are: The Arizona Diamondbacks, Chicago Cubs, Chicago White Sox, Cincinnati Reds, Cleveland Guardians, Colorado Rockies, Kansas City Royals, Los Angeles Angels, Los Angeles Dodgers, Milwaukee Brewers, Oakland Athletics, San Diego Padres, San Francisco Giants, Seattle Mariners, and the Texas Rangers.
The ACL will play a 60 game schedule.  The season will tentatively conclude on August 30.  The complexes are dark on Wednesdays and Sundays throughout the season.  They will also be dark July 17 – 20 (MLB All-Star Week).
The coaching staff is as follows:
Manager – Jair Fernandez
Coach – Johan Garcia
Coach – Fumi Ishibashi
Pitching Coach – Bobby Cuellar
Pitching Coach – Sean Coyne
Hitting Coach – Danny Dorn
Hitting Coach Ronny Paulino
Hitting Coach – Blake Gaillen
The rosters have not been set as I am writing this.  But the original roster that was in WIP a couple of weeks back included 18 players.  Four players have been moved from the ACL roster to Rancho Cucamonga, and one pitcher has been moved from RC to the ACL.
There are two pitchers on the ACL roster that everyone is sure to recognize; a pair of RHRP, Pedro Baez and Dellin Betances.
Roster published as of 11:00 AM on June 5, 2022:
Pitchers:
Horatio Andujar
Pedro Baez
Dellin Betances
Hao-Chun Cheng
Reinaldo De Paula
Jonathan Edwards
Gabe Emmett
Frankelyn Feliz
Michael Martinez
Kosuke Matsuda (1st year)
Isaul Paez
Catchers:
Griffin Lockwood-Powell (1st year)
Jacob Rogers (Has not played organized baseball since 2017)
Frank Rodriguez
OF:
Unless noted above, all players were on the ACL roster in 2021.
The first week's schedule is as follows:
June 6 – vs Rangers at home
June 7 – vs Rangers away
June 9 – vs Royals at home
June 10 – vs Royals away
June 11 – vs CSW at home
The schedule for games thru August 23 are included below:
https://www.milb.com/arizona-complex/schedule
ACL administrative contact information:
Address:
Arizona Complex League
1641 Commerce Avenue North
St. Petersburg, FL 33716
Phone: 727-456-1734
Website: milb.com/arizona-complex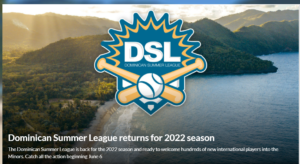 Also starting on June 6 will be the Dominican Summer League.  Per MLB.com: Games in the DSL are a teaching tool and the real measure of success for international prospects in this league is progress. The league is affectionately referred to as the "kindergarten of professional baseball," but these kids can play and there's a reason why scouts from opposing teams can be spotted in the stands taking notes and reporting back to their superiors.
The Dodgers will have two DSL teams.  Below are the rosters and staff for the two LAD DSL teams: 
DSL LAD Mega (Managed by Cordell Hipolito) 
https://www.milb.com/dominican-summer/roster/612
DSL LAD Bautista (Managed by Dunior Zerpa)
https://www.milb.com/dominican-summer/roster/611
The regular season concludes August 23 and will include a 60 game schedule.  The DSL is dark every Sunday.  Below is the schedule for all 2022 DSL games.
https://www.milb.com/dominican-summer/schedule
Top Dodger International Free Agents signed in 2022 and where they will be assigned for the 2022 DSL season
Top Prospects:
Bautista:
Samuel Muñoz (MLB Pipeline #7) – Infielder – Dominican Republic
Mairo Martinus – SS – Curacao (Martinus is viewed by some as the best infielder from Curacao sign Ozzie Albies signed with the Atlanta Braves.)
Accimias Morales – RHP – Venezuela
Oswaldo Osario – SS – Venezuela
Josue De Paula – OF – Dominican Republic
Jeral Perez – SS – Dominican Republic
Alexander Albertus – SS – Aruba
Yuliangel de la Cruz – RHP – Dominican Republic
Peter Bonilla Hernández – LHP – Spain
Víctor Rodrigues – C – Venezuela
Mega
Raynerd Ortega – SS – Venezuela
Javier Pena – C – Dominican Republic
Domingo Geronimo – RHP – Dominican Republic
Luciano Romero – RHP – Venezuela
Eduardo Guerrero – SS – Venezuela
2022 Dodgers other international free agent signings and assignments
Daniel Arrias – Venezuela – CF – Bautista
Steven Castillo – Nicaragua – RHP – Bautista
Yorfran Medina – Venezuela – OF – Bautista
Enrike Sevilya – Russia – RHP – Bautista
Edgar Avilés – México – RHP – Mega
Natanael Castillo – Dominican Republic – SS – Mega
Miguel Domínguez – Panama – C – Mega
Jholbran Herder – Venezuela – RHP – Mega
Edgar León – Venezuela – RHP – Mega
Roiger Mujica – Venezuela – RHP – Mega
Ilmerson Colon – Venezuela – LHP – Not yet assigned
Nicolas Cruz – Venezuela – RHP – Not yet assigned
Yhonaider Gudiño – Venezuela – SS – Not yet assigned
Sean Liñan – Colombia – RHP – Not yet assigned
Yoryi Simarra – Colombia – RHP – Not yet assigned
Kosuke Matsuda – Japan – RHP – Arizona Complex League
We will endeavor to keep you abreast of the ongoings of both rookie leagues.