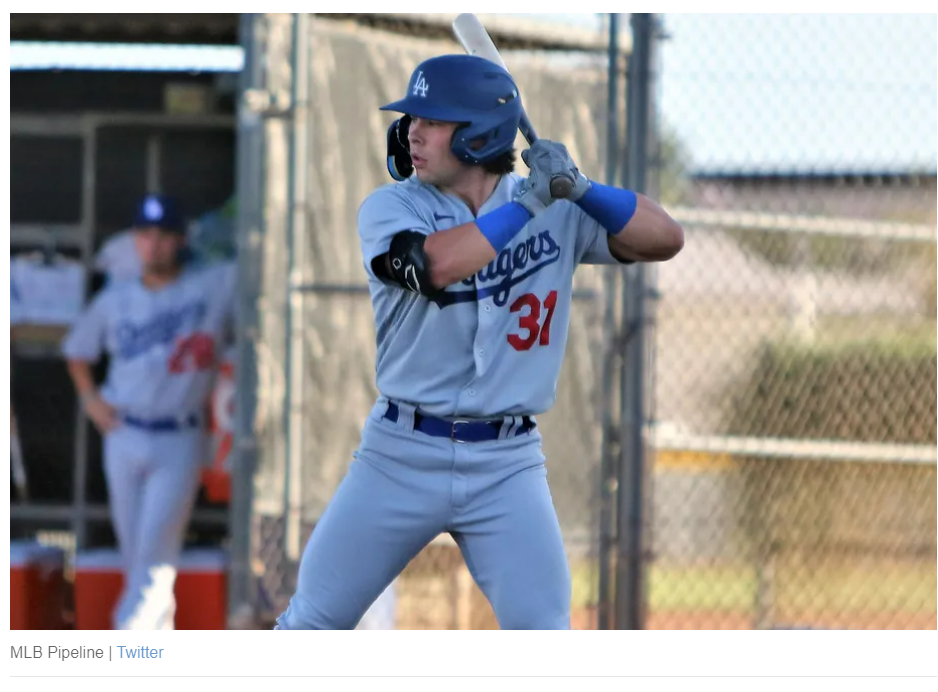 As commented on yesterday, Baseball Prospectus (BP) came out with the second Top 100 prospect list (actually 101).  BP had Gunnar Henderson as the #1 prospect, just as did BA.  7 prospects were in both top 10 lists:
Gunnar Henderson, Baltimore SS – BA #1, BP #1
Corbin Carroll, Arizona CF – BA #2, BP #6
Jackson Chourio, Milwaukee OF – BA #3, BP #10
Jordan Walker, St. Louis OF/3B – BA #4, BP #2
Andrew Painter, Philadelphia RHP, BA #5, BP #12
Grayson Rodriguez, Baltimore RHP, BA #6, BP #8
Eury Perez, Miami RHP – BA #7, BP #11
Elly De La Cruz, Cincinnati SS – BA #8, BP #5
Francisco Alvarez, NYM C – BA #9, BP #4
Marcelo Mayer, Boston SS – BA #10, BP #13
Other 3 BP Top 10
James Wood, Washington CF – BA #11, BP #3
Anthony Volpe, NYY SS – BA #14, BP #7
Jackson Holliday, Baltimore SS – BA #15, BP #9
The cream generally finds it way to the top, and they have in both in both lists to date.  We still have MLB Pipeline, The Athletic, and ESPN.  I suspect we will see all of these names at the top of those lists as well.  Certainly not in the same order, but generally in or around the same range.
Biggest team changes:
LA Dodgers +3
Detroit Tigers +3
Milwaukee Brewers +2
Minnesota Twins +2
Oakland A's +2
Seattle Mariners -2
Cleveland Guardians -3
Changes for the Dodgers:
BP Included but not BA:
RHP – Nick Nastrini #54
C – Dalton Rushing #56 (Pictured)
RHP – Nick Frasso #79
OF – Andy Pages #90
Not Included by BP:
RHP – Ryan Pepiot – BA #55
Included on both lists:
C – Diego Cartaya – BA #18, BP #19
RHP – Bobby Miller – BA #21, BP #27
3B/OF – Miguel Vargas – BA #30, BP #39
2B/OF – Michael Busch – BA #54, BP #59
RHP – Gavin Stone – BA #56, BP #50
The Dodgers led all teams with 9, followed by Baltimore with 8.  NYM, Cincinnati, Tampa Bay, and Minnesota had 5.  Seven teams had 4, seven teams had 3, three teams had 2, five teams had 1, while Atlanta was once again the only team without a top prospect.
Baltimore SS, Jackson Holliday, was BP's top prospect from the 2022 draft, and made the top ten.  Pittsburgh 2B, Termarr Johnson (31), Arizona CF Druw Jones (33), NYM C, Kevin Parada (64), Washington OF, Elijah Green (68), and NYM SS, Jett Williams (75), were also top high school draft picks from the 2022 draft.  That is six high school players drafted last July who are considered six  of the very best 75 baseball prospects.  The high school players in the 2022 draft were considered special.  It should be fun to follow them.  If you are not into MiLB players, just follow Jackson Holliday and Druw Jones.
Baseball Prospectus only named four LAD prospects on last year's list: Cartaya, Miller, Vargas, and Pages.  Perhaps realizing they may have missed on some prospects in one of the top farm systems, they more than made up for it in 2023.  I thought that Dalton Rushing, Nick Frasso, and Nick Nastrini were potentially top 100 for 2024, BP decided to move up the timeline.  Deserving for 2023?  It's a list of PROJECTED top prospects.  Who is to say which list is right or wrong?  Most of the players on the list will not be stars, and many will not even make it to MLB.
It might be interesting to see how BP's #10 prospect for LAD achieves this year at the MLB level…James Outman.  He was not named to the top 101, but based on where the others were placed, he had to be close.  If it were not for his age, Outman would be placed higher on the list than Pages.  Then again, maybe it is because of his age that he put up the numbers he did last year in MiLB.  IMO, Outman has a higher ceiling and much higher floor than does Pages.  Give him the runway this year, and let's see what he can do.
BP continues to disrespect Ryan Pepiot.  He was downgraded because of his lack of command.  They acknowledge that he misses bats with his fastball and change, but too often misses with those pitches in the strike zone. While he will pitch at the MLB level this year, but more as a #6 or #7 starter.  I think they see Ryan as more of a Ross Stripling or Mitch White type pitcher.  Maybe a Josiah Gray type with a lesser team.  He has already been passed by Gavin Stone, and they do see him being passed by both Nick Nastrini and Nick Frasso, and perhaps Emmet Sheehan.
BA has Dalton Rushing as a quick riser who could make their mid-season top 100.  I cannot come up with any kind of argument to dispute this.  Okay, he could get injured.  The scouting report says he is a bat first catcher.  Why?  Because he played behind uber catching prospect Henry Davis at Louisville. Some of those same scouts now believe he is good enough defensively that he perhaps should have caught over Henry Davis.  Both catchers should play at MLB because of their bats.  But Rushing all of a sudden is getting noticed for his defense as well.  Is it GG caliber?  Let's not get crazy here.  He has a power arm to go with the power bat, and continues to show progress with his hands and feet.  BP thinks eventually, Rushing will pass Davis.  BP has them very close this year…Davis 46 and Rushing 56.  BP has Davis as the #3 catcher and Rushing #5.  BP considers the DBacks Gabriel Moreno to no longer be a prospect because of service time. Even if considered a prospect, Rushing would be a top ten catching prospect on their list.
I think the two Nicks are in BA's sights as well.  BA has not been an Andy Pages advocate, and he is sliding on BP's prospect list.  It will be interesting to see where he falls in the other lists. Were his AA problems an anomaly that he is working on this winter?  He is on the 40 man, so he will be reporting to ST with the Big League team, and should get a good look this Spring.
One other player to keep an eye on will be OF Josue De Paula.  It is possible that he will be replacing Pages as the Dodgers top OF prospect.  WAAAAYYYYY too early for him, but he has a chance to be special.  I never felt that way with Luis Rodriguez, and was soundly criticized for that. I do with De Paula.