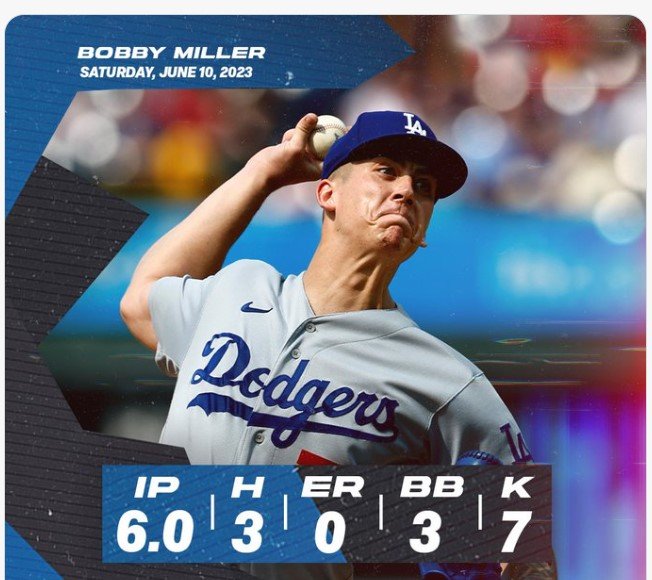 6.0 scoreless innings on 3 hits against the Phillies.  After 6.0 scoreless innings and 1 hit against NYY.  But 2 walks and then 3 walks?  We better watch that to make sure it does not get out of control.  He also had 7 strikeouts, but none more impressive than his strikeout of Brandon Marsh on a nasty slider with runners on 2nd and 3rd and 1 out.  A close second was freezing Bryce Harper on a 99.5 MPH sinker for strike three in the 1st inning.
He also got Bryce Harper to hit into a rather easy 3-6-3 DP to end the 3rd.  His strikeout of J. T. Realmuto to close out the 6th was his final out of the game.  Overall, Miller was dominant.  After the game, Doc was asked to give a comp, and even though not wanting to do so, comped him with Walker Buehler.  For me, that is a good comp because both pitchers trust their stuff and challenge the hitters.
Bobby Miller has an 0.78 ERA through his first four career MLB starts🤯

After another gem, the No. 2 @Dodgers prospect joined an exclusive group: https://t.co/MCO0xWOzt6 pic.twitter.com/MAmYRSfTJy

— MLB Pipeline (@MLBPipeline) June 10, 2023
Andre Jackson completed the combined shutout.  The last two LAD victories have been shutouts, with the starting pitchers going 13.0 innings and needing only two relievers.  Ironically both of those relievers have just arrived from OKC, Tayler Scott (2 innings) and Andre Jackson (3.0 innings).
Miller became just the fourth pitcher in MLB history to go at least five innings and allow no more than one run in each of his first four career starts. The last to do so was Kenta Maeda in 2016 (also with the Dodgers), while Cody Anderson also did so in 2015 with Cleveland, as did Cliff Markle for the Yankees from 1915-16.
Through four starts, Miller is holding opposing hitters to just 1-for-13 (.077) with five strikeouts with runners in scoring position.
Miller improved to 3-0 with a 0.78 ERA, 23 strikeouts and only 12 hits allowed in 23 innings.
Miller is the only pitcher in MLB history to go 3-0 with a sub-1.00 ERA while compiling at least 23 strikeouts and allowing fewer than 15 hits in his first four games.
▪ 23+ innings pitched
▪ 2 runs or less
▪ 23+ strikeouts

Only two pitchers in the modern era have recorded those three stats in the first four games of their MLB career. And both were Dodgers.

Kenta Maeda 2016
Bobby Miller 2023 pic.twitter.com/XZb5x0Cyva

— Dodgers Tailgate (@DodgersTailgate) June 10, 2023
The Dodgers now have two starting pitchers who can go at least 6.0 innings.  Miller has quality starts in 3 out of 4 games pitched.  Kershaw has 8 out of 13.  Gonsolin has 2 out of 8.  So Miller has 1 more QS with only half the starts as Gonsolin.  Grove has zero QS, and of course the bullpen game opener does not have any.
How did the best starting rotation in MLB fall so far so fast.  Of course there are those who want to blame AF.  The Dodgers' original opening rotation was:
Julio Urias
Dustin May
Clayton Kershaw
Noah Syndergaard
Tony Gonsolin
Gonsolin was hurt in ST and never made it to Opening Day.  Ryan Pepiot was scheduled to replace Gonsolin, but he had an oblique injury at the end of ST and he did not make the Opening Day roster either.  Pepiot was replaced by Michael Grove. That is two depth pieces used before opening day.
On 04/21, Grove went on the IL with a groin strain, and Tony Gonsolin was rushed back before he was able to complete his full rehab assignment.
On 05/03, the Dodgers selected the contract of Gavin Stone to give the starters another day rest.  One game only.  Starter depth piece #3.
Dustin May (05/18) and Julio Urías (05/20) were placed on the IL.  Gavin Stone was recalled and the contract of Bobby Miller was selected.  Starter depth piece #4.
Gavin Stone was optioned to OKC (05/30).  Michael Grove was recalled on 06/03 to face NYY in what would have been Stone's start.
Noah Syndergaard was placed on the IL on 06/08.  For what?  For how long?
Just for starters, the Dodgers have used 4 depth pitchers in less than 60 games into the season.  Two of those needed to be added to the 40 much sooner than anticipated.  One has turned out exceptionally well (Miller).  The other (Stone)???
The Dodgers are down to 4 starters at this time:  Miller, Kershaw, Gonsolin, and Grove.
Ryan Pepiot, Julio Urías, Dustin May all on the IL with Pepiot and May on the 60-Day.  Urías trying to come back to soon?  I do not see how he can get out of a rehab assignment to OKC or RC or ACL.  This time they have to make sure he is not going to reinjure himself.  How many hamstring strains have "healed" in 15 days enough to put that kind of physical pressure on it?
Gavin Stone – Was last year an anomaly?  He is certainly not ready for Prime Time.  The game was just too big for Stone at the MLB level this year, and it may have affected him at OKC.  I am sure he is not the first, but Mike Trout recently said (paraphrasing), "You will not find success, until you can handle failure."  That statement is the decider for so many players on the cusp.  Some overcome failure, but most do not.  Will Gavin Stone?
The only pitchers remaining on the 40 man available for recall:
Gavin Stone
Justin Bruihl
Ricky Vanasco
Bruihl is a reliever.  Vanasco is technically a SP, but he is even less likely to be recalled than Gavin Stone.  The AA starters are not ready and a 40 man spot would need to be made.
In addition to the starters, the Dodgers have used 16 relievers.  6 of those starters were not on the 40-man to begin the season and needed to be added.
Wander Suero (no longer on 40-man)
Tayler Scott (on 26-man
Dylan Covey (Released and picked up by Philadelphia)
Nick Robertson
Tyler Cyr (On 60-Day IL)
Jake Reed (DFA'd and then re-signed to MiLB contract)
The Dodgers need pitching, starting and relief, and not many options to choose from.  Do they even consider bringing up AA pitchers for piggyback starts?
That puts even more pressure on a bullpen that needs no additional pressure.  Daniel Hudson not being able to make the roster before July was not anticipated.  Should it have been?  Jimmy Nelson?
It was anticipated that Yency Almonte, Alex Vesia, Caleb Ferguson, Evan Phillips, Brusdar Graterol would all be as good as last year.  Justified with the volatility of relief pitching?  Probably not.  Not one of those is having the year they had in 2022.  They were hoping for a rebound year from Phil Bickford.  Certainly has not happened yet.  Daniel Hudson was supposed to be available by Opening Day.  Nope!!
There are currently 9 pitchers on the 60-Day IL:
Walker Buehler
Tyler Cyr
J, P. Feyereisen
Daniel Hudson
Dustin May
Jimmy Nelson
Ryan Pepiot
Alex Reyes
Blake Treinen
Remember that when any of those pitchers are activated, someone has to come off the 40-Man.  The Dodgers are running out of options to place players on the 60-Day.  I guess that Noah Syndergaard and Trayce Thompson are candidates.  How many of the above will need to stay longer on the IL or activated and released?  Trayce and Thor certainly are vulnerable to the latter.
It would make sense that the Dodgers are going to have to find a way to compete until the trade deadline so that they can package some of those on the 40-Man in trades to free up spots, and hopefully find a difference maker in the process.
While hitting is not the weak spot right now, there are some concerns.
With Will Smith not hitting, that leaves the offense up to Mookie, Freddie, and JDM.  Friday night those three had 6 of the 7 hits and all four RBIs.  On Saturday, the same trio had 4 of the 9 hits and 6 of 8 RBIs.  On Saturday, the Dodgers also got help from David Peralta, as they did his last start on Thursday against Cincinnati.
JDM continues to punish the baseball with a 3-run HR.  He was in somewhat of a HR drought as he had not hit one in his three previous games.    Since he returned from the IL on May 12 (26 games), JDM has had 12 HRs and 8 doubles for 32 RBIs. For the season, JDM is 2nd in NL and 6th in MLB in RBIs (47), 1st in NL and 2nd in MLB in SLG (.632), and 4th in NL and 7th in MLB in OPS (.945).  AF may have missed on Noah Syndergaard, but not on JDM.
Bobby Miller is one of 7 SPs with 4 stuff+ pitches over 100 (h/t @enosarris) pic.twitter.com/FC6K24LXAB

— Alex Fast (@AlexFast8) June 5, 2023
Congratulations to Alec Gamboa (RHRP):
Congrats to Alec Gamboa for getting called up to AAA OKC. Alec grew up in California as a 3 Sport star so wearing the Dodger Blue at Dodgers Stadium has always been a dream for he & his family. Now, he's just 1 step away! Congrats Alec can't wait to watch you in OKC! #dodgers pic.twitter.com/0SIuK1IZqf

— Dodgers Daily (@dodger_daily) June 10, 2023
06-10-2023 MiLB Summary Report
OKC Dodgers 4 – El Paso Chihuahuas (San Diego) 1
The newly signed Mike Montgomery and the just promoted Alec Gamboa were brilliant in their OKC debuts.  Montgomery gave up a solo HR to José Azocar in his 3.0 IP.  He allowed 3 other singles, with zero walks and 2 Ks.
Alec Gamboa did him one better.  He also completed 3.0 IP, allowing only two hits with zero walks and 3Ks.
Trevor Bettencourt and Justin Bruihl completed the final three innings to preserve the victory.  Trevor was perfect for 2.0 innings, while Bruihl allowed a hit and BB in his single inning. Gamboa got the victory and Bruihl got the save.
Drew Avans led off the game with a double (6) and scored on a Michael Busch double (14) and OKC had a 1-0 lead.
After the game was tied, OKC got two in the 3rd.  Patrick Mazeika opened the inning with a double (5) and scored on a Drew Avans single.  Avans moved to 2nd on the throw home, and up to 3rd on a groundout.  Avans scored on a sac fly.
Devin Mann completed the scoring with a HR (8) in the 7th.  It was his 3rd HR in the last two games.
Drew Avans – 2-4, 2 runs, 1 RBI, double (6)
Michael Busch – 1-3, SF, 2 RBIs, double (14)
Devin Mann – 1-4, HR (8)
Mike Montgomery – 3.0 IP, 1 run (earned), 4 hits, 0 BB, 2 K
Alec Gamboa – 3.0 IP, 0 runs, 2 hits, 0 BB, 3 K
Trevor Bettencourt – 2.0 IP, 0 runs, 0 hits, 1 K
Tulsa Drillers 11 – Arkansas Travelers (Seattle) 2
The Tulsa Drillers earned their second straight win over the Arkansas Travelers Saturday night, increasing their first-place lead. Landon Knack delivered the longest start of the season by a Drillers pitcher and was backed by an offense that scored 11 runs on 16 hits in the Drillers 11-2 win.
Knack made another stellar start, tossing four perfect innings to begin the game. He worked a total of 7.2 innings and threw a season-high 101 pitches, earning his second win. He allowed only four hits and did not walk a batter. Knack's only blemish came in the fifth inning when Robert Perez hit a two-run homer.
The only Driller in the lineup without a hit was Kody Hoese.  Although he did have a SF.
The Drillers took advantage of a lead-off walk to score their first run in the opening frame. After Austin Gauthier drew the walk, consecutive singles from Yusniel Diaz and Diego Cartaya allowed Gauthier to score and give the Drillers a 1-0 lead.
Another walk helped Tulsa score two more runs in the second inning. After Brandon Lewis drew a free pass, a triple from Josh Stowers brought him home. One batter later, Stowers scored on Gauthier's second hit of the game.
Tulsa scored four runs in the fourth inning on a three-run homer from Jose Ramos (12) and Cartaya's (8) solo blast.
Tulsa scored four more runs to earn its largest lead of the night. In the sixth, a throwing error allowed Gauthier to score from second base. In the eighth, Jorbit Vivas drove in two runs on a double to center, and Kody Hoese produced Tulsa's eleventh run with a sacrifice fly.
Austin Gauthier – 3-4, 3 runs, 1 RBI, 1 BB – Now batting .319/.885 OPS
José Ramos – 2-5, 2 runs, 3 RBIs, HR (12)
Yusniel Diaz – 3-5, now batting .333/.950 OPS
Diego Cartaya – 2-5, 1 run, 2 RBIs, HR (8)
Jorbit Vivas – 1-4, 1 run, 2 RBIs, double (16)
Eddys Leonard – 2-4
Josh Stowers – 2-5, 2 runs, 1 RBI, triple (1)
Great Lakes Loons 10 – Lake County Captains (Cleveland) 5
Maddux Bruns had a tough night on the bump.  He was only able to get through 1.1 IP on the night.  3 runs, on 4 hits (all singles), 4 walks, and 3 K. That is 8 base runners and 4 outs.  He delivered 54 pitches in those 1.1 IP.  His downfall came in the 2nd inning.  The first six batters went, single, BB, BB, single, BB, and single, an three runs scored.
Reinaldo De Paula pitched 1.2 innings and allowed the other two runs.  A walk, single, double, scored the other two runs in the 3rd.
GL opened the scoring in the 1st with a Chris Newell walk, Dalton Rushing double (13), and Damon Keith single to score 2.   The Loons scored another in the 3rd.  Alex Freeland singled and moved up on a WP.  Freeland scored on a Taylor Young single.
GL tied the score in the 4th.  Jake Vogel was HBP, stole 2B, and scored when Frank Rodriguez doubled (3).  Rodriguez moved to 3rd on a Chris Newell single and scored on a Dalton Rushing SF.
The Loons scored 4 in the 6th thanks to an Alex Freeland 3-run HR (5), followed by a Damon Keith solo HR (9).
Doubles by Keith and Young scored the final run in the 8th.
While the Loons were scoring 10 runs, three relievers kept the Captains without scoring another run.  Orlando Ortiz-Mayr was the key reliever.  He shut down the Captains for 4.0 scoreless innings.  He allowed 2 walks, 1 BB, and 4 K.  Aldry Acosta pitched a perfect 8th with a strikeout.  Juan Morillo pitched the 9th, allowing a hit but striking out 3.
Chris Newell – 2-3, 2 BB
Dalton Rushing – 2-3, 1BB, 1SF, 2 runs, 2 RBI, double (13)
Alex Freeland – 2-5, 2 runs, 3 RBI, HR (5)
Damon Keith – 3-5, 2 runs, 2 RBIs, double (10), HR (10)
Taylor Young – 2-3, 2 BB, 2 RBI, double (7)
Luis Yanel Diaz – 2-5
Modesto Nuts (Seattle) 4 – Rancho Cucamonga Quakes 3
The Modesto Nuts scored their second walk-off win of the series, taking a 4-3 win over Rancho.
Cole Young's two-run single ended it, as the Quakes blew a ninth-inning lead for the second time in four days.
Tied at 2-2 in the seventh, Thayron Liranzo doubled home Rayne Doncon with two outs, giving Rancho their first lead of the night at 3-2.
Modesto, which left an astonishing 16 men on base through eight innings, left the bases loaded in the eighth, as Joel Ibarra pitched himself in and out of trouble to hold the one-run lead.
In the ninth, Ibarra walked the first two men he faced and was removed in favor of Madison Jeffrey. Jeffrey walked the first hitter he faced, giving Rancho pitching a total of 13 walks on the night. Young followed with a two-run single to right field, as the throw was late, giving Modesto four of five in the series and a series win.
The Quakes now hold a 4.5 game lead over both Lake Elsinore and Inland Empire with ten to play in the first half.  RC will look to break the two-game skid on Sunday as Peter Heubeck (0-4) will take on Modesto's Riley Davis (1-0) in the finale.