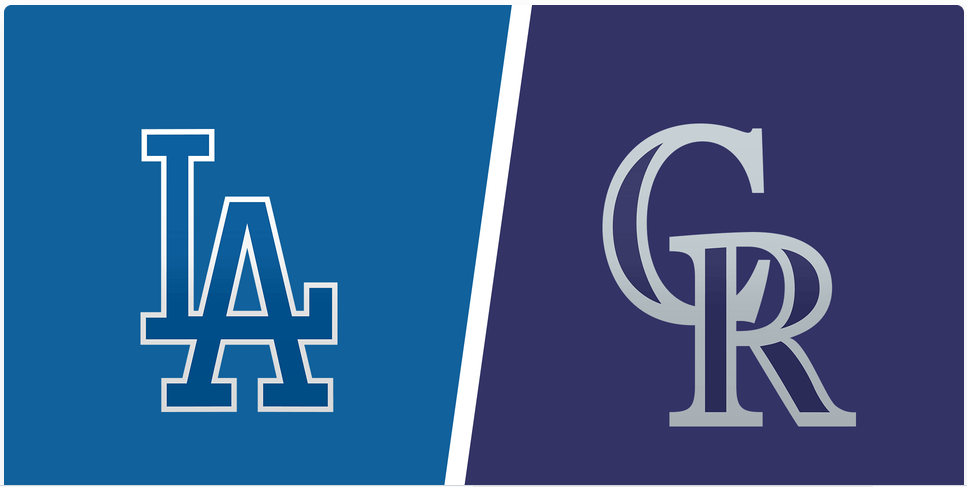 Four pitches into the game and it is clear that Antonio Senzatela is not fooling anybody.  First pitch, Mookie Betts bangs it into CF for a single.  Next pitch, Freddie Freeman bangs it but right to 2B Brendan Rodgers for a tailor-made DP.  2 pitches later, Trea Turner bangs a line drive between 1st and 2nd for another hit.  Max Muncy also makes good contact, but just got underneath one a flies out to CFer Yonathan Daza.  So 4 hard hit balls, but nothing to show for it, other than confidence that Senzatela can be hit on this day.
Connor Joe made yet another solid contact, but this was right at Trea Turner who made a good play to throw him out.  After a pair of base hits from Kris Bryant and CJ Cron, Ryan McMahon hits a fly ball to CT3 who misplays it (wind aided) for what was originally charitably ruled a double, that was later ruled an error.  Randal Grichuk then goes the other way for an RBI single.  Mercifully the inning ended with a bleeder out in front of the plate.
Both teams hit the ball well in the 1st, but it was the Rockies that scored the runs.  The difference? Yonathan Daza makes the catch on his knees on a wind blow fly ball for the Rockies, and CT3 does not.
Two stung balls in two innings and two DPs.
How appropriate was Belli's 1st hit?  A squirter off the end of the bat to the left side.  His next AB, his head was down, and his swing was level through the zone.  That was probably his best swing this year.  Now build on it, and those prodigious HRs will come.
In the third, it is becoming painfully obvious that Julio Urías does not have his best stuff on this day.  A walk and a 2-run bomb by C.J. Cron making it 5-0.  A HBP and walk, and Urías looks spent after 55 pitches.  Elias Diaz then singles into RF giving the Rocks a 6-0 lead, and Julio is gone.  Enter Mitch White with runners on 1st and 3rd.  Pop fly to Mookie and a ground ball to Trea Turner that turns a 6-3 DP, and the Dodgers are out of the inning.  I will say this about Mitch.  He knew who he wanted to handle the ball defensively.
Senzatela himself does not get out of the 4th.  A JT single, walk to Will Smith, and a Belli single to load the bases.  CT3 gets a sacrifice fly for the Dodgers first run.  Lux getting an infield single to load the bases again, and Senzatela is gone.  Jhoulys Chacín relieved Senzatela and battled Mookie before striking him out.  Next up was the right guy, Freddie Freeman.  Freeman was 7-17 with 3 HRs, a double, and triple against Chacín.  He hits a fly ball that the wind carried on Kris Bryant and he dropped it for a bases clearing fielding error.
A HBP, stolen base, and two fly balls to CF gets another run for the Rockies.  Mitch White has already pitched more in this game than he pitched all Spring.
Dodger nemesis, former SF Giant LHP, Ty Blach, entered the game in the 6th.  Belli drew a five-pitch walk, and with a CT3 bunt single, the Dodgers were in business with 2 runners on and nobody out.  But with a Gavin Lux fly ball to RF that moved Belli to 3rd, Mookie was coming up looking to get one up in the air for at least a sac.  Instead he looked bad striking out.  Freeman ended the inning with a ground ball out 4-3.
Because of a foolish challenge in the third that the Dodgers lost, the Dodgers could not challenge the Yonathan Daza infield single that looked very much that he was out.  As it turned out, it did not matter.  After a bloop single by Kris Bryant, Mitch White's day was over.  Mitch White has shown why he should be considered for the 5th/6th starter.  Brusdar Graterol relieves Mitch, and gets Brendan Rodgers to hit a 4-3 ground out.
Evan Phillips entered in the bottom of the seventh and got the first two batters out.  Then Grichuk hit a ball to Freeman that he played into a rare Freeman error.  Next batter, Elias Diaz lines a 82.8 MPH slider out over the plate into the LF stands for a 2-run HR, and the Rockies are back up by 5.
After Ty Blach induces another 1-2-3 inning, Justin Bruihl came on in relief in the bottom of 8.  Justin walks the first batter he faced, Garrett Hampson.  And even with a stolen base, Bruihl pitched a scoreless 8th.
Doc sent up his first PH of the season in the 9th…Hanser Alberto PH for Gavin Lux and popped out to 2B for out number 1.  Ty Blach shuts down the Dodgers again in the 9th, ending the game by striking out both Mookie and Freddie.
The Rockies took the series.  After the Belli walk and CT3 single in the 6th, Blach retired the next twelve batters consecutively to end the game. And there was not a hard hit ball in that group.  The Dodgers got one hit (single) against Chacín and Blach after Senzatela exited with one out in the 4th.  The sluggish offense LAD left Arizona with has carried over to the first series.  Surprisingly, they generated 1 HR (Austin Barnes), three doubles (2 by CT3) in three games at Coors.  They were 6-23 WRISP.  Except for two innings, the Dodgers offense was as anemic as I have seen.  They scored 11 runs in the series, and 9 of those were scored in 2 innings.  They scored a total of 2 in the other 25 innings.
Dodger starters went 5.0 IP (Buehler), 3.0 IP, (Gonsolin), and 2.0 IP (Urias).  Tyler Anderson (4.0 IP) and Mitch White (3.2 IP) both threw more innings than two of the three starters.  For the most part, the relievers pitched decently for the Dodgers, but the team is going to need to get more out of their starters.
I was also more impressed with Colorado's defense in this series.  The Dodgers were charged with three errors with Colorado being charged with one.  But it was the outstanding plays that Colorado made that stood out.  The diving/sliding catches in the OF.  Randal Grichuk getting to the CT3 double to keep Belli at 3rd, and he did not score.  The Rockies got the DPs, while Max botched a ground ball where he lost a chance to start a DP.  He was not charged an error, but the failed DP cost them a run.  The "dropped" ball at the plate cost them another run.  The failure to tag and go to 3rd on a ball hit to the CF fence cost them a run.  Just too many fundamental mistakes that are supposed to be worked out in ST.
It is apparent to me, that the Dodgers are still in ST mode. I have often commented as to how the Dodgers slow-play ST.  They never seem to push their pitchers, and they were not really ready for the season.  But every year they approach or exceed 100 wins, so what do I know.  This year it seems even more apparent.  I wrote it before, but I think it bears repeating:
| | |
| --- | --- |
| Pitcher | IP |
| | |
| Clayton Kershaw | 11.2 |
| Walker Buehler | 9.2 |
| Tony Gonsolin | 9.1 |
| Julio Urias | 8.0 |
| Andrew Heaney | 5.1 |
| | |
| Tyler Anderson | 7.0 |
| Garrett Cleavinger | 6.0 |
| Brusdar Graterol | 6.0 |
| Alex Vesia | 4.2 |
| Justin Bruihl | 4.1 |
| Daniel Hudson | 4.0 |
| Blake Treinen | 4.0 |
| Evan Phillips | 3.1 |
| David Price | 2.0 |
| Craig Kimbrel | 2.0 |
| Mitch White | 1.0 |
| | |
It does not seem plausible that the starters were going to be able to go deep into the pitch count for a couple of weeks, and Urias obviously tired in the third.  We can only hope that when the roster is trimmed to 26, and two pitchers are optioned (or released), that the starters are stretched out a little more.
I never like to lose, and I know that games played in April count the same as games played in September, but this still feels like ST, and there is absolutely no reason to get anxious.  They play two in Minneapolis and then come home to play four against the Cincinnati.  San Diego had a good weekend, but they played one of the worst teams in MLB, Arizona.  Regardless, IMO, San Diego is not going away.
Speaking of Cincinnati, I will be looking forward to seeing former 1st round draft choice (#2 overall) out of Notre Dame High School in Sherman Oaks, Hunter Greene.  Having my kids play at Alemany, I am very familiar with Notre Dame; in all sports.