OKC Dodgers 12 – Albuquerque Isotopes (Rockies) 5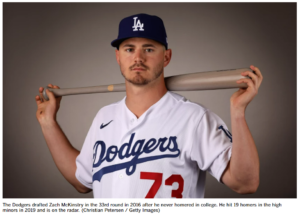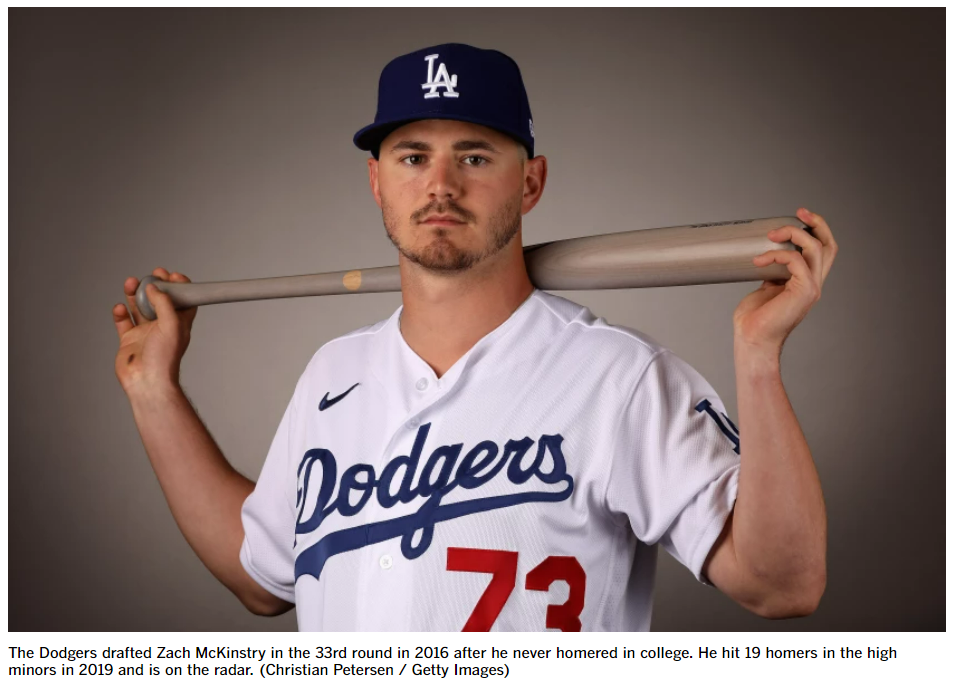 Albuquerque jumped out to a 3-0 lead off Yefry Ramirez in the second, and then the OKC bats woke up.  They rolled 12 runs in the 2nd through the 5th innings to take a 12-3 lead.  The Isotopes scored a couple of meaningless runs in the 7th and 9.
The Dodgers had 14 hits including Jake Lamb's 1st HR and Kevin Pillar's 2nd HR of the young season.  Zach McKinstry had a 4-5 night, including his 2nd triple.  Jason Martin continues his hot bat with two more hits, including his 3rd double, and has hit in all five AAA games.  Other batters with two hits were Jake Lamb, Kevin Pillar, and Eddy Alvarez.  It looks like this year's version of the AAAA players are starting to get comfortable in AAA.
The Dodgers were 5 for 16 WRISP.  Two out RBIs belonged to Martin for 2, Andy Burns for 2, McKinstry, and Alvarez.
Ramirez went 3.0 innings allowing 3 runs on 5 hits (including a HR), 2 BBs, and 2 Ks.  Jon Duplantier entered the 4th and pitched well.  He pitched 1.2 innings only allowing one walk, but registering three Ks.  He got the win. Shane Greene allowed a hit with a K in a scoreless inning.  Yency Almonte gave up a 7th inning HR to Scott Schebler.  Daniel Zamora pitched a scoreless 8th inning with one hit and 2 Ks.  Marshall Kasowski entered the 9th in a non-save situation allowed a run in the 9th on a Colton Welker double, an Omar Estevez error, and a sac fly. The ruling was that Welker would have moved to 3rd on the misplayed Estevez error and would have scored on the sac fly. That was the final run for the Isotopes.
Miguel Vargas went 0-5 on the night.  He's such a top prospect that he deserves to get called no matter what he does.
The OKC Dodgers are now 4-1 on the season.  They will play the sixth game of the series on Sunday.  It will be a repeat of the Game 1 pitchers.  Ryan Pepiot for the Dodgers and Ryan Feltner for the Isotopes.
Tulsa Driller 3 – Wichita Wind Surge (Twins) 2 in 10
Both teams had three hits, but it was Brandon Lewis' hit in the hit in the 10th that scored ghost runner Kody Hoese, with what turned out to be the winning run.  Simeon Woods Richardson was everything he was propped up to be.  He pitched 5.2 scoreless innings, allowing a single hit, 2 walks, and 5 Ks.
Clayton Beeter also pitched decently in his 2.2 IP.  He allowed one run on one hit and one walk.  But he had 6 Ks in those 2.2 IP.  He got to 49 pitches and his night was done.  Newly acquired Tanner Dotson (in the Matt Beaty trade), replaced Beeter and allowed a run on 2 walks and 2 ground outs in 1.1 IP.  That was the final run for the Wind Surge.
RHRP Jose Martinez followed and pitched flawlessly for 3.2 scoreless innings.  He allowed a meaningless single and registered two Ks.  Austin Drury relieved Martinez and allowed a single before closing the 8th.  Mark Washington pitched two perfect innings with 2 Ks for the win.
James Outman, Justin Yurchak, and Brandon Lewis had the three singles for the Drillers.  Driller pitchers struck out 10 Wind Surge, while 13 Drillers went down on strikes.
Tulsa moves to 2-0.  LHP John Rooney gets the nod on Sunday.
Great Lakes Loons 5 – West Michigan White Caps (Detroit) 4
The Loons evened the series with a 5-4 walk off win.  Thanks to solid pitching from starter Emmett Sheehan, and a pair of Johnny DeLuca HRs, the Loons jumped out to a 4-0 lead.  Sheehan pitched 4.0 scoreless innings allowing 2 hits, a walk, and 7 Ks.  Jordan Leasure pitched a scoreless 5th but allowed 2 runs in the 6th on a walk and two doubles.  He did have 6 Ks in his 2.0 IP.
Jose Hernandez replaced Leasure and in 1.2 IP, he allowed 2 runs on 3 hits.  Because he left with the score 4-3 Great Lakes he got the hold.  But he left a runner on base and Ryan Sublette surrendered a game tying double. Ryan got the blown save.
In the bottom of the ninth Leonel Valera led off with a double. After a Joe Vranesh walk and a Ryan January K, Zac Ching stroked a game winning walk off single into CF, scoring Valera.
The Loons pitchers struck out 17 hitters.  Three of the Loons pitchers were 2021 draftees; Sheehan, Leasure, and Sublette.  Another 2021 draftee gets the nod for Sunday's game, Nick Nastrini.
Rancho Cucamonga Quakes 14 – Visalia Rawhide (Arizona) 7
The Quake bats broke out on Saturday, and evened the series at one game apiece.  The Quakes scored 14 runs on 17 hits, including 2 HRs.  SS Luis Diaz hit his 1st while Jose Ramos hit his 2nd, both solo shots.  Jose Ramos, Damon Keith, and Luis Rodriguez each had 3 hits.  Rodriguez had the big hits with 5 RBIs. Luis Diaz and Kenneth Betancourt had two hits each.
The Quakes had three stolen bases.  Besides his three hits and 5 RBIs, Luis Rodriguez also had an outfield assist.  The one negative was that 16 Quakes struck out.
Tommy Kahnle started for RC and pitched one scoreless inning allowing a single.  2021 draftee Ben Casparius followed and had a rough outing.  He gave up 5 runs on 4 hits and 2 walks, and 2 HRs in his 1.2 IP.  Yamil Castillo relieved Casparius, surrendering a walk with 2 Ks to finish the 3rd inning.
San Pedro de Macoris, DR, LHP Benony Robles pitched 3.0 innings allowing a single run on 2 hits and a walk, with 2 Ks.  Robles got the win.  I have been following Robles since his DSL days.  At 21, he is going to get a full year in A Ball.  Kelvin Bautista followed with 1.2 IP allowing 1 run, 1 hit, 1 walk and 2 Ks.  Former 4th round pick, Braydon Fisher finished up with 1.1 scoreless innings allowing 1 hit with 1 K.