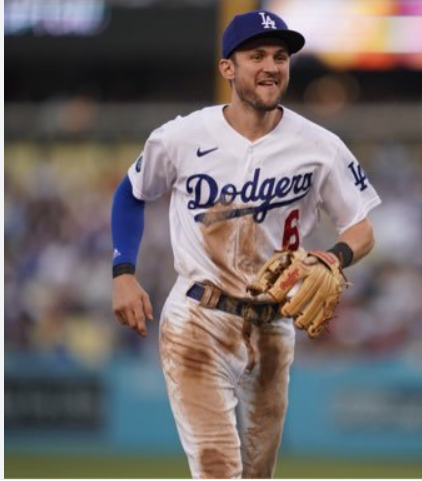 As I wrote earlier, IMO the Dodgers have 5 questions that need to be answered in some way: SS, CF, LF, 3B, Starting Pitching.  The most obvious and perhaps the more difficult question to navigate an answer for is the SS.
The Dodgers have Trea Turner who is entering free agency.  He has stated that he likes playing in the LAD organization.  He is comfortable with Mookie and Freddie.  But he has also been rumored to want to go back east where he and his wife are from.  To some, location is more important than it is to others.  How many $$$ will it take for Trea to feel that Los Angeles is where he wants to spend the remainder of his baseball career?  We are going to soon find out.
Options:
Internal – Gavin Lux and Jacob Amaya
Lux and Amaya are realistically the only two internal candidates that will be considered.  Yes, CT3 can play there, but he is not a true everyday candidate.
Gavin Lux grew up in the organization as a SS, and played well enough to be considered Baseball America's 2019 MiLB Player of the Year.
However, IMO, Gavin Lux has shown us that he can be an All Star 2B.  Defensively, Lux had +3 DRS and +3 OAA as a 2B.  His one negative play is going back on a ball.  But he excels at coming in on a ball.  For show in a small sample size, Gavin had +1 DRS and +1 OAA at SS in 2022.
In 471 PA, Lux hit .276/.346/.399/.745.  He had three seasons.  He was average April thru May, one of the best hitters in MLB in June and July, and fell back to earth in August before a neck injury hampered his September.  In the 2nd third, Lux was aggressive and hit successfully line drives into left center.  He more emulated Freddie Freeman.  In his final third, there was more chase and whiff, and he more emulated Cody Bellinger.
Put Lux and 2B and leave him there.
Jacob Amaya is considered a glove first SS.  He is a 60 fielder and 55 arm.  Can he hit enough to stick in ML.  Most baseball prognosticators believe he is an infield utility player rather than an everyday SS.
He played about 60% of the season at AAA and hit (for the year) .261/.369/.427/.795. He had 17 HRs, 20 doubles, and 71 RBIs with a 19.7% K rate.  He does not have the power that CT3 has, but he also does not strike out as much.  Amaya is probably a better defensive infielder, but no OF play to consider him a Swiss Army knife for 2023.
I have always been a Jake Amaya fan, and while he was added to the 40 man roster last winter, he is not ready to play regular SS for a title contending team.  I would love to be wrong.
Elite Free Agents – Trea Turner, Carlos Correa, Xander Bogaerts, and Dansby Swanson
Carlos Correa – 09-22-94 – 28 years old
In an interesting twist, in January 2022, Carlos Correa changed agents and Scott Boras now represents him.  Boras also represents Xander Bogaerts.  Last year, Boras represented Corey Seager and Marcus Semien.  He has two more elite SS under his control again this winter.
I have maintained that AF has never signed a Boras FA, even though he has negotiated on multiple players.  Boras loves to use LAD to build up the cost.
Last year Correa signed a 3 year $105.3 MM contract with 2 opt out years after 2022 and 2023.  He has chosen to opt out leaving his $70.2 MM remaining salary on the table.
Offensively, in 590 PA, he batted .291/.366/.467/.834.  20.5% K Rate.  5.4 bWAR, 4.4 fWAR, and 140 OPS+.
Last year was Correa's worst defensively.  He was -3 OAA and +3 DRS.
The biggest concern for Correa is his health.  He has had multiple years where Correa has spent considerable time on the IL.  Relatively healthy in 2022, he still spent time on the IL twice.  In 2017-2019, he played in only 109 games, 110 games, and 75 games respectively.  Does his injury history warrant an 8-10 year deal?
Second negative is his involvement in the 2017 Astros cheating scandal.  While some fans may have decided to move on, will the larger contingent of LAD fans?  The Dodgers have been rumored to be interested in pursuing Correa.  Nothing makes Scott Boras happier than the Dodgers involved in negotiations for one of his clients.
Xander Bogaerts – 10-01-92 – 30 years old
Another Scott Boras client.  In 631 PA for 2022, Bogaerts batted .307/.377/.456/.833.  5.7 bWAR, 6.1 fWAR, 131 OPS+.  He struck out 18.7% of his PA.
Defensively, overwhelmingly Bogaerts had his best season.  He had +5 OAA and +4 DRS.  Can he duplicate that.
For the first time since 2017, Bogaerts failed to hit 20 HRs.  He used to destroy fastballs, but per Keith Law, has drifted downward since 2019 and now is merely above-average against them, while against all pitches this year he swung and missed more and barreled the ball less, even in-zone.
Per Keith Law, "He might be a $30-35 million player in the first year or two of a long-term deal, but without a return to his hard-hitting ways of 2018-19, he's likely to underperform that over a 5-6 year deal."
Dansby Swanson – 02-11-94 – Will be 29 years old
In 696 PA, Swanson batted .277/.329/.447/.776. He had a 5.7 bWAR and 6.4 fWAR with a 115 OPS+.
Defensively Swanson had +9 DRS and +21 OAA.  He was the 2022 Gold Glove winner at SS.
Dansby was born and raised around Atlanta.  He was born in Kennesaw, GA (27 miles north of Atlanta) and he went to Marietta High School which is about 20 miles north of Atlanta.  He has been a Braves fan his entire life, and he has been able to play his entire 7 year ML career with his hometown team.  Will he give Atlanta a home team discount?  He has decent power but also a high strike out rate, 26.1%.  He is an elite defender with plus offensive production.
Multiple prognosticators have Swanson in the Trevor Story and Javier Baez contract range, 6 years $140MM.  The Dodgers will be all over this if Swanson does not re-sign with Atlanta.
Trea Turner – 06-30-93 – will be playing as a 30 year old.
Trea batted .298/.343/.466/.809 – 4.9 bWAR, 6.3 fWAR, 121 OPS+.  Had 2nd most RBI for SS (100) trailing only Francisco Lindor (107).
Defensively Turner turned in a ho-hum 0 OAA and -1 DRS.  He has elite speed which he uses on the base paths and in legging out infield singles.  He chased more in 2022.
Open questions, will Carlos Correa and/or Trea Turner get $300MM deals?
I cannot see Atlanta passing on Dansby Swanson and pursuing Trea Turner.  Trea is better offensively, but is not in the Swanson class defensively.  Turner will probably cost more in years and $$$.  With Olson, Albies, Riley, Harris, and Acuña Jr. all tied up long term, Atlanta will now decide to add another long term deal for the position players.  Turner or Swanson?
Turner?  If not Atlanta, then who on the east coast?
Philadelphia – This is a real possibility.  Bryson Stott is a quality SS for Philly, but he can move to 2B.  Dombrowski loves bats, and Turner probably represents the best SS bat on the market.
NYM – Nope – Francisco Lindor
NYY – Another possibility, but NYY has been steadfast in their desire to wait for Anthony Volpe.
Miami or Tampa Bay – Don't be ridiculous.
Boston – If they will not sign Xander Bogaerts, why would they sign Trea Turner?
Cubs – have Nico Hoerner at SS, but he could also be moved to 2B.  But they are not a contender for 2023 and probably not 2024 or 2025.  They need other pieces than SS.  SS is not a position of need.  If they spend, it should be on pitching.
SFG – Brandon Crawford still has one year remaining on his contract.  Turner is not going to move to 2B for Crawford.  Giants are going to go all in on Aaron Judge.  They will also need pitching and OF help.
Of the four elite FA SS, Trea Turner is the most probable to sign with the Dodgers.  They have a need.  They are contenders,  They have the $$$.  Turner likes playing for LAD.  How fast will Turner want to make a decision?  Will he wait for the two Boras clients to sign to set the contract bar?
Wild Card – I like Seattle to pick up one of the four elite SS FA, and move JP Crawford to 2B.  They are one to two bats and 1 plus SP away from being a top echelon team.
Non Elite Free Agents – José Iglesias, Non realistic non-elite FA SS – Elvis Andrus, Didi Gregorius, Andrelton Simmons
The only possible non elite SS the Dodgers may consider will be José Iglesias.  Iglesias will be 33 in January.  His just completed 1 year $5MM deal.
Offensively in 467 PA, he batted .292/.328/.380/.708.  1.2 bWAR, 1.0 fWAR, 90 OPS+.  His plus is that he is a 12% strikeout hitter, but also does not walk a lot.  He is in the 1 percentile on average exit velocity and barrels.  He is in the 4 percentile for hard hit %.
The only reason I bring up Andrus, Gregorius, and Simmons is because these are CT3, JT, and Max Muncy head-scratchers.  Don't want them, don't expect them.  But, you just never know.
Trade Options – This is an area where the Dodgers could pursue a trade. Names they could consider:
Willy Adames – AF will check in because of his arbitration projection ($9.2MM).  The Brewers have 18 arbitration eligible players with a projected payroll of $79.9MM.  Obviously some of those will be non-tendered, but how many?
Nick Ahmed – Arizona has the final year of a 4 year $32.5MM deal, but Arizona looks to be giving the position to Gerardo Perdomo.  They could look to get out of this contract.  Cost to LAD would be minimal.
Amed Rosario – Like Milwaukee, Cleveland may look to unload some high dollar projected arbitration players.  Cleveland has 9 players with a projected salary of $37.8MM.  Rosario's projected arbitration salary is $9MM and will be a FA after 2023.  The other high dollar arbitration player is Shane Bieber ($10.7MM) with 2 years of control.  After giving José Ramírez a 7 year $141MM extension, is there more for either Rosario and/or Bieber?  AF is going to kick the tires here.  Nobody truly believed that Mookie Betts or Juan Soto were trade candidates, and yet they were.  Why not Rosario?
Danny Mendick (ChiSox) – Another ACL injury late June.  Same time frame as Daniel Hudson and Royce Lewis.
Royce Lewis (Twins) – 2 ACL tears.  This one late June.  I like Lewis long term, but short term, I would have to see his medicals to know if he is a future SS or another SS moving to CF.
Prediction – Dodgers will re-sign Trea Turner.