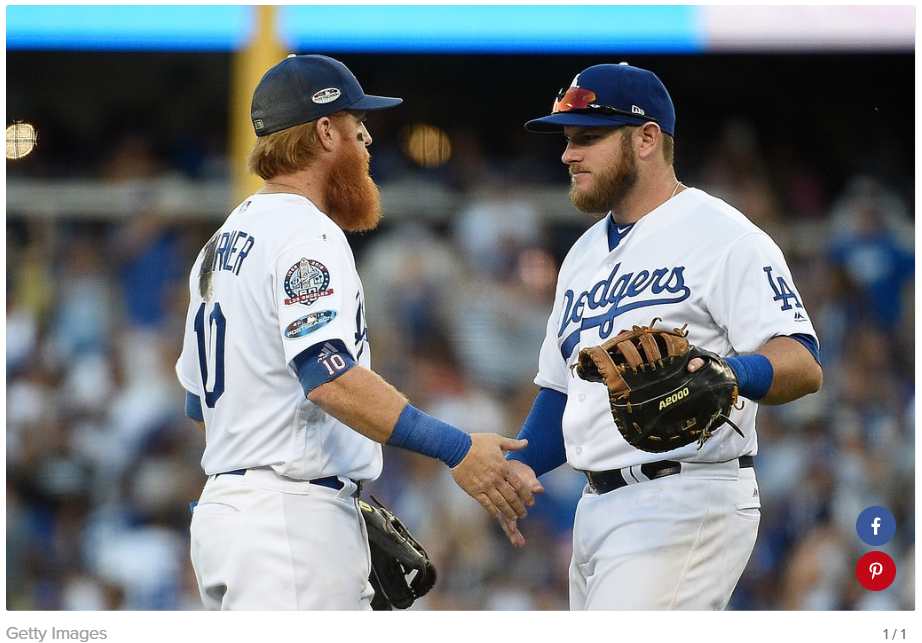 Now that we have given AF the best possible advice on what to do with SS, we turn out attention to 3B.  What are the 3B options facing AF and LAD?
Internal – JT, Max, Miguel Vargas, Edwin Ríos
A big decision is awaiting AF and the Dodgers on the $16MM team option for Justin Turner.  There is a $2MM buyout.  I know it is easy to simply dismiss JT because of his age.  But he still played in 128 games with 532 PA as a 37 year old.  About half his games were at 3B, and half his games were DH.  With a year older, I would expect his games at 3B to decrease, so is he more DH than 3B now?
Offensively he batted .278/.350/.438/.788.  He had a bWAR of 1.9 and a fWAR of 2.4, with an OPS+ of 116.  If he can duplicate those numbers, he will justify a $16MM contract.
I know that if not Freddie Freeman up WRISP, then I most wanted Mr. Clutch, JT.  JT was not just outstanding in this metric as a LAD, but also overall in MLB.
.339/.429/.579/1.008 – OPS #2 LAD and #7 MLB – SLG #1 LAD and #8 MLB.
Defensively JT was +1 in DRS but -2 in OAA.  Not bad, but not positive.  The Dodgers do not have a Nolan Arenado at 3B, so this position is going to be more of an offensive choice than defensive.
Unfortunately, that excellence did not transfer into the post season.  He was 2-13 in the NLDS, with no RBIs.  So was his regular season more emblematic of what might come, or was the post season?
The next internal option was his counterpart in 2022…Max Muncy.  Muncy was absolutely horrendous thru July.  After 339 PA, he was batting .161/.310/.303/.613 with 9 HRs and 32 RBIs.  Just horrid for a middle of the lineup bat.
After August 1, in 226 PA, Muncy batted a far more representative line of .247/.358/.500/.858.  12 HRs and 37 RBIs.
For the season, he was still below Mendoza batting .196/.329/.384/.713.  He had a bWAR of 2.7, fWAR 2.4, and an OPS+ of 96.
Defensively he was a curious -2 OAA and +7 DRS, and a -4.3 UZR.  He had 10 errors at 3B: 5 fielding and 5 throwing as a 3B.  He had 2 more (fielding) as a 2B.
Muncy had such a good August that the Dodgers decided to exercise his 2023 option and give him a 2024 option.  Max played as a 31 year old so he is no way over the hill.  Was it his elbow that did not heal properly?  If so, we might expect another 35 HR, .800+ OPS, and 120+ OPS+ season.  He is certainly worth the $13.5MM contract he is due for next year.  I, for one, believe he will have a big year in 2023.
The 3B many have seemingly forgotten about is 28 year old LH batting Edwin Ríos.  Ríos has light tower power and was just starting to take off when he strained his hamstring.  That may have been how it was described, but per Dave Roberts it was more of a Grade 3 or Grade 4 tear.  He went on the IL after his June 2 game, and started his rehab in OKC on July 28 (56 days).  He stayed in OKC the remainder of the season.
In 92 MLB PA, Ríos batted .244/.293/.500/.793.  He had 7 HRs and 17 RBIs.  That is 1 HR/13 PA.  That is impressive power.  He had a 0.1 bWAR and fWAR with a 114 OPS+.  What brought Ríos' WAR down, was his 39.1% K rate.  In order for Ríos to be more than a bench player, that number needs to come down from putrid to simply excessive.
His strikeouts were high for August and September in AAA, but his OPS was right around .840.
Ríos has a big bat, but he might need that proverbial change of scenery to become the best player he can as an everyday player.  His best value as a LAD may just be as pat of a trade.
Miguel Vargas is the wild card here.  His hit tool is not questioned.  He has hit wherever he has played.  He has great plate discipline as well as hand-eye coordination.  His power is marginal, but it is present.
He will be 23 on 11/17/2022.  Not old, but also not an uber prospect.
He has played 3B most of his professional career.  He is clearly more comfortable at 3B than in LF.  Do you take a plus hitter with questionable defensive metrics out of his comfort zone?  That is going to be a question the Dodgers will be asking, and we will learn of the answer come ST.  I do not like taking a rookie and playing him in multiple positions.  Put him in his comfort zone and leave him there.  If the team decides it is LF, then leave him there.  If it is 3B, leave him there.  He was not groomed to be a utility player, so why try to make him one (3B/1B/LF).  If the Dodgers decide to give Vargas half of his starts as a DH, I am more than OK with that.  I hope he gets his 502 PA to qualify in the batting leadership categories.  If he does, he will be in the ROY discussion.
Free Agents – Now that Nolan Arenado decided to opt in, there really is no elite 3B FA to consider (or even non-elite).  Here is a list of non JT 3B FA:
Ehire Adrianza (33)
Hanser Alberto (30)
Charlie Culberson (34)
Brandon Drury (30)
Matt Duffy (32)
Maikel Franco (30)
Phil Gosselin (34)
Josh Harrison (35) – $5.625MM club option with $1.5MM buyout
Evan Longoria (37) – $13MM club option with a $5MM buyout
Jace Peterson (33)
Donovan Solano (35)
Jonathan Villar (32)
I have always liked Josh Harrison, but at 35 he is just another support utility infielder.  LAD has CT3 in that role. I also believe that Chicago is leaning to exercise their option on him.  IMO, Evan Longoria's club option will not be picked up and it will cost the Giants $5MM (too bad, so sad).  As favorable as Longoria is to AF, there is no chance he looks to Longoria to continue his career with LAD.  Evan was AF's very first draft pick with Tampa Bay.  AF did alright with his first picks for both Tampa Bay and LAD.
Brandon Drury?  Many of us liked him as a candidate for down the stretch RH bat, but all of the RH ABs are going to go to Miguel Vargas until he proves he cannot hit ML pitching.  The Dodgers are betting that he will hit ML pitching, and I have to agree with that assessment.  Will that be at 3B?  If Vargas struggles at the ML level, look for AF to look to acquire yet another RH bat at the trade deadline.
Jonathan Villar is another I have liked, but he is also a trade deadline type candidate and not a regular for a WS contender.
I think it is clear (at least in my mind), that the Dodgers will not go the FA route for a 3B, unless it is for JT after they choose to buy out his club option.  And even then he would be more of a part-time 3B and more of a DH.  A more expensive (but much better) Hanser Alberto if you will.
Trade Candidates – There are so many internal options, and there are so very few quality ML trade candidates.  But there is one (maybe two).  AF has steadfastly maintained that he will inquire about any potential game changer that could be available.  Boston's Rafael Devers is that guy.  At 25 in 2022, he was an All Star for the 2nd consecutive year.
Offensively – Devers hit .295/.358/.521/.879 – 18.6% K rate and 8.1% BB rate – 4.9 fWAR, 4.4 bWAR, and 141 OPS+.  Devers is in the top tier of hard hit, EV, and barrels.  He is below average in the chase and whiff percentages, similar to Trea Turner.
Devers is below average defensively, -2 OAA and -6 DRS, -2.3 UZR.  During the season, this is minimized, but it gets noticed in the post season.  Of course, two horrendous defenders, Nick Castellanos and Alec Bohm, have had good defensive WS.
Did AF take advantage of Boston in the Mookie Betts deal?  Of course he did.  Maybe AF can do it again by trading for Devers and agreeing to pick up Trevor Story's contract.  That would free up enough cash to pay Xander Bogaerts, or to pursue any of the other SS FA.  The Dodgers could give Boston the prospects to make a good deal if they so choose.  Thus far, Devers is making it tough for Boston to extend.  Boston has pushed their offer to $200MM, more in line with Austin Riley's 10 year $212MM contract with Atlanta.  Devers is asking for a 10 year and $300MM + deal.
I would love to see Devers as a LAD in 2023.  However, I cannot see AF wanting to extend Devers at $300MM+, and he is not going to give up the player capital required to acquire him for one year.
Chaim Bloom says that his #1 priority is to extend Bogaerts.  Can they extend both Bogaerts and Devers?   Probably not.  One will be available.
Yandy Díaz (Tampa Bay) – Another good offensive and poor (okay bad) defensive option.
Offensively – .296/.401/.423/.824 – 10.8% K rate and 14% BB rate – 3.5 bWAR, 3.8 fWAR, 143 OPS+.
He does not chase or whiff at all.  One of the very few MLB hitters with more walks than strikeouts.  He punishes 4-seamers and sinkers.
He hits RHP and LHP almost equally well.
He is more of a ground ball hitter, who hits up the middle (> 55%).  Maybe without the shift, he gets more hits up the middle.  Maybe we will again start to hear…"hit up the middle, and thru for a base hit."
I do not expect any of the following to be available:
Austin Riley (Atlanta)
Manny Machado (San Diego)
Eugenio Suarez (Seattle)
Matt Chapman (Toronto)
Alex Bregman (Houston)
Ryan McMahon (Colorado)
The following could be available, but they will not even move the interest meter an inch:
Eduardo Escobar (NYM) – More of a deadline trade candidate.
Josh Donaldson (NYY) – Also more of a deadline trade candidate, but only if NYY pays the entirety of his salary.
Jeimer Candelario (Detroit)
Yoan Moncada (ChiSox) (No Bums, AF is not going to trade for him)
Josh Rojas (Arizona)
Patrick Wisdom (Cubs)
Gio Urshela (Minnesota)
Miguel Vargas is the #5 ranked 3B prospect by MLB Pipeline, and those above him are undoubtedly not going to be made available:
Jordan Walker – St. Louis – Will have to move because of Nolan Arenado, but moving will be to another position, not another team.  He is getting a lot more OF play this past year, primarily RF.  His bat is his ticket, and he has a good one.  He will get a lot more OF in AAA in 2023, and could get called to MLB at 21 next summer.  If you like to follow non-LAD prospects (as I do), Jordan Walker is one to watch.
Brett Baty (NYM) and Josh Jung (Texas) – Both made their MLB debuts this past summer.  It is doubtful that NYM or Texas will make either 3B prospect available, but AF should not be shy in asking.
And for Bums, I do not consider Zack Gelof in this scenario, because he is not ready to help next year, and this exercise is what might the team do for the 26 man team in 2023.
Prediction – JT's option will not be picked up by the Dodgers, but he will sign a Chase Utley type contract to give JT some guaranteed dollars, but just as important a place in the LAD clubhouse.
JT, Max, and Miggy Vargas will be a three headed monster at 3B/DH.