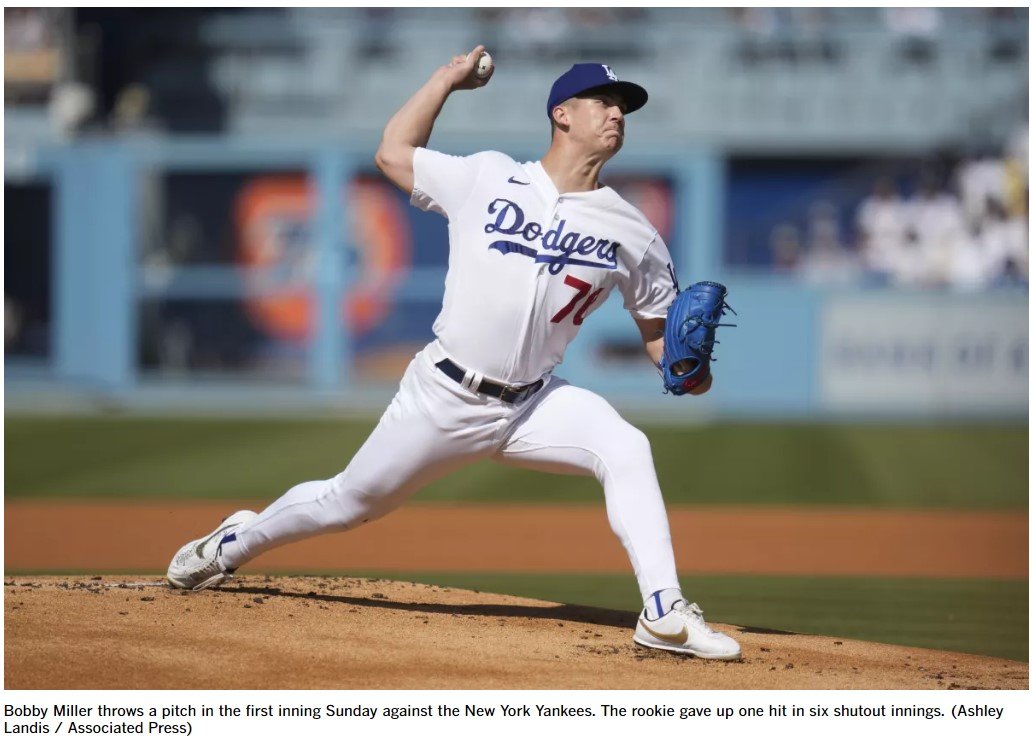 The Dodgers ran into a buzzsaw by the name of Domingo Germán. Germán was pitching a 2-hit shutout with 2 outs in the 7th when JD Martinez hit his 14th HR.  David Peralta followed with an infield single, and Clay Holmes came in to relieve Germán.
Holmes walked Miguel Vargas, but followed that with three called strikes on 3 pitches to Chris Taylor to end the threat.
The Dodgers got another outstanding start from Bobby Miller.  The biggest problem Miller faced was the two walks he issued in the 1st inning.  He walked Gleyber Torres on 4 pitches that were not close.  He followed that with strikeouts to both Anthony Rizzo and Giancarlo Stanton.  Bobby got two quick strikes on Willie Calhoun, but could not put him away, and ended up walking him.  Miller struck out DL LeMahieu to end the inning.  He walked two, but struck out the side.
From there thru 6 innings, Bobby Miller was in total control.  He threw 86 pitches and 57 strikes.  He had 5 pitches in his arsenal:
Sinker – 38 pitches, 20 swings, 2 whiffs, 10 called strikes
Slider – 30 pitches, 19 swings, 11 whiffs, 0 called strikes
4-Seam – 9 pitches, 4 swings, 1 whiffs, 3 called strikes
Change – 5 pitches, 0 swings, 0 whiffs, 0 called strikes
Curve – 4 pitches, 0 swings, 0 whiffs, 1 called strike
Miller had 14 whiffs, primarily on his slider, which was outstanding.  He had 7 Ks and 2 BBs.  His ERA over his first 3 starts is now at 1.06 and a WHIP of 0.76.  In 17 IP, he has 16 Ks and 4 BBs.  His last two starts have been quality starts.  Not bad for a pitcher who was considered not quite ready. Especially when considering that those three starts were against good offensive teams.  Now, I do not know how you take him out of the rotation.
To some the starting pitching is a weak link.  For most of us, the weakest link is the bullpen and by a large margin.   In Sunday's game, Brusdar Graterol got the first out and had Jake Bauers 0-2 when he made middle-middle 96.4 MPH cutter that Bauers turned into a single.  Brusdar made yet another bone-headed play on a Isiah Kiner-Falefa bunt, and threw it away.  This is the second time that Graterol has made an ill-advised throw that led to a run.  With runners on 2nd and 3rd and 1 out, Graterol needed a strikeout.  He had backup catcher Kyle Higashioka, a .209 hitter with 32% strikeout rate down 0-2.  Graterol then threw a 1-2 sinker (98.3 MPH) middle in that Higashioka hit a grounder to SS Chris Taylor.  He apparently did not have a play at the plate.  Some have speculated that Graterol in trying to make a play on the bouncer got into Taylor's way to make a throw.  I do not know what the reason was, but Taylor did not throw to the plate.  1-0 NYY.
JDM hit his 14th HR to tie the score.  1-1.
In the 8th, with Evan Phillips on the hill, Gleyber Torres grounded out for the first out.  But he then walked Anthony Rizzo on a 3-2 pitch.  Next batter, Giancarlo Stanton, took a 2-2 sweeper, middle down, apparently right where Stanton loves it.  He hit a 112.3 MPH double putting runners on 2nd and 3rd.    In somewhat of a déjà vu, Oswaldo Cabrera hit a slow ground ball to Miguel Vargas that he gloved and did not have the time to make a play at the plate.  Could he have made the play if he had bare-handed the ball?  We will never know. 2-1 NYY.
In the 9th, Caleb Ferguson took the mound.  He too got the first out and walked the next batter on a 3-2 pitch.  In both ABs, the pitchers could not get that last strike after multiple fouls.
After a WP and ground out, and a runner on 3rd with two outs, Ferguson left a 95.2 MPH 4-seamer middle/middle and Anthony Volpe slugged it for a 2-run HR.  4-1 NYY.
The Dodgers could not make a dent in the relievers Clay Holmes or Wandy Peralta.
Domingo Germán was dominant and Bobby Miller matched him.  But the quality of the two bullpens was apparent.  The Dodgers two best relievers were not very good in this one.
06-04-2023 – MiLB SUMMARY REPORT
 OKC Dodgers 7 – Reno Aces (Arizona) 3
OKC spotted Reno a run in the 3rd, but scored 3 of their own in the 5th and 6th.  Reno tied it up in the 8th, but OKC scored 4 in the bottom of the 8th to take a 7-3 lead.  Reno got one back in the 9th, but could not get closer.
The four OKC pitchers each surrendered one run.  They allowed 14 hits and 3 walks with 6 K.  Matt Andriese pitched another decent game.  He went 6.0 innings, giving up just the one run on 7 hits.  His ERA is down to 4.45, which is good for #4 in the PCL
Drew Avans and Jahmai Jones each hit go-ahead home runs during the Oklahoma City Dodgers' eventual 7-4 win Sunday afternoon in their series finale. The Aces took the game's first lead in the third inning on a RBI single by Dominic Fletcher. Avans' two-run homer in the fifth inning put the Dodgers in front, 2-1. Devin Mann's RBI double in the sixth inning extended OKC's lead to 3-1. The Aces came back to tie the score, 3-3, with two runs in the eighth inning. The Dodgers responded with four runs in the eighth inning to build a 7-3 lead. Jones hit a home run out to right-center field to give OKC a 4-3 edge. Bryson Brigman and David Freitas later hit back-to-back RBI doubles, with Freitas driving in two runs, for a 7-3 Dodgers lead before Reno added a run in the ninth inning.
With the series win (4-2), the Dodgers now lead Reno by 9.0 games in the PCL.  They are closing in on the first half championship.  The first half ends 06-25 (18 games).  Magic number for 1st half is 9.
Devin Mann – 2-4, double (22)
David Freitas – 2-3, 2 RBIs, double (1)
Drew Avans – 1-5, 2 RBIs, HR (5)
Jahmai Jones – 1-4, HR (6)
Tulsa Drillers 6 – Wichita Wind Surge (Minnesota) 5 – 10 innings
Landon Knack started for Tulsa and was able to complete just 4.2 IP.  He allowed 3 runs (1 earned), on 6 hits and 1 BB to go with 4 K.  He had 79 pitches (50 strikes).  He did not allow much over the first 4 innings, but ran into trouble in the 5th.
After a BB, the next batter dropped down a sac bunt that was thrown away and the runner scored.  A double scored an unearned run, and after two fly outs, 2 more singles scored another unearned run.  Ryan Sublette was summoned to get the final out.
Knack was leading when he was relieved for.  The Drillers were first on the board with a Jorbit Vivas 1st inning HR (6).  Vivas drove in the run in the 3rd with a single.  Tulsa scored a pair in the 5th with one hit.  A BB and HBP put runners on 1st and 2nd.  They  were balked to 2nd and 3rd, and both scored on an Austin Gauthier single.
DaShawn Keirsey hit his 5th HR off Sublette in the 7th to know the game at 4-4.   The two teams entered into extra innings at 4-4.  With Carson Taylor starting at 2nd, the next two batters were out without moving the runner.  Austin Gauthier drew a walk and Jorbit Vivas got his third RBI with a single, and a 5-4 lead.  Jose Ramos reached on a throwing error to load the bases for Imanol Vargas.  Vargas drew a walk to force in the eventual game winning run.
The Wind Surge scored a run in the bottom of the tenth on a bases loaded BB, but left the go-ahead run on base with a strike out to Aaron Sabato to end the game.
Jorbit Vivas – 3-4, HR (6), 3 RBI
Austin Gauthier, 1-3, 2 BB, 2 runs, 2 RBI
Tulsa currently leads Arkansas Travelers (Seattle) by 3.0 games.  The two teams are due to go head to head for a six game series beginning on Tuesday.
Beloit Sky Carp 6 – Great Lakes Loons 0
5 Beloit pitchers shutout the Loons on 5 hits.  The Loons had a bullpen game.  Mitch Tyranski started and gave up a 1st inning HR that stood up.  Michael Hobbs and Jack Dreyer pitched 2.0 perfect innings each.
Benony Robles gave up a 2-run HR in the 6th.  Franklin De La Paz came in the 7th and faced 4 batters, three reaching to load the bases.  Carlos De Los Santos comes in for De La Paz and immediately gives up a 2-run single.  With runners on the corners, De Los Santos walked the next batter and the bases were loaded again.  A sac fly plated the 6th run.
The biggest action that the Loons had was in the first inning.  In the top of the first inning, Great Lakes' first baseman Dalton Rushing was hit by a pitch. After a couple of words vocalized in frustration, Rushing was ejected by home plate Guillermo Rodriguez.
Yeiner Fernandez – 2-5, 2 doubles (8)
Griffin Lockwood-Powell – 2-3, 1 BB
Jake Vogel – 1-5, double (8)
That was the entirety of the Loons offense.
The Loons just ended a 12 game road trip.  They lost the first game of the trip and the last game of the trip.  In between, the Loons had a franchise tying 10 game winning streak.
Atop the Midwest League East standings are the Great Lakes Loons possessing a seven-game lead over the West Michigan Whitecaps with 15 games to go in the first half.
Inland Empire 66ers (LAA) 8 – Rancho Cucamonga Quakes 1
The Quakes scuffled offensively for a second straight day, dropping an 8-1 decision to the Inland Empire 66ers.
Rancho's second straight loss clinched their first series loss of the year, as Inland won four of six in the series.
Inland Empire starter Michael Derrell-Hicks went seven innings and allowed just one run to earn the win.
Rancho starter Chris Campos (5-3) had a 1-2-3 first inning, but surrendered back-to-back homers to open the second, as Matt Coutney (8) and Christian Sepulveda (3) gave the 66ers a 2-0 lead.
Nick Biddison tripled to open the fourth, then scored on a Jorge Puerta RBI single, bringing the Quakes to within three at 4-1.
Inland got one in the sixth and put it away in the ninth with three more to take a seven-run lead.
The Quakes (32-19) remain 4.5 games up on the second-place Storm, now with 15 to play in the first half.
Nick Biddison 2-4, triple (3)