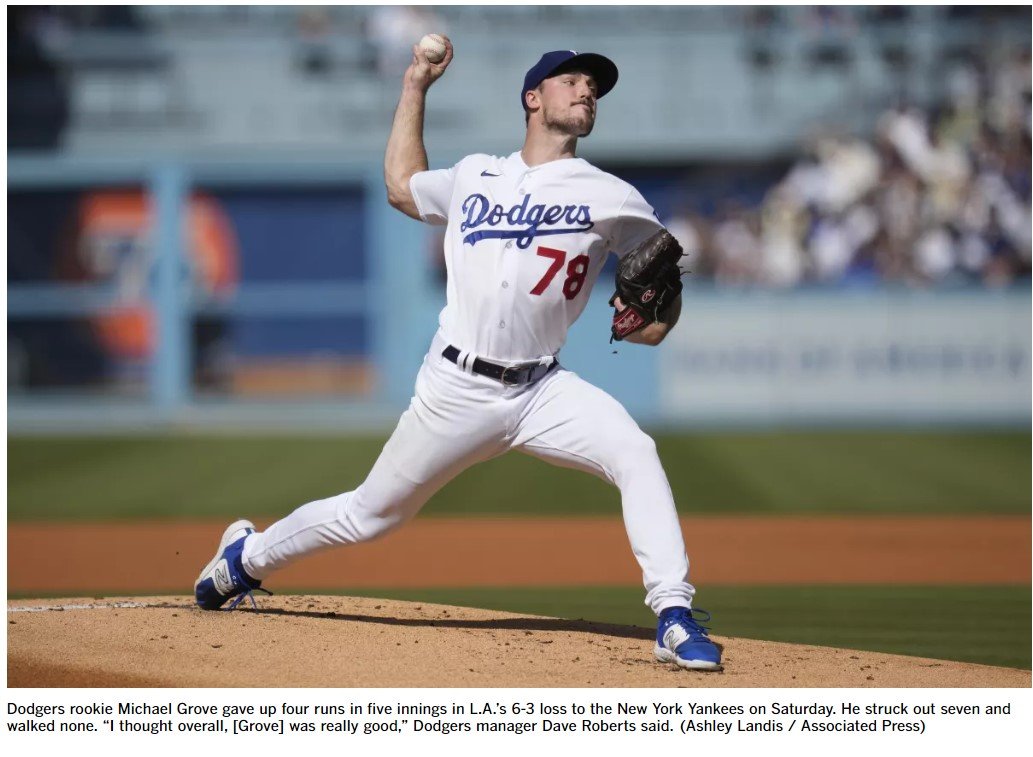 The Dodgers may have lost the game, but they found a starting pitcher.  Michael Grove will look at the scoreboard and be disappointed in his outing.  As John Smoltz mentioned, this is one he needs to keep the film and go back and review…except for 2 bad pitches to Jake Bauers.   Grove threw 83 pitches and one could argue that for except two pitches, he outpitched Gerrit Cole.
K/BB – Grove 7/0; Cole 5/2
Swing and Miss – Grove 13; Cole 9
Called Strike and Whiff % – Grove 36%; Cole 30%
But he missed on the one that counts most:
HR Allowed – Grove 2; Cole 0
Groves pitching mix:
Sliders – 35 total – 8 whiff, 9 called strike
4-Seamer – 33 total – 3 whiff, 8 called strike
Curve – 14 total – 2 whiff, 2 called strike
Change – 1 total
Grove's spin rate was up on all 4 pitches.  He maxed out at 98.1, and sat at 96.  His velo on his 4-seamer was up 2.5 MPH over his 2023 average.
The two misses to Bauers were an 86.8 MPH slider, middle-middle, and a 95.6 4-seamer up and over the plate. He had been pitching on the edges all game except for those two pitches.  I thought Smoltz made a prescient comment when he said that Grove cannot be afraid to throw that breaking ball to Bauers, and Bauers was probably thinking that "I have taken the breaking ball away from him, so I am going to sit on a fastball."  He did, and Grove threw it to him.  Result – HR #2.
Yes it was a loss, but Michael Grove showed he can be in the rotation.  Now he needs to show that he can do it again to stay in the rotation.  He faced the mighty NYY team, and did not wilt.  Will he get his next chance against Philadelphia? Unless, Julio Urías is able to make it back, Grove will get that chance.
Until Shelby Miller, Dodger pitching had shut down Aaron Judge quite well  He was 0-6 with 3 Ks.  Judge hit a line drive HR just over the LF pony wall for a HR.  He later walked.
To make room for Grove, Justin Bruihl was optioned for the 4th time this year.  He has been optioned March 23, April 28, May 17, and June 3.  He can be recalled and optioned one more time this year before he has to be designated for assignment with a 6th option.
Phil Bickford went on the 15-day IL with back tightness, and Tayler Scott was recalled to take his place.  Both Tayler Scott and Alex Vesia had very good outings in this one. His velo on his 4-seamer was up 2.5 MPH over his 2023 average.
JD Martinez hit four balls in excess of 100 MPH but nothing to show for it, except maybe a bruise on Judge's shoulder.  Judge made an outstanding catch on his 8th inning drive crashing through the bullpen gate.
AARON JUDGE, WHAT A GRAB! pic.twitter.com/snlOXLbt4f

— FOX Sports: MLB (@MLBONFOX) June 4, 2023
A couple of observations:
Muncy has been fielding better. He made a very good play in the 9th to get Josh Donaldson.
One curious manager move for me was removing Tayler Scott for Victor González. This is where analytics have to take a back seat to your eyes. Analytics say that Oswaldo Cabrera hits LHP better than RHP.  But Scott was pitching well and had just struck out DJLM.  Plus it was not as if Cabrera was that much better hitting LHP.  Let the guy who was pitching well, finish it off.
06-03-2023 MiLB Summary Report
Reno Aces (Arizona) 9 – OKC Dodgers 6
OKC took a 6-3 lead into the 8th when Reno put up 6 to take the lead, and eventual win.  Gavin Scott started and continues to show that 2023 is not the way he pitched in 2022.  His control has taken a step back.
Stone – 4.1 IP, 3 runs, 5 hits, 6 BB, and 6K
Luke Williams – 2-4
Jahmai Jones – 2-4, double (14), HR (5)
Bryson Brigman – 2-4, double (2)
Michael Busch left during the game on May 30, and has not returned since.
Tulsa Drillers 8 – Wichita Wind Surge (Minnesota) 1
Emmet Sheehan retired the first 14 batters he faced. He allowed a 2 out single and BB before retiring the side.  In the 6th, he allowed a single, a ground out moving the runner to 2nd, and a single broke the shutout.  John Rooney came in for relief and proceeded to pick off Brooks Lee, and one pitch later a ground out ended the inning.
Emmet Sheehan turned in another over powering performance. He went 5.1 & had 7 Ks, just 1 walk. He now has 76 Ks in 44 Innings and has his ERA down to 1.64, WHIP 0.80. Dude is dominating the Texas League! #dodgers pic.twitter.com/F1aAP8Dq4V

— Dodgers Daily (@dodger_daily) June 4, 2023
Jake Pilarski and Tanner Dodson completed the final 3 scoreless/hitless innings with 1 walk and 2 Ks each.
The first four Drillers reached base to load the bases for Imanol Vargas to hit a grand slam (8th HR).  Eddys Leonard followed with his 5th HR.  5 batters up and 5 runs.  The Drillers did not look back from there.
Imanol Vargas – 2-3, 2 BB, 5 RBI, HR (8), double (9)
Jorbit Vivas – 2-4
Austin Gauthier – 2-5
Eddys Leonard – HR (5)
Yusniel Diaz – double (3)
Great Lakes Loons 10 – Beloit Sky Carp (Miami) 0
Three Loons pitchers combined on a 5 hit shutout.  Maddux Bruns pitched the 1st 3 innings.  He was productive but not as efficient as he would have liked.  He threw 61 pitches in his start.  He allowed 1 hit, 2 BB, and 7 K.  He has not allowed a run over the last 13.2 innings.
Maddux Bruns had a great outing today for Great Lakes going 3 scoreless, giving up just 1 hits and striking out 7. This is the 3rd straight start Bruns hasn't allowed a run (11 innings) and he has 18 Ks during that span. His ERA is down to 1.96. #dodgers pic.twitter.com/aZmlPHqVMP

— Dodgers Daily (@dodger_daily) June 3, 2023
Christian Suarez (1.0 IP) and Orlando Ortiz-Mayr (5.0 IP) finished the final 6.0 innings without a run.
Alex Freeland – 3-3, 3 BB, double (10)
Yeiner Fernandez – 2-5, 2 RBI
Frank Rodriguez – 2-5, 2 RBI, HR (1)
Taylor Young – 1-4. Triple (3), 3 RBI
Inland Empire 66ers (LAA) 6 – Rancho Cucamonga Quakes 1
Six RC pitchers could not hold back the 66er bats.
The Quakes bats were not as productive.  They generated 6 hits, four of them XBH.
Thayron Liranzo – HR (14)
Rayne Doncon – double (11)
Dayton Dooney – 2-3, double (7)
Jorge Puerta – double (7)