As the game starts on Easter Sunday, we are practicing are sweeping motion for the anticipated 4 game sweep.
BEFORE the game, we notice that the oft-maligned Cody Bellinger was batting .289 with an OPS of .848. But Belli was not alone with a .800+ OPS.  Next highest OPS' in order to start the game:
Gavin Lux – 1.057
Trea Turner – 0.861
Chris Taylor – 0.848
Will Smith – 0.807
Once Freddie, Mookie, Muncy, and JT get going, this offense has a chance to be very special.  It is going to be difficult to hold down the LAD lineup for 9 innings.
Before today's game, Belli has reached safely in 50% of his PA over the last 4 games. He hit the ball hard all three ABs in Saturday's game.  The big change appears to be laying off the high fastball.  He hit below .100 on high heat last year.
However, alas, this was not a good game for him to call home about.  He is getting his swing back, now he needs to show consistency.
Freddie Freeman was the hitting star in Sunday's game with 4 hits and 3 RBIs.  Hanser Alberto, who appears to be the team personality, got an RBI single.
Before last season, I thought that Tyler Mahle was the best pitcher on the Reds staff.  Wade Miley is gone.  Sonny Gray is gone.  Luis Castillo continues to get hurt.  For the first three innings, nothing had changed my mind, except Hunter Greene is coming fast.  Then in the 4th inning, another Dodger drubbing of a pitcher facing a lineup 2nd time through.
Big inning Dodgers do it again.  They had a 7-run 4th, with 6 hits, 2 walks, and two stolen bases.  In 9 games, the Dodgers have scored in 21 of 86 innings. Of the 21 innings they have scored in, 9 innings they scored 3 or more runs, and in the other 12, they scored 1 or 2.
The Dodgers have a 6-game winning streak.  During those 6 games, the Dodgers have a run differential of +31 (40 runs scored vs 9 runs against).  In those 6 games, starting pitchers have pitched a total of 32 innings.  The starters allowed a total of 3 runs (2 earned), in 36.0 IP.  Only Walker Buehler allowed earned runs, and that was due to a BIG mistake pitch to Aristidis Aquino who hit a 2 run HR on a fastball that Buehler missed over the plate.  Aquino cannot hit a slider, and Buehler's slider was good on that night.  Buehler and Smith know they erred on that pitch call.
Five relievers surrendered runs during the 6 game stretch:
Garrett Cleavinger – 1 run – .2 IP
David Price -1 runs – 2.1 IP
Tyler Anderson – 1 run – 4.0 IP
Mitch White – 2 runs – 1.1 IP
Justin Bruihl – 1 run – 3.0 IP
In the first of several anticipated roster transactions, on Sunday, Garrett Cleavinger was optioned back to OKC, and Phil Bickford has been recalled.  Tommy Kahnle is due back before the end of the month, so another reliever will be optioned.  In less than 2 weeks, 3 more relievers will need to be dispatched, as the rosters are trimmed to 26, and no more than 13 pitchers.  Then what happens when Caleb Ferguson and V-Gon are ushered back to MLB.
Who gets the call when the position players on the roster are increased to 13?  Zach McKinstry is on the 40 man and has played exceptionally well over the first two weeks.  Which of the former MLB players who signed MiLB contracts have option dates for the ML contract to be exercised?  Pillar? Lamb? Alvarez?  How long before Ryan Noda needs to be added to the 40 man?  Is he legit or a mirage?
For the year, the Dodgers now lead ML in runs scored, 51 in 9 games, tied with NYM who have scored 51 in 10 games.  The Dodgers lead MLB in run differential with +27.  The only two teams in the same zip code are NYM with +26, and SF with +23.
For someone who was so very critical of the Andrew Heaney acquisition, he is quickly becoming a favorite of mine.  He was phenomenal in both of his starts.  However, he was exceptional in his Sunday start:  6.0 IP, 0 runs, 1 hit, 3 BB, 11 K 89 pitches/56 strikes. I recognize that the Reds are arguably the worst hitting team in MLB (along with Arizona).
In his 2 games, Heaney has pitched 10.1 innings, 4 hits, 1 run (unearned), 3 BB, 16 K, .000 ERA, 0.68 WHIP, .111 batting average against.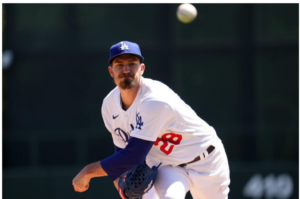 It appeared that plate umpire Jim Reynolds had a consistent strike zone.  That is a rare occurrence this year.
I am still reminiscing about Hunter Greene's performance. He only struck out 6, but he did not walk anyone, so he appears to have control.  Once he learns how to command the cutter or change, he is going to be very special.  Will he learn while in Cincinnati?  I honestly do not know what development talent the Reds may or may not have.
Most 100.0+ mph pitches in game, pitch-tracking era (since 2008):

**Tonight Hunter Greene: 39**
6/5/21 Jacob deGrom: 33
5/19/19 Jordan Hicks: 29
8/19/15 Nathan Eovaldi: 28
5/31/21 deGrom: 27

THIRTY NINE!!!!!

— Sarah Langs (@SlangsOnSports) April 17, 2022
Hunter Greene pitch-tracking era records tonight:

– 100 mph pitches in game (39)
– 101 mph pitches by SP in game (13)
– 101 mph K's by SP in game (2, tied w/deGrom + Verlander)

— Sarah Langs (@SlangsOnSports) April 17, 2022
But as good as Greene was, Julio Urias was even better.  He allowed 1 hit, and was in command the entire game.  He is still limited by pitch count (65/40 strikes).  Walker Buehler got up to 98 in his last start, so Julio should be just about ready to get to 90.
Has anyone else noticed that Joc Pederson is playing well in San Francisco.  He has played in 7 of the Giant's 9 games.  During those 7 games, Joc is hitting .364/.417/.636/1.053, with 2 HRs.
Of course no conclusions can be drawn for such a small sample size.  But there are some interesting developing stories that we can monitor as the season progresses.
Pitching matchups with the Braves:
Monday – Huascar Ynoa vs Clayton Kershaw – First pitch 7:10 PM
Tuesday – Max Fried vs Walker Buehler – First pitch 7:10 PM
Wednesday – Charlie Morton vs Tony Gonsolin – First pitch 12:10 PM