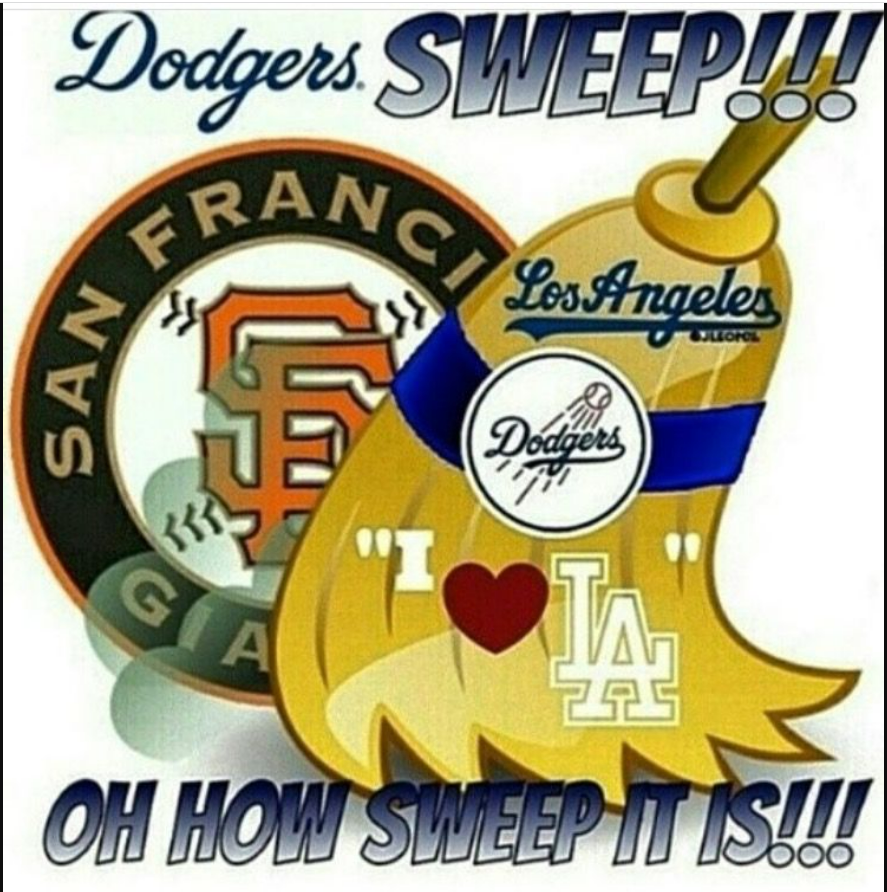 Four game sweeps are difficult to accomplish.  Four game sweeps against a traditional rival are exceptionally difficult to accomplish.  On the day that Gil Hodges was finally and rightfully inducted into the National Baseball HOF, the Dodgers faced the Midgets by the Bay for the fourth game post the All Star hullabaloo, and swept them. This was the first time the Dodgers have swept SFG in a 4-game series since 1995.They did it different ways for each of the games.  Different heroes.
On Sunday afternoon, it was the much maligned bullpen and the revised middle of the lineup that were the heroes.  It was the usually reliable starter who had issues with his command of his fastball and slider.    When that happens, Clayton Kershaw merely becomes mortal.  He didn't win his 8th game, but he did not lose his 3rd.
Clayton Kershaw did not have his best stuff (being kind).  He was the first starter to give up an earned run in the series, and he gave up 4. He went 4.1 innings and threw 94 pitches (60 strikes).  He could not get that 3rd strike by a lot of hitters, and his pitch count grew.  He still had 6 Ks, but the 2 walks and multiple 3-2 pitches drove that pitch count higher.  Kershaw allowed 5 hits and 4 were XBH: 3 doubles and 1 HR.
Clayton seemingly hit a wall after getting Austin Slater for the 3rd time in the 5th.  He then hung a pair of sliders to Wilmer Flores (double) and Darin Ruf (HR), and the score was tied at 4-4.
The bullpen was summoned early and often.  On the day when the HOF starter could not find his command, the bullpen was up to the challenge.  Yency Almonte was the first reliever called, and all he did was strike out the two batters he faced on 8 pitches.  His slider was just flat out nasty.
Four relievers followed, pitching an inning each, and allowing 2 singles combined in the 4.0 innings.  Three of the four (Phil Bickford, Alex Vesia, and Craig Kimbrel) have been recently roasted by opposing teams.  However, today they were lights out.  Evan Phillips could have been included in that declaratory statement, but allowing 1 earned run in nearly two months is hardly reason for concern.
On the other side, after Alex Cobb started slowly and escaped the first inning, he started to settle in.  Except for the 2-out double, single, double, single, by an unlikely foursome in the third inning, he was not touched.  His splitter in the 4th thru the 6th were unhittable. He was able to get through 6 innings to try and save some of that bullpen.
Just like Dave Roberts, Gabe Kapler has to play the cards (relievers) he is dealt.  Unfortunately for Kapler, the Giant relievers are much less reliable than the Dodgers 8 person pen.  It is difficult to blame the managers when the horses are not there to pick from.
It has been stated on multiple occasions that if Max Muncy and Cody Bellinger begin to hit, there is no stopping the Dodgers offense.  But when Jake Lamb, Gavin Lux, Max Muncy, and Trayce Thompson string hits together, the offense is poised to strike.
In a 12-hit attack, only Cody Bellinger of the 9 starters in the lineup did not get a hit.  In most games, the team goes as does 1-2-3 in the lineup.  Today it was 3-4-5-6-7.  Jake Lamb batting in the cleanup spot had a pair of key doubles.  Gavin Lux batted #5 for the first time this season, and he knocked in Jake Lamb after both of his doubles.  Even Max Muncy doubled home Lux in the third.  Trayce Thompson had an RBI single in the third and an RBI double in the 7th.  It was after his double in the 7th that his brother Klay put on a dancing show right behind the Giants dugout.
The Dodgers win 7-4 and complete a 4 game sweep of the Giants for the first time since 1995.

Who's ready for this 2nd half of the season? We know @KlayThompson is!#LFGDodgers pic.twitter.com/E9K2TICrvR

— Dodgers Nation (@DodgersNation) July 24, 2022
Trayce can also played a little defense.
Trayce Thompson goes into the stands for a wild grab! pic.twitter.com/jMvp2dFrgE

— Talkin' Baseball (@TalkinBaseball_) July 24, 2022
It is going to be hard to find a better defensive OF than Thompson/Bellinger/Betts.
Freddie, Jake Lamb, Gavin Lux, and Trayce Thompson all had two hits, including 4 doubles.  Lux and Thompson had a pair of RBIs.  The Dodgers were 5-11 WRISP.
For the last 12 games, Freddie Freeman has been unconscious.  He is batting .522/.577/1.000/1.577.  In 52 PA, Freddie has struck out exactly 1 time.  I have no doubt that this streak will end, but while he is on it, the Dodgers will ride it as far as they can.
Another key contributor the entire season has been Gavin Lux.  In the last 30 days, Gavin is batting .313/.391/.521/.912.  Since Mid-April, Gavin has gone hitless in 3 straight games twice and 2 straight games 3 times.  He has been remarkably consistent.  He has been solid defensively at 2B and serviceable in LF.
Trayce Thompson and Jake Lamb have been excellent bench role players.  I am guessing that when CT3 comes off the IL, Zach McKinstry will be optioned.
This team has now won 8 straight and are 19-2 in their last 21.  To make it even sweeter, the Padres lost on Sunday and are now 11.5 GB the Dodgers.  And the Giants? They are buried 16.5 GB behind the Dodgers.
And we repeat, if the Dodgers can get Max Muncy and/or Cody Bellinger producing anywhere near where they normally produce, what can stop this team.  I know many like the idea of Brandon Drury, but for me, the only difference making bat that would interest me would be JD Martinez, if Boston should become sellers.
Pitching?  Can you really ever have enough of it?
As a follow up, Tyler Mahle did pitch today against St. Louis, and completed 6 innings.  He allowed 2 hits, however both hits were HRs by Paul Goldschmidt.  A two-run HR, and a solo HR.  He walked 3 and struck out 5. He threw 79 pitches and 47 strikes.
Congratulations to 

Gil Hodges
Today and forever: Gil Hodges, Hall of Famer pic.twitter.com/RlHWJXk4T3

— Los Angeles Dodgers (@Dodgers) July 24, 2022