Sacramento River Cats (Giants) 3 vs OKC Dodgers 12
On the Mound
Beau Burrows started for the Dodgers and pitched a strong six innings giving up five hits, two runs of which only one was earned, walked four and struck out two.
Marshall Kasowski gave up one run on two hits in the seventh inning while Mark Washington survived an error to pitch an otherwise clean eighth inning.
Yadier Álvarez came on to finish out the ninth inning. He issued a walk to the first batter he faced and then retired the side.
At the Plate
Trailing 1-0 going into the bottom of the fourth inning, the Dodgers scored three runs with two outs. A Tomás Telis single, a Miguel Vargas single, and a Michael Busch walk loaded the bases for a bases clearing double by Jason Martin.
The Dodgers scored another run in the bottom of the fifth inning on a James Outman home run (4) to right center field.
OKC struck again in the sixth inning scoring three more runs with two outs. Walks to Drew Avans, Miguel Vargas and Ryan Noda loaded the bases with all three scoring on a James Outman double to center field.
The OKC offense continued to grind with another run in the seventh inning. A Tomás Telis single along with a Drew Avans single set the stage for a Miguel Vargas sacrifice fly.
James Outman was having a night. Following a Jason Martin single and another walk to Ryan Noda, Outman drove in two more with a triple to right field and then scored on a Tomás Telis sac fly.
Player of the Game
James Outman had one of those nights with three extra base hits driving in six runs. He was a single short of the cycle.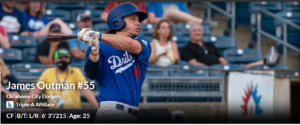 Box Score
Wichita Wind Surge (Twins) 0  vs Tulsa Drillers  3
On the Mound
The Drillers paraded out four pitchers and collectively they held the Wind Surge scoreless on five hits and three walks while striking out 11.
Kyle Hurt started and pitched four innings allowing four hits and a walk while striking out seven. He was followed by Keegan Curtis for 1.2 innings, Jose Hernandez for 1.1 innings and Nick Robertson for two innings who collectively gave up only one hit.
At the Plate
The Drillers also had only five hits in the game with two walks and 14 strikeouts. Fortunately two of their hits were big flies.
They scored one run in the bottom of the second inning on a Carson Taylor home run (3) to left field.  They picked up two more runs in the fifth inning on a Jonny DeLuca home run (4) following a Carson Taylor single.
Player of the Game
Catcher Carson Taylor had three of the Drillers five hits, including his second inning home run.
West Michigan White Caps (Detroit) 10 vs Great Lakes Loons 5
On the Mound
Carlos Duran started for the Loons and pitched three innings. It was not a typical Duran start as he gave up four runs on four hits and a walk including a two-run home run to White Caps third baseman Jose King. He did strike out three.
Lael Lockhart piggy backed with Duran out of his customary role of starting the game.  He pitched a strong three innings but ran into trouble in the seventh inning. He departed from the seventh inning with one out having given up three runs.  Ryan Sublette relieved Lockhart and surrendered an additional two runs in the inning.
Antonio Knowles pitched the eighth inning and gave up a 10th run to the White Caps while Jacob Cantleberry pitched a clean ninth inning.
At the Plate
The Loons picked up  a two-spot in the second inning on a home run (13) by Imanol Vargas following a walk to José Ramos.
Ramos and Vargas both scored again the bottom of the fourth inning. Ramos did so on a home run (13) to left center field. Vargas scored without a hit. He struck out but reached first on a wild pitch, advanced to second on a ground out, on to third on a force out and home on another wild pitch.
Great Lakes tacked on another run, their last, in the bottom of the sixth inning. Luis Yanel Diaz walked, advanced to third on a Kekai Rios single and came home on an Ismael Alcantara sacrifice fly.
Player of the Game
Eddys Leonard had three hits so gets the nod.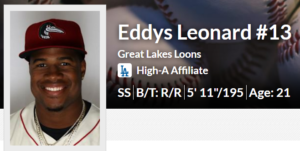 Rancho Cucamonga Quakes 11 vs Visalia Rawhide (DBacks) 2 
On The Mound
Peter Heubeck continued his sparkling July.  In his 4th game (3rd start) in July, Heubeck completed 2.0 perfect innings with 4 strikeouts, including striking out the side in the 2nd inning, and 4 in a row.  Ronan Kopp is also completing an outstanding July.  In his 4 games, 12.0 IP, Kopp has allowed 2 runs (both unearned), 5 hits, 6 BB, and 19 Ks.  On Sunday, he completed 4.0 shutout IP.  He allowed 1 hit and 1 walk, and recorded 7 Ks.  If the Dodgers pitching gurus can ever get Kopp to limit the free passes, the Dodgers have a future closer in their organization.  He is still 19, and has much to learn, but time to do so.
After Carlos De Los Santos allowed 2 runs, Christian Suarez, Kelvin Bautista, and Madison Jeffrey shut down the Rawhide the rest of the way.
At The Plate
The Quakes had a 16 hit attack and got out to an 11-0 lead.  Every starter but 1 had at least one hit.  There were only three XBH, including Damon Keith's solo HR (12).  Marco Hernandez and Yunior Garcia both hit doubles.  The Quakes strung together multiple hits and scored in 5 of the first 6 innings, with a crooked number in four of those.
The offense was led by DH Yeiner Fernandez with 4 hits and 3 RBIs.  Yunior Garcia had 3 hits and 2 RBIs.  Kenneth Betancourt had 2 hits with 2 RBIs.  Damon Keith and Marco Hernandez also had 2 hits.
Player of the Game
I have to go with the DH and his 4 hits/3RBIs – Yeiner Fernandez.