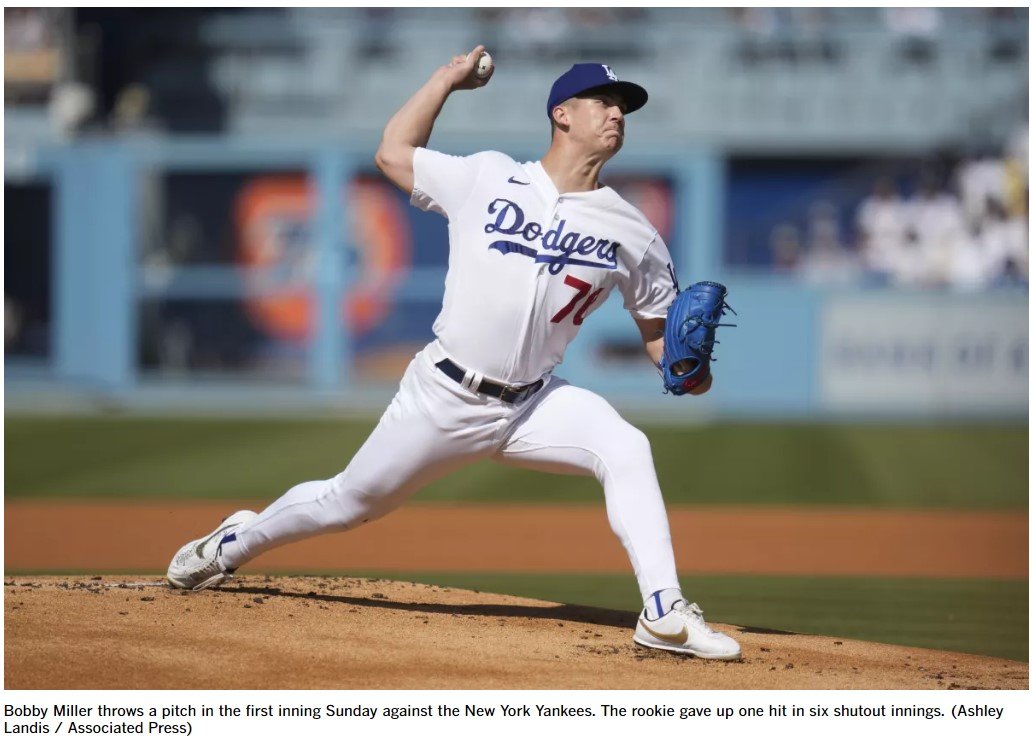 The Dodgers were greeted with Noah Syndergaard as the series opening pitcher for the Guardians.  There are three things Noah is noted for:
He gives up a lot of HRs and hard hits
He gives up a lot of SB
He strikes out a lot of batters
His first inning had it all (first three batters):
Mookie single (almost hard hit at 93.7)
A Mookie SB
A Freddie Freeman K
A Will Smith HR (103.5)
Max Muncy line out (99.1)
Syndergaard is a veteran and knows that the Dodgers hit fastballs very well.  While he still threw both his 4-seamer and 2-seamer, it was the change and curve that hurt the Dodgers.  He threw his offspeed and breaking balls for strikes enough that he did not have to rely on his fastball.
He did allow a lot of hard hits, 1 HR, only 9 whiffs, 4 Ks and 3 SB.  He wasn't great, but he wasn't bad.
OTOH it was also a typical Bobby Miller game.  He looks like a world beater thru 3, but it is that one inning that he just seems to not be able get out of the inning with 2 outs and 2 strikes.  He gives up a HR, and then 3 straight singles for a 2nd run.  He got thru the 5th and 6th.  Most everyone thought that would be it for Miller.
Nope, he went out for the 7th, got the first out.  With two LH hitters coming up Roberts fooled most observers again and let Miller face Will Brennan and Bo Naylor.  A single and walk left two inherited runners for Caleb Ferguson.  Ferguson got Miles Straw to ground into a force play putting runners on 1st and 3rd with 2 outs.  Two more singles and a 3-run HR and for all practical purposes, this game was over.
Miller pitched very well for most of the game.  He did get 20 whiffs on 60 swings.  Each of his five pitches produced at least 28% swing an miss.
I am not a clairvoyant and I do not believe in hind sight criticisms, so I am not going to fault Roberts.  I did find it odd because there was discussion that the team wanted to steal innings away from Miller thru the end of the season.  But his pitch count was low enough to try and get thru 7.  It didn't work.
This was Caleb Ferguson's 8th relief in August, and he has not got thru clean except for two of them.  In 6.2 IP, Ferguson has inherited 7 runs and 5 have scored.  He has given up 8 of his own, 13 hits, 2 BB.  Right now, I am not convinced that Caleb Ferguson is a quality reliever, and I am a Ferguson advocate.  For the season he now has 4 blown saves, his second in August.
Mookie was 2-3 with a BB, 2 runs scored, and his 33rd double.  Will Smith homered and Freddie Freeman had a run scoring single.  That was the offense.  The Dodgers were 2 for 7 WRISP while Cleveland was 5 for 9.
Michael Busch in his return to LAD went 0-3 with 2 Ks.
The Dodgers have 4 affiliated teams and 3 rookie league teams.  OKC (AAA), Great Lakes (A+), and Rancho Cucamonga (A) all won their respective first half championship and are in the playoffs.  Of the affiliates, only Tulsa has not make the playoffs.
The Dodgers ACL team has the best W-L percentage in the Arizona Complex League.  On Thursday, they will face Arizona DBacks ACL team in one of the two semi-final playoff games.  If they win, they will face the winner in the other semi-final game between ACL Brewers and ACL Rockies.
The Dodgers have two DSL teams.  LAD DSL Bautista has won their division, and is in the playoffs.  Their 2nd team, LAD DSL Mega is also in position for a Wild Card berth.  If LAD DSL Mega makes the DSL playoffs,  6 of the 7 LAD MiLB teams will make the playoffs.
Their will be 8 teams in the DSL playoffs.  Four quarter-final best of three series.  The four winners will play two semi-final three games series, and then the two winners will play a three game series to determine a champion. Those playoffs are scheduled to start later this week.  Syndergaard is veteran and knows that the Dodgers hit fastballs very well.  While he still threw both his 4-seamer and 2-seamer, it was the change and curve that hurt the Dodgers.
OKC has 29 games remaining, Tulsa has 23, Great Lakes and RC have 17.
08-22-2023 – MiLB Game Summary Report
Albuquerque Isotopes (Colorado) 9 – OKC Dodgers 6
With Michael Busch recalled to LAD, the Dodgers promoted Jorbit Vivas to OKC.  He went 1-5 in his AAA debut.  Gavin Stone was the bulk reliever in the game following Alec Gamboa.  Stone allowed 2 hits, one being a HR in his 3.0 IP.
OKC had a 6-3 lead going into the 7th.  Tyler Cyr and John Rooney allowed 6 runs in the 7th and Albuquerque got a 9-6 victory.
Key Performers:
Miguel Vargas – 2-5, 1 RBI
Yonny Hernández – 2-4, 2 runs, double (13)
Hunter Feduccia – 1-3, 1 BB, 2 runs
Bryson Brigman – 2-4, 1 run, 2 RBI
Justin Yurchak – 2-4
Tulsa Drillers 7 – NW Arkansas Naturals (KC) 4
Ben Casparius continued his hot/cold season with perhaps his best pitched game of the season.  He completed 5.1 IP, allowing 1 unearned run, 6 hits, 0 walks, and 7K.
Key Performers:
Kody Hoese – 2-4, 1 run, 1 RBI, triple (3)
Diego Cartaya – 1-5, 1 run, 2 RBI, HR (18) – 5th HR of the month
Josh Stowers – 1-3, 1BB, 1 run, 2 RBI, HR (6)
Great Lakes Loons 5 – Fort Wayne TinCaps (SD) 2
The Loons, for the fourth straight game, scored in the first inning.  Taylor Young doubled, and Alex Freeland walked. A double steal put two into scoring position for Griffin Lockwood-Powell.  The reigning Midwest League Player of the Week plated two on a double struck 104 mph up the left-field line. Lockwood-Powell has 11 RBI in his last seven games.
Hyun-il Choi went five innings, letting up just one run on a HR. The right-hander completed his third five-inning outing in his 13th appearance. Choi retired the first six he faced and forced a double play after a leadoff walk in the top of the third. Nine-hitter Kervin Pichardo smashed a 0-1 pitch 388 feet to left field for a solo home run with two outs in the third inning.
After that, Choi sat down the next four. In the fifth inning, Carlos Luis and a Midwest League debuting Griffin Doersching both singled. The 23-year-old bounced back with back-to-back six-pitch strikeouts. A hit by pitch loaded the bases, and a groundout stranded them.
Key Performers:
Taylor Young – 3-4, 2 runs, 1 RBI, double (18)
Griffin Lockwood-Powell – 1-2, 2 BB, 1 run, 2 RBI, double (20)
Rancho Cucamonga Quakes 10 – Lake Elsinore Storm (SD) 1
Josue De Paula had a game-high four hits and Christian Romero fired five shutout innings, as the Quakes won for the second straight game overall.
Jesus Galiz, who finished with a pair of RBI singles on the night, put Rancho on the board in the first, as his first hit brought in De Paula to make it 1-0.
Rayne Doncon, who collected three hits, blasted a solo homer in the fourth, his 14th of the year to make it 2-0.
Romero (6-2) set a new career-high with seven strikeouts over his five innings, allowing just two hits.
Key Performers:
Josue De Paula – 4-5, 2 runs. 1 RBI, HR (13)
Jesus Galiz – 2-4, 1 BB, 1 run, 2 RBI
Rayne Doncon – 3-5, 2 runs, 1 RBI, HR (14)
Thayron Liranzo – 1-5, 1 RBI, double (19)