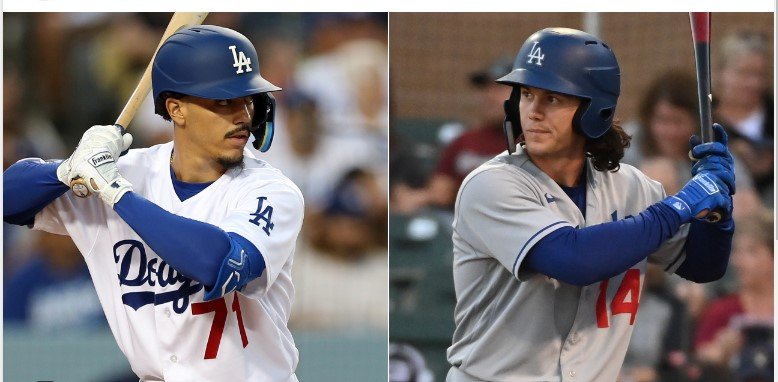 Many fans (no, not all) have a tendency to put highly rated prospects on pedestals, claiming they only have to play to ensure they will be enshrined in Cooperstown.  Then after showing they were not quite ready to take on all of MLB, they fall off that pedestal, and not only are they are no longer that future HOF but they need to be mired in the bowels of MiLB.
It is not a cliché.  Getting to the Show is very hard.  Staying there is harder.  Miguel Vargas is such a prospect for the Dodgers.
The Dodgers broke camp with 2 rookies.  One was given the opening day 2B position before reaching ST.  It was such a foregone conclusion, that Doc Roberts actually forgot to tell Miguel Vargas he was on the OD roster.  Miggy got hurt early in the workouts, and never did get untracked.
The second rookie was not supposed to make the roster.  James Outman would not have made the squad if it were not for Gavin Lux's injury.  The team needed another LH bat and James Outman showed them who that LH bat should be.  He earned the spot with his play in ST.  I believe the original thought process was for Outman and Trayce Thompson to share CF.
Outman got out to a terrific start. Outman in April hit .292/.376/.615/.991 with seven home runs, three triples, four stolen bases, 20 runs batted in, 17 runs scored, and a 164 wRC+. He led all major league rookies in home runs, triples, extra-base hits (14), slugging percentage, and OPS (.991).  His reward?  He was named National League Rookie of the Month for April.
Outman was the 9th LAD to win the monthly Rookie award, and first since Cody Bellinger won it for both May and June 2017.  He was edged out by NYM rookie catcher Francisco Álvarez in July.  Outman is having another excellent month for August.  Although he could get some stiff competition from fellow LAD rookie, Bobby Miller.
OTOH, Miguel Vargas, probably still injured from ST, got off to a slow start.  Injured or pressing or both, Miggy never did hit the way he was expected to.  At the end of April, in 91 PA, Vargas was batting .213/.354/.338/.692, 5 doubles, 1 triple, 1 HR, 18 K, 12 BB.  He did get his OPS up as high as .773, but could never get hot for an extended period of time.
He was developed to be a 3B, but was given the 2B job before ST.  Vargas has never been considered a good defensive player.  He was always a bat first player.  One of the criticisms by the scouts was that he was not a MLB 3B and did not possess enough power bat to be a MLB 1B (or 3B).  Was that why he was moved to 2B?  He worked hard at 2B, but could never truly master the position.  He was rated at or near the bottom of defensive 2B depending on the metric.
At the All Star break, Vargas was optioned back to OKC.  At the time he was batting .195/.305/.367/.672, 15 doubles, 4 triples, 7 HR, 38 BB, 61 K with 304 PA.  Since being optioned, Vargas is slightly below the metrics he put up last year: .291/.399/.470/.869.
At the same time Vargas was struggling, so was Outman.  For May and June, Outman was batting .192/.277/.274/.551 with 60K in 166 PA.  That is an unacceptable K rate of 36.1%.
In July, the two rookies went in different directions.  Up until the All Star break, Vargas batted .133/.333/.200/.533 while Outman batted .280/.333/.520/.853.  Not only did Outman have an outstanding month showing that he is capable, he started to come out of his miserable slump once the calendar turned to July.  There were reported discussions with regards to both rookies.  Both were being considered to be optioned.  The fact that Outman seemingly was making improvement in early July and has shown he can produce at the MLB level, the decision was to option Vargas, and give Outman some more rope.  Outman has proven that consideration worthy.
Since the All Star Break, with 120 PA, Outman is batting .298/.450/.468/.918, 4 HR, 4 doubles, 31 K and 24 BB.  His K rate is at a more manageable rate of 25.8%.  His defense has gone from meh to very good, and continues to improve.  He still needs to get better jumps, and his throws while strong, need more accuracy.
The last LAD to be named ROY was Cody Bellinger in 2017.  It was the 2nd consecutive LAD to be so honored.  Corey Seager was ROY in 2016. Since AF became POBO in October 2014, no position player Dodger he has drafted or signed as an International Free Agent has garnered a ROY vote.  Three pitchers have:  Walker Buehler 3rd in 2018, and Tony Gonsolin and Dustin May being #4 and #5 respectively in 2020. While I do not believe Outman can catch Corbin Carroll or Matt McLain, he should be in the top 5.  This is an extraordinarily good group of NL rookies.  Nolan Jones, Spencer Steer, Elly De La Cruz, Francisco Álvarez, Ezequiel Tovar, Patrick Bailey, and pitchers Kodai Senga, Andrew Abbott, Eury Perez, and Bobby Miller.
The Dodgers will be adding to the active roster on September 1.  Speculation has begun as to who will be that position player who will get recalled?  It does not help that Vargas did not have a good introduction to MLB in 2022.  In 50 PA, Vargas batted .170/.200/.255/.455.  He has not yet hit MLB pitching.  He is still 22 (baseball age), and is more than capable of turning his career around.
However, he is not the best player on the AAA roster.  That distinction belongs to Michael Busch who is batting .323/.432/.615/1.047 in 424 PA.  He has 61 BB against 80 K.  He has improved both his BB and K rate:
2022 – 26.1% K rate, 11.5% BB rate
2023 – 18.9% K rate, 14.4% BB rate
There really is not much more Busch can do at AAA.  He has more than earned a roster spot, and certainly more than Miguel Vargas.
That being said, I am wondering if the recall will be pushed back 4-5 days.  It is important to note that to retain rookie status, a player must start the new year with less than 130 AB and less than 46 days of ML Service.  130 AB will not be an issue, however Busch was originally called up April 25, and was optioned May 11.  That is 16 days of service.  If he is recalled for the Miami series starting September 5, that would be 26 days, and Busch would start 2024 with his rookie status intact.
Why is that important?  Under the new CBA, if a player wins ROY, that team will get an additional draft pick.  I do not know the Dodgers thinking on this issue, but it does seem prudent to hold off until the Miami series on September 5…just in case.  It is not like Busch would be a difference maker at this late stage.
Rookie pitchers in 2023 include, Ryan Pepiot, Bobby Miller, Michael Grove, Emmet Sheehan, Gavin Stone, Gus Varland, and Bryan Hudson.  Of that group, only Stone figures to be considered a rookie in 2024, and perhaps Bryan Hudson.
For this year, James Outman has given every indication that he is a MLB player and should be the CF for LAD for the foreseeable future.  Outman will become arbitration eligible in 2026, and is controlled thru 2028.  What becomes of Miguel Vargas?  I honestly do not expect to see both Miguel Vargas and Michael Busch in the LAD organization come ST 2024.  Who stays, who goes, we will need to wait and see.