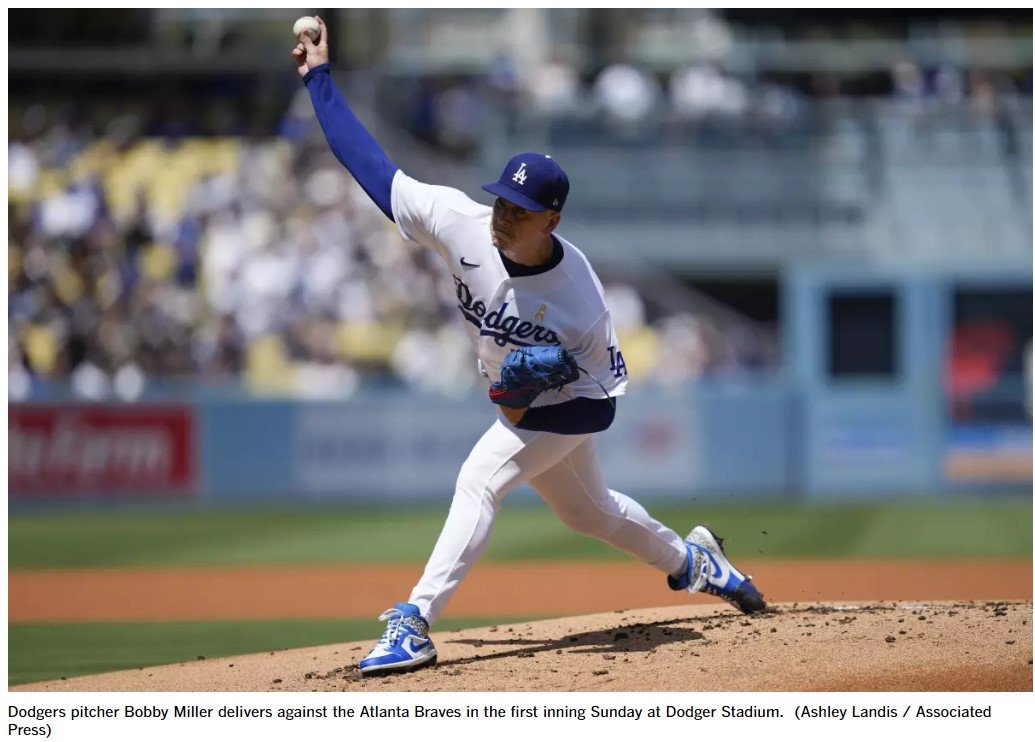 Bobby Miller has often said that he wants to show the Dodgers that he can be counted on to pitch the big game.  Well he is showing the Dodgers that he can be counted on as Walker Buehler was in his rookie year.  Right now he has to be the #2 in the rotation behind Clayton Kershaw.  Not that he is as dominant as Walker was in his rookie season, but Lance Lynn and Julio Urías do not inspire a ton of confidence.
This was Bobby's 2nd start against Atlanta.  His MLB debut was also against Atlanta. He pitched 5.0 innings allowing 1 run on 4 hits.  He walked 1 and struck out 5.  He threw 95 pitches.  Miller was not intimidated one bit by the Braves.  He came after them from his first pitch to Ronald Acuña Jr.  After 96 pitches and 7.0 IP, Bobby Miller left the game with a 2-1 lead.  He turned the game over to Shelby Miller and Brusdar Graterol.
Bobby Miller now has 12.0 IP against Atlanta, allowing 2 runs on 7 hits, 2 BB, and 10 K.
After he recorded the first two outs in the 7th, Miller left a changeup out over the plate (basically center/center) and Matt Olson crushed it.  It was Olson's first hit of the series, and it was no cheapie.  He followed that with an 8 pitch BB to Marcell Ozuna.  His 8th pitch was not a strike, but it was located in a spot that had been called a strike most of the day.  In the past, this might have triggered a mental breakdown on the hill for Miller.  Not on this day.  He got Dodger Killer, Eddie Rosario, to hit into a routine 4-6 force out.
Miller's ERA is now down to 3.80.
After Ozuna's one out double in the 2nd, Miller reeled off 16 straight Braves outs.  One of those out was a flair into RF that Jason Heyward read perfectly, got a good jump, ran 90 feet, dove and caught the ball off the bat of Acuña Jr.  It is great to have a GG RF to allow Mookie to play GG 2B.
Jason Heyward goes a long way to rob Acuña of a hit! pic.twitter.com/JaVDs6TrQt

— Talkin' Baseball (@TalkinBaseball_) September 3, 2023
Miggy Rojas missed a 2-run HR by a foot, settled for a double, and got to 3rd on an errant throw home.  With the infield up, Mookie bounced one over the head of Orlando Arcia, and Miggy scored the second run.
After back-to-back 0-fers, Mookie singled three times in the 4th game.  For the series, he was 5-14 with 2 BB.  He also had 2 big HRs.  Mookie now has a career high 38 HRs, 99 RBIs, 117 runs, and 161 hits.
There is still 26 games to go, but Mookie has closed the gap on Acuña for NL MVP.  There is a valid argument to be made for either player.  But the award is MVP, not most outstanding offensive player.  With Mookie playing GG level RF, GG level 2B, and a solid SS, Mookie's versatility could move the needle into his favor.  That versatility proves his value to the Dodgers.
James Outman was 3-11, but had 5 walks.  That is a .500 OBP.
Outside of Alex Vesia, the bullpen was outstanding in this series.  Vesia allowed 4 of the 5 runs scored off the relievers in the series.  Gus Varland gave up the other (game 2).
Bobby Miller has now faced Atlanta twice and pitched 12.0 innings.  He has allowed 2 runs on 7 hits, 2 BB, and 10 K.  Certainly the next time he faces Atlanta, it could go in reverse, but for now, his confidence has to be sky high when facing the best offense in the game.
For a small illustration as to how well the Braves barrel up and hit the ball hard:
Most fair balls hit at 110+ MPH this year:

182 ATL
181
180
179
178
177
176
175
174
173
172
171
170
169
168
167
166
165
164
163
162
161
160
159
158
157
156
155
154
153
152
151
150
149
148
147
146
145
144
143
142
141
140
139
138
137
136
135
134
133
132
131
130
129
128
127
126
125…

— Codify (@CodifyBaseball) September 3, 2023
The Braves have hit 182 balls in excess of 110 MPH.  The Dodgers have 25 of such hits.  That is good for 28th in MLB.
Besides Miller, the second best starting pitching came from another rookie, Emmet Sheehan. Combine them with Ryan Pepiot's last start, and Gavin Stone's last two outings (one MLB and one yesterday MiLB), and the LAD future pitching looks promising.  They are not dominant, but they are promising.  They will not all be SP.  One and possibly 2 will move to high leverage relief roles (my prediction).
Even though Atlanta won 3 of 4, the Dodgers were in every game except the 2nd.  If they had hit WRISP in either the 1st or 3rd game, they could have beat Atlanta in either or both.
The Dodgers got more players into scoring position but could not get them home.  For the 4 games, the Dodgers were 5 for 34 WRISP, while the Braves were 10 for 26.  In games 1 and 3, Atlanta was 4-11, while LAD was 2-19.  This is an area that the Dodgers HAVE to change their strategy.
In addition to not coming through in the clutch, the Dodgers struck out 41 times in the 4 games vs. 27 for Atlanta.  Put the bat on the ball, and there is a chance that something positive can come out of the AB.  In the 1st inning of yesterday's game, Ozzie Albies simply reached out and stroked a hump back flair single into RF.  The series could have changed had the Dodgers done that once in Game 1 and once in Game 3 WRISP.
As Bear mentioned on the last post, the umpiring was bad (not unusual), but the NY video review crew blew two plays that should have been overturned: one against the Braves and one against the Dodgers. It was almost like the plan was to uphold both umpire's call so both team's lose future challenges.
It was not like the called 3rd strike against Mookie with the bases loaded, but the umpiring seems to be getting worse.
Two Dodgers were rewarded with Monthly Awards.  After his incredible August, Mookie Betts was named Player of the Month for August.  James Outman was named Rookie of the Month for August.  It was his second such award, as he was previously named April Rookie of the Month.
Are the Braves a better team than LAD?  A resounding YES.  But are they invincible?  Absolutely not!!  If they are to meet again, both will have to win their respective NLDS.
Let's see if the Dodgers can "fix" Julio Urías and Lance Lynn in their next four games.  They will only need three starters in the NLDS.  Maybe they will use 4, but they could get by with 3.  But they will need 4 in the NLCS and 4 in the WS.
Before we get too far ahead of ourselves, bring on the Fish.
09-03-2023 – MiLB Game Summary Report
OKC Dodgers 9 – Round Rock Express (Texas) 1
Walker Buehler had his first rehab assignment at OKC.  He threw 2.0 perfect innings, striking out 2.  He threw 24 pitches (15 strikes).  While that was a big positive on the day, Gavin Stone's performance was even better.  He followed up his very good appearance against Boston with 6.0 scoreless IP on 1 hit.  He walked 1, and struck out 7.  He threw 50 strikes in 80 pitches.
The Dodgers had 12 hits and 8 BB that generated the 9 runs.  The Dodgers scored a run in the first inning when Óscar Mercado hit into a fielder's choice with the bases loaded. Oklahoma City added four runs in the fourth inning on a solo home run by Hunter Feduccia and a bases-clearing three-run double by Jonny DeLuca for a 5-0 lead. Mercado connected on a two-run home run in the seventh inning and Miguel Vargas belted a towering two-run homer in the eighth inning to put the Dodgers ahead, 9-0.
The Express scored 1 off reliever James Jones in the 9th.
Key Offensive Performers:
Jonny Deluca – 2-4, 1 BB, 1 run, 3 RBI, double (7)
Miguel Vargas – 3-5, 1 BB, 2 runs, 2 RBI, HR (7)
Justin Yurchak – 2-3, 1 BB, 2 runs
HR – Óscar Mercado (1 as OKC) and Hunter Feduccia (9)
Arkansas Travelers (Seattle) 4 – Tulsa Drillers 1
The Tulsa Drillers were held to just one run in the final game of a six-game series with Arkansas Sunday night. The limited offensive production resulted in a 4-1 loss to the Travelers.
Sunday's finale began with a scoreless first inning before the Travelers put two runs on the scoreboard in the top of the second. The rally began when Tulsa starter Ben Casparius walked the inning's leadoff batter. The Travelers followed with three straight singles to produce the first run. A sacrifice fly made it 2-0.
Imanol Vargas produced the Drillers only run of the game in the fourth inning with his 19th home run of the season. The blast landed on the concourse beyond the right field wall and bounced out of the stadium.
Three straight, two-out singles in the top of the seventh against reliever Jake Pilarski produced the third run for the Travelers, and a balk in the ninth from Tulsa reliever Carlo Reyes made it 4-1.
Both teams finished with seven hits in the game. Yusniel Diaz and Jose Ramos led the Drillers with two hits each. Diaz has not hit safely in seven straight games.
Dayton Dragons (Reds) 7 – Great Lakes Loons 0
The Great Lakes Loons were shutout for the sixth time this season in their final home regular season game of 2023, losing 7-0 to the Dayton Dragons. Great Lakes finished their home slate with a record of 34-31.
Hyun-il Choi struck out two in his first frame but permitted four runs and five hits across the next three innings. A hit by pitch and walk started the second, Dayton's Justice Thompson lined a ball to left field to open the scoring. A Hector Rodriguez sacrifice fly made it 2-0.
In the third inning, Edwin Arroyo and Sal Stewart both reached via base knocks to begin the frame. Allan Cerda sliced a single to left field, and an Austin Hendrick sacrifice fly pushed the Dragons ahead 4-0.
The Loons bullpen kept it within striking distance.  Franklin De La Paz struck out two in the fifth inning, and Mitchell Tyranski induced a 4-6-3 double play in a scoreless sixth. The Loons offense only managed two baserunners in the middle innings.
Dayton added three insurance runs in the final three innings. Two errors plated two runs in the seventh, and a solo home run brought the score to 7-0 in the eighth. Michael Hobbs pitched the seventh, and Christian Suarez tossed the eighth.
Non-pitcher Taylor Young pitched in the ninth forced two flyouts, and after a single, punched out Justice Thompson on six pitches. The 25-year-old made his pro debut on the mound.
Great Lakes offensively had two hits. With two outs in the third inning, Nick Biddison doubled, and Taylor Young walked, but Dayton right-hander Carson Rudd summoned a popup. Rudd went five scoreless innings. Five of the final nine outs for Great Lakes batters were strikeouts.
Stockton Ports (A's) 8 – Rancho Cucamonga Quakes 7
21 year old RHP Joel Ibarra was roughed up in his 1.2 IP.  He was staked to a 3-0 and a 4-2 lead but left after allowing 4 runs on 5 hits and 1 BB.  He did have 2 K.
Kendall George led off the game with a single.  He moved to 2B on a Josue De Paula BB and scored on a Joe Vetrano single.  De Paula moved to 3B on the play and scored 5-4-3 DP.  With two outs, Jesus Galiz slugged his 8th HR.
The Quakes scored a run in the 2nd and 3rd inning on solo HRs by Jose Izarra (7) and Jake Gelof (1).
In the 8th, the Quakes loaded the bases with nobody out on a single and 2 BB.  Jose Izarra singled home 2.  With runners on 2nd and 3rd and no outs,  a ground out and line drive to 5-U double play ended the inning.
Three Quakes relievers kept the Ports off the board until the bottom of the 8th. Reynaldo Yean and Noah Ruen entered in the 8th and allowed 4 runs on 3 hits and 2 BB, and a fielding error.
Key Offensive Performers:
Kendall George – 3-5, 1 run
Joel Izarra – 3-4, 1 run, 3 RBI, HR (7)
Joe Vetrano – 1-3, 2 BB, 1 RBI
HR – Jesus Galiz (8), Jake Gelof (1)