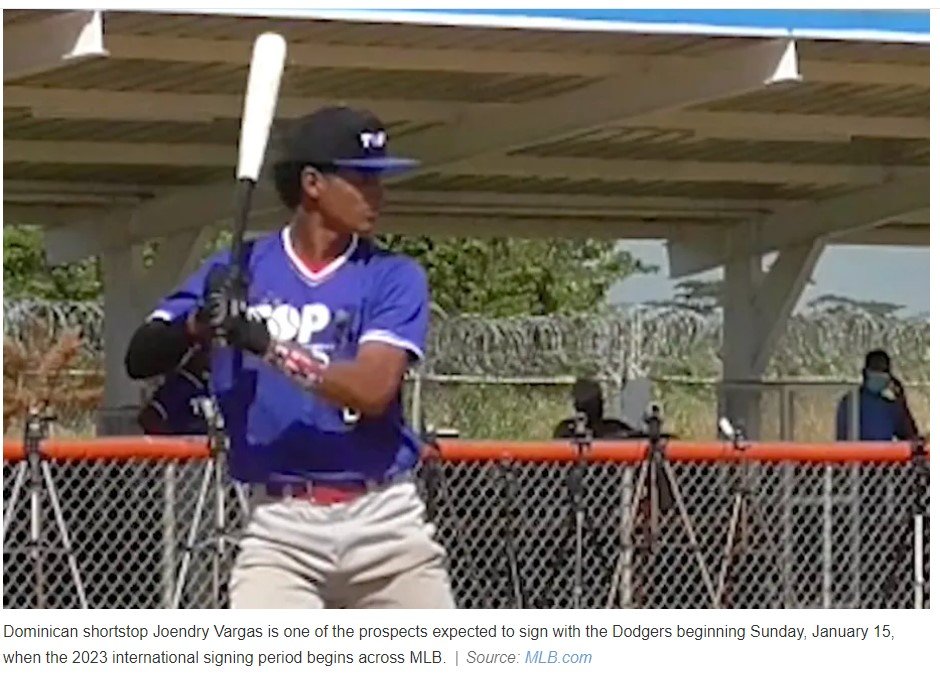 On February 25, 2023, I wrote a post on the next superstar for LAD…Josue De Paula.  De Paula turned 18 on May 24.
As a 17 year old in the DSL last year, De Paula batted .349/.448/.522/.970.  He skipped the Arizona Complex League, and moved directly to full season A Ball with Rancho Cucamonga in the California League.  With 8 games to go before the California League playoffs, with 307 PA, De Paula is batting .282/.397/.380/.777.  His slug is down, dragging his OPS down with it.  He only has 2 HRs, but with his size (6'3" 185), it is just a matter of time before the HR power comes.  In the meantime, he is showing an ability for bat to ball skills and plate discipline with 51 K (16.6%) and 41 BB (13.0%).
De Paula will make another jump next year to a tougher A+ league with Great Lakes in the Midwest League.
De Paula should be a household name amongst LAD fans.  Now I want to introduce another couple of  "hands off" prospects.  The first one is 17 year old SS Joendry Vargas.  Vargas signed for $2,077,500 out of Santo Domingo, Dominican Republic.  He was graded as the #3 IFA last January by MLB Pipeline.
He led DSL LAD Bautista to the Dominican Summer League with their 9-5 victory over the DSL Pirates in the final game.  LAD Baustista was the home team, and in the bottom of the first, Vargas led off and slugged his 2nd HR of the playoffs for a lead they would not relinquish.
LAD Bautista put together 5 singles, and a steal of home for three runs in the 2nd.  They scored 4 in the 6th to put the game away.
For the series finale, Vargas went 3-5 with a HR and double.  He scored twice and had 2 RBIs.  Cumulatively for the playoffs, with 31 PA, Vargas batted .310/.355/.621/.976, 2 HR, 1 double,1 triple, and 6 RBIs.
He did not just get hot for the playoffs.  For the season, in 208 PA he batted .328/.423/.529/.952.  He led the team with 7 HRs and was 2nd on the team with 12 doubles.  He also had a triple and 31 RBIs.  He struck out 31 times (14.9%) and walked 30 times (14.4%).
Joendry was a much heralded IFA, and he did not disappoint.  As a 16 year old, MLB Pipeline gave him the following grades:
MLB Pipeline Before January IFA signing
Scouting grades: Hit: 55 | Power: 50 | Run: 50 | Arm: 60 | Field: 55 | Overall: 55
With Vargas' solid season, he has moved up to LAD Top Prospect #13. In the most recent list by MLB Pipeline:
MLB Most Current Scouting Grade
Scouting grades: Hit: 55 | Power: 55 | Run: 50 | Arm: 60 | Field: 55 | Overall: 45 
The Dodgers pull one of the top prospects out of nearly every international signing class, with Vargas the latest example. Ranked No. 3 in the 2023 crop by MLB Pipeline, he signed for $2,077,500 out of the Dominican Republic in January. He's just 17 years old and will need time to develop, but in a system loaded with shortstops, he has the highest ceiling of any of them.  

A former switch-hitter, Vargas now bats exclusively right-handed. He has a sound swing and an advanced approach, patiently stroking line drives to all fields. With his bat speed and the oodles of projectable strength in his 6-foot-4 frame, he could grow into 25-homer power while also producing high batting averages.  

Though he's bigger than most shortstops, Vargas has good actions, range to both sides, reliable hands and plus arm strength. He's one of the more polished hitters and defenders in his international class. An average runner who could lose some quickness as he matures physically, he'd profile well at third base if he had to move off shortstop. 
I am not sure how you get an increase in one of the skills, all others stay the same, and your overall value drops from 55 to 45.  Joendry has 1 average skill, 2 above average skills, and one plus skill, but a below average overall?  That has to be explained to me.
Baseball America is not as impressed with their skills grades.  But this was graded prior to the season.  IMO, his hit skill should increase in the BA scouting report next year.  He should make the LAD top 30 for preseason 2024 in Baseball America.
Scouting Grades: Hit: 45. Power: 50. Speed: 55. Field: 55. Arm: 55.
BA Grade/Risk: 45/Extreme
Track Record:Vargas stood out as one of the most physically imposing prospects in the 2023 international signing class and impressed while training with Raul "Banana" Valera in the Dominican Republic. The Dodgers made him their top target in the class and signed him the first day the signing period opened.

Scouting Report:Vargas is a tall, lean, athletic shortstop who moves well going to his left or right. A slightly above-average runner, Vargas has good actions, soft hands and a strong arm for the position, with some scouts considering him one of the top defensive shortstops in the class. A former switch-hitter now hitting righthanded only, Vargas drives the ball with impact too, with a chance to grow into above-average raw power. He is prone to swinging and missing and projects to hit for average over power.

The Future: Vargas will make his pro debut in the Dominican Summer League in 2023. He is a long way away but has a chance to be a power-hitting shortstop if it all clicks.
The second DSL player who you should remember is catcher turned CF, Eduardo Quintero.  Quintero is 17 years old, and will not turn 18 until September 16.  He is 6'0" 175 pounds from Ocumare del Tuy, Venezuela.
He was not a highly sought after IFA, but signed for $287,500.  He was not in the top 50 International Players listed by MLB Pipeline.
BA had this to say about Quintero:
Eduardo Quintero, C/CF, Venezuela: Quintero's bat stood out as an amateur, with a sound righthanded swing, good bat-to-ball skills and an impressive track record of offensive performance. Catcher/center fielder is a rare position listing for a player, but Quintero has an unusual tool set. Quintero, 17, trained as a catcher before signing for $287,500, showing good athleticism and catch-and-throw skills for his age, including a plus arm. At 6 feet, 175 pounds, Quintero has the ability to stick behind the plate, but he's also at least a plus runner with 60-yard dash times cutting under 6.5 seconds at his best. With that speed and athleticism, he has seen time in center field too, so while he could catch, he could move through the system faster as a center fielder with fewer defensive demands.
For the season, Quintero was the LAD Bautista best hitter.  In 212 PA, he batted .359/.472/.618/1.090.  He had 15 doubles, 7 triples, 5 HRs, 42 RBI, 22 SB against 4 caught stealing, 34K and 32 BB.
He did not slow down for the playoffs, except for the XBH power.  In 36 PA, he batted .393/.528/.429/.957.  He had 1 double, 3 RBI, 4 SB, 7 BB and 4K.
Quintero led the DSL LAD Bautista in:
Hits with 61
Doubles with 15
Triples with 7
Stolen Bases with 22
BA (1), OBP (1), SLG (1), OPS (1)
He was #2 in HR with 5 and walks with 32.
FWIW, Vargas was #2 in hits (57), #2 in doubles (12), tied for #2 in SB (19), #2 in BA, SLG, and OPS, and #3 in OBP.
There were some other good looking prospects in the DSL which I will get to in another post.  But for now, remember Joendry Vargas and Eduardo Quintero as two top teenagers who should get some additional exposure in the US next year.  The question will be, will they skip Arizona Complex Rookie League and move directly to Rancho Cucamonga, as did Josue De Paula?
09-02-2023 – MiLB Game Summary Report
OKC Dodgers 7 – Round Rock Express (Texas) 1
OKC put their own bullpen game together.  John Rooney led off and completed 2.0 scoreless innings.  Two other pitchers followed with 2.0 scoreless innings, and 3 pitchers followed with 1.0 IP.  The only run scored was against Ken Giles.
The offense put together 10 hits and 9 walks to generate 7 runs.  Jonny Deluca was the hitting star on the night with a HR and double.
Key Offensive Performers:
Jonny Deluca – 2-3, 2 BB, 1 run, 1 RBI, HR (6), double (6)
Miguel Vargas – 2-5, 1 run, 1 RBI
Yonny Hernandez – 2-4
Tucker Barnhart – 1st hit for OKC was a double
Arkansas Travelers (Seattle) 4 – Tulsa Drillers 3
A solo home run in the seventh inning from Robert Perez Jr. proved to be the difference on Saturday night at ONEOK Field as the Tulsa Drillers fell 4-3 to the Arkansas Travelers. An unearned run was also costly as the loss dropped Tulsa's record against the Travelers fell to 5-12 for the season and 1-4 this week.
The Drillers never led in the game as Arkansas opened by scoring its fifth first-inning run of the series. The Travelers did not earn a hit in the inning but did load the bases on two walks and an error. A wild pitch followed to score the runner from third base and give Arkansas the lead.
With two outs in the second, a single walk and a second single allowed the Travelerss to take a 2-0 lead.
José Ramos worked a leadoff walk in the fourth, leading to Tulsa scoring its first run. Following the walk, Ramos advanced to third base on a wild pitch and a groundout. Kody Hoese scored Ramos with a sacrifice fly to make the score 2-1.
Drillers starting pitcher Robbie Peto completed four innings, a season-high with the Drillers, but gave up a leadoff home run to Spencer Packard in the fifth inning, ending Peto's night and giving Arkansas a 3-1 lead.
Tulsa scored a second run in the fifth inning when Ismael Alcantara scored Josh Stowers with a sacrifice fly.
Wladimir Chalo delivered for the Drillers in the sixth inning when he singled with the bases loaded to tie the game at 3-3.
Robert Perez Jr. broke the tie with his solo home run in the seventh inning to give Arkansas a 4-3 lead. The home run ended a 17.2 inning streak without allowing an earned run for Ricky Vanasco. across his last 15 appearances.
In the ninth, the Drillers had the tying run at second base with one out, but Chalo and Alcantara each struck out to end the threat and the game.
Aldry Acosta, Kevin Gowdy and Ryan Sublette each pitched a scoreless inning of relief.
Tulsa had 3 hits with Austin Gauthier getting a double (18) for the only XBH.
Dayton Dragons (Reds) 7 – Great Lakes Loons 6 – 12 innings
Maddux Bruns started and completed 4.2 innings.  He threw 72 pitches (44 strikes), leaving the game with a runner on 1st with 2 outs in a 4-4 tie.  Sauryn Lao retired the final out.
Chris Alleyne and Max Hewitt doubled in the third to score a run.  In the 3rd, with 2 out and nobody on, two singles by Yeiner Fernandez and Griffin Lockwood-Powell put runners on who scored on a Kenneth Betancourt double. Betancourt scored on a Yunior Garcia single.
Dayton tied it up in the 4th on a single, catchers interference, triple, and sac fly, all off Maddux Bruns.
Both teams scored a run in the 9th.  Both teams failed to score in the 10th and 11th.  Dayton scored a pair off Lucas Wepf in the 12th on a 2-out 2-run HR.  Great Lakes got one back in the 12th, but left the tying run on 2nd to end the game.
Key Offensive Performers:
Yeiner Fernandez – 3-5, 1 run, 1 RBI
Griffin Lockwood-Powell – 3-6, 2 runs, 0 RBI, double (22)
Kenneth Betancourt – 2-5, 1 run, 2 RBI. Double (3)
Max Hewitt – 2-5, 1 RBI, double (6)
Chris Alleyne – Double (15)
Rancho Cucamonga Quakes 2 – Stockton Ports (A's) 1
20 year old RHP Roque Gutierrez from Sinaloa, Mexico, pitched a brilliant 1-hit scoreless 5.0 innings.  He faced one over the minimum batters.  0 walks against 6 K.
Brandon Neeck and Kelvin Ramirez each pitched 2.0 innings in relief.  The Ports scored their only run on a HR off Neeck.  The Ports had 2 hits on thee night.
The Quakes scored a run on a double by Wilman Diaz to plate Joe Vetrano in the 6th.  Sam Mongelli scored the eventual winning run in the 7th with a run scoring single by Thayron Liranzo.
Key Offensive Performers:
Joe Vetrano – 2-4, 1 run
Simon Reid – 2-4