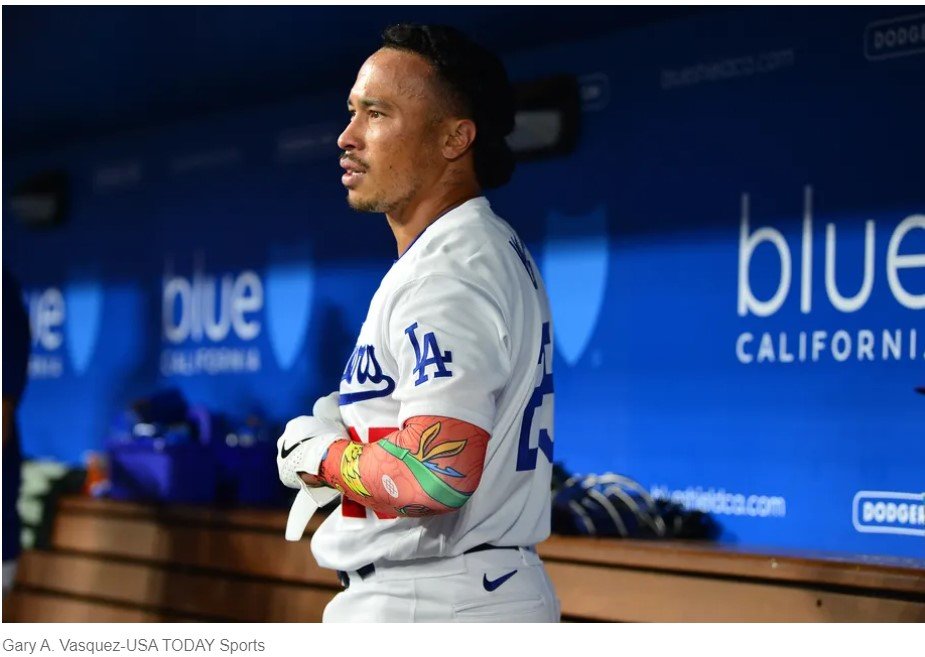 I think two comments that have bothered me most about the Dodgers are:
The 2020 WS does not count because it was only 60 games. Maybe I missed something, but every team played 60 games.  The gauntlet that was a "tournament" of four series, and needed to win 13 games.  No other team did it.  They were the last team standing.  They deserve to be called WS champs.  Those who complain would be the first to say that there team would have deserved it if it turned out for their team.
The Dodgers just buy their team.
It is not as if the Dodgers don't have the wherewithal to pay larger salaries, but some might find it interesting to learn that two players with large contracts have huge, deferred payments.
Mookie Betts – 12 years of deferred payments totaling $120MM (2033-2044).
Freddie Freeman – 13 years of deferred payments totaling $57MM (2028-2040).
Now why the deferred payments?  I have my thoughts, but I will let that ruminate for a while and discuss in a future post.  I will leave it that there is a difference between wealth and liquidity.  The Dodgers owners have accumulated wealth, but until we can actually see financial statements, I am not sure about their liquidity.
But how was the current 40 man roster accumulated.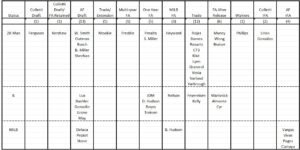 There are 50 players listed, but 10 of those players are on the 60 day IL and do not count towards the 40 man limits.
The Dodgers have exactly one multi-year free agent, with a 9 figure contract: Freddie Freeman.   They have 6 one year MLB FA, and 3 MiLB FA with 2 contracts purchased by LAD (Heyward and B. Hudson), and 1 player remains in MiLB (Nelson).
The Dodgers still have 4 players remaining from the Ned Colletti era: Clayton Kershaw, Caleb Ferguson, Julio Urías, and Victor González.
17 players were either drafted or signed as International Free Agents (IFA) in the AF era.  There were an additional 7 players who were released or waived that the Dodgers signed.  They were certainly not high priced free agents.  Any team could have signed them.
The other area where they have acquired multiple players is via the trade.  Including Mookie Betts, the Dodgers have 13 players on their 40-man acquired through trade.  Contrary to what many Dodger Haters believe, Mookie was not a free agent.  He was acquired via a trade for Alex Verdugo, Connor Wong, and Jeter Downs.  He signed a long term deal with the Dodgers that Boston was not willing to do.
Game Observations:
The Dodgers have no answer to Max Fried.
Julio Urías seems disinterested.  I am not saying he is, he just gives that impression to me (and Joe and Orel).  I think the proverbial straw was when Julio did not back up home and just stood on the mound.
I am getting the same feeling about Urías that I did with Buehler and Gonsolin.  Gonsolin pitched well after coming off the original season IL stint.  But his elbow was sore and his velo was dropping.  Urías pitched a few good games after his return from the IL, but has been getting hit a lot harder for most of his games.  Especially his last two games when he has given up 6 HRs in 11.0 IP.  His velo has been dropping quite a bit for a "healthy" 27 year old.  Average Four Seamer MPH:
2020 – 94.2
2021 – 94.1
2022 – 93.1
2023 – 92.7
Friday night – 91.9
Maybe it is nothing, but then again…
I do not understand taking out Mookie and Freddie in the 8th.  It is like Doc just quit on the game.
Gus Varland let the first four batters get hits, but with the bases loaded and nobody out, he got Michael Harris to chase for strike 3, and then got Ronald Acuña Jr. to hit into a DP.  In the 9th, he retired the 2-3-4 batters in order, striking out Riley and Olson.  He may not be ready for playoffs, but he should be on the 26 man next year to begin the year.
This is why Kolten Wong.  Welcome to the Dodgers.
KOLTEN WONG THREE-RUN BOMB IN HIS FIRST DODGER AT-BAT pic.twitter.com/mnNnuqoyuk

— Bruce Kuntz (@Bnicklaus7) September 2, 2023
09-01-2023 – MiLB Game Summary Report
Round Rock Express (Texas) 4 – OKC Dodgers 2
Nick Frasso started and seemed to breeze thru 5.2 IP.  But after he got two quick outs in the 6th, he gave up a single and HBP.  After 86 pitches (53 strikes), Tanner Dodson was brought in to get the final out of the inning.  He did just that, but not before he allowed three straight singles for 3 runs.  He allowed both inherited runners to score, plus one of his own.  Jake Reed finished up the final 2.1 scoreless innings with 1 hit.
OKC had 6 hits to go with their 2 runs.  Steven Duggar had both RBIs.  In the 2nd, 2 walks and a single loaded the bases.  Duggar walked to force in the first run.  Duggar slugged his 8th HR for the Dodgers 2nd run.
Drew Avans was 2-4 including his 26th double.  Óscar Mercado also was 2-4.
Arkansas Drillers (Seattle) 9 – Tulsa Drillers 2
River Ryan started and held Arkansas scoreless for the first three innings.  But the 4th and 5th did not go as well.  He allowed three singles, a double, a HBP for 4 runs in the 4th.  He surrendered a 2-run HR in the 5th before being relieved by Ben Harris. Ryan did strike out 4 batters. Neither Harris nor Jack Little provided much relief.
The offense generated 5 singles, a double, and a HR.
Key Offensive Performers:
Yusniel Díaz – 2-4, 1 RBI, double (19)
Imanol Vargas – HR (18)
Great Lakes Loons 6 – Dayton Dragons (Reds) 1
21 year old RHSP, Jerming Rosario, was brilliant.  He pitched 5.0, 2-hit scoreless innings.  He did allow 1 BB, but registered 8 Ks.  Three Loons pitchers finished up the final 4.0 innings, allowing a single run.  Ronan Kopp finished the final 2.0 IP without a run to earn his 1st save.
Key Offensive Performers:
Griffin Lockwood-Powell – 2-4, 1 run, 2 RBI, HR (13)
Kenneth Betancourt – 2-4, 2 runs
Yunior Garcia – 2-4, 2 RBIs
Rancho Cucamonga Quakes 8 – Stockton Ports (A's) 1
Gabe Emmett also pitched 5.0, 2-hit scoreless innings for the Quakes.  However he had 4 BBs to go with 4 Ks.  Four Quakes pitchers were needed to finish up for RC.
The offense utilized 13 singles, and 3 BB, to score their 8 runs.  Every Quakes hitter except Luis Rodriguez had at least 1 hit, although he did reach on a BB.  5 RC batters had 2 hits, including 2023 1st round draft pick, Kendall George.  After having a very .362/.451/.414/.865 in 71 PA, he backed that up with .389/.500/.500/1.000 in 23 PA.  Overall in 94 PA, George is batting .368/.462/.434/.896.  Not bad for a HS player playing in full season A ball to finish the season.
Offensive Key Performers:
Kendall George – 2023 Draft Pick #1 – 2-4, HBP, 1 run
Thayron Liranzo – 2-3, 2 BB, 1 run, 1 RBI
Jake Gelof – 2023 Draft Pick #2, 2-5, 1 RBI
Joe Vetrano – 2023 Draft Pick #5, 2-4, 2 runs, 1 RBI
Wilman Diaz – 2-4
Jordan Thompson – 2023 Draft Pick #15, 1-4, 2 RBI