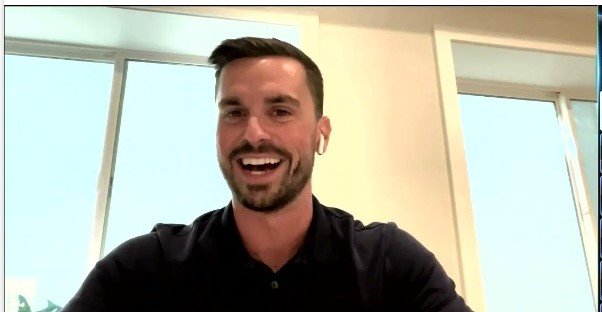 As Bear pointed out, roster turnover can be dramatic.  Even the turnover from last year's 111 win team was extensive.  Brandon Gomes (pictured) had his work cut out for him.  Of the 26 man NLDS roster, 8 left via free agency:
Tyler Anderson
Andrew Heaney
Tommy Kahnle
Chris Martin
Justin Turner
Trea Turner
Cody Bellinger
Joey Gallo
That is a 30.7% turnover.
With those 8, three more who were on the NLDS roster who were on the IL to begin the season:  Tony Gonsolin, Blake Treinen, Gavin Lux.
That is 11 different players on the 2023 opening day roster who were not on the 2022 NLDS roster.
Phil Bickford
Caleb Ferguson
Michael Grove
Andre Jackson
Shelby Miller
Noah Syndergaard
Miguel Rojas
Jason Heyward
James Outman
David Peralta
JD Martinez
Bickford, Jackson, and Syndergaard are no longer in the organization.  Players who were on both the NLDS roster and opening day roster, but are no longer on the roster:
Miguel Vargas – Optioned to OKC
Dustin May – 60 Day IL
And still more.  Two on the current IL from the opening day roster:  Michael Grove and JDM.
Rosters are volatile. Teams with the best depth can withstand such roster volatility, and that is where the Dodgers excel.
Because of the roster adjustments, the Dodgers have a number of players/pitchers who have grown to the level they can be considered for the playoffs, and a couple who have been added via the deadline.
Bobby Miller from OKC to the rotation
Ryan Pepiot
Gavin Stone
Emmet Sheehan
Lance Lynn (added)
Miguel Vargas
Michael Busch (on roster)
Victor González (on roster)
Kiké Hernández (added)
Amed Rosario (added)
Suffice to say, the playoff roster for 2023 will not resemble the 2023 opening day roster and the 2022 NLDS roster.
Last year's turnover was extensive and next year's figures to be significant as well.  Free agents and players with options:
Ryan Brasier (Free Agent)
Clayton Kershaw (Free Agent)
Julio Urías (Free Agent)
Kiké Hernández (Free Agent)
Amed Rosario (Free Agent)
Jason Heyward (Free Agent)
David Peralta (Free Agent)
Lance Lynn ($18MM option, $1MM buyout)
Max Muncy ($14MM option with $4MM escalators)
Going into Thursday's game, Max had 465 PA.  The option currently sits at $12MM.  If he gets 35 more PA, the option will become $13MM, and with 85 more PA, Max's option will be $14MM.  With 30 games, I am projecting Max gets the 85 PA.
There is still too much of this season to try to make roster projections for 2024.  But the point is, there will be a lot of changes.
08-31-2023 – MiLB Game Summary Report
OKC Dodgers 4 – Round Rock Express (Texas) 2
OKC ran out 5 pitchers in a bullpen game.  Bryan Hudson started and went 2.0 scoreless innings.  Kyle Hurt followed with 3.0 IP allowing 1 run on 4 hits, 2 BB, and 3 K.  James Jones, Jimmy Nelson, and Wander Suero wrapped up the pitching allowing 1 unearned run, 1 hit, 7 K for the win.
OKC scored 4 runs on just 3 hits.  Ryan Ward hit his 20th HR in the 2nd.  Down 2-1 in the 7th, OKC scores 3 without a hit.  Only one ball left the infield.  5 walks, a batter reaching on a fielder's choice, 3 WP, and OKC scores 3.
Drew Avans had two singles and an RBI.
Texas started four prospects in their top 21:
Evan Carter – #1
Justin Foscue – #6
Dustin Harris – #10
Jonathan Ornelas – #21
The Dodgers did not start a top 30 prospect, but did start former top prospect Miguel Vargas, and Kyle Hurt relieved (#13).  OKC is made up of a lot of former ML players who started:
Óscar Mercado
Pat Valaika
Yonny Hernandez
Bryson Brigman
Patrick Mazeika
And non top prospects who started: Drew Avans, Justin Yurchak, Ryan Ward.
Other former ML position players on the OKC roster include:
Kolten Wong
David Freitas
David Dahl
Steven Duggar
Tulsa Drillers 4 – Arkansas Travelers (Seattle) 1
25 year old RHSP Orlando Ortiz-Mayr pitched the first 6.0 innings allowing just the one run on a HR to the game's leadoff hitter.  He gave up 2 other singles with a walk.  He registered 6 Ks.  Carlo Reyes and Braydon Fisher finished up with 3.0 scoreless innings.
The first two runs scored by Tulsa were solo HRs by Kody Hoese (10) and Yusniel Diaz (15).  Tulsa scored 2 unearned insurance runs in the 8th, that did include 2 singles and a BB.
No Driller had more than 1 hit.
Dayton Dragons (Reds) 2 – Great Lakes Loons 1
LHSP Just Wrobleski started and completed 4.0 IP giving up 1 run on a solo HR.  Lucas Wepf went the next 2.0 IP and also gave up a solo HR.  Carlos De Los Santos and Jack Dreyer completed the final 3.0 innings without allowing a run.  Great Lakes pitchers struck out 13 batters.  Two solo HRs did them in.
The Loons had 4 hits.  Alex Freeland had a single and double.  Yeiner Hernandez had a single and sac fly for the only RBI.  Max Hewitt had a double.
Stockton Ports (A's) 6 – Rancho Cucamonga Quakes 5
The Quakes started 7th round draft pick in 2023, RHP Patrick Copen, who completed 1.1 scoreless innings.  5 more Quakes pitchers took the bump, including another 2023 draft pick (12th round), RHRP Noah Ruen.
RC jumped out to a 4-0 lead, but 4 runs on 2 hits and 4 BB off Jonathan Edwards, and unearned run off Joel Ibarra and one run off Ruen finished off the scoring.
Key Offensive Performers:
Thayron Liranzo – 2-5, 2 runs, 1 RBI, HR (22)
Jordan Thompson – 2-4, double (2)
Wilman Diaz – HR (7)