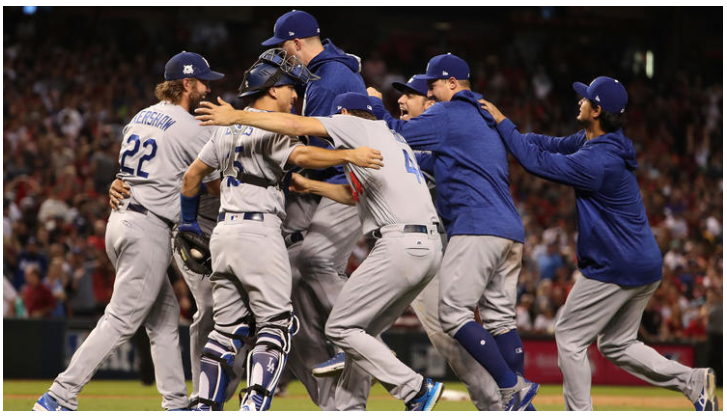 I have several Dodger media guides and I use them for the historical stats and to recall players who I had forgotten played for the Dodgers. To me, five years is not a very long time, but for ballplayers, it can be very long. So I went and picked up my 2018 Dodger media guide to see just how many players still remain in the organization. I concentrated on the 40-man roster and the non-roster players at the beginning of the season.
As most of us know, the 2018 season was not an easy one for the team, Seager went down early with an injury and they had to trade for Machado. But they ended the year in a tie for the division and ended up beating the Rockies in the one game playoff. They would win the pennant and lose the series to the Red Sox.
But when spring training started, these were the players they had. Scott Alexander, lefty reliever. Alexander was a ground ball specialist. Scott appeared in 73 games, going 2-1 with 3 saves. He appeared in 3 games in the World Series. He battled injuries over the next 3 seasons and was released after the 21 season. He is now with the Giants.
Pedro Baez. Baez was a RH reliever who spent seven seasons with the Dodgers. Most Dodger fans remember him for his slow working habits. He had 355 appearances as a Dodger. He was 4-3 in 18 with no saves. He was released by the Dodgers and signed as a free agent by the Astros. He spent parts of two seasons with the Stros. Resigned with LA but never returned to the majors. He was not signed by any team for the 23 season.
Dylan Baker. Baker, a RH reliever, spent the entire 2018 season with the Dodgers affiliate in Tulsa. He went 3-6 and was released after the season.
Cody Bellinger: 1B-CF. Cody, coming off of a ROY season, had a down year. He would rebound in 2019 and earn the NL MVP award. In 18 he hit .250 with 25 homers. He was the MVP in the 2018 NLCS despite hitting only .200. Cody is now with the Cubs and having what may be a comeback player of the year season.
Austin Barnes: C-2B. Barnes had a down year in 2018. He basically was still Grandal's caddy. He hit .204 with 4 homers. He played in 10 games in the postseason and did not play well.
Walker Buehler: SP. Buehler started 23 games for the Dodgers in 18. Probably none more important than his start in the 163rd game of the season when he shut down the Rockies in a 6-0 win to take the division. He went 0-1 in the postseason, losing a game to the Brewers in the NLCS.
JT Chargois: RH reliever. Chargois was picked up off of waivers by the Dodgers in February of 2018. He appeared in 39 games with a 2-4 record. He did not pitch in the postseason. He was released after the 2019 season.
Tony Cingrani: LH reliever. Cingrani was 1-2 in 30 appearances out of the Dodger pen. He also did not appear in the postseason. He was traded for Jedd Gyorko at the deadline in 2019.
Kyle Farmer: C-Inf. Farmer would get into 38 games for LA in 18. He drove in 9 runs and had 5 extra base hits.
Josh Fields: RH relief pitcher. Fields was 2-2 in 45 games with a pair of saves. He did not pitch in the postseason and 2018 was his last season in the majors.
Wilmer Font: RH relief pitcher. Font went 0-2 in six games for the Dodgers. He had an ERA over 11. He was traded at the end of April to the A's for Logan Salow. He is currently in the Padres minor league system.
Logan Forsythe: Inf. Forsythe appeared in 70 games for the Dodgers in his last season with the team. He was traded to Minnesota at the deadline as part of the deal for Brian Dozier. Luke Raley was also in the trade.
Yimi Garcia: RH relief pitcher. Garcia pitched in 25 games and was 1-2. He did not pitch in the postseason. He became a free agent after the 2019 season and is currently with the Blue Jays.
Yasmani Grandal: C-1B. Grandal appeared in 140 games, mostly as the catcher, he hit .241 with 24 homers and 68 driven in. He was absolutely awful during the playoffs, hitting under .200 combined for the three series. He left after the season as a free agent and signed with Milwaukee.
Kiké Hernández: Inf-Of. Hernandez was a valuable utility player for the 18 team. He hit .256 with 21 homers and 52 RBIs in 145 games. Kike did not repeat his 2017 heroics and struggled during the playoffs hitting under .140 in the three series. He is back with LA after a trade at the deadline this year.
Rich Hill: LH Starting pitcher. Hill was 11-5 for the 18 team. He pitched well in his 4 appearances in the postseason. Including 6.1 innings of one hit ball in the World Series in his only game. Hill is currently on the staff of the San Diego Padres.
Kenley Jansen: RH relief pitcher. Jansen was 1-5 for the season with an ERA over 3 for the first time in his career. He did save 38 games. He had no decisions and 3 saves during the playoffs and World Series. He is currently with the Red Sox.
Matt Kemp: OF. Matt Kemp was perhaps the biggest surprise of the year. Traded back in a salary dump, he was not even expected to make the team. But he had a great spring and carried the Dodgers in the first half with a solid .310/15/60 line. He faded in the second half. He hit .111 in the World Series, but hit the Dodgers first homer of the series in game 1. He was sent to the Reds after the season in another salary dump.
Clayton Kershaw: Kersh needs no introduction. His 2018 season was plagued with injuries and he started only 26 games. He had the most innings pitched of any starter though with 161.1. He pitched a 2-hit shutout over Atlanta in the NLDS. He won 1 and lost 1 in the NLCS against Milwaukee. But he went 0-2 against the Red Sox in the World Series. Currently in his 16th season as a Dodger. He was 9-5 in 2018. First time in 8 years he won under double figures.
Tom Koehler: RH Relief pitcher. Koehler was one of those low risk, high reward signings. Koehler hurt his shoulder in a spring training game. In July he had season ending shoulder surgery. The Dodgers released him after the season. He signed with the Pirates the next season, but did not pitch in the majors. He retired in 2020.
Adam Liberatore: LH relief pitcher. Liberatore's biggest contribution in 2018 was being one of five Dodger pitchers who tossed a combined no-hitter at the Padres early in the season in a game played in Mexico. He appeared in 17 games for LA in 18 and was released in August of that year. He is now retired.
Tim Locastro: RH hitting outfielder. Noted for his speed and defensive abilities, Locastro spent most of 2018 at OKC. He only played in 18 games for the Dodgers. He was traded after the season to the Yankees. He is currently playing in the Mets System.
Kenta Maeda: RH starting pitcher. In January of 2016, the Dodgers signed Maeda to a long-term contract. It was constructed with performance bonus's included due to the Dodgers concerns with his pitching arm. His base pay was 3.125 mil each year he pitched.  He earned 3.15 mil in bonus money in 2018. He went 8-10 in the regular season with 2 saves. He started 20 and relieved in 19 games. He pitched in 8 games in the postseason, 7.1 innings all in relief. He is now with the Twins.
Henry Owens: LH relief pitcher. Selected off waivers from the Diamondbacks in Nov 2017. He pitched some in spring training, but was released in May of 2018.
Edward Paredes: LH relief pitcher.  Taken in the 2016 rule 5 draft, Paredes appeared in 25 games during his two year stint with LA. He was 1-0 in 2017 and went 2-0 in 2018. He pitched 16 innings over that time and had a 4.50 ERA. He signed with the Phillies after the 18 season. He is now out of baseball.
Joc Pederson: LH hitting outfielder. Joc was drafted by the Dodgers in 2010. He made it to the majors to stay in 2015. He had one of his better seasons in 2018. He batted .248 with 25 homers and 56 RBIs. Noted now for what we would call Joctober, he was OK in the NLDS and NLCS, but did not hit well in the series against the Sox. He did hit a homer in the series though. Now with the Giants.
Yasiel Puig: RH hitting OF. Signed out of Cuba in 2012. Puig was a talented but enigmatic player. He could be very good, and then disappear. In 2018, he was good. He had 23 long balls, 63 batted in and stole 15 bases in 18. In what would be his last year in LA, he did well in the two playoff series and had 2 homers and 8 driven in for the playoffs. He is now playing in Korea.
Dennis Santana: RH relief pitcher. Dennis would appear in one game for the 18 Dodgers. He got his first MLB win. He did not pitch in the postseason and was traded to the Rangers during the 21 season. Currently in the Mets minor league system.
Corey Seager: LH hitting SS. A first round draft choice by the Dodgers in 2012, Seager became the team's starting SS in 2016 and earned the ROY honor. His injury early in the season would force the Dodgers to trade for Machado at the deadline. Now with the Rangers.
Rob Segedin: RH hitting Inf-Of. Received in a trade with the Yankees in 2016, he saw limited playing time in 16 and 17. He was sent down to OKC after spring training, played in 35 games, and then retired from baseball.
Brock Stewart: RH relief pitcher. Stewart was drafted in the 40th round in 2010. He was mainly a starter. But when he came to the Dodgers in 2016, he started and relieved. He was 0-1 in 9 games with LA in 18. He did not appear in the postseason. Brock is now a relief pitcher for the Minnesota Twins.
Ross Stripling: RH starting and relief pitcher. A 9th round choice in 2011, Strip made it to LA in 2016. His best game came against the Giants when he no-hit them for 7 innings. He appeared in both starting and relief roles in 18, winning 8 and losing 5. He did not appear in any of the postseason games. Ross is now with the Giants.
Chris Taylor: RH hitting Inf-Of. Obtained in a 2016 trade with the Mariners, Chris the following year proved to be a valuable member of the Dodgers his defensive versatility allowed manager Dave Roberts to plug him in all over the diamond. In 2018, Chris had one of his better offensive years, hitting .254 with 17 homers and 63 driven in. He did lead the league in strikeouts with 178. He played well in the division and championship series, making a game saving catch against the Brewers in the NLCS. But he was not very good at the plate against Boston in the World Series.
Trayce Thompson: RH hitting OF. Obtained in a three-way deal with the Reds and White Sox in 2015. Trayce was coming off of an injury riddled 2017. He was waived twice before the season started and ended up with the White Sox. He was injured most of the year and released after the 18 season. He worked his way back to the Dodgers and was traded back to the Sox this spring in the Lance Lynn trade.
Andrew Toles: LF hitting OF. Most Dodger fans have witnessed the rise and fall of Toles. But the decline really started when he was injured just 17 games into the 18 season. He has not played in the majors since then. He remains on the Dodger payroll as the Dodgers fund his medical treatments. A really sad story for a very talented player.
Justin Turner: RH hitting 3B-Inf. JT or Redturn-2 to Dodger fans. Might be Ned Colletti's best free agent signing. A non-roster player, he made the 2014 team and never looked back. A utility player at first, he took over at third for Juan Uribe and became the Dodgers starting 3B for the next 8 seasons. JT only played in 103 games in 18. He hit .312. He had 14 homers and 57 driven in. He was good in the postseason, but not as productive as usual with just one homer and four driven in. He is now with the Red Sox.
Roster Change: Inevitable and Sometimes Drastic 
Julio Urías: LH starting pitcher. 2018 was a lost season for Urias. He pitched in only 3 games following surgery. He has since made up for it. He is a free agent after this season.
Chase Utley: LH hitting 2B. Utley, acquired in a trade with the Phillies in 2015 was in his last season. He had a down year hitting only .215 with a single homer. Chase would retire after the season. He did not appear in the postseason. He works for the Dodgers now.
Alex Verdugo: LH hitting outfielder. Verdugo got into 37 games in his cup of coffee with the Dodgers. He did have a homer and four driven in. He did not play in the postseason but made the team the next season. He was traded in February of 2020 in the Mookie Betts trade. He is still with Boston.
Alex Wood: LH starting pitcher. Wood went 9-7 in 2018. He started 27 games and relieved in six. He pitched in 9 games in the postseason going 6.2 innings. He won the only game the Dodgers won against the Red Sox in the 18 World Series. The 18 inning game was won on Muncy's walk off. Wood was a member of the 2020 World Champs. He is also now a Giant.
Non-Roster Players
1.Manny Banuelos: RHRP. Spent season in AAA
2.Matt Beaty: LH OF-1B. Spent season in AAA. now with KC.
3.Joe Broussard: RHRP. Spent year in AAA. out of baseball
4.Daniel Corcino: RHRP. Appeared in 2 games for LA
5.Yusniel Diaz: RH OF. Traded to O's for Machado. Back with Dodgers now at AA.
6.Rocky Gale: RH C. Appeared in 3 games for LA.
7.Drew Jackson: RH OF-Inf. Spent season at AA and AAA.
8.C.C. Lee: RHRP Spent season at AAA.
9. Mark Lowe: RHRP Out for the season. Injured
10.Brian Moran: LHRP spent year at AA and AAA.
11.Max Muncy: LH 3B-1B-2B. Made team. 35HR's 79 driven in .263 avg. Hit 3 homers with 6 driven in in the playoffs.
12.Zach Neal: RHRP Appeared in one game. Traded in April to the Reds
13.Jake Peter: LH hitting INF. Spent 2 years at AAA.
14.DJ Peters: RH OF. Spent season at AA.
15.Henry Ramos: RH OF. Spent season at AAA.
16.Edwin Rios: LH 3B-1B-OF At AAA all season.
17.Keibert Ruiz: SH C. AA all season.
18.Brian Schlitter: RHRP AAA all season
19.Yasiel Sierra: Injured, did not pitch
20.Will Smith: RH C AA and AAA all season
21:Donovan Solano: RH INF AAA all season
22.TravisTaijeron:RH OF AAA all season
23.Pat Venditte: RH &LH P Appeared in 15 games
24.Shawn Zarraga: SH C. released after spring training
Well there are all of the 40 man roster and the non-roster players on the 2018 Dodgers Of the non-roster guys, Muncy was the biggest contributor to the NL champs.