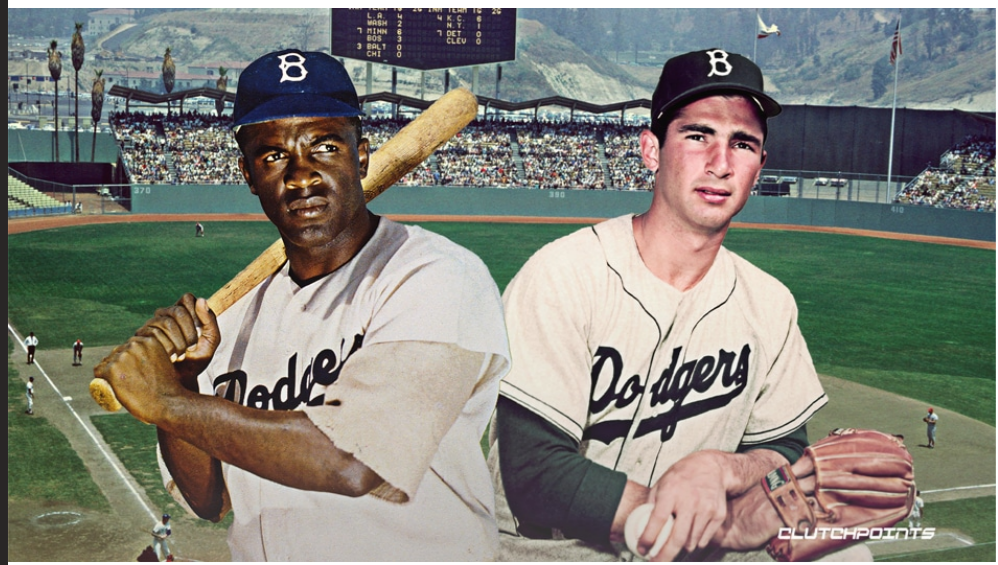 We all know about the domination of Sandy Koufax from 1961-1966.  It is well chronicled and embedded in the memories for all of us who dared to listen to Dodger games from our transistor radios under our pillows at night.  But how close were we to never relive those memories.
In 1960, Sandy Koufax was not pitching as much as he wanted, and asked Buzzie Bavasi to be traded.  After the last game of the 1960 season, a season in which Koufax went 8-13, and a 3.91 ERA, Koufax left the clubhouse and thr4ew his glove and spikes into the trash.  Longtime LAD Clubhouse Manager, Nobe Kawano, picked up the equipment and stored them just in case Koufax returned in 1961.
Koufax was an exceptional athlete, and his first love was basketball.  He was the team captain for his high school team, Lafayette High School, as a senior.  As a 15 year old he joined a local youth  team baseball in what was referred to as an Ice Cream League.  His first position…a left hand catcher.  He would later move to 1B where he played on his high school baseball team.  Koufax was spotted by baseball coach, Milt Laurie. Laurie believed Koufax could pitch and recruited him to play for Coney Island Sports League's Parkviews.  Now there is some scouting.  And to think he didn't need a computer to tell him.
He continued with his first love, basketball, and attended the University of Cincinnati as a walk on.  He would later earn a partial scholarship.  In the Spring of 1954, Koufax made the University varsity baseball team.
In his only season at the University of Cincinnati, Koufax went 3–1 with a 2.81 ERA, 51 strikeouts, and 30 walks in 32 innings.  A Brooklyn Dodger scout, Bill Zinser, sent a strong scouting report to the Dodger front office.  Nothing came about that report.
Koufax would try out for both the New York Giants and Pittsburgh Pirates.  While GM for the Pirates Branch Rickey, he told his scout Clyde Sukeforth, that Koufax had the greatest arm he had seen.  And yet they failed to offer him a contract.
Dodger scout Al Campanis heard about Koufax and went to watch him pitch for the University of Cincinnati, and invited him for a tryout at Ebbets Field.  With Scouting Director Fresco Thompson and manager Walter Alston in attendance, Koufax impressed all and was offered a $6,000 salary and $14,000 signing bonus.  Koufax believed it was a fair contract and believed the money could be used to further his education if his baseball career failed.
Since Koufax had a signing bonus of greater than $4,000, he was considered a bonus baby, and had to remain on the ML roster for at least two years.  The Dodgers needed to make room for Koufax on the roster, so a young LHP, Tommy Lasorda, was sent to MiLB.
June 24, 1955, Koufax made his ML debut against the Milwaukee Braves.  He entered in the 5th inning of a game the Dodgers were losing 7-1.  Koufax loaded the bases.  His next batter was Bobby Thomson, who he struck out with his fastball.  Koufax would later recall that the Thomson K was "probably the worst thing that could have happened to me."  For the next five seasons, Koufax would continue "trying to get out of trouble by throwing harder and harder and harder."
For the next several years Koufax would go from unceremoniously wild and erratic to bone-chilling dominance.  But there was no consistency in anything that Sandy Koufax did.  In 1959, Koufax would set the record for most strikeouts in a night game with 16, and would later set the NL record, tying Bob Feller and the ML record, with 18 strikeouts.  He was an enigma.
In the 1959 WS, Koufax pitched two perfect innings in the opener, albeit it was a blowout loss.  But it was enough to convince Walter Alston to send Koufax out to start Game 5.  In front of 92,000+ fans at the LA Coliseum, Koufax would go on to pitch 7.0 innings.  He allowed a 4th inning run when Nellie Fox scored on a double play.  That would be the only run of the game, and Koufax, while pitching very well, would lose his first World Series decision.
Koufax did indeed return for his 1961 season, and a teammate would turn the baseball world around during a spring training game against the Twins.  A usual, Koufax was struggling with his control.  After Koufax walked his first three hitters, Norm Sherry visited the mound. He suggested that Koufax take some speed off his fastball to gain better control. And the rest as they say is history.
In October 1965, Game 1 of the World Series fell on Yom Kippur the Jewish Calendar's Highest Holy Day. Koufax being Jewish would not pitch that day.  Instead Don Drysdale pitched the opening day and was trounced, not being able to get out of the 3rd inning.  Jim Mudcat Grant beat Drysdale and the Dodgers 8-2.
Koufax would start Game 2, and while he did not pitch poorly, Jim Kaat and the Twins beat Koufax and the Dodgers 5-1.  At home in LA, Claude Osteen, Drysdale, and Koufax would proceed to win three consecutive complete game victories, 2 via shutout.
The series returned to Minnesota for Games 6 and 7.  The Twins won Game 6 behind Grant.  Then there was decision.  It was decided to start Koufax on two days rest in Game 7.  He would proceed to pitch a complete game 2-0, three-hit shutout, and win Game 7 of the 1965 WS. He threw 132 pitches.  He beat fellow HOF pitcher, Jim Kaat.  Kaat also started the game on 2 days rest, but he only lasted 3.0 innings.  That is a game that will forever be stitched into the memory banks of every breathing LAD fan.
For 1961 through 1966, Koufax would pitch in 223 games, 211 starts, and would have a record of 129-47.  His 6 year ERA was 2.19 and a WHIP of 0.970.  In 1,632.2 IP, he would strike out 1,713 batters and walk 412 batters.  That is a 4.16 SO/W ratio.
During these 6 years, he was a 7 time All Star.  From 1962-1965 Koufax was:
3 times CYA Winner
3 times Pitcher's Triple Crown (lead league in wins, ERA, and strikeouts)
5 times ERA Title
2 times ML Player of the Year
1963 MVP
In his 12-season major league career Koufax had
165–87 record
2.76 earned run average,
2,396 strikeouts,
137 complete games,
40 shutouts.
He was the first pitcher to average fewer than seven hits allowed per nine innings pitched (6.79) and to strike out more than nine batters (9.28) per nine innings pitched.
He also became the second pitcher in baseball history to have two games with 18 or more strikeouts.
The first pitcher to have eight games with 15 or more strikeouts.
In his last ten seasons, from 1957 to 1966, batters hit .203 against him, with a .271 on-base percentage and a .315 slugging average.
He was the first pitcher to win multiple Cy Young Awards, an especially impressive feat because it was during the era when only one was given out for both major leagues.
He is the first pitcher to win a Cy Young Award by a unanimous vote.
The first pitcher to pitch 4 no-hitters including a perfect game, September 9, 1965.
Sandy Koufax throwing a perfect game. #Dodgers #Cubs pic.twitter.com/eiHruHXcNa

— BaseballHistoryNut (@nut_history) March 18, 2021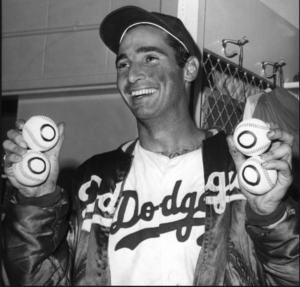 Joe Davis should listen to this to learn how to call a no-hitter.
In 1972, Sandy Koufax was elected to be inducted into the National Baseball Hall of Fame.  Being five months younger than Lou Gehrig was, Koufax was the youngest player elected.    Baseball waived the 5 year waiting period for Gehrig.  The announcement was just weeks after his 36th birthday.  However because of the delay from the announcement to the actual induction, Koufax a bit older than Gehrig when actually inducted.
On June 4 of that same year, Koufax's uniform number 32 was retired alongside those of Dodger greats Roy Campanella (39) and Jackie Robinson (42).
The Dodgers' organization announced in 2019 that Koufax would be honored in the Dodgers' "statue series," with a 2020 unveiling planned, but the global pandemic altered those plans.
Earlier this year, it was announced that Sandy Koufax is now set to join fellow Hall of Famer Jackie Robinson with a bronze statue at Dodger Stadium.
"I am very proud to announce that the unveiling of the Sandy Koufax statue at Dodger Stadium will take place on Saturday, June 18," said Dodger President and CEO, Stan Kasten via press release. "The statue will be located at our main entrance in the Centerfield Plaza, right next to Jackie Robinson's statue, and fans entering those gates will be 'greeted' by Jackie and Sandy. Not only are both of these Hall of Famers part of our rich Dodger history, they are also continuously inspiring sports fans everywhere."  
As Stan Kasten reported, the unveiling will be Saturday before the team hosts the Cleveland Guardians. The first 40,000 fans will receive a replica statue.
Koufax's statue will be sculpted by the highly regarded and respected, Branly Cadet, who also created the Robinson statue, which was unveiled in April 2017.  For those who want to see some more of Branly Cadet's work, see here.
Congratulations to Sandy Koufax, The Left Arm of God.