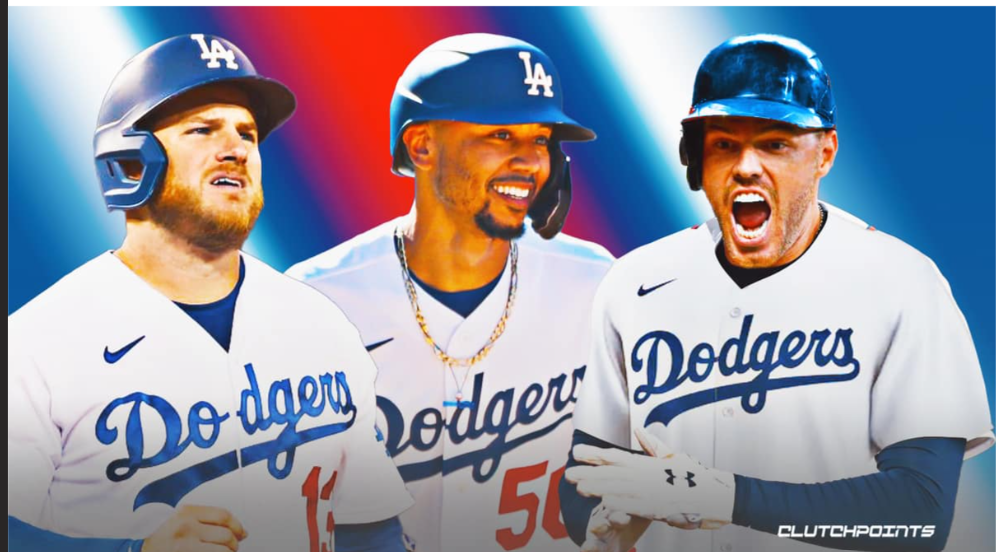 The Dodgers seem set at 5 positions.
C – Will Smith
1B – Freddie Freeman
2B – Gavin Lux
RF – Mookie Betts
DH – Max Muncy
That is actually a decent core of excellent players.  Not many teams have that quality in their lineup. But they have a lot of needs.  The Dodgers need a SS, a CF, a LF, and maybe a 3B. I am acknowledging that Miggy Vargas will become the regular 3B or LF, even though he is better suited as a DH.  In addition they need starting pitching.  Will they look for top of the rotation starters, or back end as they did last year  (Tyler Anderson and Andrew Heaney).  Maybe this year it will be Chad Kuhl and Dylan Bundy.
But questions still persist with some of the players still with the team.  Why did they not replace Walker Buehler?  Are you convinced that Tony Gonsolin's forearm strain is not a precursor to something worse?  Right now, the only starting pitchers on the projected 26 man are Julio Urias, Dustin May, and Tony Gonsolin (if healthy).  One thing I learned in business is that I hope for the best, but I plan for the worst. Is anyone prepared to trot out a rotation of Urias, May, Pepiot, Miller, and Stone?  If the Dodgers do not re-sign Kershaw, Tyler Anderson, or Andrew Heaney, or any other starting pitcher, that could be the rotation.
There are multiple ways of finding replacements.  Promote from within. This is where Miguel Vargas comes in.  James Outman?  Jake Amaya?  Pepiot, Miller, and Stone?
Sign a free agent elite player.  Sign a free agent depth role player and hope they can turn into a regular.  This would include a bevy of FA signing MiLB contracts (Yency Almonte, Jason Martin, Jake Lamb, Kevin Pillar, Eddy Alvarez).
Pick up a waiver wire player and hope they turn out as did JT, Max Muncy, Evan Phillips.  Trade from the roster or trade from MiLB.
I think the Dodgers will be outbid for every elite SS.  I do not think they will put a package together to get a top of the rotation pitcher, or sign one.  And yet other teams will.   I do not think they will put a package together to get a solid CF or big LF bat.
I know for some, their preference is that the team keep all of their prospects until they become non-tradeable.  Yadier Álvarez, Jeren Kendall, Mitch Hansen, Jordan Sheffield, Omar Estévez, Cristian Santana, Starling Heredia, DJ Peters, Matt Beaty, Dennis Santana, Josh Sborz, Kyle Garlick…But for some of us maybe it is better to trade prospects for players who can help now.  Willie Calhoun, AJ Alexy, Yusniel Diaz, Dean Kremer, Zach Pop, Grant Holmes, Frankie Montas, Keibert Ruiz, JoJo Gray, Alex Verdugo, Jeter Downs, Connor Wong.  Yes, that Dean Kremer, who was a throw in for Manny Machado who will turn out to be better than most of those RHP the Dodgers are holding on to.
AF has gone both ways with trades involving prospects, as well as to holding onto prospects.  Some have worked out, and others (as noted above) have not.  Gavin Lux and Will Smith.  These are the only two position players drafted or IFA signed in the AF (2015 to current) era who are considered everyday players in the LAD 26 man roster.  Who will be the next?  Miguel Vargas, James Outman, Jake Amaya?
Obviously nothing is going to happen until after the WS.  Options will be exercised or not.  Not just for the Dodgers but for all of the other teams.  Qualifying offers will be made.  Rule 5 draft prospects will be protected.  Some players will be non-tendered.  The Winter Meetings will take place just about a month after the WS.  And the start of ST will begin just about 2 months after that.  A lot of moving parts need to be identified in a short period of time.
I plan to look at the 4 positions in question and starting pitching over the next several days.  I am probably less enthusiastic that significant free agents or trades will be made.  But I am open to being wrong.  Part of my reasoning is that 2022 will be the second year that the Dodgers will exceed the CBT Threshold.  The last time they were in this position (after 2017), they made sure that they slipped below the threshold to reset the penalties.  IMO they may want to do the same thing in 2023.
What say you?