The Clemente Award honors annually the major league player who "best represents the game of baseball through extraordinary character, community involvement, philanthropy, and positive contributions, both on and off the field."
This year's winner is Los Angeles Dodgers' 3B, Justin Turner.  What a truly distinctive honor, and one which has been a long time coming and well deserved.  He was honored before the start of Game 3 of the World Series on the field in Philadelphia.
There's no one more deserving. Congratulations @redturn2 on being named the 2022 Roberto Clemente Award Winner! pic.twitter.com/XUhPA7phxv

— Los Angeles Dodgers (@Dodgers) October 31, 2022
The award is determined annually via a panel, including Roberto Clemente's sons Enrique, Luis and Roberto Jr., MLB commissioner Rob Manfred, former MLB players and Clemente Award winners, plus reporters from MLB Network, FOX Sports, ESPN, TBS and MLB.com.
There was also a fan vote that is included in the tabulation.  JT was the winner of the fan vote.  I know I contributed to that vote total.
Turner was honored for his philanthropic work in and around Los Angeles during his nine years with the Dodgers. That includes :
Starting the Justin Turner Foundation with his wife Kourtney in 2016, which supports homeless veterans, children and families battling life-altering illnesses, and youth baseball organizations.
The foundation holds an annual golf tournament and a 5-K run, and has supported various other events including the AM 570 Veterans Day radiothon and the LA Marathon.
Justin and Kourtney Turner are on the board of trustees at Children's Hospital Los Angeles.
They've donated over 70,000 toys and 14,000 bicycles to children in and around LA.
They've also been heavily involved in the Dream Center in Los Angeles, including having its food bank named after the Turners in 2020.
JT and his wife have also been determined to help children battling deadly illnesses. They frequently visit patients at UCLA Mattel Children's Hospital and Cedars-Sinai Medical Center. This season, Turner sent over a pair of cleats so the kids in the hospital could decorate them. Turner then wore the cleats during a doubleheader on Sept. 20.
https://img.mlbstatic.com/mlb-images/image/private/ar_16:9,g_auto,q_auto:good,w_1024,c_fill,f_jpg,dpr_3.0/mlb/a8teqbxp2bg46tedgk8a
As a result of Turner's contributions to the LA area, the Los Angeles City Council unanimously declared Jan. 22, 2019, to be "Justin Turner Day."
Upon winning the award JT had the following to say:
"I think with the way the [Dodgers'] season ended and how everything went, this award actually was probably as far away from being on [my] mind as it could get," Turner said. "But it was quite a surprise, and obviously, very exciting news for us. Getting the ultimate achievement of getting to go out during the World Series and be recognized is something that is pretty special, and I know my wife and I are very, very proud of it."
As should be every Dodger fan.  He further stated:
"It's not why we do it. It's not why we have our foundation. It's not why we spend as much time as we can giving back to the community," Turner said of winning the Clemente Award. "But it's definitely nice to be recognized for that, and I think it's also great for our foundation and our platform to get some national coverage and awareness, to hopefully help grow it and take it to the next level to be able to impact more people."
That is what a true Clemente Award winner would say.  There are 29 other teams whose nominees also embody that sentiment.  Clayton Kershaw's philanthropy work has not decreased since he won the award.
Of course every single team should be proud of their nominated honoree.  But we Dodgers fans are very fortunate to be able to formally recognize the 2022 winner of the prestigious Clemente Award.
Turner went on to say:
"I feel like I've always felt like it's a responsibility for me to help our younger guys kind of realize their platform and how much of an impact they can have," "Our number one goal is to help as many people as we can, but I think number two is to help our younger guys realize and grow and start their foundations, and hopefully impact as many people."
JT is the Dodgers 3rd nominee so honored.  Steve Garvey (1989) and Clayton Kershaw (2012) were former recipients.  JT considers Kersh to be a major influence on this facet of his life.
JT was first nominated in 2017 (1st of 5 nominations), and was presented with the honor by then teammate and mentor, Curtis Granderson.  Granderson won the award in 2016, and his philanthropic exploits are outstanding.  JT's other mentors in this facet include NYM players David Wright and Ike Davis (NYM roommate), and LAD teammate Adrián González.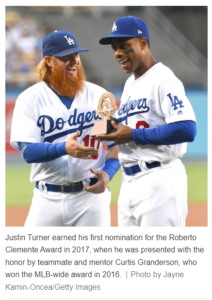 On becoming a Dodger…
"Everything in my life feels like it has really taken off since the day I put the Dodger uniform on," Turner said. "Obviously it's very special to me, growing up in Southern California, getting to wear that jersey, and getting to be a part of an organization that has so much history and as so many people who have impacted the game in so many different ways. I'm just trying to do my little part."
The Dodgers have a decision to make on the future of JT with the Dodgers for 2023.  Do the Dodgers exercise their team option at $16MM, or do they buy him out and restructure a new deal to make JT a Dodger for life (player, coach, manager)?
"That's something that will always be a part of Kourt and I's DNA. Obviously we don't know what it will look like when eventually I am done playing, and how events will come together and what's going to happen on that front," Turner said. "But I think it's something we will always continue and always be giving back and trying to help people."
Congratulations JT and Kourtney.  You make Los Angeles proud.