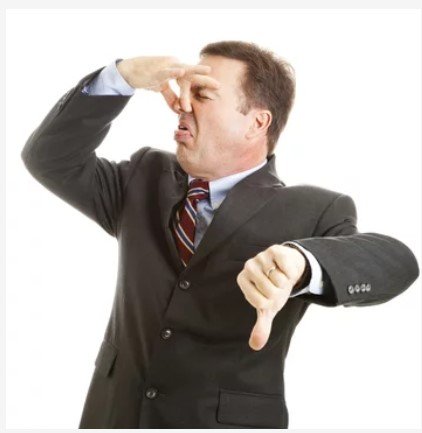 This was the most disappointing loss of the year.  This is a game the Dodgers used to put away.  It started with Tony Gonsolin.  He was staked to a 3-run lead.  Gonsolin gave up back to back singles to Jake Fraley and Matt McLain.  He had Fraley 0-2 and could not put him away.  McLain attacked 1st pitch for a single.
Perhaps the most important PA of the night, for whatever reason, Gonsolin chose not to challenge 21 year old rookie Elly De La Cruz in his first MLB PA.  Gonsolin threw a curve on the 1st pitch and got De La Cruz to chase.  He would throw three more curves and a slider for balls, and De La Cruz drew a BB.  I highly respect the abilities of De La Cruz, but to not challenge him in his 1st PA gives in too much, especially when your fastball is supposedly your best pitch.
Gonsolin gets strike 1 to Spencer Steer and then hits him to bring in a run.  A center cut slider his smacked for a 2-run single to tie the score.  It took 26 pitches to get out of the inning from a second division team with three rookies and three 3rd year players as the first six in the lineup.
The two Reds rookies, Matt McLain and Spencer Steer, are thus far outplaying the Dodgers two rookies.  Corbin Carroll and Spencer Steer are the top two NL rookies and McLain will get to that level very soon.
Gonsolin pitches by inning were 26, 16, 18, 13, 19 for 92 pitches in 5.0 innings.  Five relievers would follow and combined they would allow 5 runs on 9 hits, 3 walks, 1 HBP, and 1 strikeout in 3.1 innings. Yency Almonte and Brusdar Graterol allowed 2 runs on 7 hits and 1 BB in just 2.0 IP.  This was not Tampa Bay, Texas, or Atlanta offenses they were facing.
Then again, the current LAD bullpen is not a championship bullpen.  The only bullpens that the Dodgers have a better ERA are Washington, Chicago White Sox, KC Royals, and Oakland.  This is the worst bullpen I can remember the Dodgers having.
IMO opinion, the genesis of this porous bullpen started in the offseason when AF/BG curiously said they did not need a closer.  How wrong could they have been.  After Tuesday's debacle, here is how the vaunted LAD bullpen looks individually.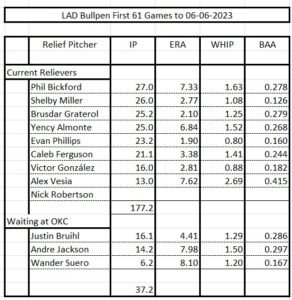 Over the last 6 games, the bullpen numbers:
19.1 IP, 19 runs (15 earned), 24 hits, 11 BB, 18 K, 5 HBP  – That is 40 base runners over 19.1 IP.  That is not a championship bullpen.
On the bright side, the offense had a good night.  They scored 8 runs, and that should be (used to be) enough for the Dodgers to win.  Not lose to Cincinnati.  JDM hit his 10th HR in his last 15 games and Freddie hit a grand slam.  It was the Dodgers 7th grand slam this year.  They had 2 all of last year.  Every LAD starter except Will Smith had a hit.  Nobody more than 1, but did I say they had 8 runs?
The Dodgers dug deep into the bullpen (5 relievers), and Noah Syndergaard gets the start on Wednesday.  Just how deep can he go in Wednesday's game?
Wednesday Noah Syndergaard against Brandon Williamson (Rookie LHSP).
Thursday Clayton Kershaw against Graham Ashcraft (2nd year RHSP).
Other Notes of Interest:
This has to be the singularly worst plate umpiring I can recall.  I doubt that Carlos Torres will be pleased with his scorecard on this one.
Elly De La Cruz is going to be a superstar.  During the game we learned that De La Cruz has:
The hardest throw in the field this year (99.9).
The hardest hit ball this year (119+). He also had two 117+ MPH HRs the same game.
The fastest runner from home to third for a triple.
His two batted balls on his MLB debut were 112 MPH double and 108.7 MPH ground out to 2nd.
After the game, Doc was visibly very upset.  He blamed Gonsolin and the bullpen (save Evan Phillips) for this one.  "They have to pitch better".  I am not sure what he could say, but DUH.
Okay turn the page on this stinker.  Oh yeah, find a closer!!!  Might as well find a bullpen while you are at it.